Wonderful Venice, with its romantic canals, captivating architecture, and vibrant culture, seems to be a dream destination for many travelers. At the same time it's certainly not the most budget-friendly city and if you're not flush with cash you might wonder whether you can afford the charms of the Serenissima.
Don't worry, though – you might have to do a bit of research first, but it's definitely possible to enjoy Venice on a backpacking budget, without making too many compromises.
Stefanie and I recently visited the city and looked into the most budget-friendly options for accommodations, transportation, food and sights. Read on for everything we found out.
This post may contain affiliate links, and I might earn a small commission at no additional cost to you. For more info, click here.
Exploring Venice on a Budget
General Tip: Travel to Venice During the Low Season
It's no secret that many places raise their prices for the peak travel season, and Venice is no exception. Try to avoid the months of Europe's summer school holidays (usually July and August), as well as the time around the Carnival in February or early March.
The shoulder season in late autumn or early spring is usually the best time to visit Venice for budget travlers, plus you can avoid the crowds that stream into the city in the summer.
Cheap Places to Stay in Venice
When it comes to finding affordable accommodation in Venice, you might want to consider staying in the mainland areas across the lagoon, such as Mestre or Marghera. These areas offer more affordable hotels and guest houses compared to the city centre, and commuting to the city is usually a speedy affair.
That said, I can understand if you prefer to stay in the thick of it and the centre of Venice has a few cheaper places to stay as well, especially if you book a couple of weeks ahead. For instance, there are a couple of affordable hostels with dorms, like Generator Venice.
If you prefer a private room, there are options, too. We stayed in Hotel Santa Lucia, close to the train station, which has rooms in different tiers of price and quality. The most affordable ones are smallish and have shared bathrooms, but are definitely good value compared to other hotels in the city.
Have a look at the map below for more accommodation options:
Cheap Things to Do in Venice
A day of exploring prestigious museums and famous sights like the Doge's Palace can certainly cut into your budget, but again there are plenty of worth-while attractions, which are either affordable or completely free.
For instance, St. Mark's Basilica might be one of the most recognizable churches in the world, but the general entrance fee is only 3€. Additionally, visiting the iconic St. Mark's Square won't cost you a dime, same as crossing the famous Rialto Bridge across the Canale Grande.
Finally, one of the most enjoyable things you can do in the city doesn't cost anything at all: There's no better way to get a feeling for the city than by just walking around and getting lost in the seemingly endless maze of lanes and alleyways.
A Cheap Alternative to a Gondola Ride
Many people's idea of the quintessential visit to the city by the lagoon includes taking a ride in one of Venice's ubiquitous gondolas. Unfortunately, even a 30-minute ride can set you back about 80 or 100€.
If you want to get a feeling for the experience without breaking the bank, I suggest using a Traghetto to cross the Canale Grande. These Gondola Taxis sit between 10 and 15 people, but using them only costs 2€.
Crossing the Grand Canal in a few minutes might not be the same as being ferried through smaller waterways for half an hour, but you will at least get the chance to sit in a gondola for once and experience the city from a different angle.
The Traghetto Stops can be found at various points along the Canale Grande, usually at the points farthest from the bridges. The closest stop to St. Mark's Square is directly to the West of the Giardini Reali.
Cost-Effective Transportation in Venice
In most cases, walking through the myriad alleyways of Venice is the most convenient and budget-friendly way to explore the city. If you need to travel longer distances, you can use the Vaporettos (water buses), that pass most points of the city's shore and also continue to some of the outer islets, like Murano, San Michele and Venice Lido.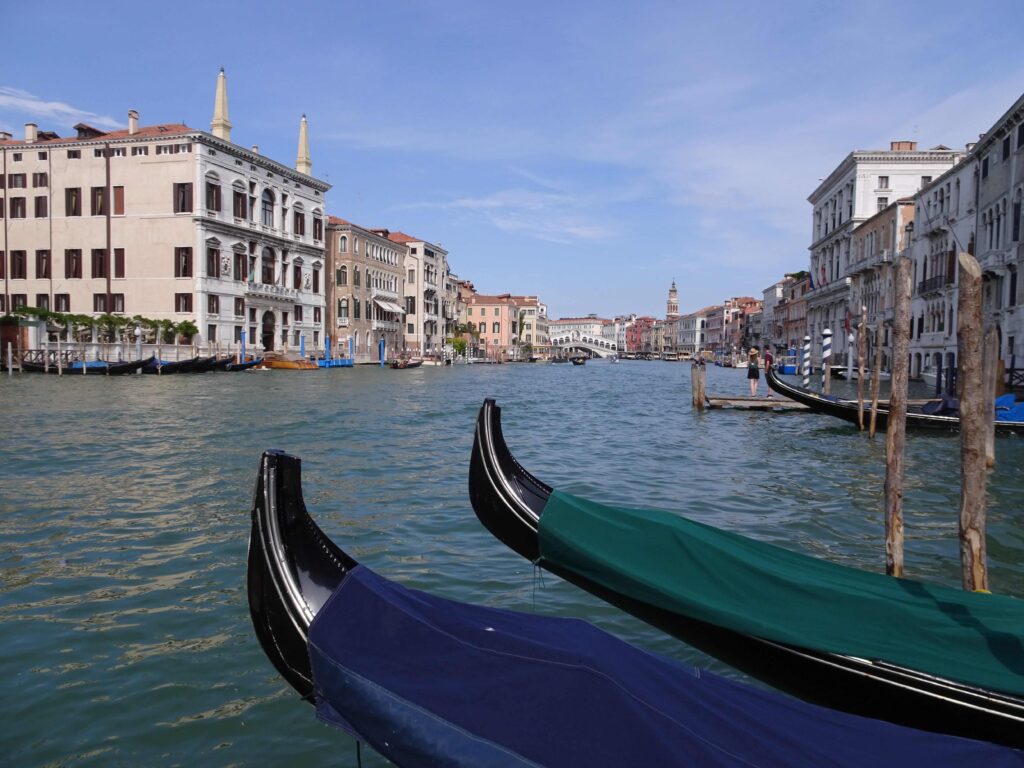 If you plan on using them more than once or twice, you might want to consider purchasing a travel card (ACTV) that offers unlimited rides on the vaporettos for a specific duration. You can check routes, timetables and prices on this site.
Remember, a ride on a gondola may be iconic, but it comes at a premium price. Instead, opt for a traghetto, a gondola ferry that provides a similar experience at a fraction of the cost.
Eating on a Budget in Venice
Eating in Venice can be surprisingly affordable, once you leave the tourist attractions behind you. Avoid the vicinity of St. Mark's Square and the Rialto Bridge, and prices tend to drop significantly.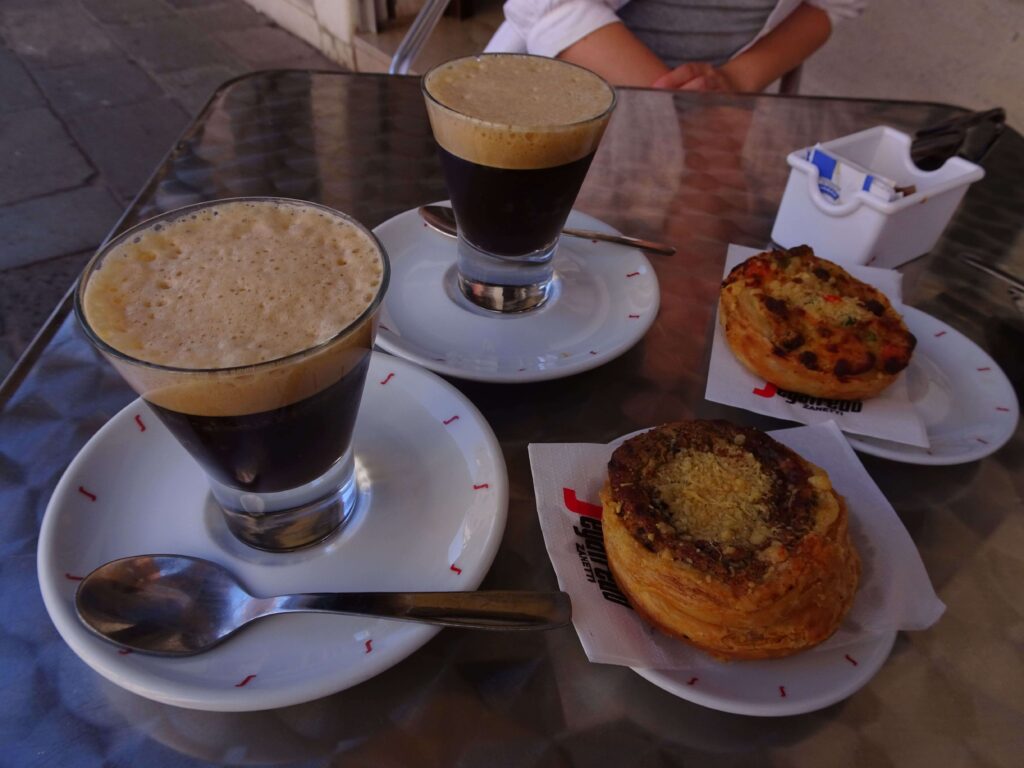 Choosing lunchtime to eat bigger meals is also always a good idea, as prices are usually lower than in the evening. That said, you can always go for a Pizza in the evening, as they are normally very affordable, even in Venice.
Daily Backpacking Budget for Venice
As you can see, traveling to Venice on a budget is definitely possible with a bit of pre-planning. We visited the city during the summer, when prices soar, and still were able to get by on about 70€ per Person and day.
This is certainly more than our usual daily budget, but then again, Venice definitely isn't your usual city:-)
See also
What to Know About Visiting St. Mark's Basilica in Venice, Italy
Exploring the Filming Locations of Indiana Jones and the Last Crusade in Venice, Italy