Translating to "The Desired One", this narrow oblong islet off Guadeloupe's eastern coast got its name from the fact that it was the first landmass spotted during Columbus' Second Voyage to America in 1493.
For centuries, Amerindian settlers didn't much desire to live permanently on La Désirade, as it's actually quite hostile to life, having no significant natural springs, and for years water needed to be brought to the island by boat.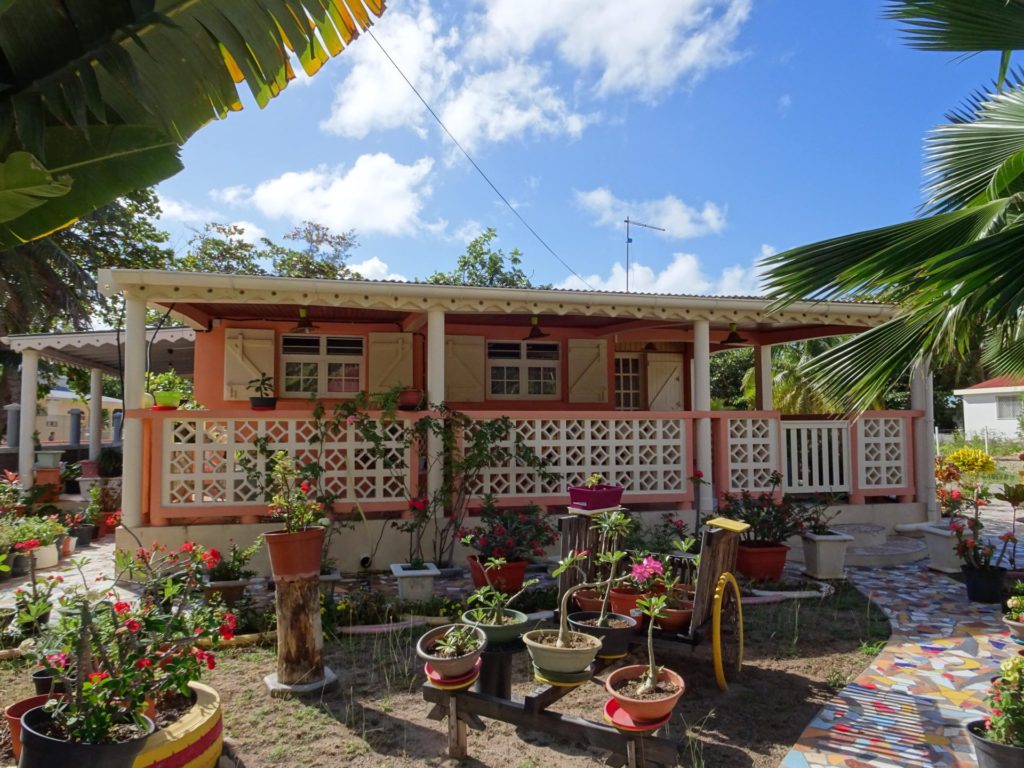 Starting in 1725, La Désirade was used to quarantine people suffering from leprosy and cholera, a practice that continued into the 1950s and left traces in the form of various graveyards and abandoned hospital buildings on the island.
These days, about 1,500 people live on the island, which can be visited during a daytrip from Pointe-à-Pitre or Saint-François to check out its pretty beaches and low-key historical attractions.
If solitude is your thing, several guesthouses and hotels give you the opportunity to stay overnight. Read on for everything you need to know about visiting La Désirade.
This post may contain affiliate links and I might earn a small commission at no additional cost to you. For more info click here.
What to see and do on La Désirade
Les Galets and Les Sables
La Désirade's various villages are spread out along the island's only road running close to the southern coast, while the northern part is dominated by the mountain-chain Grande Montagne. Ferries from Saint-François land at the biggest settlement Beauséjour in the western half of the island. The following points of interest are listed from the western to the eastern end of the island.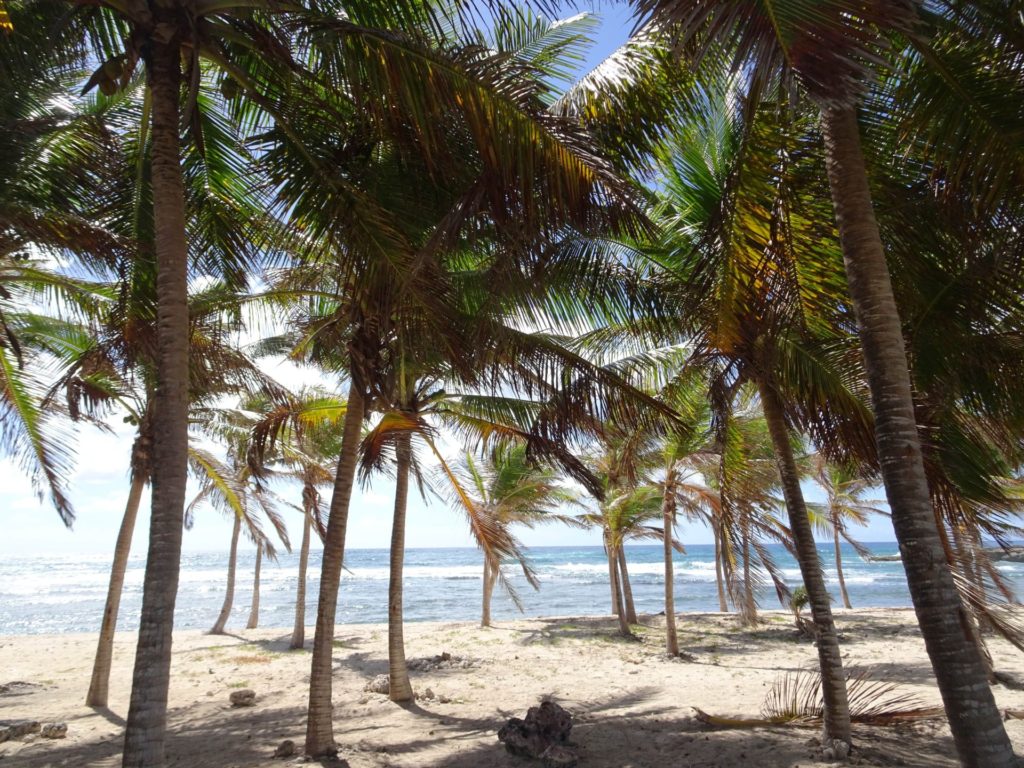 The two westernmost settlements on La Désirade are where people suffering from cholera used to be detained. A big wooden cross dominates the rocks at Pointe des Colibris, the south-western cape of the island, which offers nice views to the eastern coast of Guadeloupe's main island.
A little further east is the cute palm-fringed beach Plage des Galets, behind which you'll find the small cemetery of the cholera patients at Quarter des Galets.
Beauséjour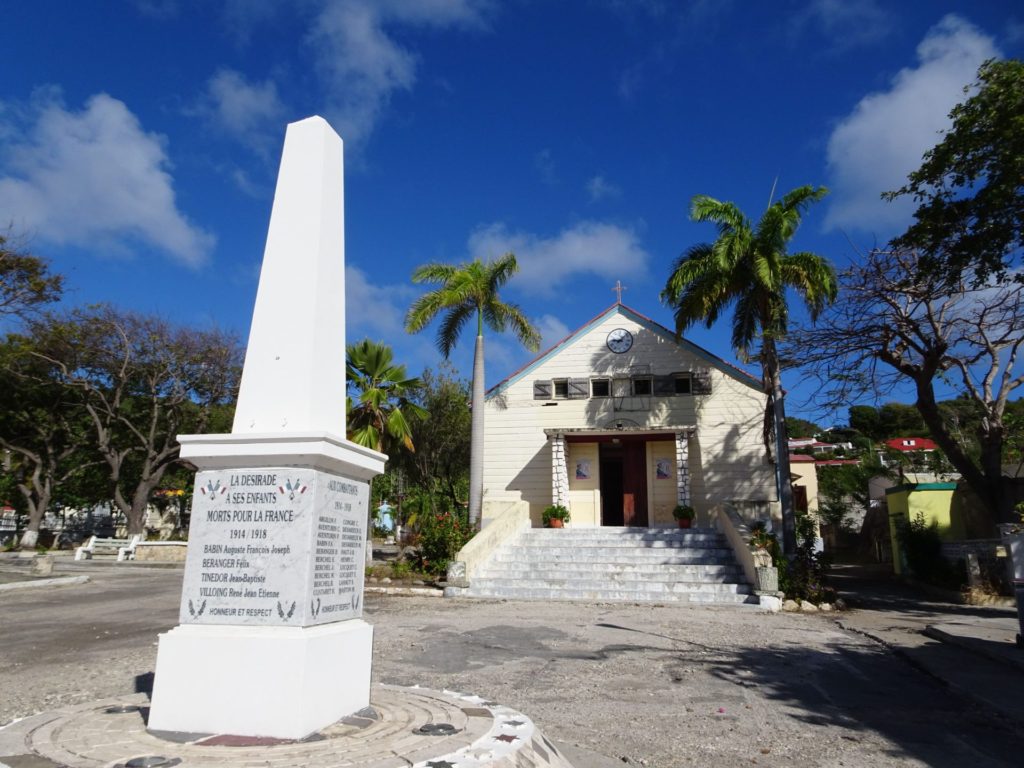 Beauséjour is the island's biggest settlement, which isn't saying much, as it still only consists of a couple of streets. Most buildings of interest are centred around a cute central plaza, including the the church of Notre-Dame du Bon-Secours and the small town hall building (mairie).
Opposite of the latter is a tiny park containing a bust of local abolitionist Victor Schœlcher, whose former living quarters you can visit in Pointe-à-Pitre. There are also two small beaches on either end of town, which are quite attractive and certainly the most easily accessible beaches from the ferry terminal.
Chapel of Notre-Dame-du-Calvaire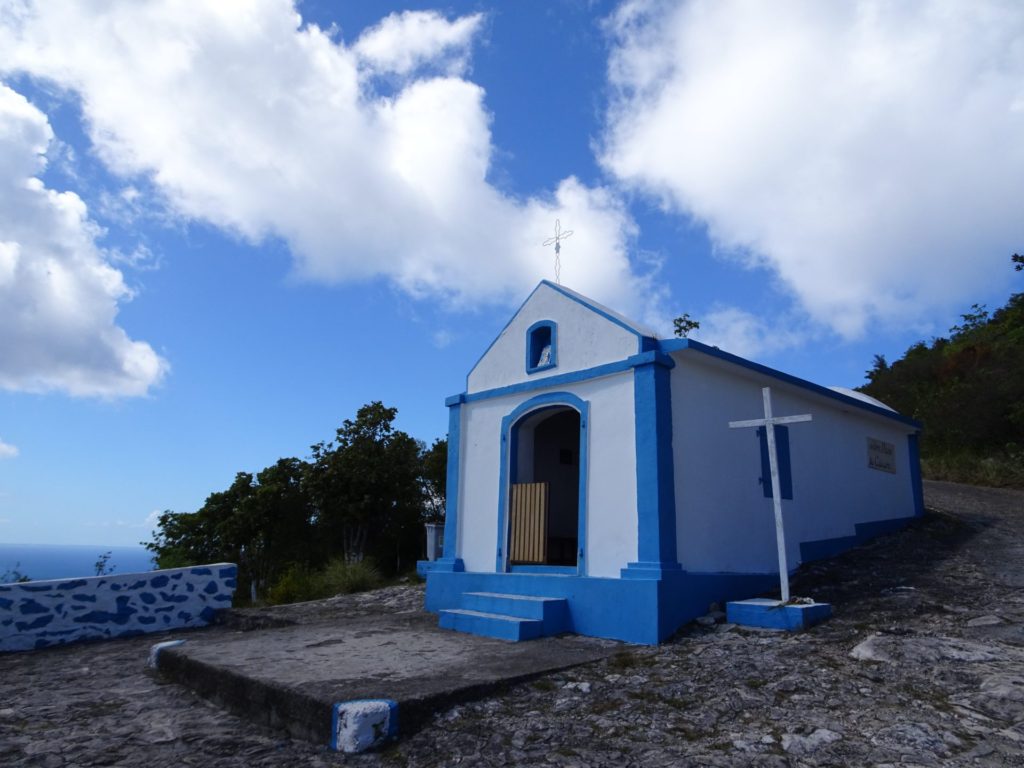 This little white-and-blue painted catholic chapel wouldn't look out of place on a Greek island. Apart from the rather austere interior, the main reason for a visit would be the great view down to the coast and over to Guadeloupe. It's located to the north of Beauséjour halfway up the mountain.
If you're walking up here, expect a steep hike of about 30 minutes along an unshaded road. It's probably best to do it in the morning or evening as opposed to the early afternoon, which is (of course;-) exactly, when we did it. Still, striking a bit of sweat on the way up here is well worth it for the view alone.
Le Souffleur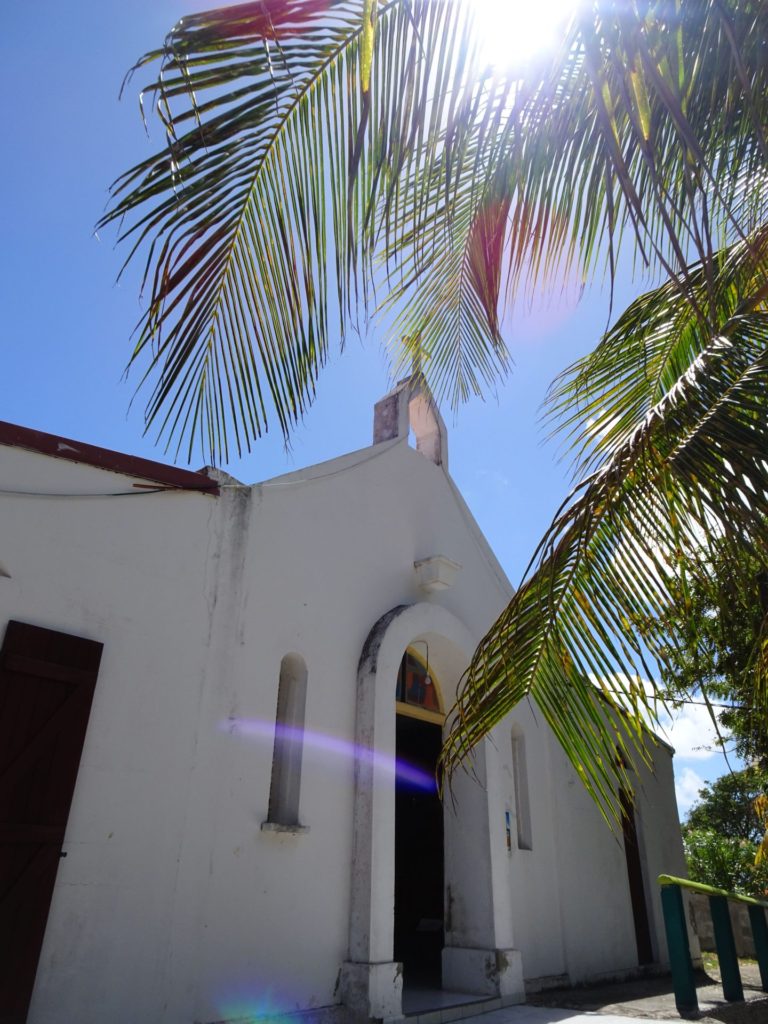 The island's most famous beach, Plage du Souffleur, can be found close to the small hamlet of the same name. It's a beautiful stretch of white sand dotted by coconut palms. Despite its modest claim to fame, there were only two other people there when we visited.
La Désirade is still somewhat off the beaten path, I guess. Along the main road you'll find Saint-Jean-Baptiste du Souffleur, another cute white-plastered village church containing an intricate boat model intended as a votive offering.
Baie Mahault and Pointe Double
Directly east of Baie Mahault, the island's easternmost settlement, you can visit the Ruins of the former Leprosy Colony, including the foundation walls of several buildings and a rather big kiln.
Arguably, the most impressive ruin are the remains of the little chapel still standing several feet high directly at the eastern end of Baie Mahault. As you probably would have expected, the little cemetery contains the graves of people who used to be interred in the colony.
More ruins dot the road to Pointe Double, the eastern cape of La Désirade. On the way there we were approached by plenty of curious goats as well as some huge iguanas. Visible from far away, you'll notice the abandoned building of a former climate control station located on the cliff overlooking the Atlantic Ocean.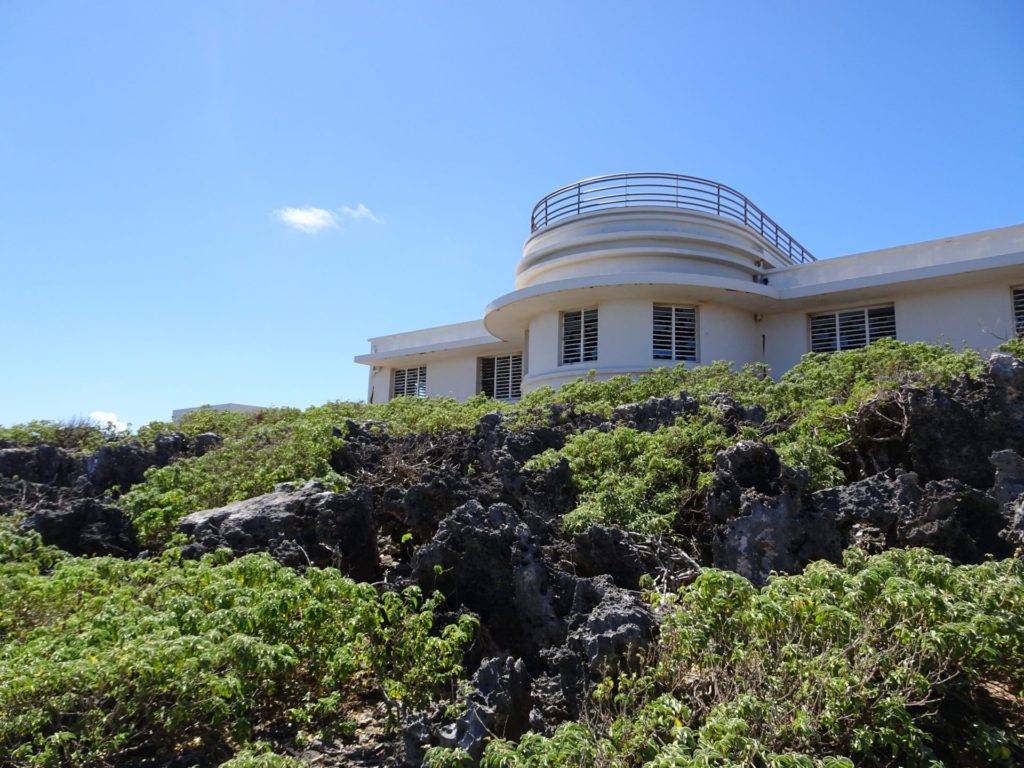 Hiking in the Grande Montagne
If you're on the island for more than a day, you can also hike the mountain chain dominating the northern half of the island. There's a footpath traversing the entire length of the mountains and thus the island.
It's really only an option if you're staying on the island overnight, at least if you want to see other parts of La Désirade as well. We only came here on a day trip from Saint-François, so we skipped the hike, but it's pretty clear that the views would be fantastic.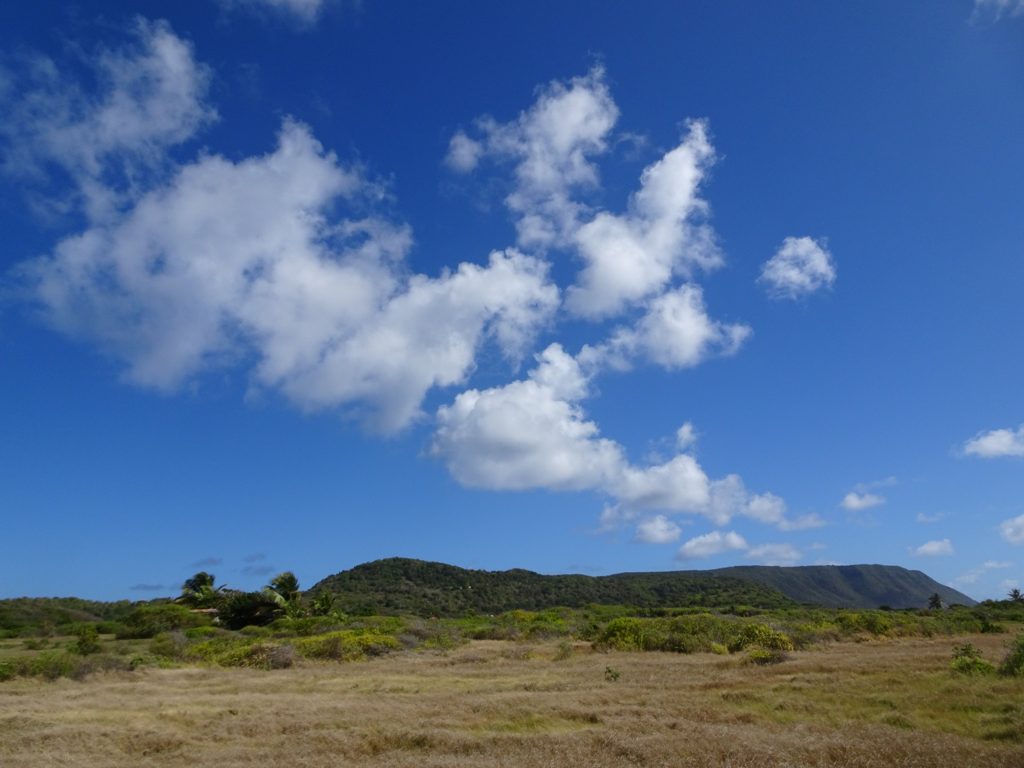 Other things to know
While you're on the island, keep your eyes peeled for shy Agoutis and surprisingly big Iguanas scuttling around or lazing in the sun. A word of warning about another species which can be found all over La Désirade: Every part of the Manchineel trees growing mostly close to the sea is toxic and even touching the bark or leaves can result in unpleasant rashes.
You can identify them by their fruit which look like small green apples (you guessed it: also poisonous). Sometimes, they're marked by red paint on their trunks, signalling you to stay clear.
Practicalities
How to get to La Désirade
Babou One has a boat service to Beauséjour on La Desiradé from Saint-François in the southeastern part of Grand-Terre. Boats leave Saint-François at 8AM and 4.45PM, returning from Beauséjour at 6.15AM and 3.45PM. Make sure to check whether the schedule is still up-to-date here.
The trip takes about 45 minutes and costs about 30€ round-trip. To get to Saint-François from Point-à-Pitre, you'll have to take a bus from the Gare Routière de Darboussier, which is located about 5 minutes south of the southeastern edge of the Place de la Victoire.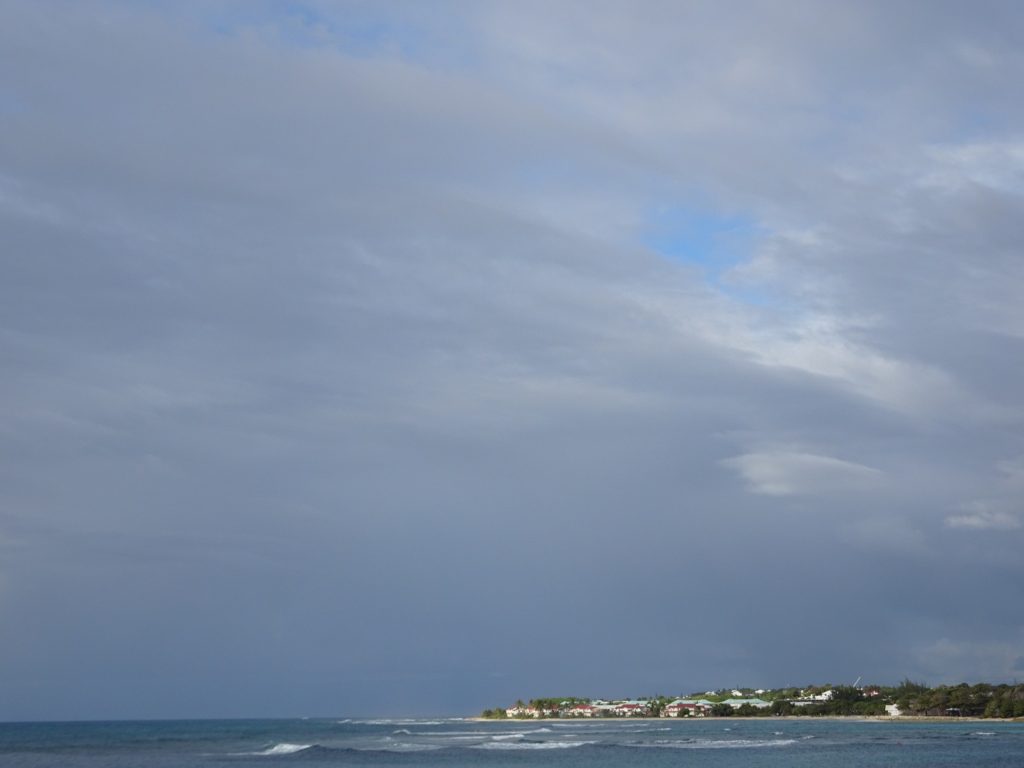 If you're short on time, you might also consider flying to La Désirade from Pointe-à-Pitre with Air Caraïbes. It only takes 15 minutes and costs 110€ round-trip. Flights leave from Pointe-à-Pitre on Monday, Wednesday and Friday at 7.30AM and 2.40PM, on Saturday at 7.30AM and on Sunday at 2.40PM.
The flight back from La Désirade leaves half an hour later, respectively. Again, the current schedule can be checked here. Reservations can be made by calling 0590 824700
How to get around on La Désirade
There is only one 10km/6mi.-long road running along the southern coast of the island, so this is where all of the moderate traffic on La Désirade passes. The easiest way to get around on the island would probably be to rent a scooter or bike at the marina in Beauséjour, for example at Jo Scooters.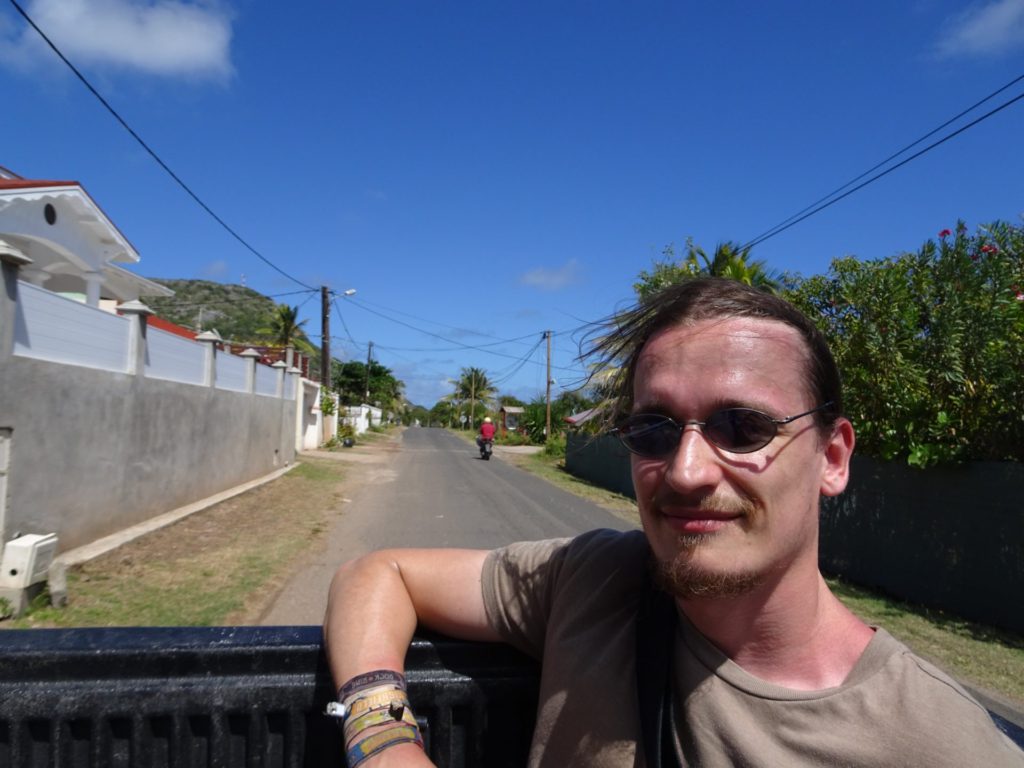 We decided to explore the island by using a combination of public transport, walking and hitch-hiking, which worked out quite well.
Just to give you an idea: We managed to see all of the places outlined above (except for La Grande Montagne) during a day-trip by first walking to the Western Cape and back to Beauséjour, then taking the bus to Baie Mahault, walking to the Eastern Cape and afterwards hitch-hiking back to Beauséjour from Baie Mahault.
There are not many cars traveling along the main road, but the ones that do will likely take you along if they have space.
The bus service mentioned above is convenient but as you might expect, connections are few and far between. You can check the schedule here. Finally, there are also a couple of Taxis waiting for arriving ferries at the marina, which might be another good option if you're short on time but not on money.
Where to stay on La Désirade
Most people visit La Désirade during a day trip but staying there for a night or two gives you the opportunity to seriously get away from it all. There are a couple of hotels and guesthouses, mostly centered around Beauséjour and the eastern end of the island.
Hotel Oasis would be an option, while at L'Eden du Pêcheur you can rent an entire apartment. Both of these are located in Beauséjour. You can check for other options on the tourism website of La Désirade.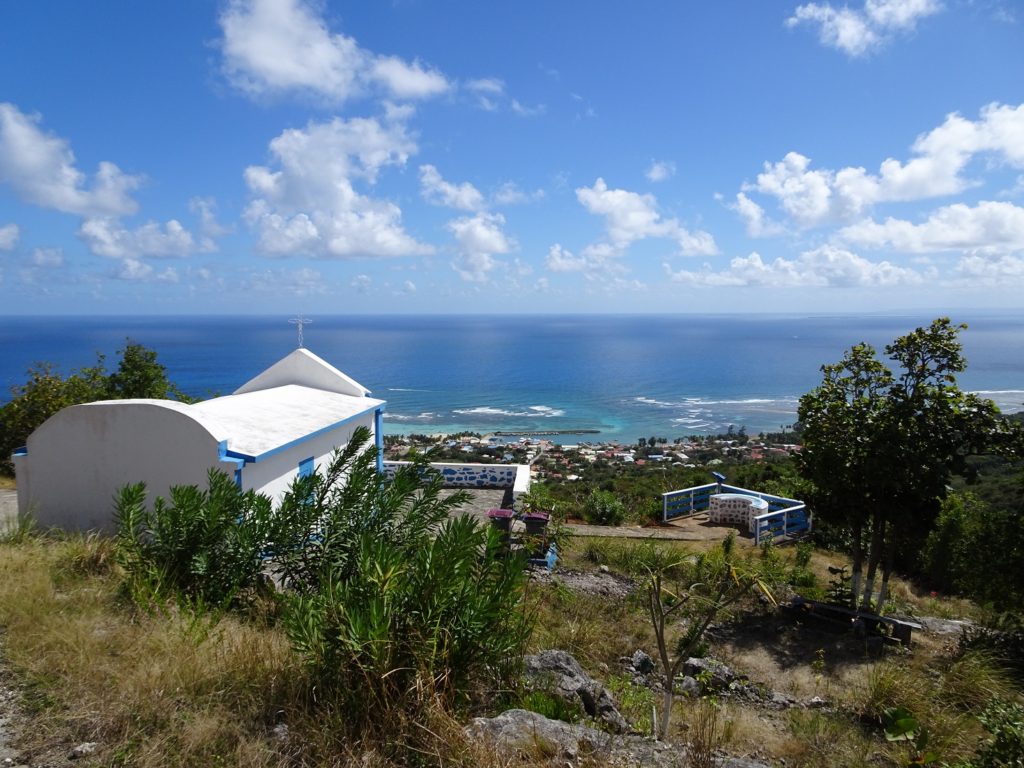 Where to eat on La Désirade
Some restaurants mostly serving the catch of the day can be found in Beauséjour and in some places along the southern coast. Beauséjour also has a couple of grocery stores around the plaza, in case you need to stock up on some drinks and snacks for your insular exploring.
Where to go next