Bangkok and Chiang Mai are two places that should make their way onto every Thailand Itinerary. Different as they are, both cities encompass essential aspects of Thai society, and combining the two on a trip gives you a chance to both explore the exhilarating modernity of the country's capital and the historic charms of Thailand's more laid-back second city.
At a distance of 600km or 370mi., the trip can be a lengthy affair, so it pays to carefully consider the advantages and disadvantages of different transport options before deciding. Here are a few different ways to travel from Bangkok to Chiang Mai.
This post may contain affiliate links, and I might earn a small commission at no additional cost to you. For more info, click here.
The Five Best Ways to Travel from Bangkok to Chiang Mai
I've listed the Pros and Cons of each travel method below. If you decide on going by train, bus or plane, have a look here for some available connections:
Bangkok to Chiang Mai by Nighttrain
Traveling by train from Bangkok to Chiang Mai is an adventure in itself. The overnight train service offers comfortable sleeper cabins, allowing you to rest during the night and wake up to the breathtaking scenery of Northern Thailand.
The trains have various classes, including first-class sleepers with private cabins and shared second-class sleepers with both air-conditioned and fan options. Obviously, trains also operate during the day, but if you choose the sleeper option, you can save on accommodation costs and don't waste precious exploring time on transportation.
The journey takes approximately 10 to 13 hours and costs about 1,600฿ (1st class sleeper), 1,000฿ (2nd class sleeper with AC) or 600฿ (2nd class sleeper with fan). For me, the night train is the best way to travel between Bangkok and Chiang Mai.
Bangkok to Chiang Mai by Bus
For backpackers and other travelers on a budget, taking a bus from Bangkok to Chiang Mai is probably the best option. Buses depart regularly from Bangkok's Northern Bus Terminal (Mo Chit) and offer different classes, ranging from basic to VIP, with varying levels of comfort.
The journey usually takes between 9 and 12 hours, depending on traffic and stops, but it gives you an opportunity to check out the picturesque landscapes along the way. Prices vary between 500 and 1,000฿, depending on the class and directness of the route.
Bangkok to Chiang Mai by Plane
For those seeking a quicker and more convenient option, flying from Bangkok to Chiang Mai is the way to go. Several airlines offer multiple daily flights between the two cities, with flight durations averaging around 1 hour and 15 minutes.
While it's the fastest mode of transportation, keep in mind that it's not the cheapest way to go. However, it can be an ideal choice if you've got limited time or prefer to save time for exploring Chiang Mai itself. There are departures from both Don Muang and Suvarnabhumi Airport.
Bangkok to Chiang Mai by Rental Car
If you're all about the freedom to explore at your own pace, renting a car would be the best option for you. It allows you to take scenic detours, visit some lesser-known gems along the way, and travel comfortably and privately with your friends or family.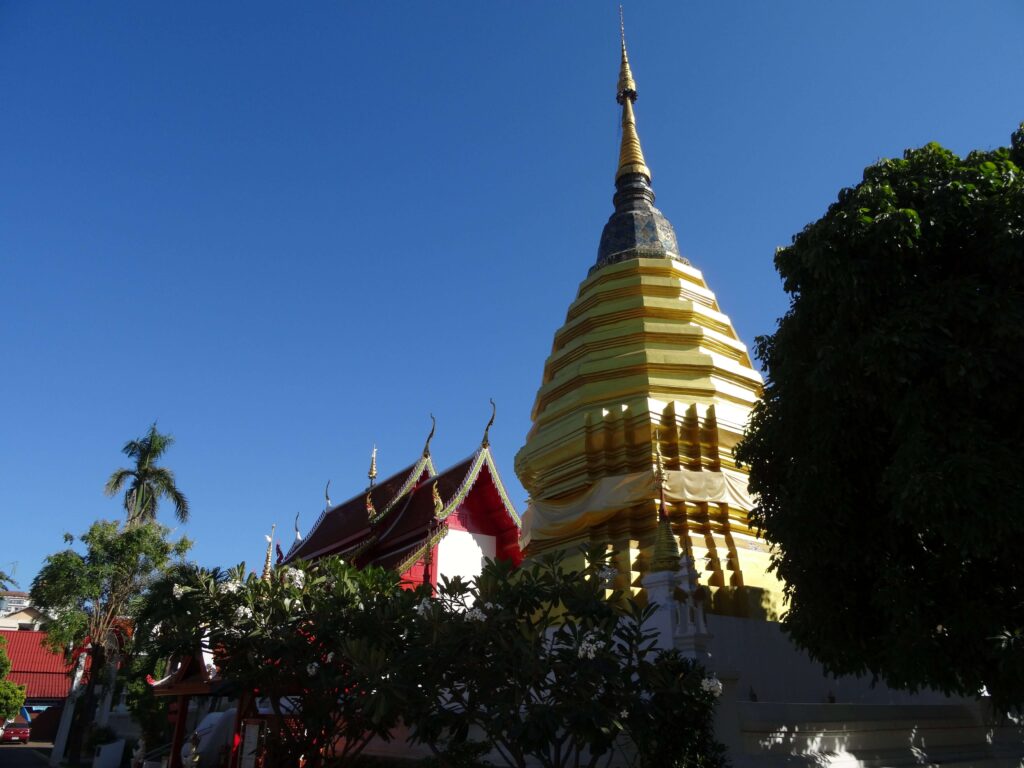 The journey from Bangkok to Chiang Mai by car can take around 8 to 10 hours, depending on your route and stops. Make sure that you have an international driving licence and are familiar with Thailand's driving rules before hitting the road.
Also note that in Thailand, you drive on the left side of the road, which might take some getting used to. A rental car will usually set you back about 1,000 to 1,500฿ per day, with some fluctuations depending on the type of car and time of travel (prices tend to soar during the high season in the winter).
If you plan on renting a car, have a look below for the best deals:
Private Transfer with Driver
Finally, taking a private Transfer Service from Bangkok to Chiang Mai, like this one, can be a viable option, especially for small groups of travelers, who don't feel like braving Thailand's traffic on their own.
While it's certainly pricier than taking the bus or train, it also affords more privacy than either option and likely is the most comfortable way to go.
Conclusion
As you can see, each way of getting from Bangkok to Chiang Mai has different things going for it. As per usual, it all boils down to your personal travel style, how much time you have and how much money you're willing to spend. Enjoy your trip to two of Thailand's coolest cities!