Keswick is the ideal base from which to explore the northern Lake District. It certainly gives off a relaxed small-town vibe, but at the same time it has everything you want after a day on the fells. There are tons of restaurants, cafés and pubs as well as great bus connections to most parts of the Lake District and beyond.
While hiking understandably is the most popular activity in the area, Keswick itself has a few noteworthy sights to check out when the weather is less inviting. And even if the sun is shining, and you just want a break from climbing the fells, there are some cool destinations surrounding the town, which can be reached by a short bus ride or walk.
We've based ourselves in Keswick twice for longer stays now, so I feel like I know the area quite well. Here's my list of the 15 best things to do in and around Keswick.
This post may contain affiliate links, and I might earn a small commission at no additional cost to you. For more info, click here.
15 Fantastic Things to Do in and Around Keswick, UK
Keswick Museum
Keswick Museum is housed in a beautiful wooden building on Station Rd. north of the Greta River. There are some fascinating exhibits on local history, including the wacky naval battles enacted on Derwentwater by local eccentric Joseph Pocklington.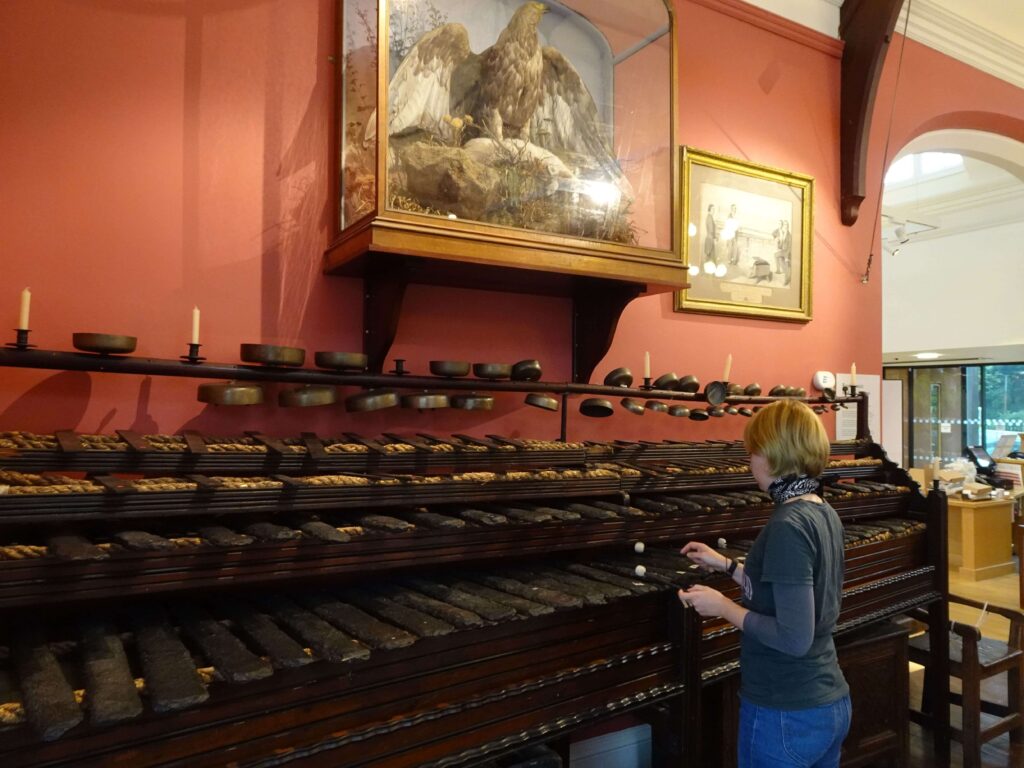 Other displays focus on famous people with a connection to Keswick, including Beatrix Potter and Robert Southey. There are also some unusual objects, including a mummified cat and the 'Musical Stones of Skiddaw' – A huge Xylophone made from local rocks that you're actually allowed to play.
It's an interesting place to spend an hour or so – we also liked how enthusiastic the friendly staff were. The museum is open daily from 10am to 4pm. Double-check the times here. The entrance fee is £5.
The Market Square and Moot Hall
The market square is Keswick's bustling centre, surrounded by charming shops, cafés, and historic structures. The most significant building here is the early 19th-century moot hall, standing in the centre of the square. If you come here on Saturdays, you can buy local produce and crafts at the weekly market.
The Derwent Pencil Museum
Full disclosure: We came here on a rainy day, expecting a wacky tourist trap in the 'biggest-ball-of-yarn' fashion, but we were amazed to find an actually engaging museum, retracing this fascinating local industry.
There are interesting displays on graphite smuggling (this is actually where the term 'Black Market' comes from) and WW2 Spy Pencils, that seem to come straight out of a Bond Movie. As a matter of fact, their creator Charles Fraser-Smith actually was the inspiration for Q, Bond's master of gadgets.
There's also a recreated graphite mine, and if you actually came here for a dose of tackiness, you'll be delighted to hear that the museum is also home to the world's largest coloured pencil.
The opening times differ, depending on the season. You can check them here. The entrance fee is £6.
St. John's Church
St. John's may only date back to the 19th century, but with its stunning Neo-Gothic design, it's arguably Keswick's most impressive church. The inside is rather austere by contrast, but the pretty stained-glass windows are worth checking out.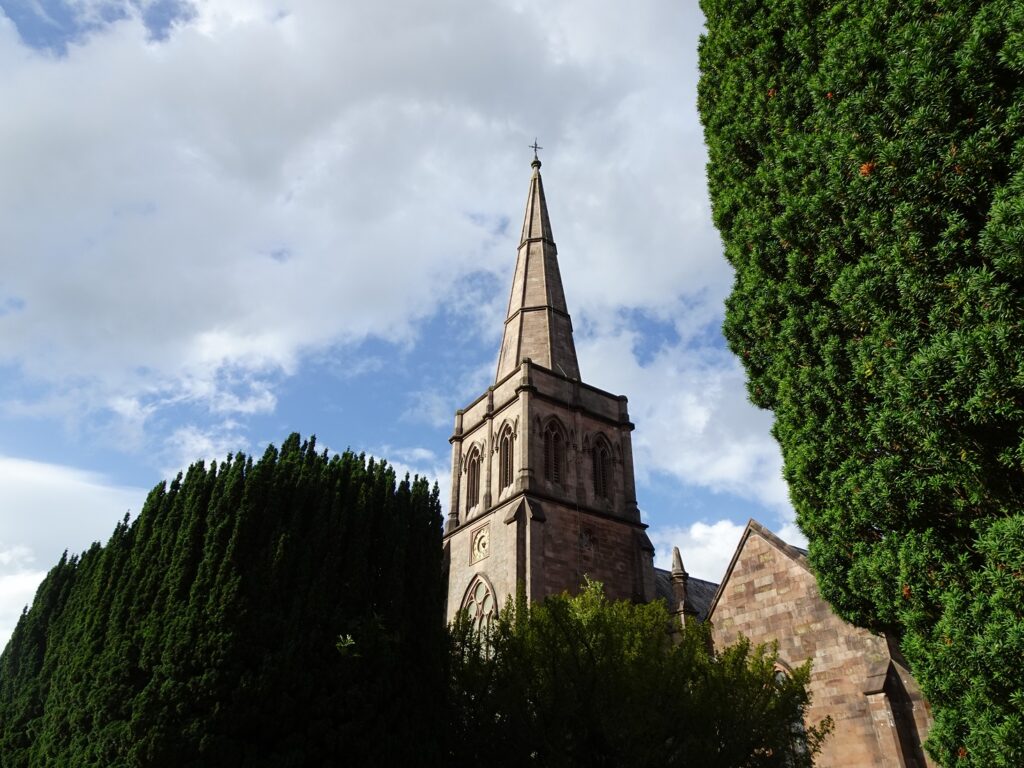 The cemetery surrounding the church is home to the grave of early 20th-century novelist Hugh Walpole, whose Herries Chronicle Series is set around Derwentwater.
The Puzzling Place
The Puzzling Place is a Museum of (mostly optical) Illusions and a great place to spend an hour or so on a rainy afternoon. There are lots of interactive displays, as well as some great photo opportunities. We especially liked the fact that there are explanations on how the illusions work, so you'll actually learn something while being entertained.
This place is popular, especially on a rainy day, so it's best to book ahead ontheir website, where you can also check the current opening times. The museum is right around the corner from Keswick's market square in the Museum Square Passage.
Catch a Play at the Theatre by the Lake
If you're a fan of live performances, the Theatre by the Lake is the place to go. It's host to all kinds of plays and shows, as well as to the annual Words by the Water literary festival. To be honest, we didn't have the chance to see a performance here yet, but are looking forward to catch a play on our next visit.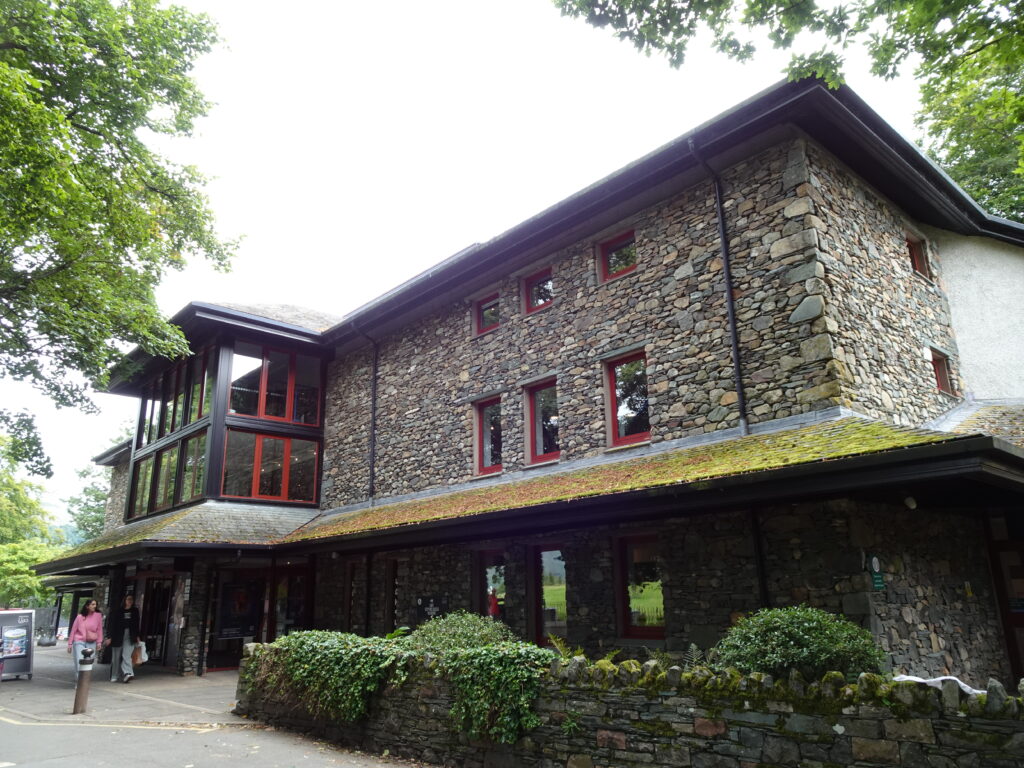 Have a Pint in one of Keswick's Many Pubs
You can't throw a rock in Keswick without hitting a Pub and when looking for a cozy place to settle down with a pint and some hearty food, you're presented with the paradox of choice. Some of our favourite places are The Wainwright, The Pack Horse Inn and The Dog and Gun, but this list is far from exhaustive.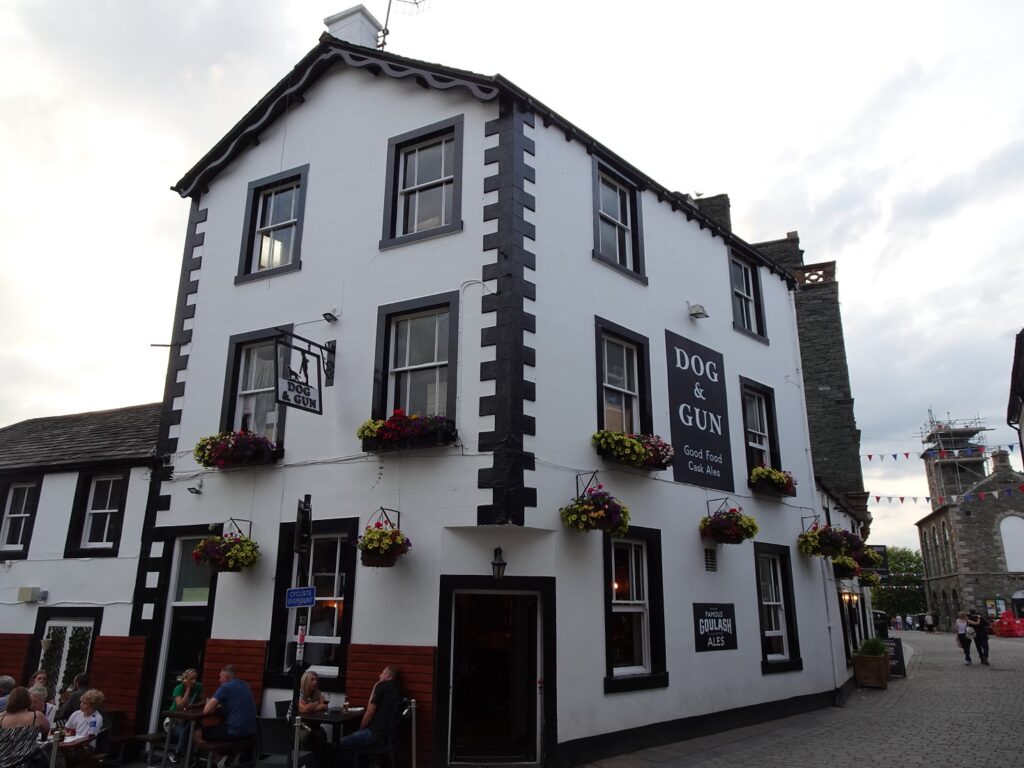 While you're here, make sure to try some regional specialities, like Cumberland Sausage, as well as some Lake District Beers, like Fell Walker Pale Ale or Bluebird Bitter.
Hope Park and Crow Park
This pretty park, full of well-manicured flower beds, sits close to the Theatre at the Lake on the northern shore of Derwentwater. There are cafés, minigolf courses and a pond with remote controlled boats, but it's also a nice place for a simple stroll amid the blooming flowers.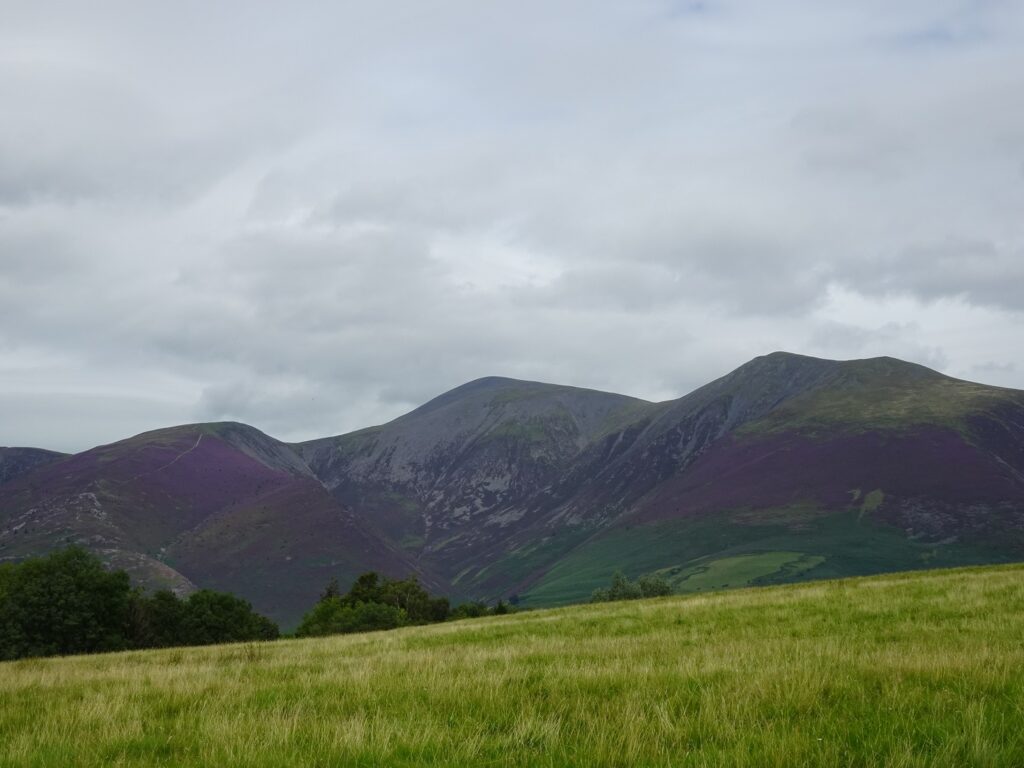 Nearby Crow Park is more of a big meadow than a proper park, but as it overlooks Derwentwater, it's a great place for a picknick or to simply sit down and watch the world go by for a while.
Alhambra Cinema
Opened in 1913, the Alhambra Cinema is one of the oldest continuously operating cinemas in the UK. With its ornately decorated interior, it exudes some fitting old-timey charm, which is quite nice for film buffs like us. The movies shown are decidedly more modern – usually the latest Hollywood blockbusters.
Strolling along Derwentwater Lake
Beautiful Derwentwater is definitely one of my favourite lakes in the Lake District – and that means some tough competition. It's dotted by small islands, some of which you can visit by renting a stand-up-paddle board, kayak or motorboat (others are privately owned, so make sure to check beforehand).
If you don't feel like navigating the lake yourself, you can take a trip across Derwentwater with Keswick Launch Cruises or simply take a stroll along its pretty shores.
One of the nicest places here is Friar's Crag on the north-eastern shore, which has a great panorama of the lake and surrounding mountains, including the Catbells on its western side. It's an easy ten-minute stroll from Keswick's Crow Park.
Threkeld Railway Trail
This gentle 5km (3mi.) long walking trail follows the path of the old Keswick to Penrith railway line. Along the way, you can enjoy some pretty views of the Greta River and its surroundings. There are also plenty of signboards along the way, allowing you to learn about the history of Keswick and the railroad.
The trail starts at Keswick's old train station near Keswick Museum and end up in the tiny village of Threkeld, from where you can catch a bus back to Keswick (maybe after taking a detour to the Threkeld Quarry Museum).
Threkeld Quarry and Mining Museum
Instead of directly returning to Keswick after your hike along the Threkeld Railway Trail, you could check out the Threkeld Quarry Museum to learn a little something about the history of the local mining industry.
The old granite quarry is filled with tons of old machinery and mining equipment and there's a small museum, which is crammed to the rafters with objects and signboards. You can also can ride a small diesel train into the quarry, where the volunteer staff will explain some of the history of the place.
The museum is open Tuesday to Sunday from 10am to 5pm. Double-check the times here. While the entrance fee is a bit steep at £9, we still found it to be worth it to learn something about the importance of this local industry.
Castlerigg Stone Circle
The Castlerigg Stone Circle is one of the Lake District's most iconic ancient sites. Dating to the turn of the 3rd millennium BCE, its original purpose, like with so many Megalithic monuments, can't be fully grasped.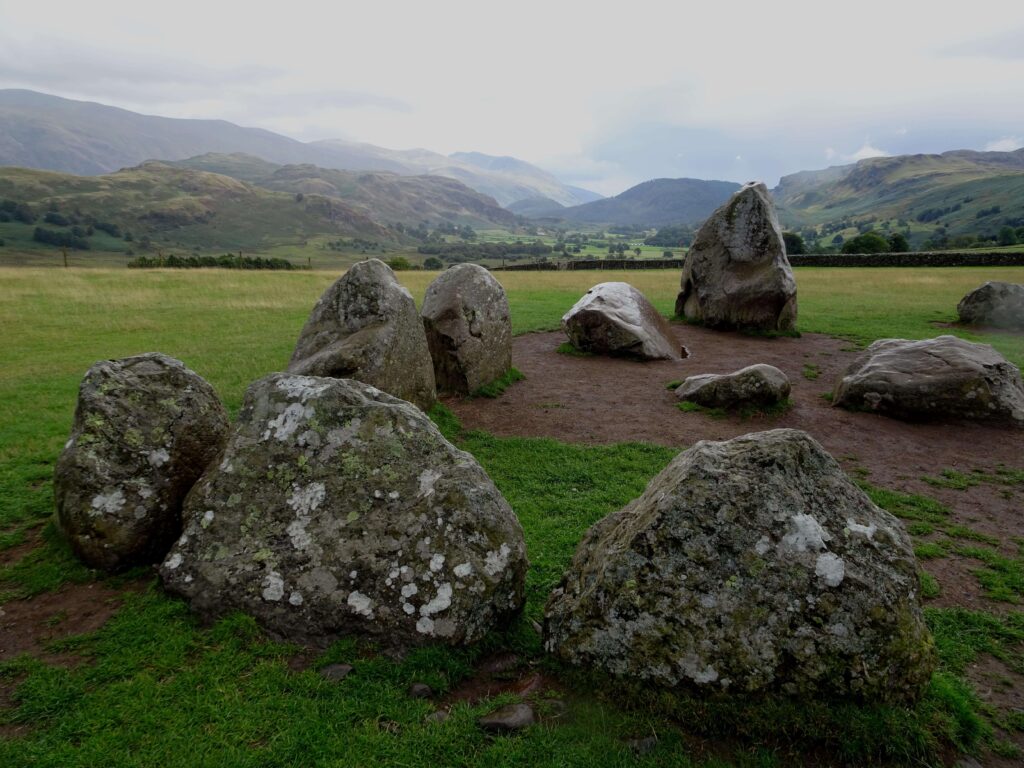 Interpretations span a range from ceremonial sites to astronomic observatories to gathering places. In reality, it's very likely these circles were multifunctional.
As an archaelogist, I have a certain predilection for places like this, but I think Castlerigg will be interesting to the layperson, too. The arranged monoliths themselves are quite an impressive sight and set against the backdrop of the Hellvellyn and Blencathra Mountain ranges, the circle certainly makes for an atmospheric visit.
The Stone Circle sits about 2.5km or 1.5 mi. east of the town centre. To get here, follow Penrith Road east out of town and turn right onto Eleven Trees Road before the slip road to the A66. There's no entrance fee and the Stone Circle can be visited around the clock.
Whinlatter Forest
England's only mountain forest has countless well-maintained trails leading to some stunning viewpoints, and you can also rent mountain bikes to explore the Forest on two wheels. There's a small visitor centre with information on the local fauna and a café, should you feel peckish.
We decided to hike the 7.5km (4.5mi.) Wow Trail, which we found to be a great introduction to the area. It goes past a nature station, where we managed to spot some Red Squirrels and plenty of birds, and it also leads to the fantastic Red Crag Viewpoint, which has great vistas of Bassenthwaite Lake and the Keswick area.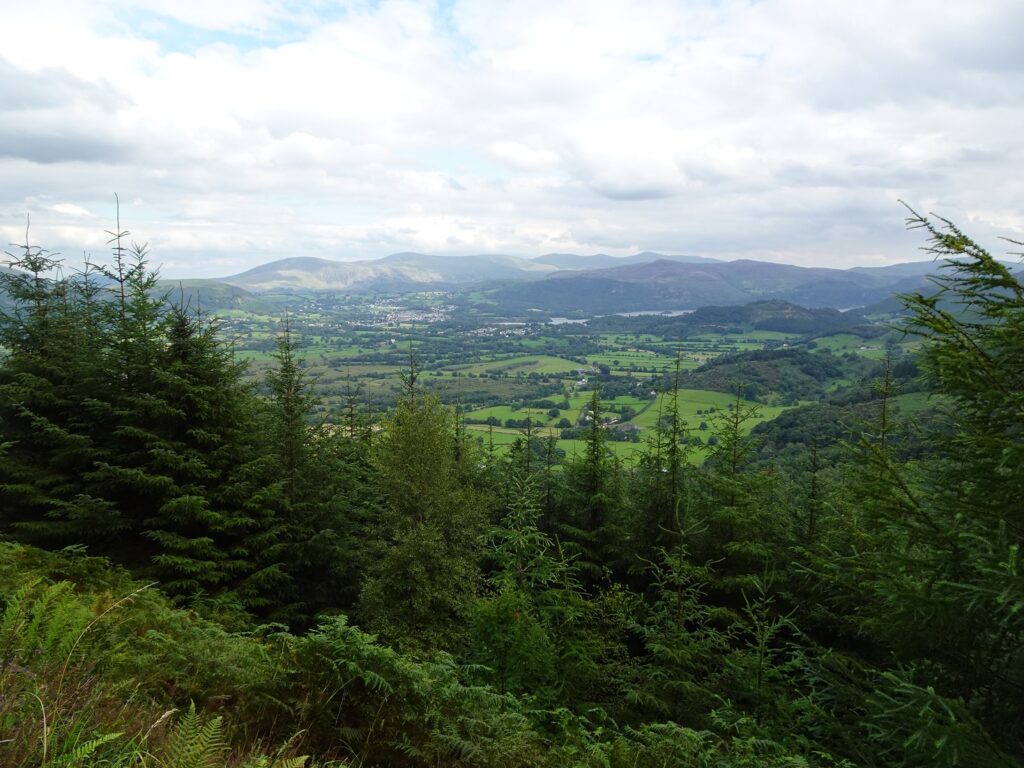 Afterwards, we tacked on the short but pretty Revelin Moss Trail, because we still had some time until our bus arrived.
To reach Whinlatter Forest from Keswick, take Bus 77 and return by Bus 77e. Be prepared to wait a little for the latter, especially in the summer, as it reaches the Forest after navigating the narrow roads of the Buttermere Valley, so it might be a little behind schedule.
Strap on your Hiking Boots
Let's face it: The real reason you came to the area is to tackle some fells, right? There's no shortage of amazing hikes around Keswick, from easier options like Catbells and Walla Crag to more demanding day hikes, like Skiddaw.
Check out my guide to the best hikes in the area here.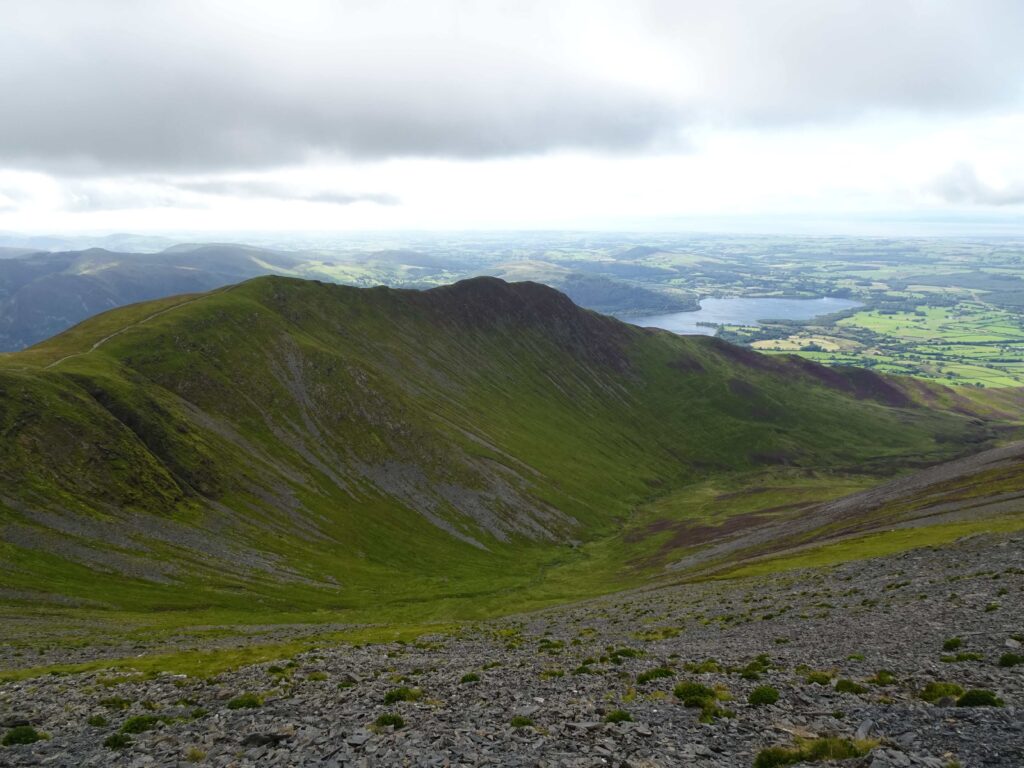 Map of Keswick
Have a look at this map of Keswick to see where the sights mentioned above are located.
Practicalities
The Best Hotels and Accommodations in Keswick
Keswick has plenty of accommodation options for different travel styles. If you're on a budget, YHA Keswick Hostel offers affordable dorms, while the historic George Hotel is a good mid-range option. If you're looking for a bit of luxury, try The Inn on the Square in Keswick's Market Square. Have a look at the map above for more options.
How to get to Keswick and Away
Keswick has regular bus connections to other places in the Lake District, like Grasmere and Windermere (Bus 555) as well as from towns just beyond the border of the National Park, like Cockermouth and Penrith (Bus X4 and X5). Check this site for schedules and connections.
Where to go next
Chorley, a great base for exploring the West Pennine Moors
Blackpool, The UK's Most Famous Seaside Resort