Also known as chado, the traditional Japanese tea ceremony is an essential part of the country's cultural heritage and partaking as a foreigner can be both fascinating and slightly intimidating due to the amount of rules and cultural etiquette involved. These include, amongst others, even the proper way to hold the cup containing the tea.
Don't be too alarmed, though, as people certainly are aware that most foreigners didn't grow up learning the intricate process required, so everyone is very indulgent. Still, you probably want your tea ceremony to go down right with a certain amount of dignity, so check out this little guide for a few pointers about this fascinating tradition.
This post may contain affiliate links and I might earn a small commission at no additional cost to you. For more info click here.
A brief History of the Japanese Tea Ceremony
While the nearby Chinese have enjoyed tea for several thousands of years as evidenced by remains in the tomb of Emperor Jing of the Han Dynasty (202 BC–220 AD), it has only been introduced to Japan during the Nara Period in the 8th century AD, most likely by emissaries sent to the Chinese Tang Dynasty.
For centuries it was the drink of choice amongst the royalty and priesthood until it was popularized during the Muromachi Period (14th to 16th century). That era's Shoin architectural style is still the most prevalent in Japanese tea rooms today.
The restrained and codified procedure of today's tea ceremony goes back to Master Sen no Rikyū, a 16th century philosopher, who defined the four main principles he thought necessary for tea drinking as a spiritual practice: harmony, respect, purity and tranquility. These four leading concepts have influenced the tea ceremony until the present day.
Tea Houses, Tools and Sorts of Tea
The tea ceremony takes place in the traditional chashitsu or tea hall, consisting of a simple room with a tatami floor and occasionally decorated with flower arrangements or inscribed scrolls displayed in an alcove (tokonoma).
Historically, the tea halls were often surrounded by a garden, and if you're looking for the full experience, I'd suggest seeking out a place where that is the case, like for instance at the beautiful Ritsurin Garden in Takamatsu.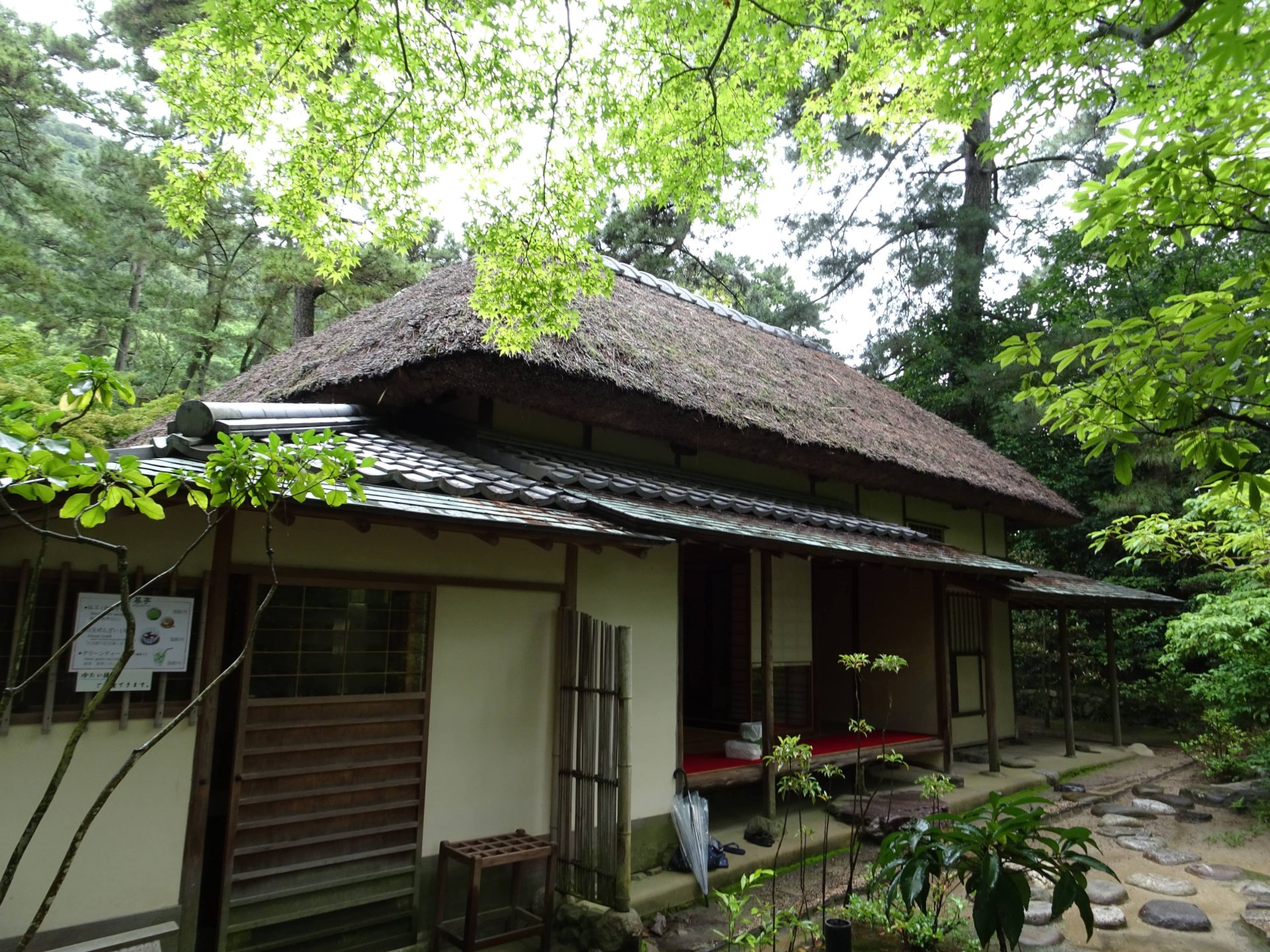 The tools used to prepare and serve the tea (chadougu), are supposed to represent the Zen philosophy which explains their relative simplicity and functionality. The tea served at such ceremonies is matcha, a powdered green tea produced by grinding dry tea leaves.
It has a sweet taste with a slightly bitter note and is usually served with a little sweet.
What to know about the Japanese Tea Ceremony Etiquette
Due to its rich history, the Japanese tea ceremony has a codified etiquette and procedure which I'll summarise below.
Tea Ceremony Dress Code
The tea is usually taken wearing modest clothes – avoid shorts, sleeveless shirts and the like. My recommendation would be to dress like you would when visiting a temple.
Another thing that is discouraged is wearing too much perfume as this is thought to distract from the smells and tastes of the tea.
Entering the Tea House
Often, there's a basin filled with water near the entrance of the place, where visitors should wash their hands before entering. Access to the tea house usually is through a small door (nijiriguchi), requiring participants to bow down when walking in.
This is a practice supposed to convey humility as well as equality among all everyone taking part in the ceremony. If guests are physically able to, they should sit down in a seiza position (with your thighs resting on your calves).
The Preparation of the Tea
Here you're not required to do anything other than watch the ritualized process of tea preparation, which is usually done in front of the guests. The host will mix the matcha powder with water and whisk it using a bamboo chasen until it becomes foamy.
Drinking the Tea
The tea is usually accompanied by a small sweet, which should be eaten before you start drinking the tea. Once your cup has been filled by the host, it's polite to slightly bow before taking up the cup.
As the cups have no handles, you should grab it with your right hand at a 90° (or 3 o'clock if you will) and place it atop of your left hand cradling it from underneath. The cup should then be rotated clockwise to avoid drinking from the front side, which is usually decorated with a picture.
The tea should then be drunk in a few sips and the empty cup placed back on the tatami mat. Afterwards another slight bow to the host expresses gratitude. The host may ask you if you'd like a refill, which you might politely accept or decline, depending on your preferences.
Cleaning the Equipment and Departure
After everyone has finished his tea, the host will clean the equipment and afterwards may pass around the cleaned tea bowl (chawan) for the guests to admire. At the end of the ceremony, your host will show you to the exit, where you will bow to each other before leaving.
Where to try the Tea Ceremony in Japan
Traditional tea houses can be found in cities and villages all over Japan. As the ceremonies are usually very intimate, it could happen that they are booked out for a while, so if you want to try it at a particular place, make sure to call ahead to pre-book it.
If you're still unsure about the correct etiquette, there are various tea ceremony experiences which are specifically aimed at tourists as an introduction, so you won't have to worry about making mistakes.
Many can be booked online, like this one in Tokyo, which is presided over by a Geisha or this one in Kyoto, where you even get a kimono to wear during the ceremony. If you prefer plain clothes, they got you covered, too.
Online Tea Ceremony
Don't have the time, funds or opportunity to fly to Japan? Worry not, the ingenious people running Cammelia Flower Tea House in Kyoto offer an Online Tea Ceremony, explaining everything you need to know about the fascinating process.
As they rightfully write on their online presentation: "Although it might seem an odd experience to perform online, at its heart tea ceremony is about connection, mindfulness and escape." It might even be a great introduction if you plan on visiting a tea ceremony in Japan and want to get a primer into the necessary etiquette.
Final Thoughts on the Japanese Tea Ceremony
As an archaeologist, I'm always glad to see examples of cultural traditions that have survived for hundreds of years and are carried on into the present day. My personal advice to you: Don't be afraid to make mistakes!
This little guide should help you to familiarize yourself with the history and etiquette of the tea ceremony but even if you don't do everything in the exact right ways, you'll be sure to get points for trying.
I've come to realize that no matter where you are, every effort made by travelers to respect the traditional culture of a place is usually well received. So don't worry and enjoy taking part in this century-old tradition.