Arguably the world's most famous meat, Kobe Beef is considered a delicacy not only for the taste, but also for its tenderness and even texture. While it can be found on menus of high-end restaurants around the world, the pretty southern Japanese City of Kobe Is where the miracle meat originated.
As one might imagine, delicacies of international reputation don't come cheap, and a cut of Kobe Beef can easily set you back 200$ or more. So what about us poor budget-conscious backpackers? Is the meat a luxury exclusively reserved for the super-rich, who can afford to spend our weekly travel budget on a single meal?
Certainly not! Stefanie and I scouted Kobe high and low for you and worked out a few tricks to help you cut the costs. Here's my guide to finding affordable Kobe Beef in the city it originated from.

This post may contain affiliate links, and I might earn a small commission at no additional cost to you. For more info, click here.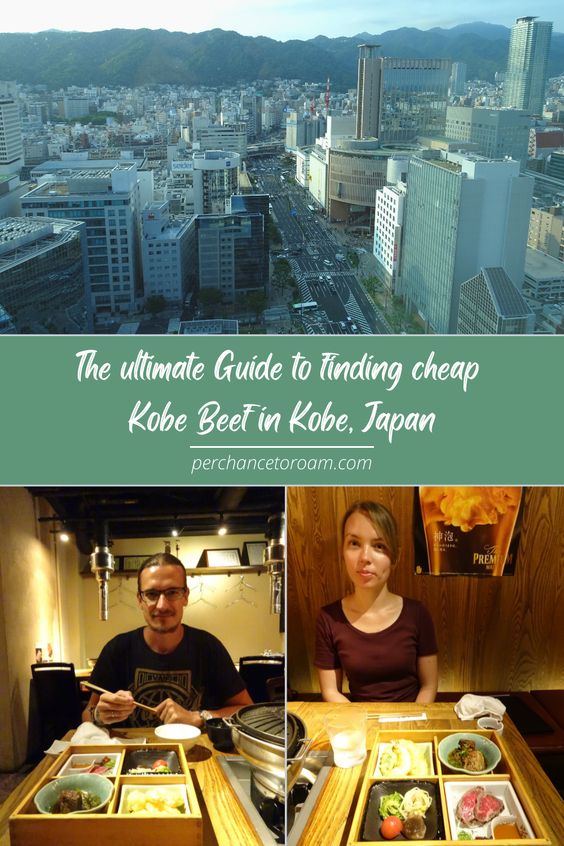 What makes Kobe Beef so special?
First, let me give you a bit of context about what exactly makes Kobe Beef so special. It's a type of Wagyu Beef made from Cattle bred in the Hyōgo Prefecture around Kobe. Cross-breeding in the early 20th century resulted in four different types of Wagyu breeds, of which the Black Cattle supplying the Kobe Beef is one.
In 1983 the meat has been trademarked and ever since the quality of Kobe Beef has been heavily controlled, making sure only the best and most tender meat ends up on the plate. To achieve this, the quality is even classified with a rating system, resulting in seemingly indecipherable Numbers on restaurant menus.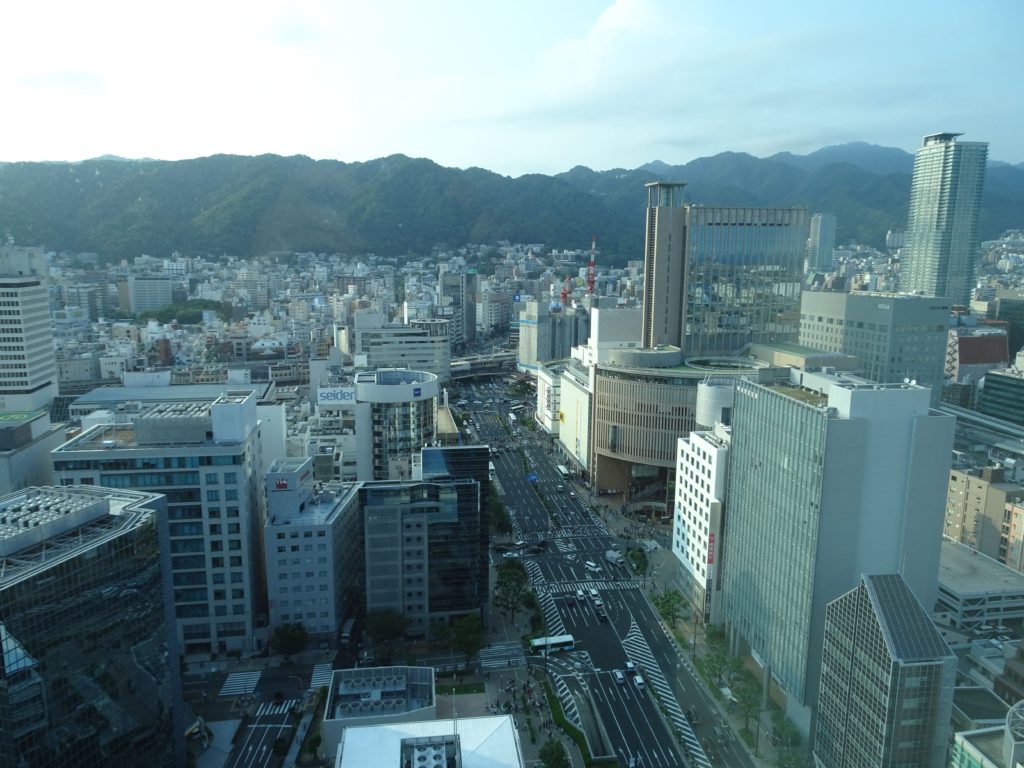 Going by that system, the A5 Wagyu Beef is the famous meat of foodie lore, so make sure to order that one to get the real deal.
"Cheap" Kobe Beef – How affordable are we talking?
If you follow the steps below and are not planning on leaving the restaurant stuffed to the gills, you can try the famous beef for about 200 Yen or 20 Dollars each. Not exactly Thai night-market prices, but then again, you didn't expect that when you started researching the subject, right?
How to find cheap Kobe Beef in Kobe
Go to the source
Step one is avoiding high Export-Costs and Taxes by going directly to the source. If you're reading this, I assume you're already in Kobe or planning on going there, so congrats: Your first step to trying affordable Kobe Beef is done.
Eat at lunch
It's no secret that many restaurants around the world raise their prices in the evening, so if you want to pinch your pennies, try your luck at lunch, when plenty of places have more affordable items on the menu. This might mean that you're the only costumer(s) in a place (Which was the case for us) but so be it. You didn't come here for the company, after all.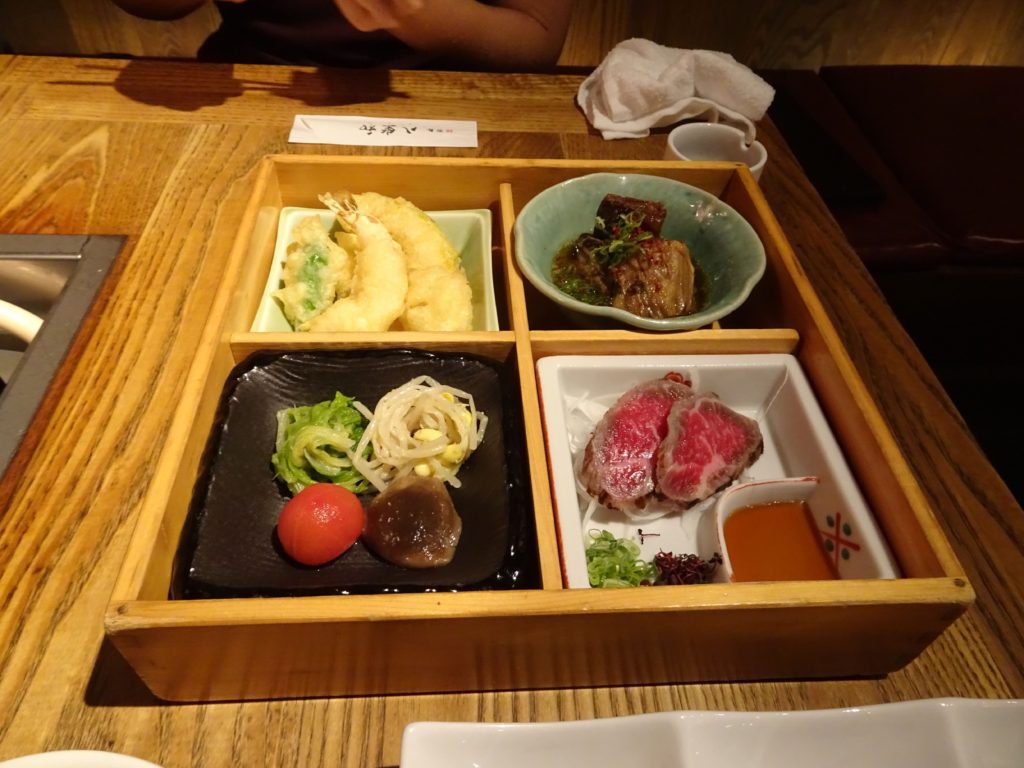 Find the right restaurant
As one would expect, prices differ dramatically from restaurant to restaurant. You're always paying for reputation, ambience, service, etc. so pick a place that focuses on the main thing: the food. Kobe is chock-full of restaurants serving the local speciality, and you can't throw a rock without hitting a billboard offering the best beef around.
I suggest you skip the places that advertise in the gaudiest fashion and search the back alleys for small family-run restaurants instead. The place we found was Kobe Beef Yazawa Hankyu Sannomiya, and we were supremely happy with our experience. It's located in Kitanagasa-dori, directly north of Kobe Sannomiya Train Station. It's the building that has a Spider-Man climbing around its façade for some reason.
If you have trouble finding an affordable place of your own, try asking around, either in your hostel/hotel/guest house or in the tourist information. Everyone living in this city will certainly be used to that question by now.
Preparation matters as well, and some cuts and variations will cost you significantly more than others. A great idea is to get a cheaper set-menu, which means that you'll get a spread of different pieces selected by the chefs. This also means that you get to try different preparations of the meat, so it really is a win-win situation.
While this would be generally frowned upon in the high-class restaurants serving Kobe Beef abroad, in Japan you might be able to simply share a plate (or menu), further cutting your costs. This of course will depend on the restaurant, but I suggest you politely ask if it's okay to share, and chances are the staff will be fine with it.
They were happy to oblige in the restaurant we tried it in. Again – this will mean less food per Person, but the point is to try the speciality, not to stuff yourself until you burst.
Dig In and Enjoy
Did you follow all the rules above? Then nothing stands between you and your enjoyment of the World's most famous Beef. Dig in and enjoy Kobe Beef for a much smaller price than average. The only danger now is that you won't be able to get enough of it, leading to a life of petty crime to finance your habits, but what are the chances of that? And now excuse me; I've got some iPhones to flip.
Guided tours of Kobe with Kobe Beef Tasting
If you're not on a shoestring budget but want to explore the best the city has to offer culture- and food-wise, you can check out one of several guided tours. For instance, this four-hour-tour includes the must-see sights of the Kitano District and a Kobe Beef Lunch afterwards. 
Other things to do in Kobe
In case you were wondering: there are plenty of non-beef-related reasons to visit Kobe, from its modern city centre, to its pretty seaside location to the unique Kitano Area, featuring houses of 19th century foreign traders. Stay tuned for more information on this awesome city!