Eastern Uganda is not only home to beautiful Waterfalls and great hiking opportunities, but also to some of the oldest Rock Paintings in East Africa. Located near the small town of Kumi, the Nyero Rock Paintings are a great off-the-beaten-path destination for anyone interested in archaeology or the life of pre-colonial Africans.
The stunning collection of ancient rock art is one of the most impressive examples of prehistoric art in Africa, and is located in an attractive open landscape, dotted by rocky hills. Getting here may be a bit of a hassle, but you won't regret the effort once you've arrived. Read on for everything you need to know about Uganda's oldest known Rock Art.
This post may contain affiliate links, and I might earn a small commission at no additional cost to you. For more info, click here.
History, Characteristics and Importance of the Nyero Rock Paintings
Despite the name of the site, both pictographs (rock paintings) and petroglyphs (rock carvings) can be found in the area. The former were created using a mixture of red and white pigments, and they depict a variety of animals, people, and more abstract geometric shapes.
The best-preserved rock paintings in the area are believed to have been created around 1250 CE, but some of the petroglyphs are estimated to be several thousand years old. The rock art is usually attributed to the indigenous Batwa people of the region, who lived in the area before the arrival of the Bantu-speaking people, who nowadays make up the majority of Uganda's population.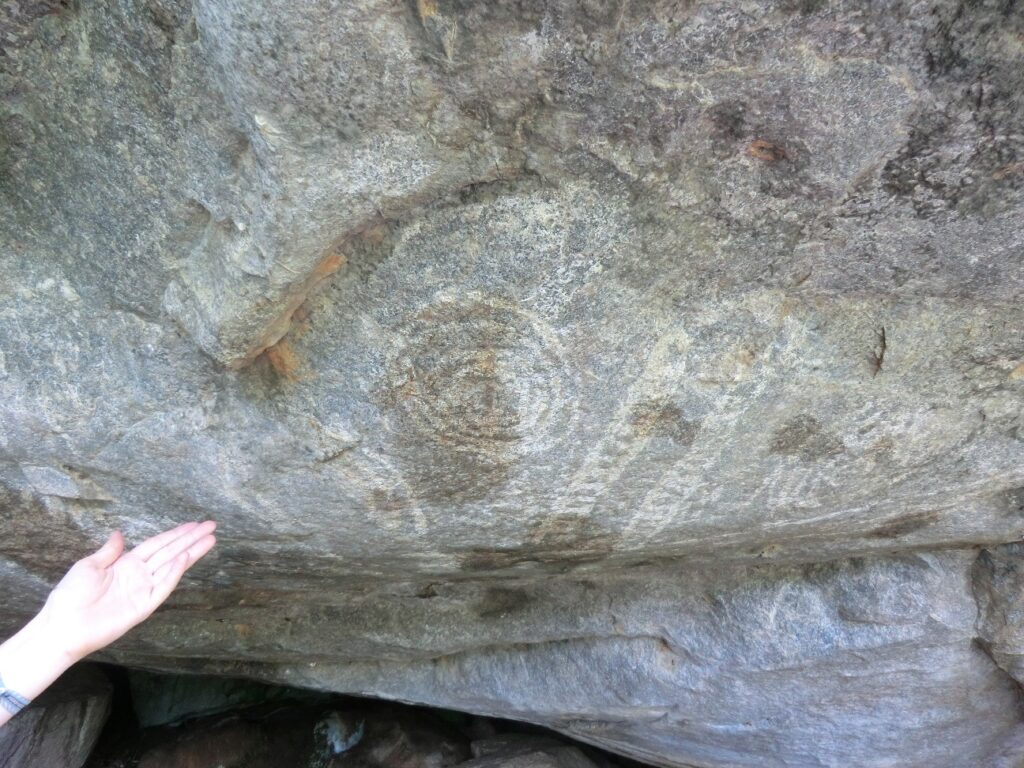 Officialy, the Nyero Rock Paintings were rediscovered by British explorer C.W. Hobley in 1913 (although I'm sure people living in the area knew about them long before that). While there are some efforts by the government to promote them as a site of touristic interest, we didn't meet any other mzungus on site or on our way there.
What to Expect of the Nyero Rock Paintings
The Nyero Rock Paintings are located on a beautiful green plain surrounded by rocky hills and small farms. The site itself is made up of three large granite rocks, each of which is covered in dozens of paintings.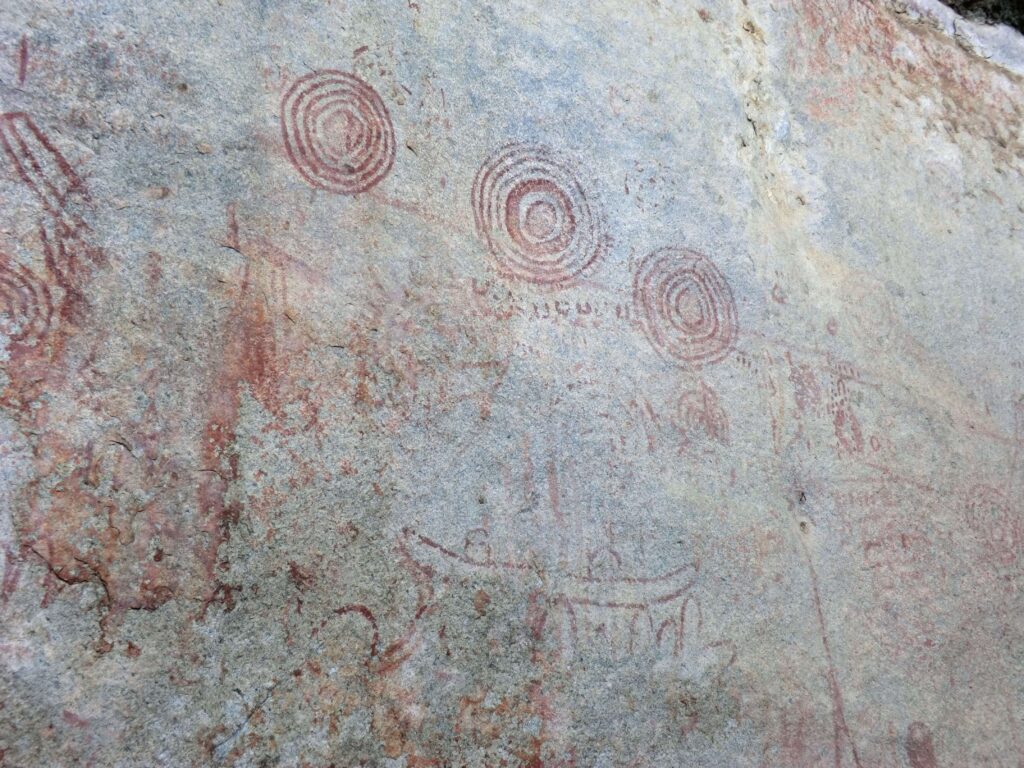 There'll be someone around to collect the entrance fee, who will very likely offer to guide you around. I suggest accepting the offer: while our guide wasn't super knowledgeable, some of the paintings are rather hidden and finding them on your own might be a challenge. There are six shelters in the area, the most interesting of which are Nyero 2 and 3.
Nyero 2 is the main site and the one you definitely don't want to miss. The red-pigment paintings are located on a high rock wall with a slight overhang protecting them from the elements, so they are very well-preserved.
There are several sets of concentric circles, as well as depictions of humans and various animals. The longish structure looking like a boat probably depicts an Acacia Pod, although there are theories, that it's actually supposed to be a boat, due to the vicinity of nearby Lake Kyoga.
Nyero 3 is a narrow rock shelter a little further to the north. You'll have to crouch low to enter it, but there is a great view of the surrounding landscape from the end and a well-preserved geometric design of white-painted concentric circles, surrounded by radial lines, giving it a sun-like appearance.
If the artwork looks familiar, you might recognize it from the painting on the 1,000-Shilling-note. You can also climb the main rock outcrop for great 360° degree views over the surrounding landscape.
How much is a visit to the Nyero Rock Paintings?
The entrance fee is about 15,000 Shillings, and we paid another 15,000 for the guy collecting the fee to guide us around.
How to Get to the Nyero Rock Paintings
The Paintings are located about 8km or 5mi. West of Kumi, which in turn can be found about 50km or 30mi. North-West of Mbale, the biggest city in eastern Uganda. The easiest way to get there would be by car, but using public transport is possible, if somewhat inconvenient.
From Mbale's Bus terminal, you'll have to take a matatu (shared taxi) headed for Soroti (be prepared to wait a while, until it fills up) and get out at Kumi. The trip should take about 1 to 1.5 hours. In Kumi, you'll have to either board a matatu going to Ngora, or take a boda-boda (mortorcycle taxi) to the rock art site.
Returning to Kumi is a bit more complicated, unless you take the boda-boda and ask your driver to wait. Otherwise, you'll have to either wait for an erratic matatu, try to hitch-hike (we managed to get a ride from a friendly priest) or leg it back to Kumi along a long, dusty road.
What to bring
Note that there are no facilities on site, so bring water, food, sunscreen and anything else you might need. There's a small pit toilet, but no toilet paper or running water.
Where to go next
Jinja, Home to the Source of the Nile and Uganda's Adventure Capital
Sipi, a beautiful area for hiking, dotted with impressive waterfalls