Morne Trois Pitons National Park in the southern part of Dominica's centre holds some of the biggest natural draws the island has to offer. Among them are the spectacular Boiling Lake and Valley of Desolation, the tranquil Freshwater and Boeri Lakes, as well as some magnificent Waterfalls and mountain peaks.
So unique are the natural features and so rich the Biodiversity of the place, that the UNESCO inscribed the entire National Park into its list of Natural World Heritage Sites in 1997. The villages of Trafalgar and Wotten Waven lie right outside the National Park and make for a great base to explore its natural wonders. Plus, they sport plenty of sights themselves.
Find everything you need to know in this guide.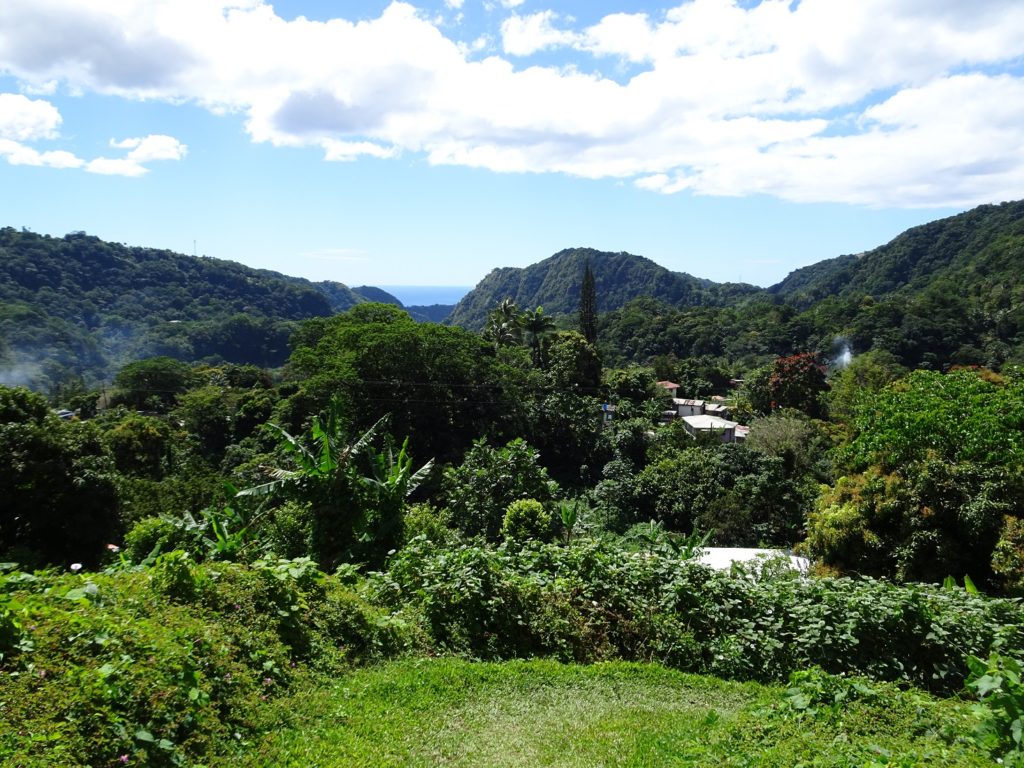 This post may contain affiliate links, and I might earn a small commission at no additional cost to you. For more info, click here.
What to Do in Trafalgar and Wotten Waven
Trafalgar Falls
These Falls directly east of Trafalgar village are one of the easiest-to reach natural attractions on the island. The pair of falls (called Father & Mother Falls) are an impressive sight and one you shouldn't miss while you're in the area. With a bit of careful navigation, you can climb across the boulders to get closer a bit closer or take a swim in the pools below the falls.
They are part of Dominica's Ecotourism site-pass, which is 5$ (13.25 ECD) per day or 12$ (32.04 ECD) per week and allows you to visit as many sites as you manage in that time. If you don't already have one, you can buy it at the small visitor centre on the way to the falls.
Note that the Falls are occasionally closed to anyone but Cruise Ship Visitors on some days. To avoid disappointment, you can pre-book your ticket here, which allows you to visit the Falls even as an independent traveler on those days.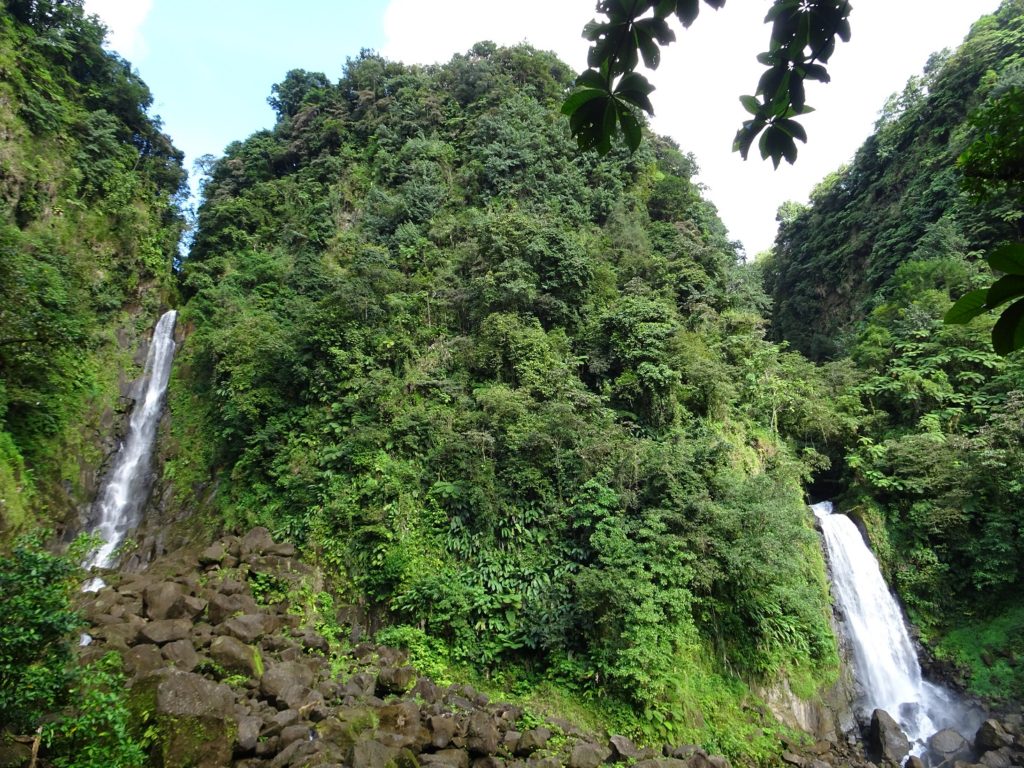 Papillote Gardens
This beautiful tropical garden now belongs to Papillote Wilderness Retreat, but can be visited by non-guests for a fee. Apart from plenty of exotic flowers and a small waterfall, there are three hot pools to relax in. The surroundings are gorgeous and sitting in the pools, you'll have a chance to observe plenty of hummingbirds, butterflies and small lizards. It's 60 ECD to visit the garden, including use of the Hot Pools.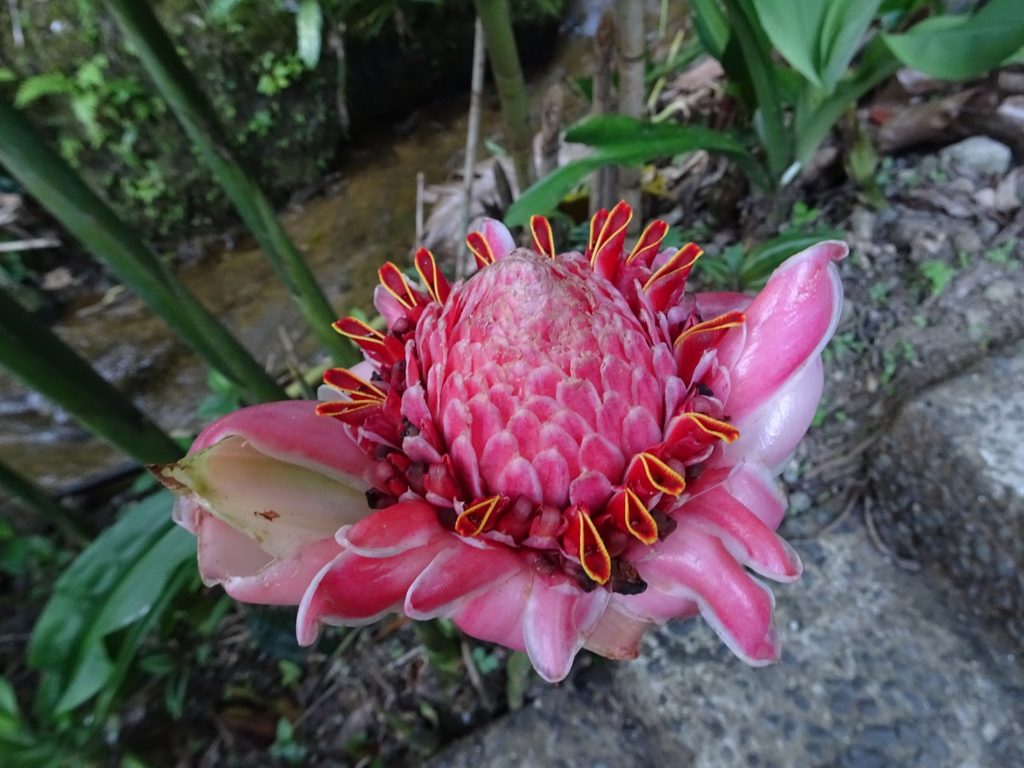 Hot Sulphur Springs in Wotten Waven
Due to the volcanic activity, there are plenty of other warm springs in the area, usually charging around 30 ECD. Wotten Waven, Trafalgar's neighbouring village, has the highest concentration of Sulphur Spas on the island. Some of them are more ambitious affairs than others.
Ti Kwen Glo Cho comes highly recommended. We visited Da-Scape Hot Sulphur Spa, which seemed smaller and therefore quieter than the others. We were completely on our own, while we were there, and the accommodating owner served us beer inside the pools. What more can one ask for?
Two Great Day Trips into Morne Trois Pitons National Park
There's a lot to see in the Park, but with some planning, you'll be able to fit the most important sights in two day trips from Trafalgar. If you have an extra day to spare, you could choose a slower approach, maybe visiting Middleham Falls and Trafalgar Falls on Day 1, Boiling Lake and Titou Gorge on Day 2 and Freshwater Lake and Boeri Lake on Day 3.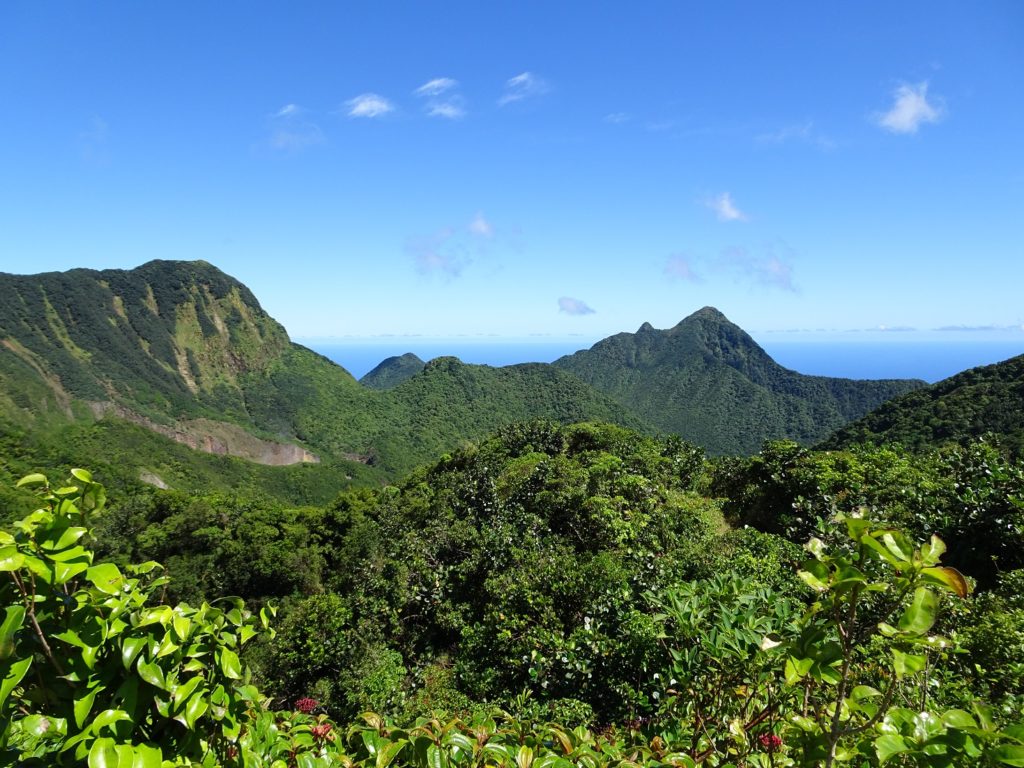 Day-Trip 1 – Boiling Lake, Titou Gorge and Trafalgar Falls
The hike to the Boiling lake is probably the most spectacular thing you can do on Dominica. It's challenging but beautiful, traversing varying terrains before leading into the Valley of Desolation, an otherworldly place full of hot springs and sulphur vapours rising from below ground. The constantly bubbling Boiling Lake is a very unreal sight and one you won't forget for a while, I'd venture to guess.
On your way back, you should check out Titou Gorge – a narrow ravine cut into the rock by a small river. You can swim to the end to see a tiny waterfall. If you avoid the cruise ship visitors, the gorge can be quite peaceful.
On your way back to Trafalgar, you can follow a part of the Waitukubuli National Trail before visiting the impressive Trafalgar Falls. After all that hiking, a soak in the hot pools of Papillote Wilderness Retreat would be a well-deserverd treat.
See my extensive guide to the Boiling Lake Hike here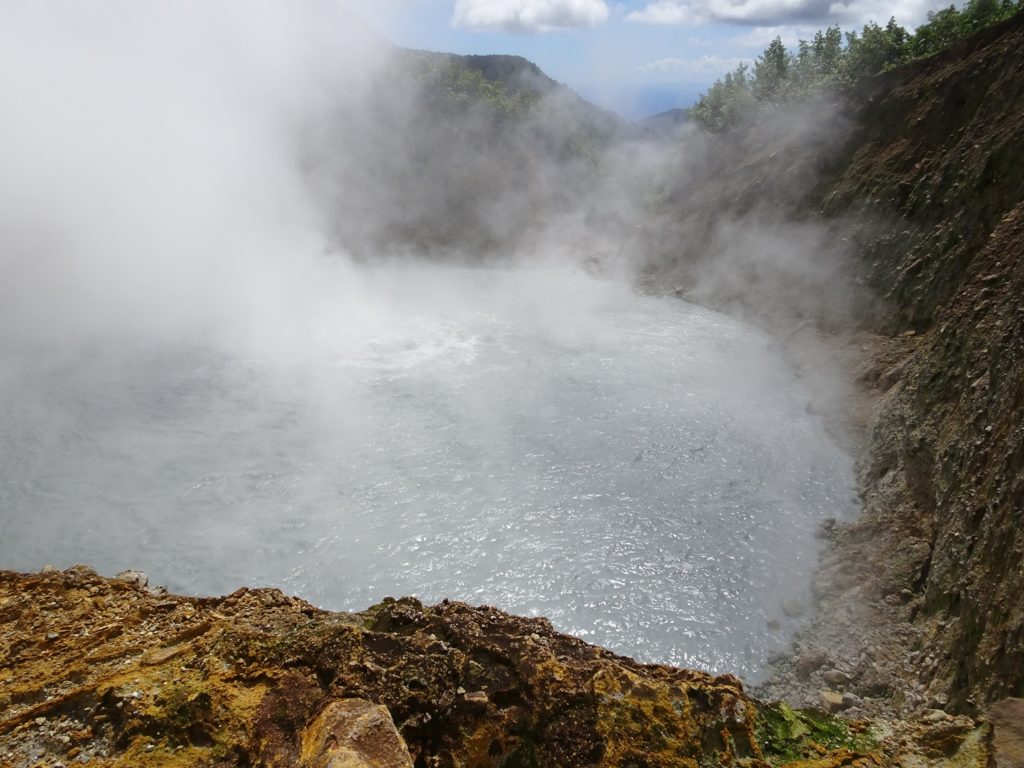 Day-Trip 2 – Freshwater Lake, Boeri Lake and Middleham Falls
The National Park has some pleasant regular (non-boiling;-) lakes as well. Freshwater Lake is the largest lake on the island and makes another great day-trip from Trafalgar. There's a small information centre and a circular trail with great views leads through the rainforest along the lake-shore.
You can continue along a trail to secluded Boeri Lake. Though much smaller in size, we found it to be an even more atmospheric place than Freshwater Lake. It's also a great place for a swim if you don't mind the chilly water.
If you've still got some energy left, you could tack on a hike to nearby Middleham Falls, one of the highest waterfalls on the island. Once you've returned to Trafalgar, you could take a detour to nearby Wotten Waven, where you'll find countless warm sulphur springs to relax those aching muscles.
You can read more about the hike to Freshwater and Boeri Lake as well as Middleham Falls here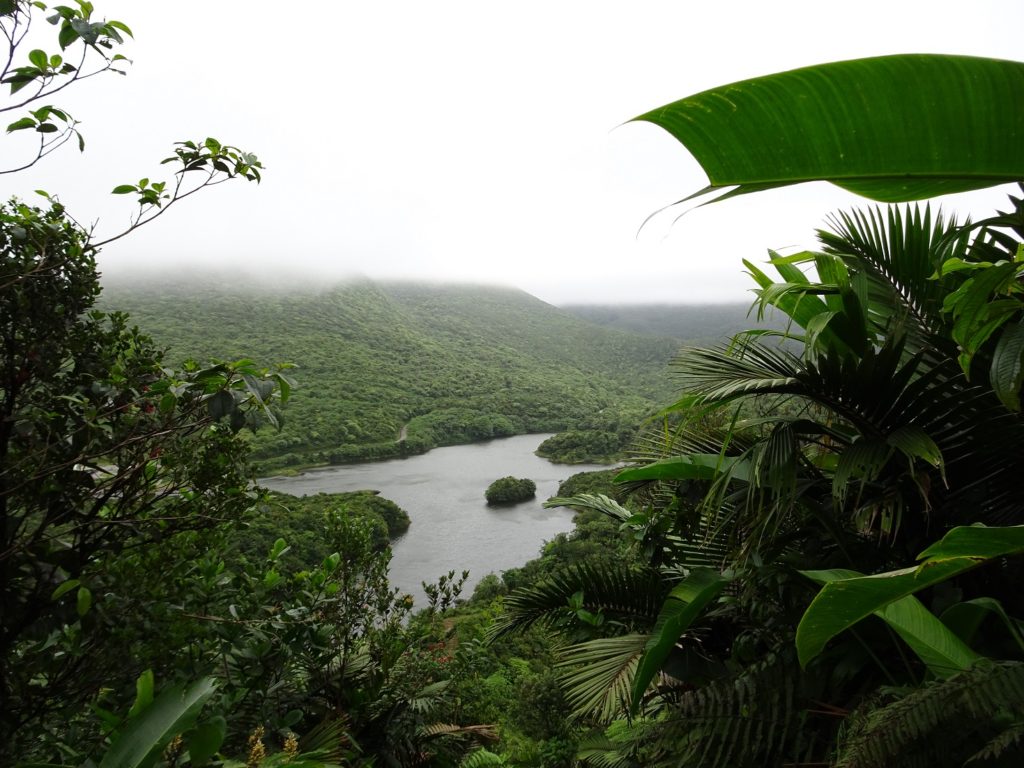 Practicalities
Where to stay in Trafalgar, Wotten Waven and around
Trafalgar is a pleasant village and a good base for visits to the nicest natural attractions in the park. There are a number of places renting cottages and camping space.
We stayed at D'Auchamps Cottages, where we rented Firefly Cabin. It's basic but affordable and set in a beautiful garden with great views of the surrounding mountains. Plus, Sara who runs the place is helpful and knowledgeable about everything to see in the surroundings.
There are also a couple of midrange and upscale accommodations in Trafalgar, like Cocoa Cottage close to D'Auchamps Cottages.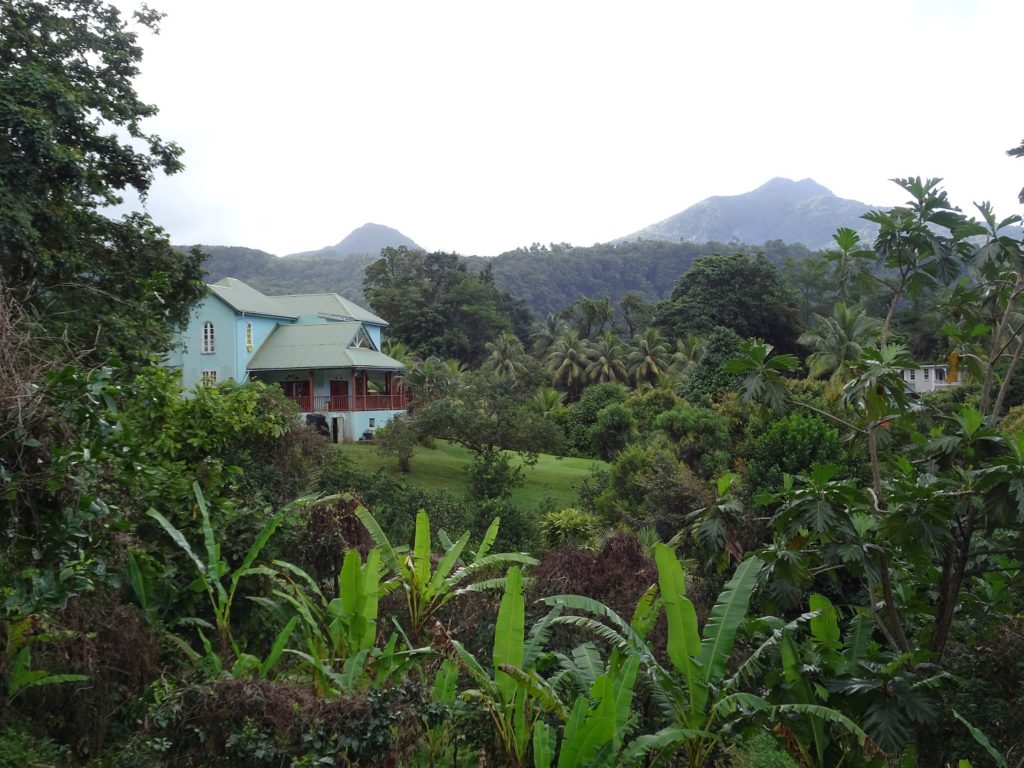 Another option would be to stay in Wotton Waven, where there are numerous hot springs to soak in after your hike. It's not the best base for hikes, though, and we preferred walking there from Trafalgar in the evening than having to do so in the morning to get to the National Park.
Anthurium Apartment would be one of the cheaper options in Wotten Waven, while Ti Kwen Glo Cho in is a mid-range option set on the grounds of the warm sulphur springs of the same name.
If you don't mind staying in Roseau, you could also take an early minibus to Laudat, do your hiking and return in the evening. There are just a few minibuses going to Laudat every day so this requires a bit of pre-planning. Also, in my opinion, it's much nicer staying in the pleasant natural surroundings of Trafalgar (or Wotten Waven).
You can find your perfect place to stay in the map below:
How to get to Trafalgar and around
Trafalgar and Wotten Waven can be easily reached by regular minibus from Roseau's King George V Street (near Astaphans Supermarket). Some minibuses continue to Laudat, which serves as a gateway to most of the sights in the National Park, but those are few and far between, so hitch-hiking might be an easier option on this stretch of road. Laudat can also be reached by hiking part of Waitukubuli National Trail Segment 4 from Trafalgar.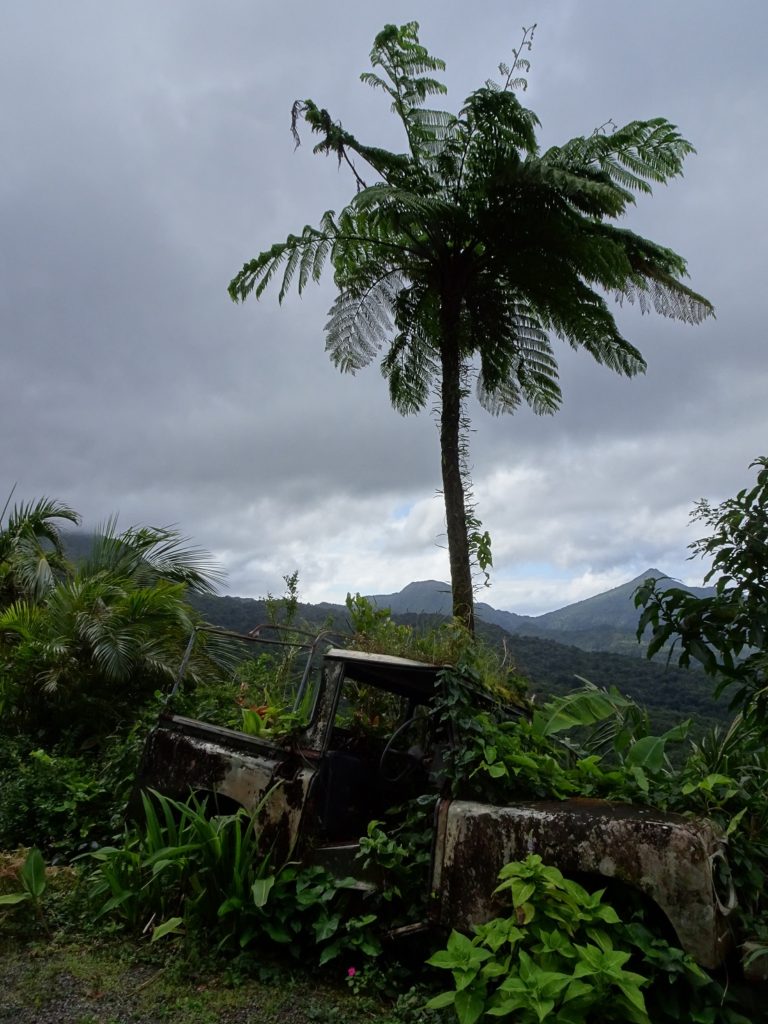 Where to Eat in Trafalgar
Trafalgar is a small village, so there aren't many options. We liked the River-Rock Café & Bar on the road to Trafalgar Falls, which had tasty food and a great view of Breakfast River. Apparently, dinner is usually by reservation only. We didn't know that and just dropped in, which wasn't a problem, but you might want to check online beforehand.
If you have a cabin with your own kitchen, you could also do some self-catering. There are small grocery stores in Trafalgar, Wotten Waven and Laudat.
Where to go next
Roseau, Dominica's colourful capital
Scott's Head or Soufrière, great bases for Hiking and Snorkeling