In case you were wondering: Dominica's does not only have Boiling Lakes. As a matter of fact, Freshwater and Boeri Lake in Morne Trois Pitons National Park are utterly beautiful and make for another great day trip into the Park. While the former is Dominica's largest lake, visiting the latter leads you deeper into the mountains along some serene forested trails.
Nearby Middleham Falls are among Dominica's highest waterfalls and should definitely be on your itinerary, as well. All three sites can be reached by moderately difficult self-guided hikes through beautiful rainforest from Laudat Village. Check out everything you need to know below.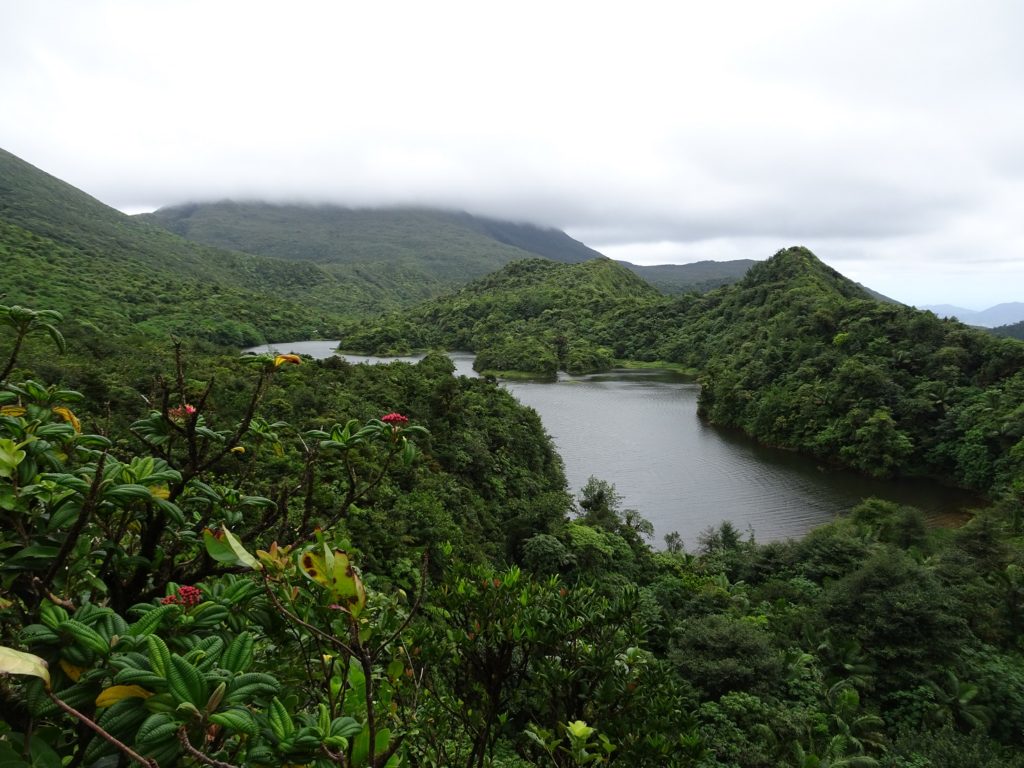 This post may contain affiliate links and I might earn a small commission at no additional cost to you. For more info click here.
How to get there?
As for Boiling Lake and Titou Gorge, you have to get to the village of Laudat first. For that I'll just repeat my advice from the Boiling Lake Post:
Laudat can be reached by infrequent minibus connections from Roseau's King George V Street (near Astaphans Supermarket). If you're staying in Trafalgar, you'll have to get to the intersection with the Roseau-Laudat Road and either try to catch one of the minibuses, or hitch-hike the rest of the way. As the buses are far and few between, the latter option is much more likely.
There's not a ton of cars going to Laudat but the ones that do are very likely to stop. The third option is using part of Segment 4 of the Waitukubuli National Trail that climbs from near M&G's Diner in Trafalgar up to Laudat. It's probably the nicest option, although it's rather steep and strenuous.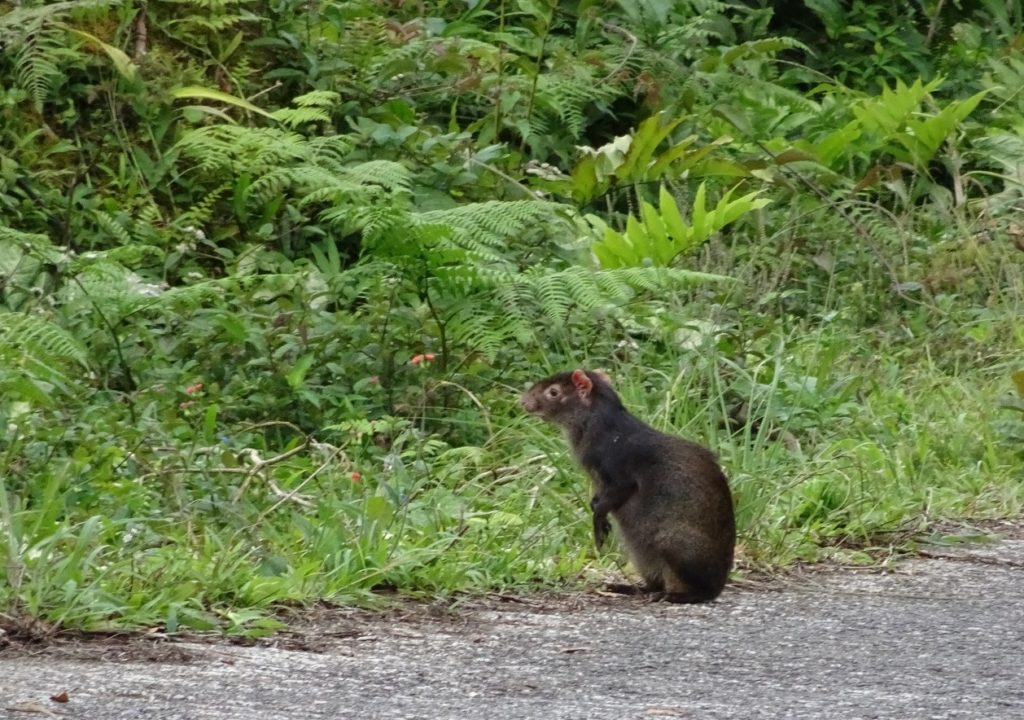 To reach Freshwater Lake from Laudat, you'll have to continue following the Valley Road to the east almost to its end. Without your own wheels, you have three options:
1. If you came to Laudat by Minibus, you can try negotiating with the driver to continue to the Lake, which he might do for a price.  2. There are not many cars going to the lake – tourists would be your best bet. Try hitch-hiking if a car actually passes you. 3. Walk – it's only about 3km.
The turn-off to Middleham Falls is on the Valley Road about 1 km out of Laudat in Direction of Roseau (to the west). You'll have to follow the signposted side road until it ends after another kilometre or so. From there a footpath starts that will take you to the falls in about 20 minutes.
Do I need a guide?
I would say no – all the trails a clearly marked and safe, apart from sometimes slippery rocks. Take your time and you'll be fine. If you still prefer to take a guide to get a few more insights about the nature and history of the area, there's a half-day tour to Middleham Falls and Titou Gorge available.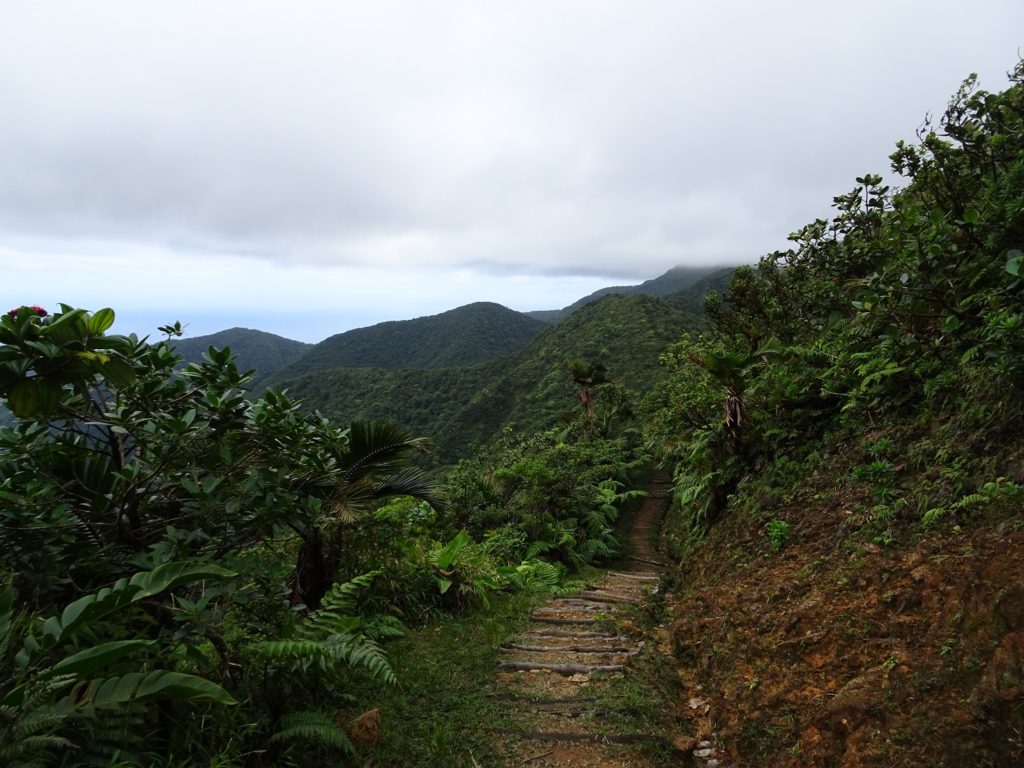 How long does it take?
Plan about 1,5 hours for the hike around Freshwater Lake and about 1 hour each way from Freshwater Lake to Boeri Lake. Technically, it could be done in less time but you have to be constantly vigilant of slippery rocks and wooden steps, so it's better to take your time. Also you'll want to properly enjoy the views and lush surroundings.
What to bring?
The visitor centre at Freshwater Lake sells drinks and snacks but make sure you bring enough water anyway, just to be safe. The surroundings of the lakes are amongst Dominica's wettest regions, so a waterproof jacket might come in handy as well. Finally, bring some swimwear and a towel if you plan on taking a dip in Boeri Lake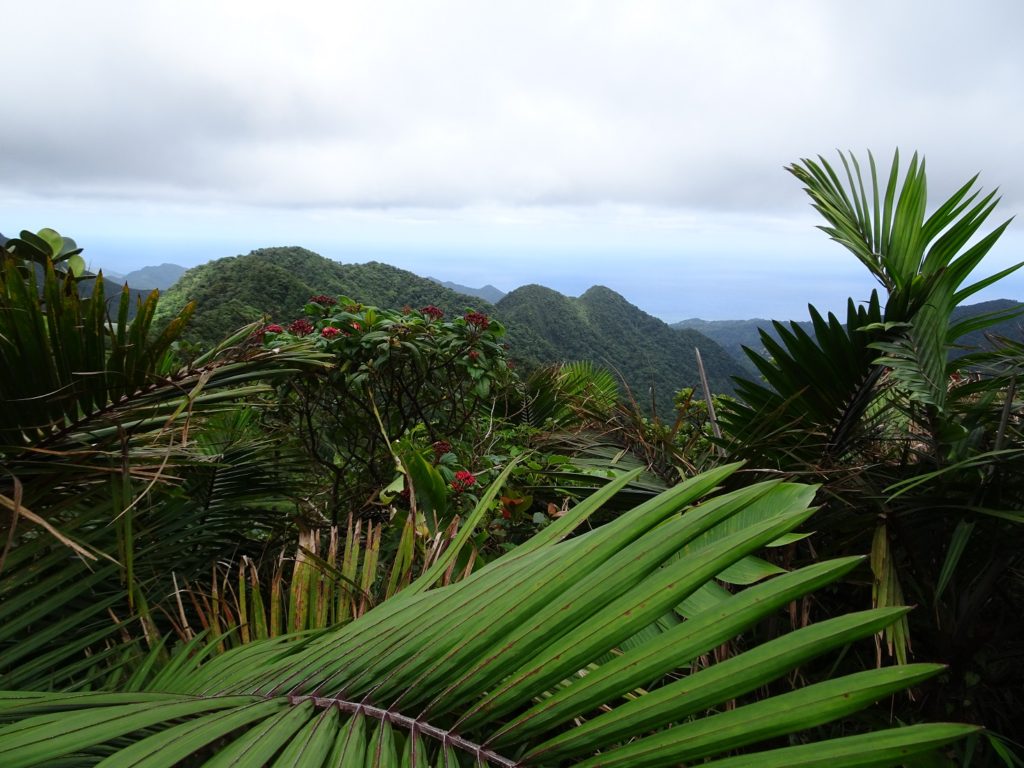 How much does it cost?
All three sites are included in the very reasonable Ecotourism site-pass, which is 5$ (EC $13.25) per day or 12$ (EC $32.04) per week and allows you to visit as many sites as you manage in that time.
The Hikes
Freshwater Lake and the Circular Trail
This is a truly atmospheric place – especially if it's shrouded in mist like it was when we arrived there. With a surface area of about 4ha it's Dominica largest lake and due to the altitude and somewhat higher chance of rain (be prepared), the surrounding forest is wonderfully lush. There's a small visitor centre which also sells drinks and snacks, in case you'll want to gather some energy before setting off.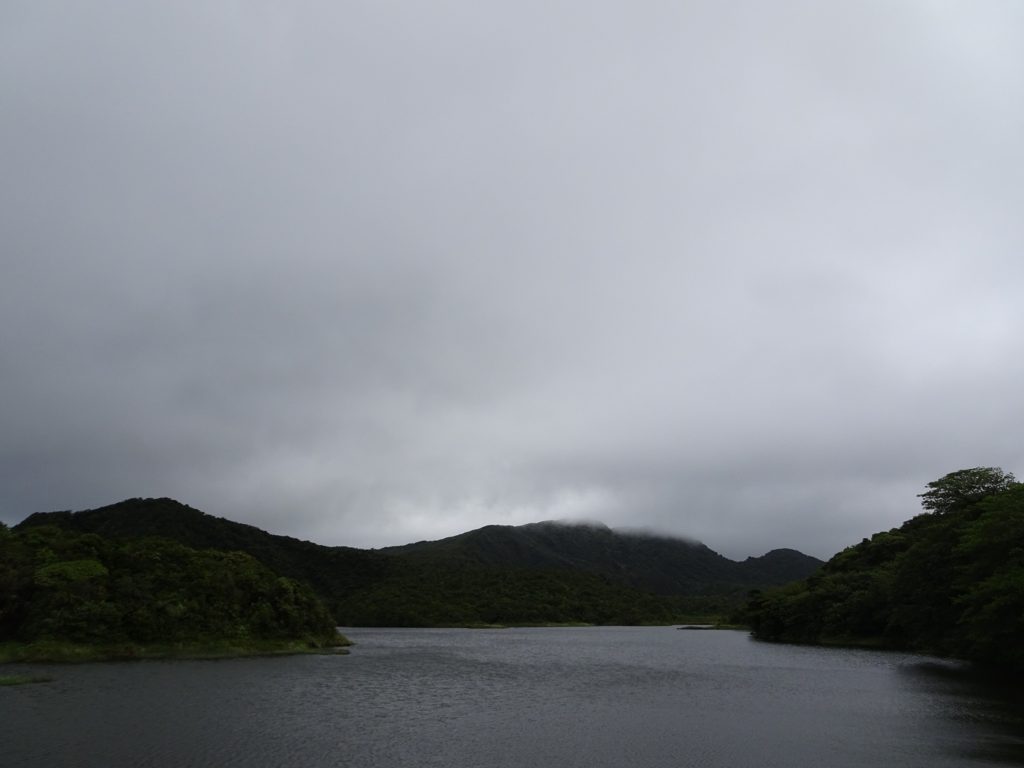 If you walk the trail in a counter-clockwise direction, you'll see the most spectacular parts before continuing on to Boeri Lake (which you should). After ascending to the top of a small ridge, you'll have great views over the surrounding mountains and down to the eastern coast of the island on a clear day.
The weather can change quickly, so it probably pays to wait a few minutes, even if it's cloudy. We did exactly that and after a while, a fantastic view opened up. You'll descend on the other side of the ridge via steep section of steps. Be careful, as some of these are made of wooden logs and can be quite slippery.
The remaining stretch of the trail leads through some amazing sections of rainforest with vegetation that seems truly primeval. At times we felt that we had travelled back in time a few million years. Continue on until you reach the Valley Road and turn right if you want to continue to Boeri Lake.
Boeri Lake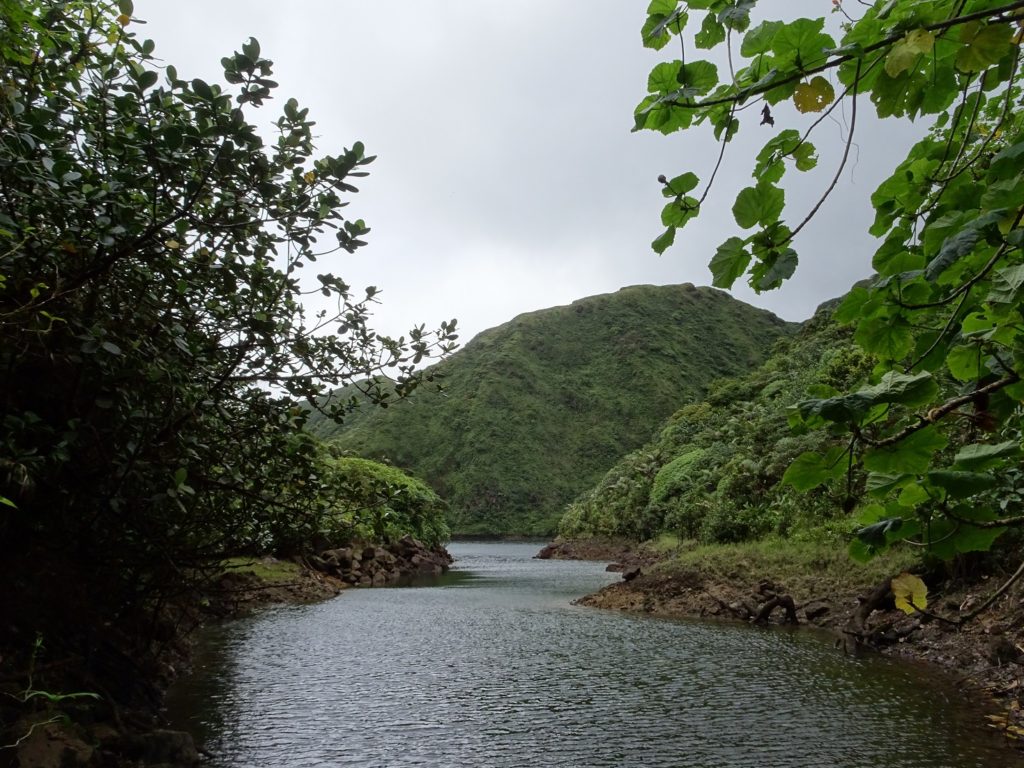 Follow the Valley Road until it ends and continue uphill along a well-marked path. The first section leads over some hills and offers great views back to Freshwater Lake. After a while you'll enter a forested area and this is where you have to be careful as the stony path is mossy, wet and VERY slippery.
You'll also have to cross smaller streams a couple of times. Take small steps and be prepared to catch yourself should you slip. Also, take a break once in a while to enjoy the pristine jungle around you – it's amazingly beautiful.
About 45 minutes after you left the road, you should arrive at the lake. It's scenically set amid high hills and if you're here on your own, the surroundings are eerily quiet. The Lake is also a great place for a swim – take a dip before returning the way you came.
Middleham Falls
This impressive 70m high waterfall can be reached in about 45 minutes by following a nice trail through the forest. See the "How to get there" section about getting to the Trailhead west of Laudat. At the falls there's a small viewing platform and if you're so inclined, you can take a swim in the pool at the base of the falls.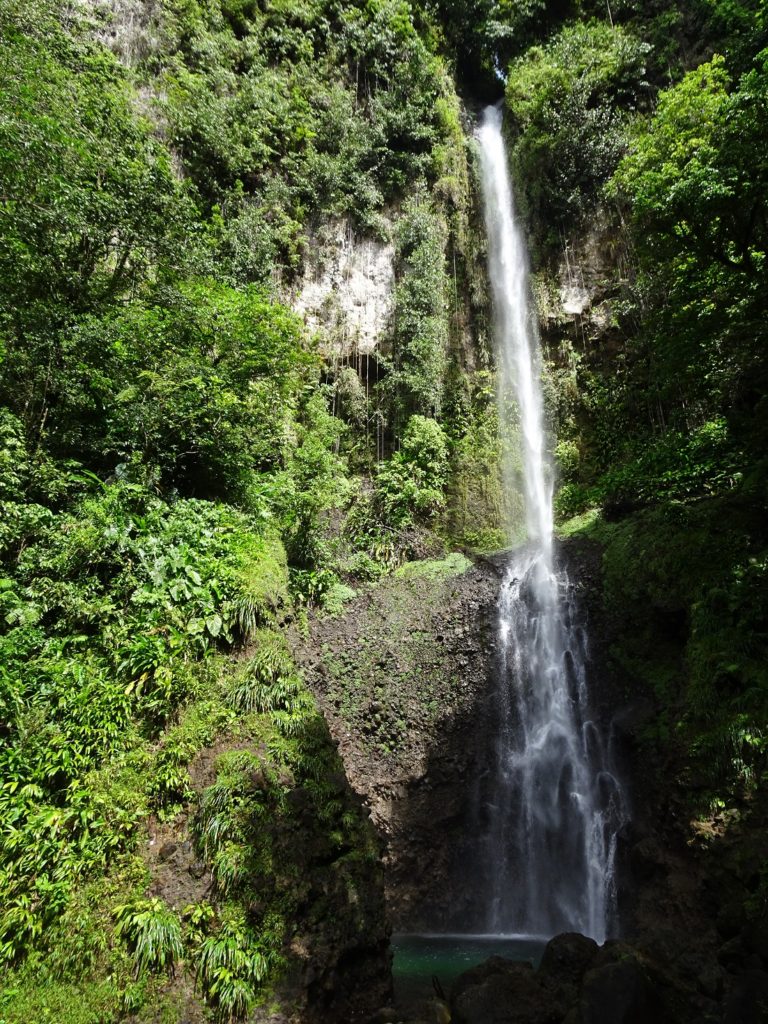 Other destinations in the vicinity
The hike to Boiling Lake is another highlight you shouldn't miss in the National Park.
Trafalgar and Wotten Waven are nice places to base yourself for hikes into the National Park and have their fair share of sights (and warm springs).