Dominica has so many amazing natural attractions that it's hard to fit all of them into your itinerary – especially if you don't have a lot of time to spare. The fantastic hike to the Boiling Lake is the one thing you definitely shouldn't miss while on the island.
The lake itself certainly is a sight to behold, but the trail leading there is no less spectacular, traversing some beautiful patches of rainforest as well as the otherworldly Valley of Desolation. I've compiled everything you need to know about the hike in this post.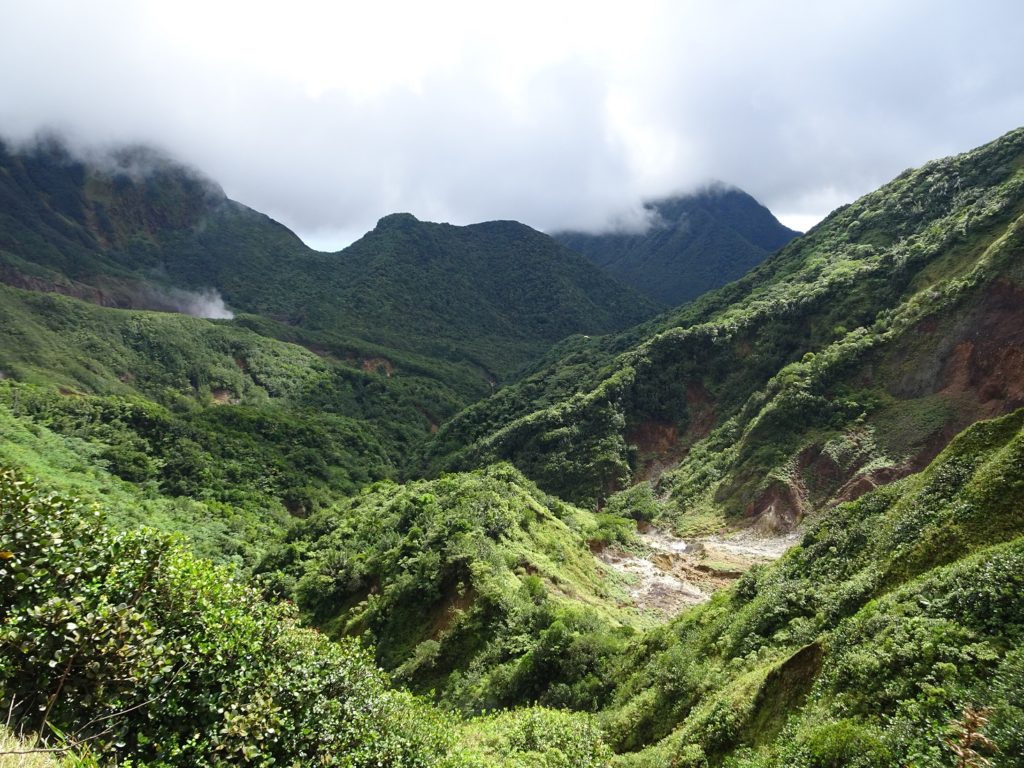 This post may contain affiliate links, and I might earn a small commission at no additional cost to you. For more info, click here.
What Exactly is the Boiling Lake?
As the name suggests, this Lake is constantly boiling due to subsurface geothermal activity. The body of water is located inside a volcanic fumarole, so hot gas and steam is constantly being channelled into it from an underground molten magma flow.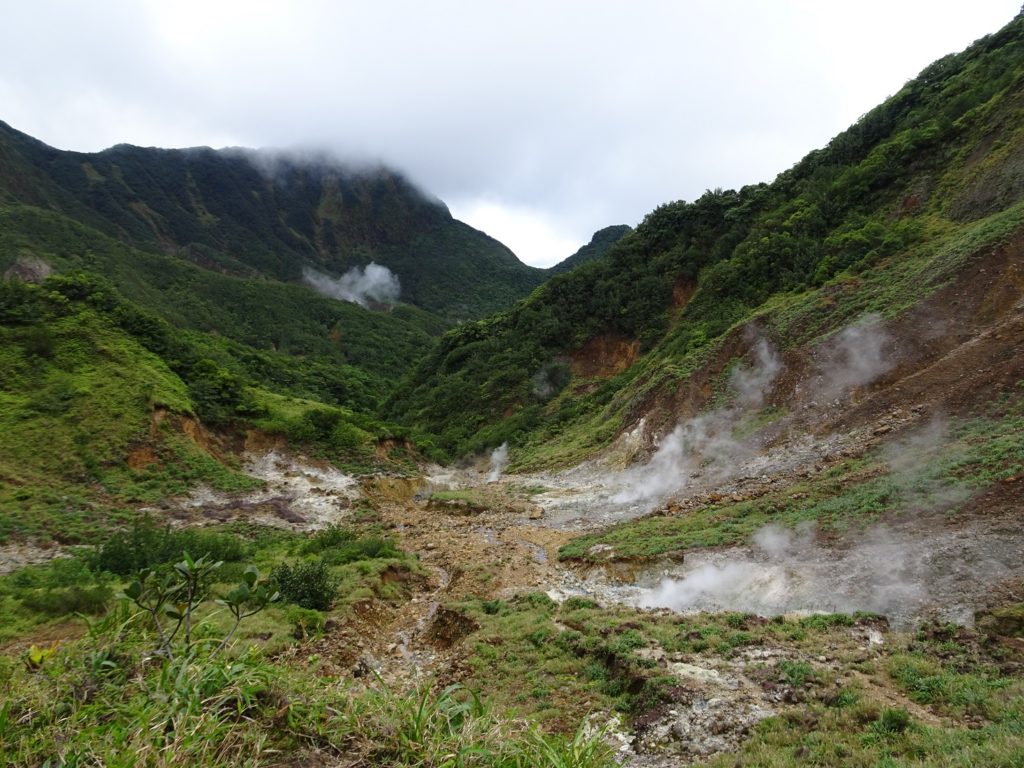 It's the second biggest such lake in the world after Frying Pan Lake on New Zealand's Northern Island. The nearby Valley of Desolation, which is actually a huge caldera, is just as fascinating with its springs of hot sulphuric water and constant venting of volcanic steam. You'll cross it on your way to the lake.
How to get to the Boiling Lake Trailhead
The hike starts near Titou Gorge at the southeastern edge of Laudat Village.  Laudat can be reached by infrequent minibus connections from Roseau's King George V Street (near Astaphans Supermarket).
If you're staying in Trafalgar, you'll have to get to the intersection with the Roseau-Laudat Road and either try to catch one of the minibuses, or hitch-hike the rest of the way. As the buses are far and few between, the latter option is much more likely. There's not a ton of cars going to Laudat, but the ones that do, are very likely to stop.
The third option is using part of Segment 4 of the Waitukubuli National Trail that climbs from near M&G's Diner in Trafalgar up to Laudat. It's probably the nicest option, although it's rather steep and strenuous. Take your time, so you don't power yourself out before starting the actual hike.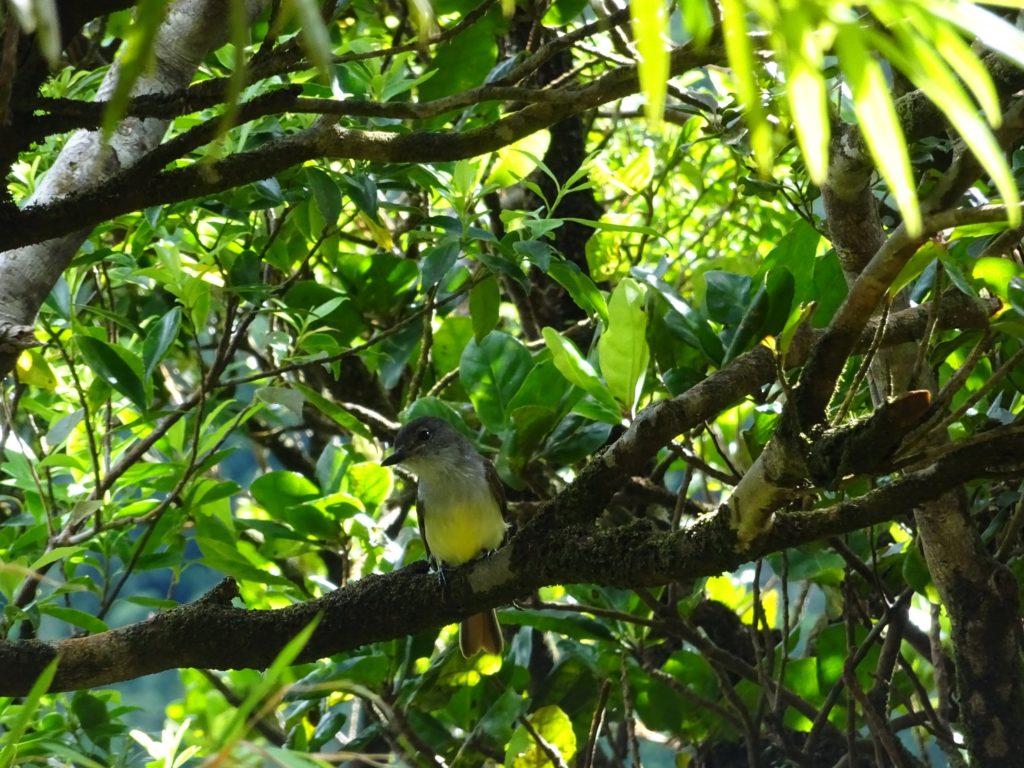 Do I Need a Guide for Boiling Lake?
It's probably a good idea. We went without one, and on the way back met quite a few people who were on their own as well. The trail is mostly clear, so finding your way isn't a problem, and we very much enjoyed hiking by ourselves.
However, afterwards we heard some stories about tourists getting injured, especially in the Valley of Desolation. There are many streams of (very) hot water here and while most of them are easy to spot and step over, some seem to be well-hidden and stepping into near-boiling water doesn't sound like my idea of fun.
Most guides apparently know their location like the back of their hand and can steer you clear. We never felt unsafe, but if you want to make sure, you can take a guided tour like this one, so you won't have to worry.
How Long Does the Boiling Lake Hike Take?
About 5 to 6 hours return, depending on your level of fitness and your keenness on taking a bath in the warm pools on the way (which you should:-). Make sure to take your time on the hike, as the trail is not an easy one and requires constant vigilance.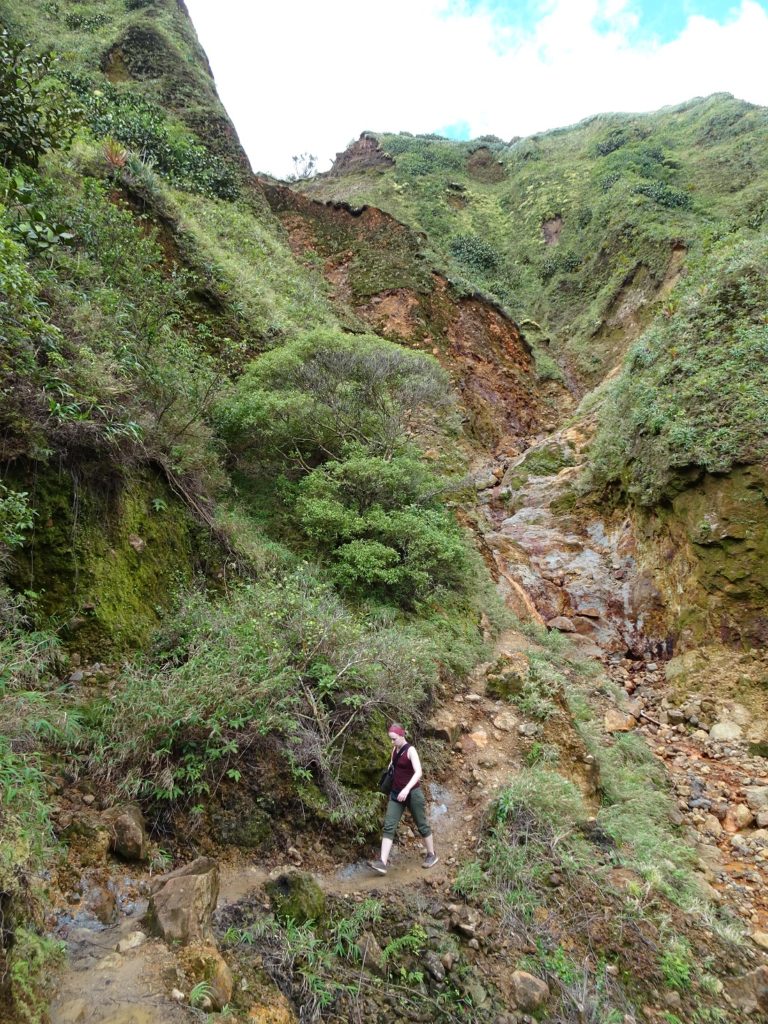 When to Do the Boiling Lake Hike?
I recommend you to start as early as possible. We started at around 8am and thereby managed to be first at the trailhead. This meant that we didn't see another soul on our hike there, were alone at the lake and only started meeting other people on our way back. More importantly, it also meant that we had the warm pools to ourselves on the way back.
What to bring?
Tale note that there are no opportunities to buy food or drinks along the trail, so take enough water and snacks to last you through the hike. There's a small shop at the trailhead at Titou Gorge, but it was still closed when we started our hike around 8am, so it's probably best to bring everything you need from wherever you're staying.
Otherwise, there's a small grocery store in Laudat on the road to the Gorge, but again – it might still be closed when you're starting your hike. You can drop by on your way back to stock up on drinks and food – it's called Sunshine Minimart and run by a super nice guy. Also bring some swimwear and a towel if you plan on swimming in Titou Gorge or bathing in the warm sulphur springs.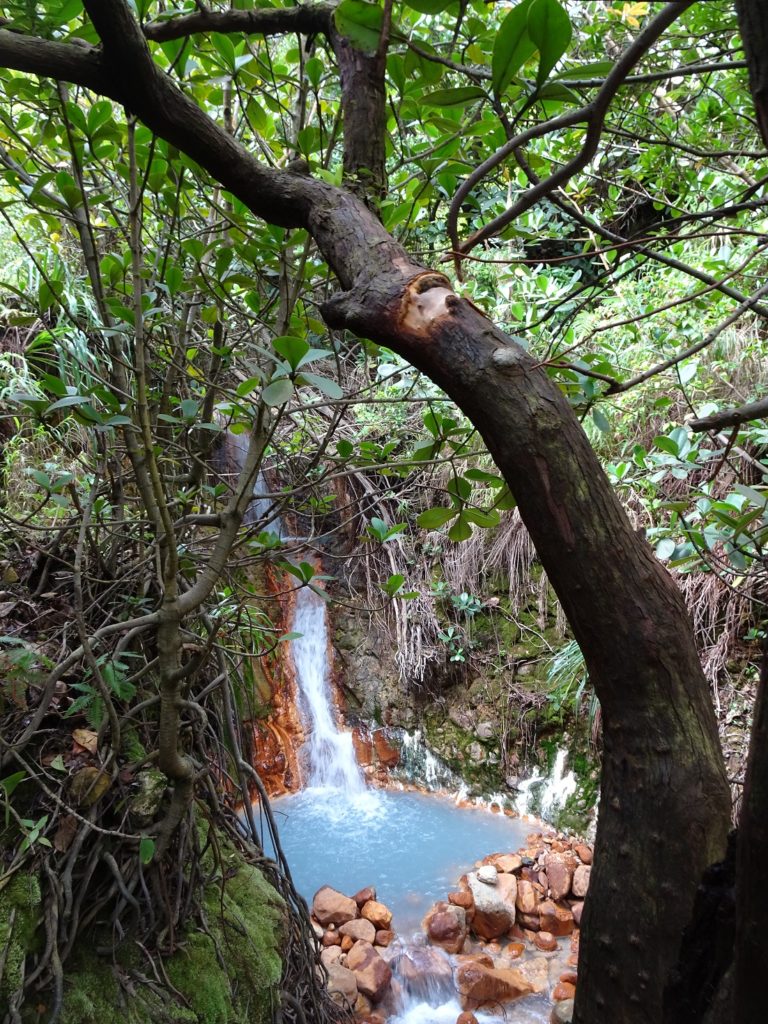 How Much Does the Hike Cost?
The hike is included in the Ecotourism site-pass, which is 5$ (13.25 ECD) per day or 12$ (32.04 ECD) per week and allows you to visit as many sites as you manage in that time.
A Description of the Boiling Lake Hike
The trail starts close to Titou Gorge and the first sections leads through some lush areas of rainforest, before dropping down to the Breakfast River, which you have to cross. A steep climb to the top of Morne Nicholls follows, from where you'll have a fantastic view over the mountains and down to the sea.
It's a great spot for taking a break and enjoying the view before descending some high steps and platforms into the Valley of Desolation. Take your time – sometimes you have to scramble rather than walk the steep sections.
Once you've reached the bottom, you're entering what for me is the most spectacular part of the hike. The Valley is completely outlandish, yet at the same time spectacularly beautiful.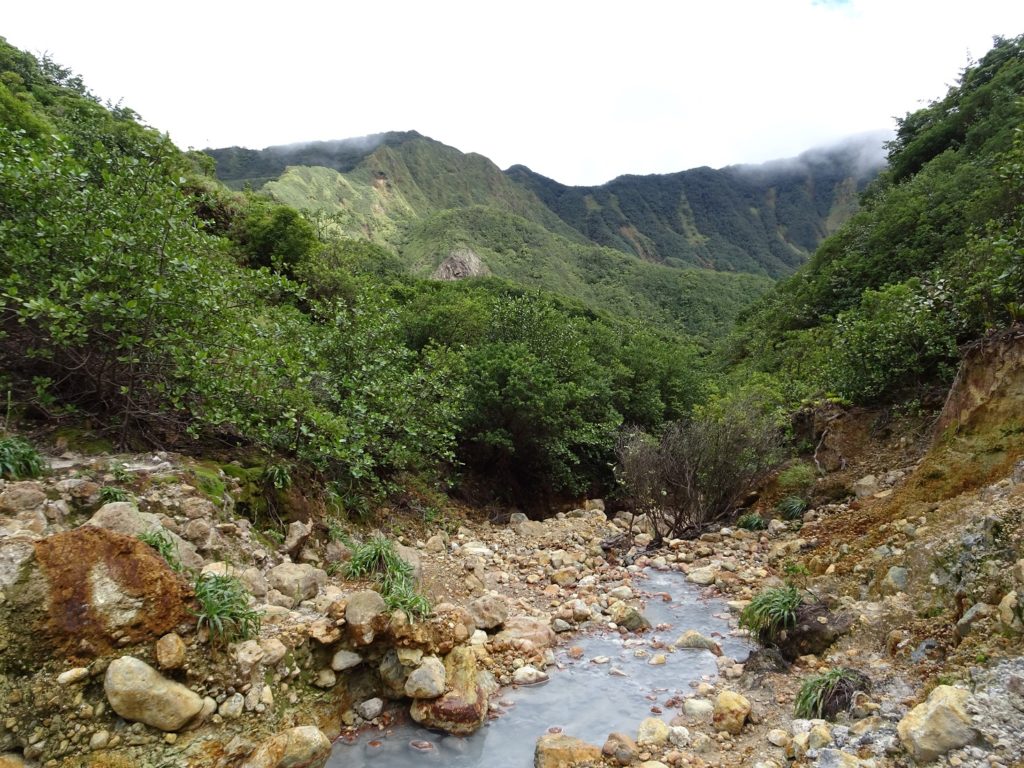 You'll hardly see a clear trail inside the valley, so stick as close to the small stream on your right-hand side as possible. Still, be prepared to meander your way through the valley, as there are many streams of nearly-boiling water, so WATCH YOUR STEP!
Also, if you're using rocks to cross a stream, make sure it actually is a rock and not just a hard crust of mud.  Some of these look deceptively like stones, but will crumble under your feet when you step on them. Again, if you take your time and exercise caution, you'll be fine. Exit the valley close to the stream on the other side.
The next section follows the small river and on your left you'll see some of the pools, where you can bathe in (I recommend doing it on your way back, but if you need a break now – go for it!). The trail doesn't get any easier, and at one point you'll actually have to climb down a section of rock using an attached rope.
Soon you'll leave the forested area near the river and continue through another caldera for maybe 15 minutes until you reach the lake.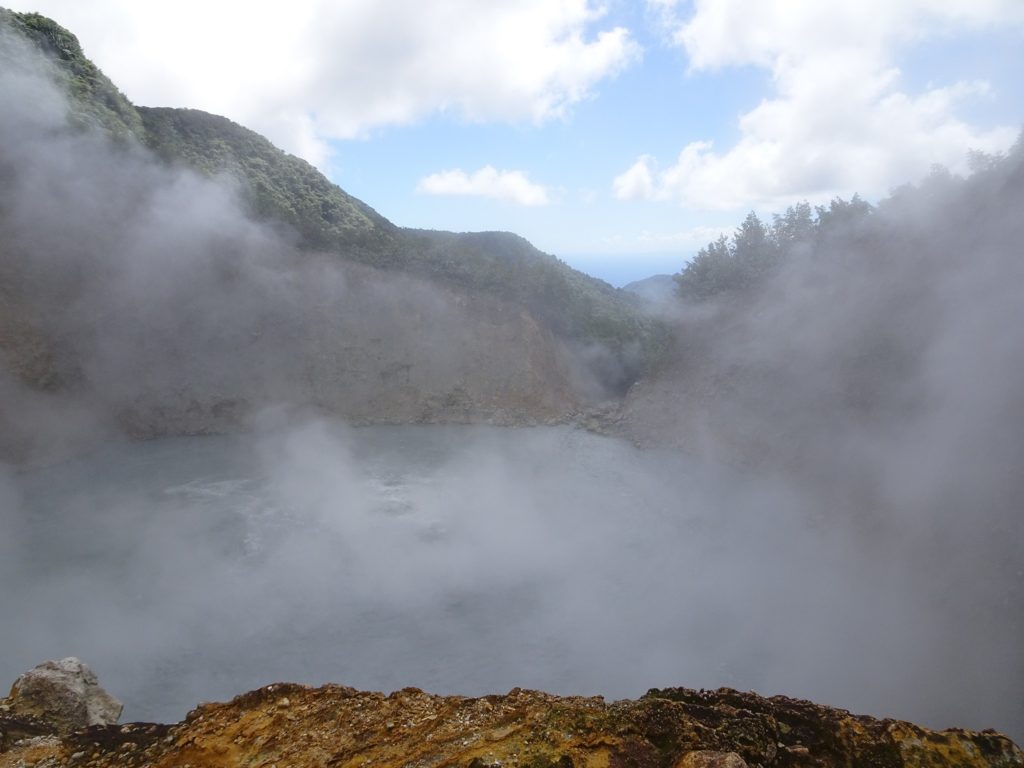 The sight of the constantly bubbling and steaming lake is very unreal. I certainly hadn't seen anything like it before, and I don't think I'll ever forget. Once the steam clears for a moment, you'll actually have a nice view to the sea – until the shrouds cover it up again. Once you've had your fill of watching the spectacle and feel well rested, set off on your hike back.
Bathing in the Warm Sulphur Pools
You will have spotted some natural pools in the river on your way after you've left the Valley of Desolation. If you don't mind the sulphuric smell (which you'll probably be used to anyway by now), these make a fantastic place to soak in the warm water for a while.
Relax your muscles and enjoy the natural surroundings. We managed to find a pool fed by a small waterfall, further adding to the atmosphere. The water had the perfect temperature when we were there, but obviously make sure, before you dive in;-).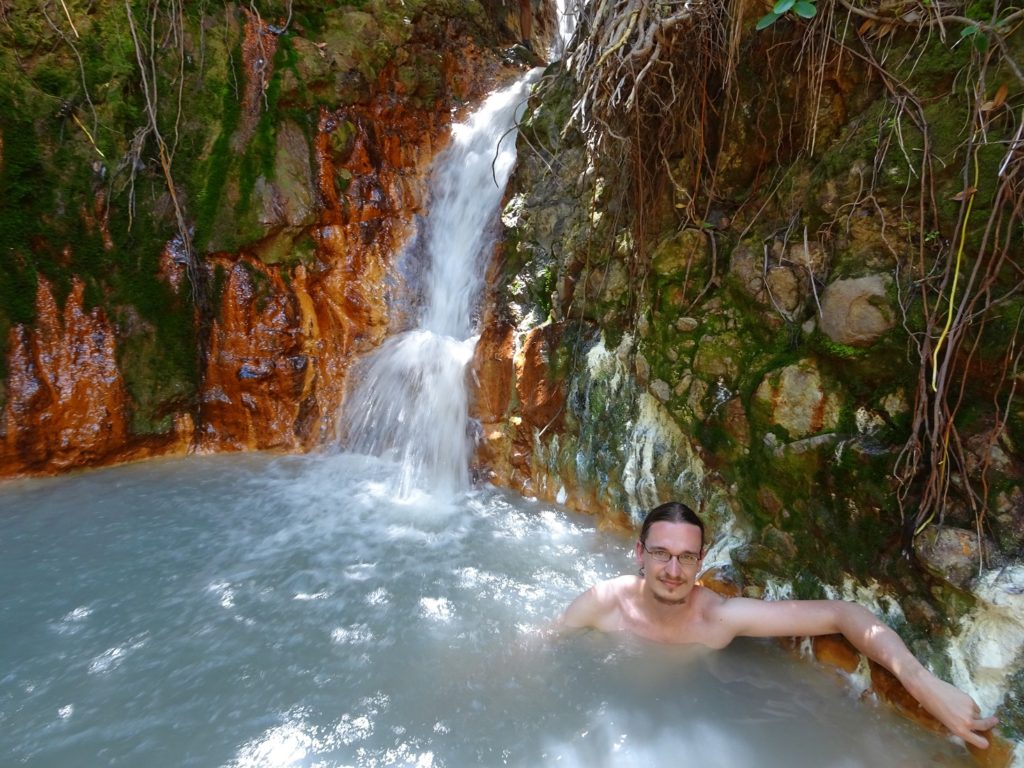 Visiting Titou Gorge
Titou Gorge is located at the trailhead for the hike and is another fantastic natural attraction you shouldn't miss. It's also one of the spots visited by passengers during cruise ship days, so check online to make sure that you're visiting on another day (or very early or late). We didn't check, and the gorge was super full when we returned from the Boiling Lake around 2pm.
The river has cut a narrow crevice in the rock, and you can swim through the gorge to a small waterfall at the end. The water is too deep to stand inside the gorge and if you're not confident in your swimming abilities (or stamina), you can rent water wings at the entrance. I didn't find them to be necessary, to be honest, but it's probably better to be safe than sorry.
Other hikes in the vicinity
Freshwater Lake, Boeri Lake and Middleham Falls