For such a small island, Dominica packs quite a number of natural and cultural sights worth visiting. Wonderful hikes, breathtaking waterfalls, serene lakes and an interesting indigenous culture all combine to make the island one of the most exciting destinations in the Caribbean.
With so many amazing things to see and do, a little guidance about what you definitely shouldn't miss might come in handy. Hence, here's my list of the 10 must-see sights on Dominica.
This post may contain affiliate links and I might earn a small commission at no additional cost to you. For more info click here.
The 10 Best Things to Do in Dominica
Boiling Lake Hike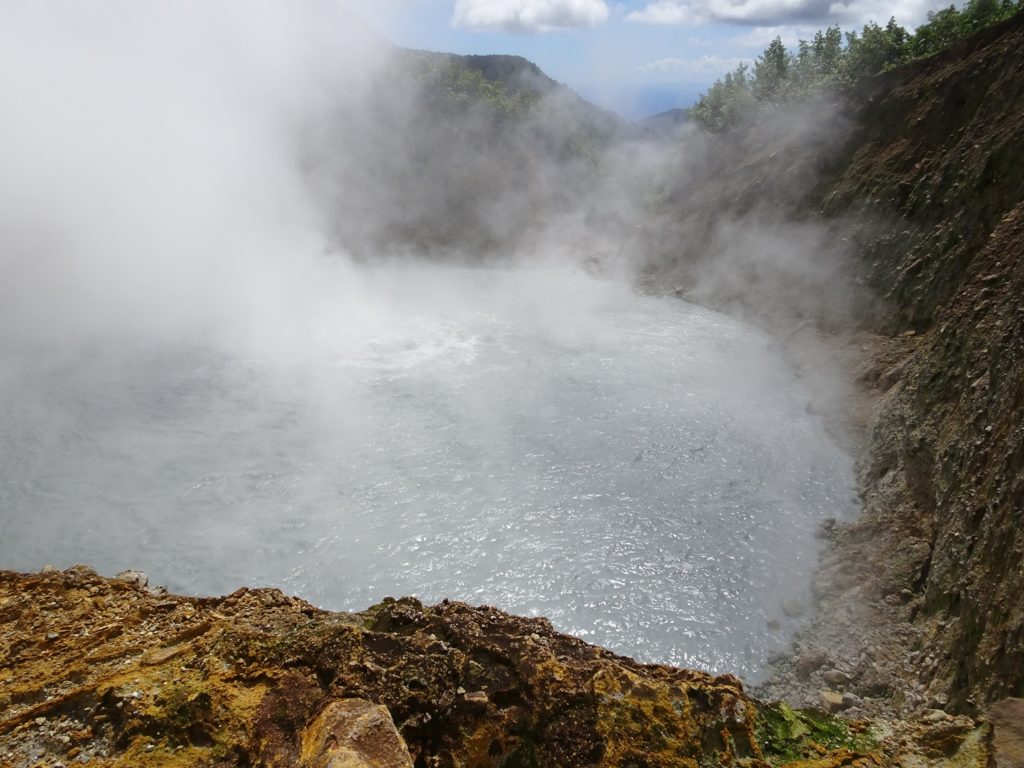 The magnificent and naturally diverse hike to this rare geological phenomenon is my personal number one activity not to miss on Dominica. The hike takes at least 6 hours return, is strenuous and at times complicated, but once you reach the otherworldly Valley of Desolation with its hot streams and venting of volcanic gas, all hardships will be forgotten.
The constantly bubbling lake itself certainly is a sight to behold and one you won't forget for a while, I'd venture to guess. The chance to soak your aching muscles in the hot natural springs on the way back is an added bonus.
See also: Hiking to Boiling Lake
Wavine Cyrique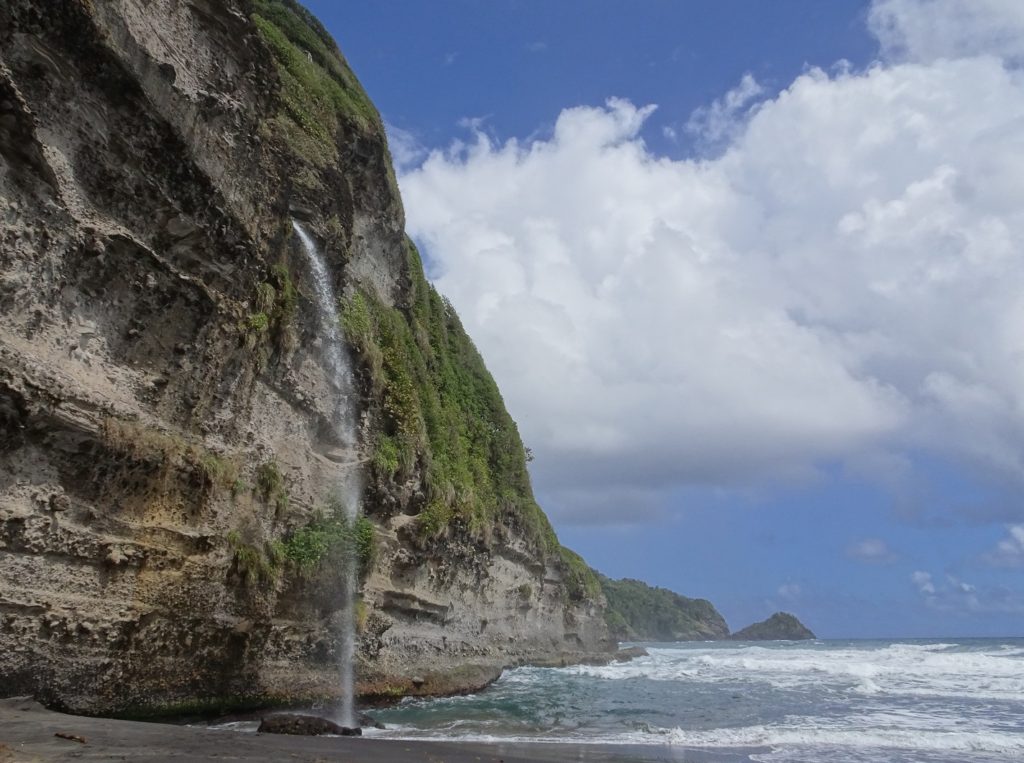 This small waterfall on Dominica's eastern coast is beautifully located on a black-sand beach backed by high cliffs and tropical vegetation. Again, getting there requires some stamina and a lack of a fear of heights, but the reward is outstanding. And the complicated way there means that you'll likely have the place completely to yourself.
See also: Hiking to Wavine Cyrique
Indian River Boat Trip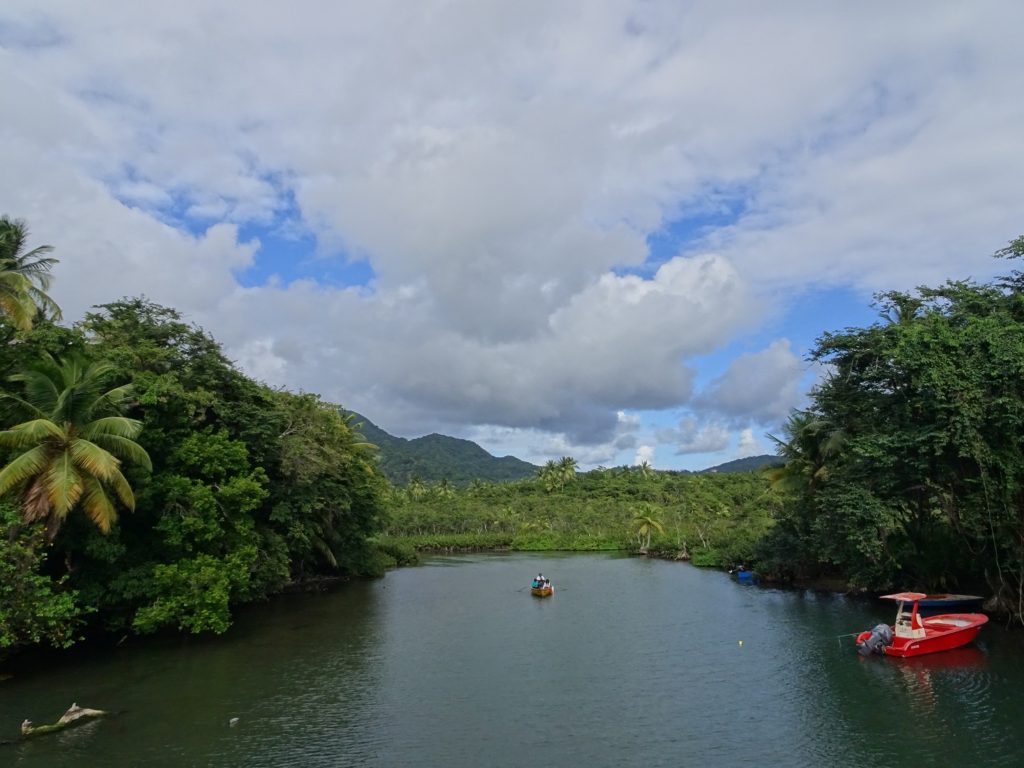 Take a relaxing boat trip along this beautiful river in Portsmouth that is at times overhung by coconut palms, at times bathed in the constant dusk of an eerie mangrove forest. Plenty of opportunities to spot local wildlife add further interest to this trip.
See also: The Indian River, Fort Shirley and other sights in Portsmouth
Victoria Falls
This is another splendid waterfall and another one that requires an adventurous hike to reach. Expect clambering over rocks and wading through a river as well as pristine nature and an impressive cascade at the end. On the way back you can hang out with Moses and his family at the vegetarian Zion Valley "Rastarant".
See also: Hiking to Victoria Falls
Hampstead Beach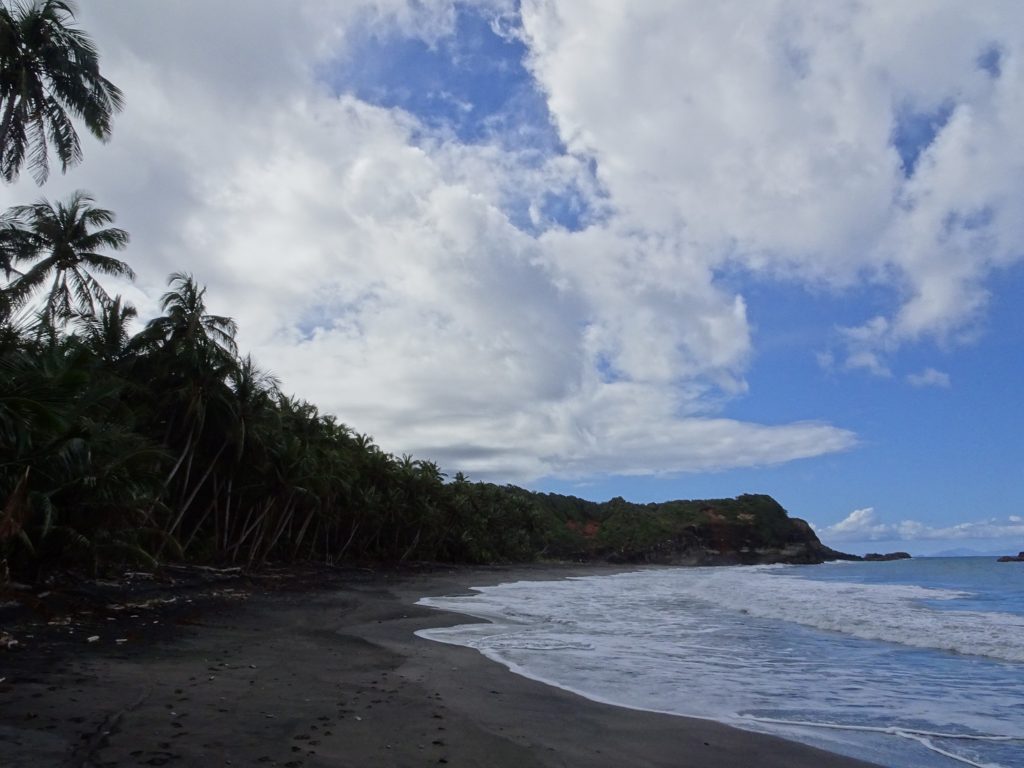 This is definitely the prettiest beach on Dominica, at least in my humble opinion. A long stretch of black sand, backed by a forest of palm trees and populated by cute scuttling crabs. While you're in the area, check out the ruins of the old Hampstead Estate Sugar Mill as well as the picturesque Red Rocks Cliffs in nearby Calibishie.
See also: Hampstead Beach and other great things to do in Calibishie
Cabrits National Park and Fort Shirley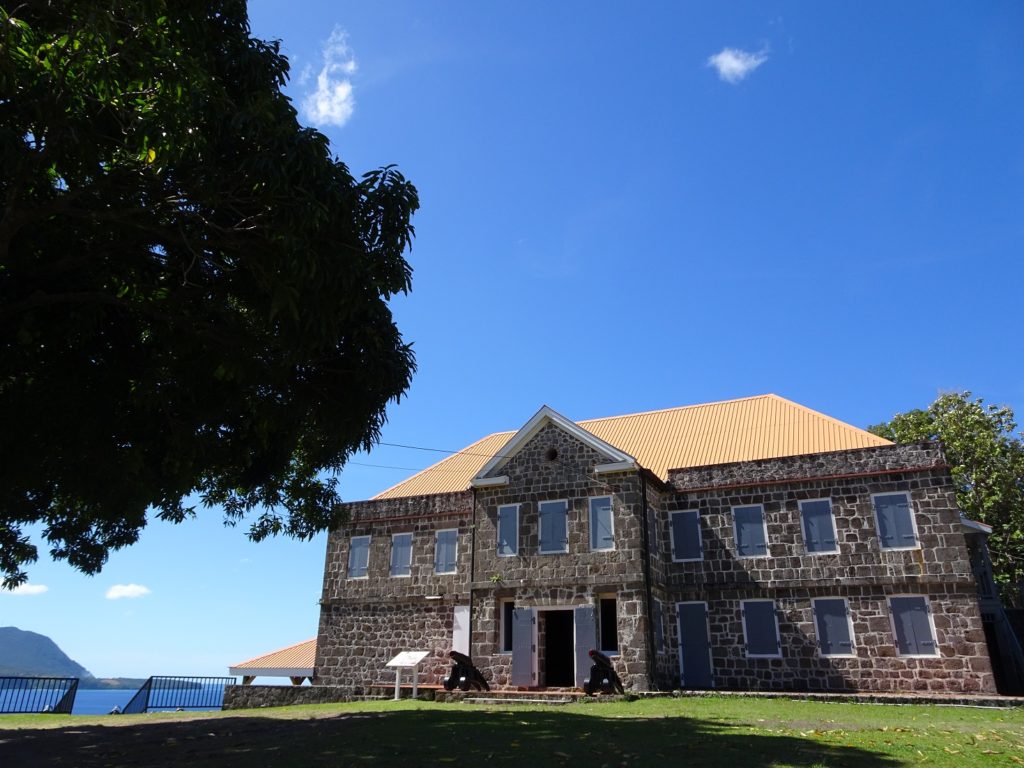 While the restored central building complex of this 18th century Fort near Portsmouth serves as a museum detailing the local geology and history, ruins of additional buildings lie in the nearby forest, atmospherically overgrown by creepers and fig trees.
The surrounding Cabrits National Park offers plenty of opportunities to spot local wildlife as well as two hills you can climb for fantastic views of the surrounding landscape.
See also: The Indian River, Fort Shirley and other sights in Portsmouth
Freshwater and Boeri Lake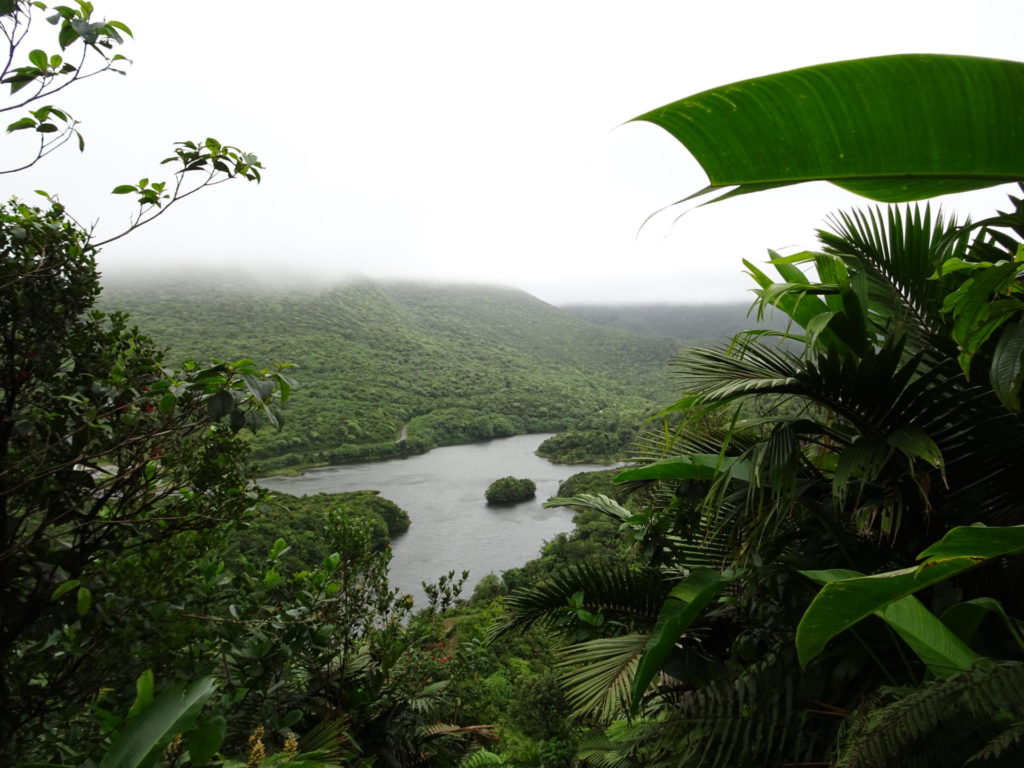 Those two serene lakes in Morne Trois Pitons National Park make for a great day-trip from Trafalgar or Roseau and can be explored by following hiking trails through the surrounding forest. Boeri Lake is the more isolated of the two and a nice spot for a swim. Keep your eyes peeled for Agoutis, who call the national park their home.
See also: Freshwater Lake, Boeri Lake and Middleham Falls
Middleham Falls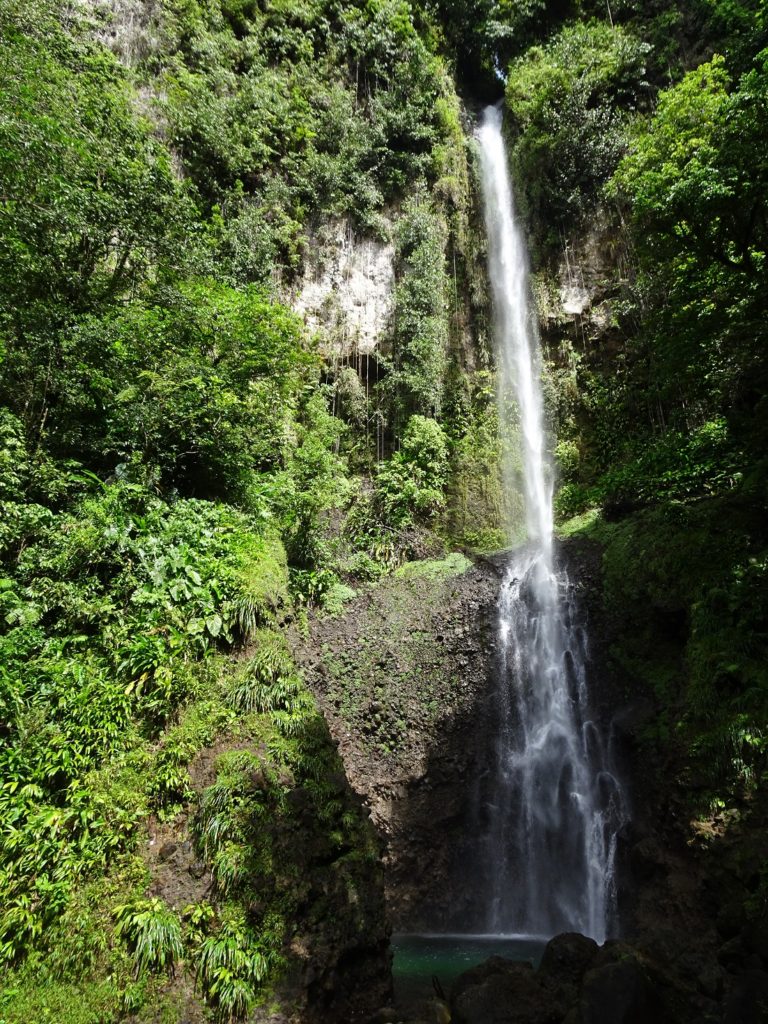 One of Dominica's highest waterfalls, a visit to Middleham Falls can be combined with a trip to Freshwater and Boeri Lakes. It is much easier to reach than Wavine Cyrique and Victoria Falls and only requires a short (if somewhat steep) hike through a section of jungle.
See also: Freshwater Lake, Boeri Lake and Middleham Falls
Emerald Pool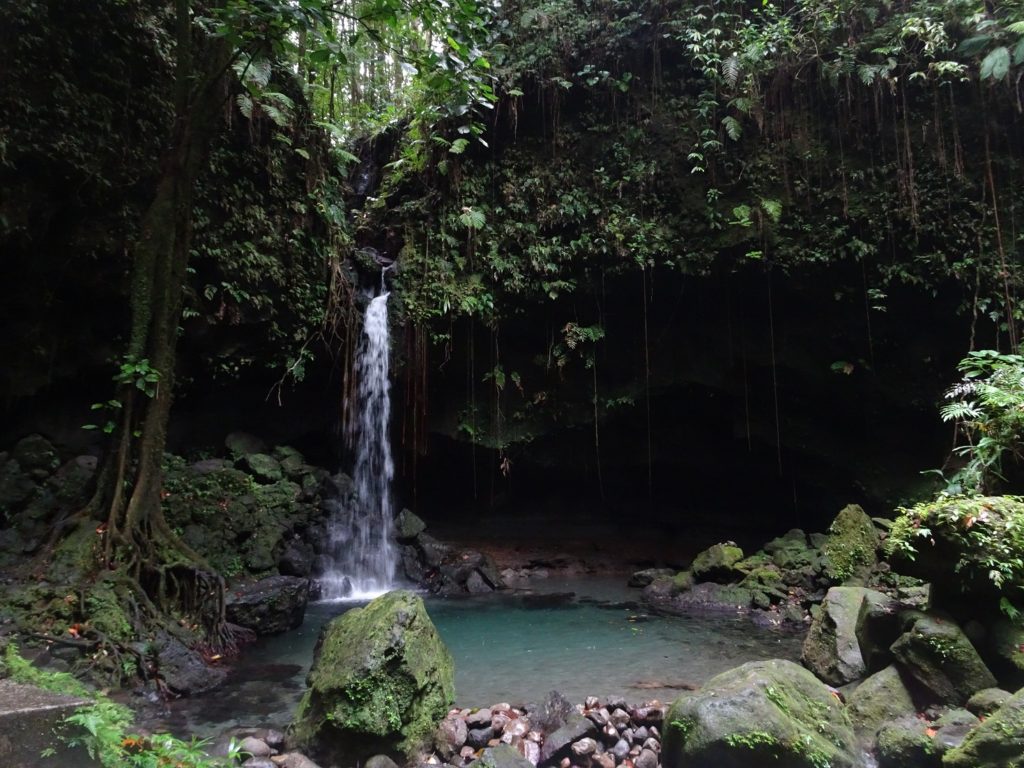 A beautiful natural pool fed by a small cascade and surrounded by tropical vegetation: The Emerald Pool is the quintessential jungle waterfall. It can be reached by an easy 10 minute hike through beautiful surroundings. Just make sure to avoid cruise ship days, so you'll be fully able to enjoy the serenity of this place.
See also: The Emerald Pool and other great destinations in Central Dominica
Kalinago Open Air Museum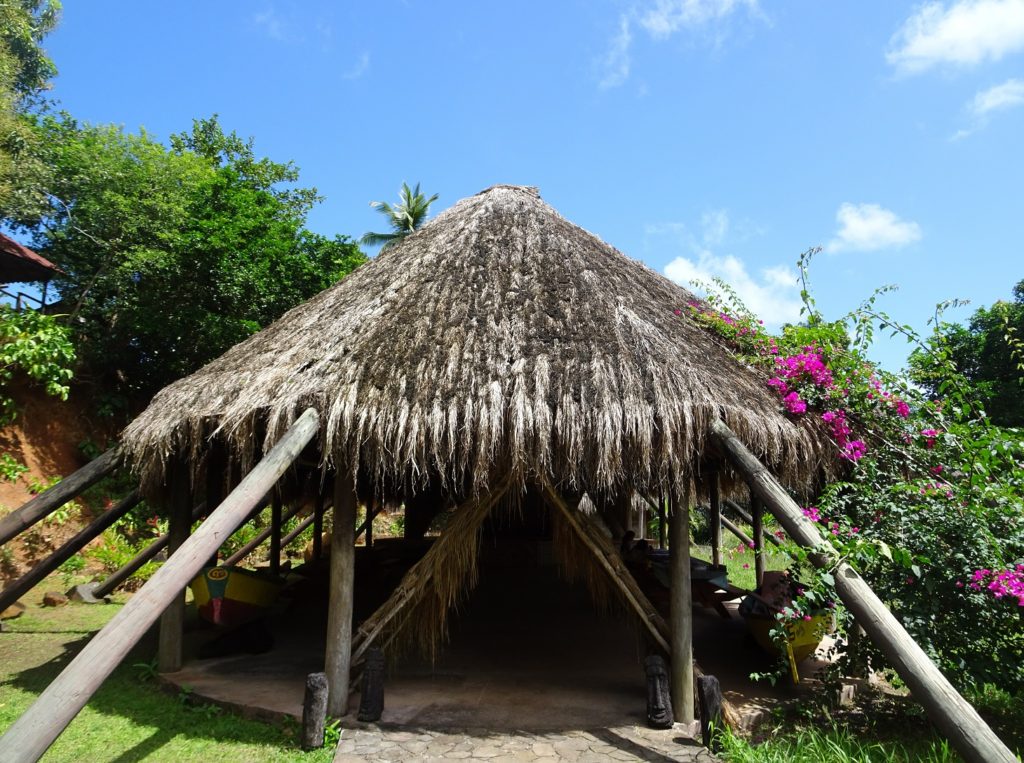 Get a primer into the history and traditions of Dominica's Kalinago people, who've populated the island since before the arrival of the Europeans. The "Kalinago Barana Autê" is beautifully located on a cliff above the Atlantic Ocean and features a number of reconstructed traditional buildings.
Plus you'll have the chance to firsthand witness the making of the beautiful larouma reed baskets. If you have some more time, you can explore the ruins of the old catholic church in Salybia or take a hike to the Pagua Rock, an important place in Kalinago lore.
See also: What to Do in Dominica's Kalinago Territory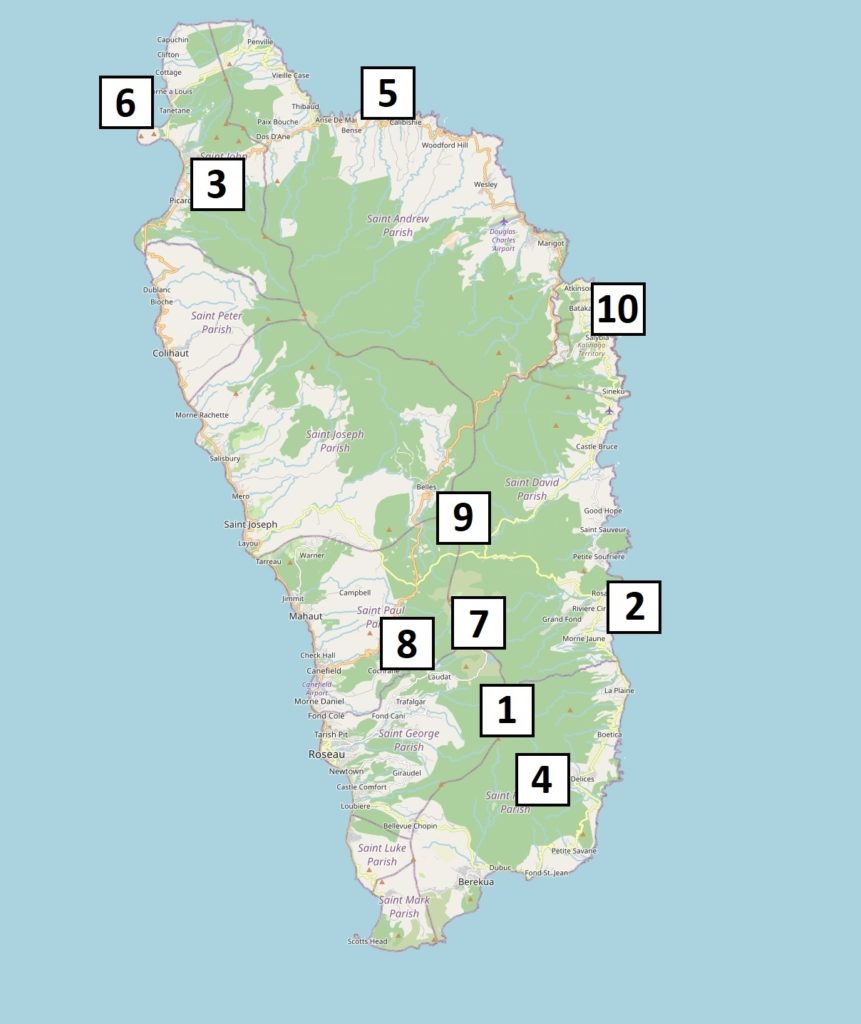 Other great sights in Dominica
Obviously, there is so much more to see on this beautiful island and the above list is far from exhaustive. If you have more time on Dominica, you could spend some time exploring the pretty villages of Soufrière and Scott's Head.
Likewise, Roseau harbours a beautiful Botanical Garden and enough historic wooden buildings to warrant some time. There's potential for countless hikes in the mountainous interior of the island – Jacko Steps and Morne Trois Pitons would be adventurous options for day hikes or you could even attempt the trans-insular Waitukubuli National Trail.
Finally, it's worth to simply explore the pristine natural surroundings of the islands without a particular goal in mind. Some of my favourite moments on the island where when I unwittingly stumbled upon a small picturesque waterfall or a wild tropical beach in the middle of nowhere.  Dominica is a place that certainly rewards that sort of intrepid exploration!
See also
Where to Stay on Dominica – With Hotel Recommendations for All Budgets
The Perfect One Week Dominica Itinerary
Backpacking Dominica on a Budget – The Ultimate Guide