If you came to Dominica, it's probably natural rather than urban attractions you're itching for. Still, this doesn't mean that you shouldn't spend at least a couple of hours in quaint and colourful Roseau before venturing into the heart of the island.
With some pretty historical architecture, beautiful Botanical Gardens and a fantastic view from Morne Bruce Hill there certainly are some good reasons to stick around for a bit. Here's a list of 5 things you shouldn't miss while in Roseau.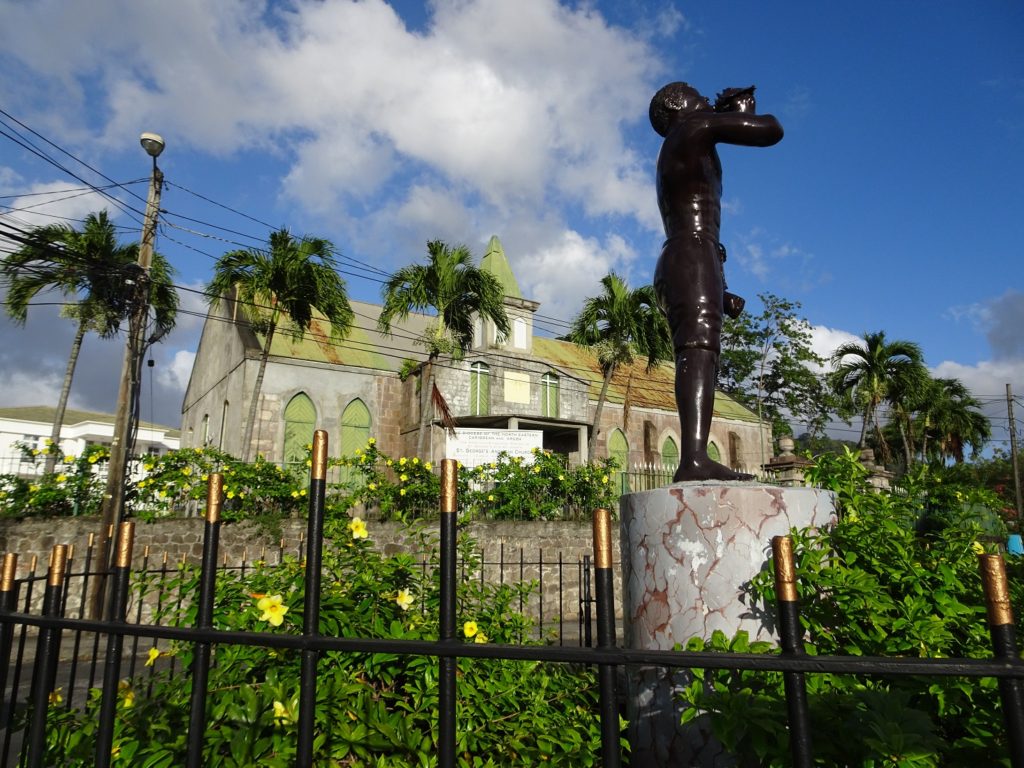 This post may contain affiliate links and I might earn a small commission at no additional cost to you. For more info click here.
The 5 must-see sights in Roseau
Morne Bruce Hill
The one thing in Roseau you shouldn't miss is climbing Morne Bruce hill, which is situated to the east of the city centre. Named in honour of James Bruce, who planned the islands fortifications in the 18th century, the hill affords great panoramic views of the city and bay. It can be reached by road, but the nicer (if more strenuous) alternative is climbing up a footpath called Jack's Walk that starts at the northern end of the Botanical Gardens.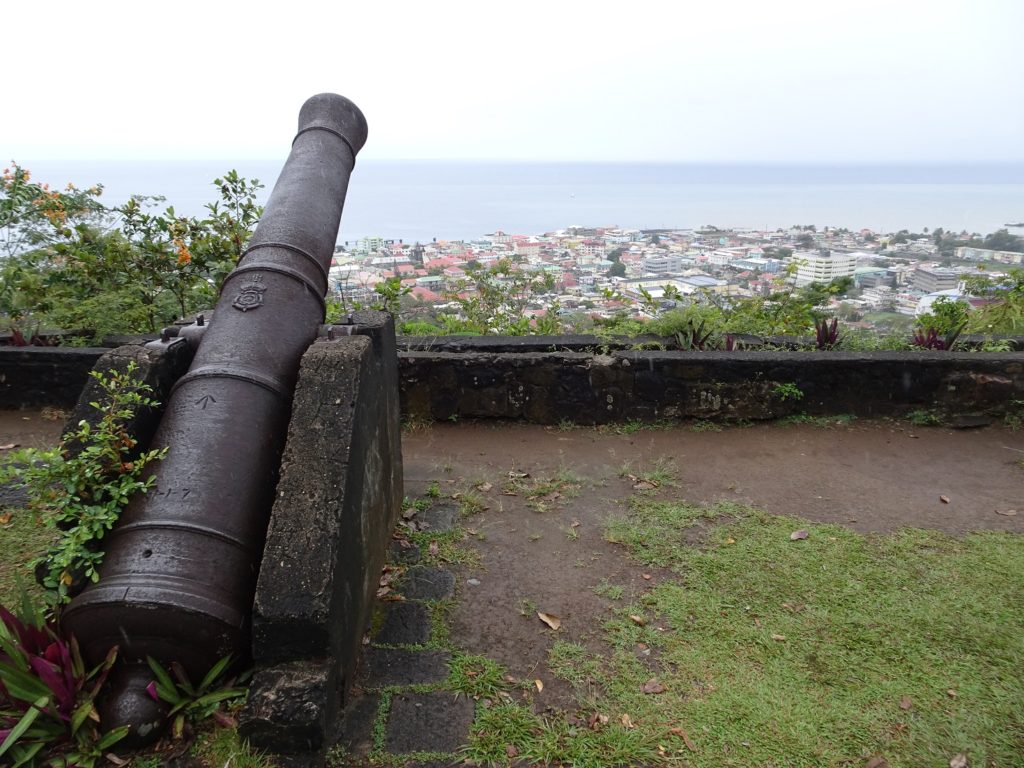 Botanical Gardens
Roseau's pleasant Botanical Gardens are a great place to spend a relaxing hour or two. You can check out Dominica's National Flower (the colourful Bwa Kwaib) as well as plenty of other local flora. Two aviaries in the northern section hold garrulous imperial amazon and red-necked amazon parrots, which are native to the island.
Close to the southwestern gate are the remains of a school bus crushed by a Baobab Tree (fortunately while no one was inside) during Hurricane David in 1979. A dramatic reminder of the potentially devastating effects of tropical storms in the Caribbean.
King George V. Street and French Quarter
This is central Roseau's oldest quarter and features some interesting colonial architecture. Many of the historic wooden buildings sport ornamentally carved balconies. Some smaller alleyways offer a glimpse into the daily lives of the locals. We particularly enjoyed the small Fields lane that runs parallel to Roseau's main thoroughfare King George V. Street.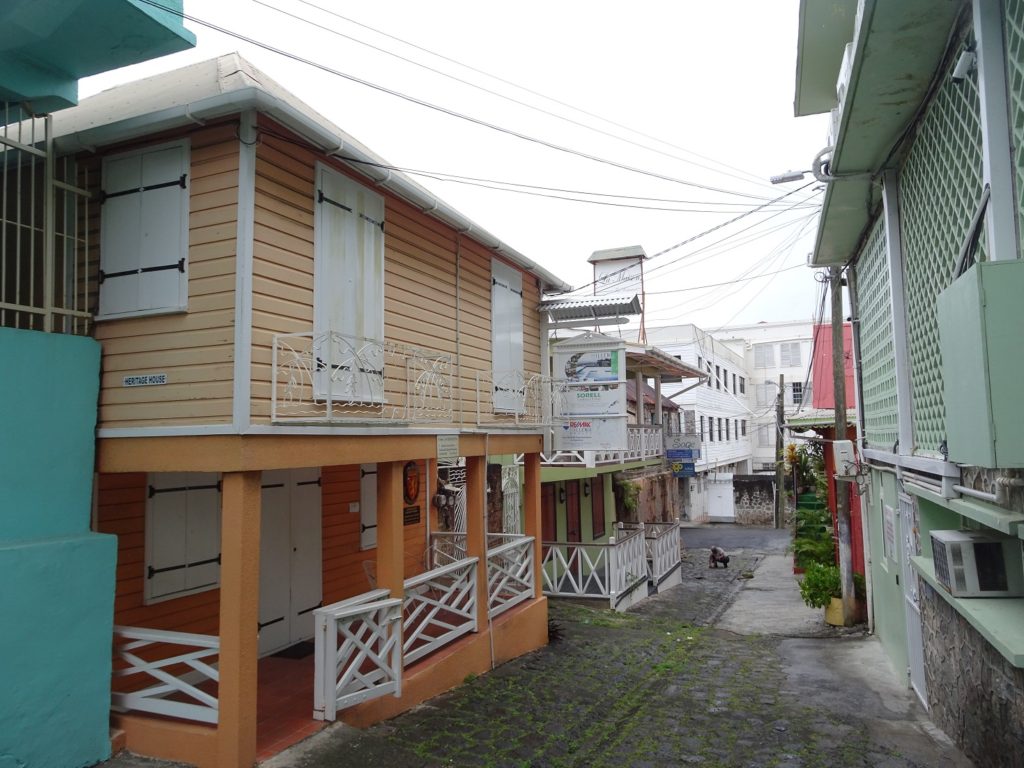 Old and New Market
Roseau's historic Old Market is located at the southwestern end of King George V. Street. Today it mostly deals in crafts and is a good place to stock up on souvenirs at the end of your trip.
Roseau's New Market on the other hand is still a very much active produce market. There are plenty of stalls selling fruit and vegetables as well as a small fish market. Located at the northwestern end of the harbour it's mainly a nice place to mingle with the locals.  
Harbour Area
While not the most picturesque harbour area in the Caribbean, Dame Eugenia Charles Blvd. features some  interesting architecture and smaller historical attractions. Fort Young hotel at the eastern end of the boulevard, was build on top of the older ramparts of Roseau's Fort, which still can be seen around it's foundations.
Nearby Peebles park, though small, is a pleasant place to take a break, while on the western end of the boulevard you'll find the old barracoon, where slaves used to be imprisoned before being auctioned off. A grim reminder of Dominica's past.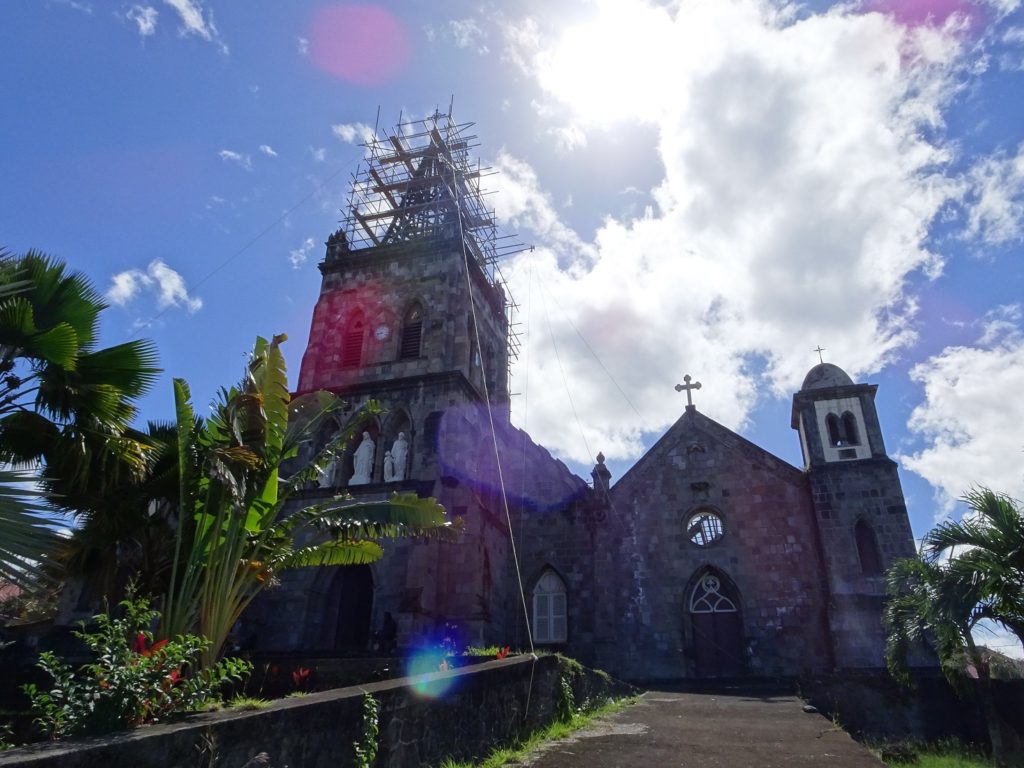 Other things in Roseau to check out
Roseau's Gothic Cathedral is impressive from the outside but unfortunately was closed when we were in the city. So was the small Dominica Museum, which is reputedly worth a visit, yet we can't attest to that. If you're in the vicinity of Independence Avenue, you should visit Fran's Patisserie, where delicious fruit tarts are served.
If you happen to be travelling during February or the beginning of March it's worth checking the carnival dates. It's a fun and gaudy affair, and it's definitely worth scheduling your trip accordingly.
See my guide to Visiting the Carnival in Roseau here.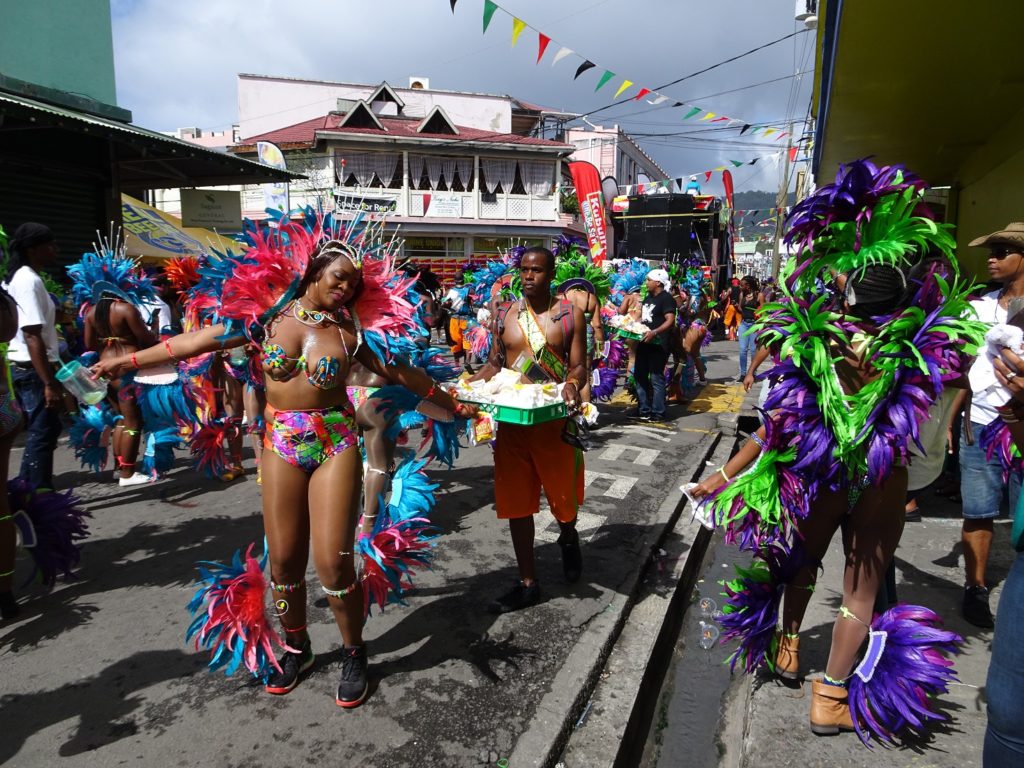 Guided Tour of Roseau and Trafalgar Falls
If you don't have a lot of time to spend in Roseau or prefer the company of a knowledgeable guide, you might consider taking a guided tour of the city. This one has great reviews and not only includes a sightseeing tour of the city and the Botanical Gardens but also a trip to the nearby Trafalgar Falls.
Map of Roseau
All the places mentioned above can be found in this map of Roseau.
Practicalities
How to get to Roseau
As Dominica's capital and biggest city, Roseau is usually just a minibus-ride away from most places on the island. Routes along the coast (especially between Roseau and Portsmouth) tend to be served more frequently than those in the interior, where you might have to wait a little longer (or simply hitch-hike). For information on inter-island boat travel from Roseau's ferry terminal click here.
Where to stay in Roseau
We stayed at Ma Bass Guesthouse, which is clean, centrally located and run by the very sweet lady it's named after. They don't have a website but you can call them at +1 767-448-2999. St. James Guesthouse also comes recommended as a good-value budget choice.
Apart from that, there are plenty of midrange hotels (e.g. Sutton Place Hotel), while the historic Fort Young Hotel would be a top-end choice. You can check the map above more options.
Where to go next
Soufrière or Scott's Head, great bases for hiking and snorkeling
Trafalgar, Wotten Waven and Morne Trois Pitons National Park, home to the unique Boiling Lake
Portsmouth, home to the mysterious Indian River and historic Fort Shirley