Fully updated in October 2023
It's hard to imagine a more vibrant party than a Caribbean Carnival. With a complex history of differing influences, from African and European traditions to indigenous customs, these celebrations often form a fun mix of culture, music, and revelry.
Dominica's Carnival, also known as "The Real Mas" takes place over two days in February or March and features some exuberant festivities. Originally introduced to the island by the European colonizers in the 18th century, it quickly evolved into a unique celebration, incorporating the culture of Western African slaves into the costumes and traditions.
If you have the opportunity, it's well worth timing your visit to Dominica in accordance with the festival days. Here's everything you need to know about visiting the Carnival in Dominica.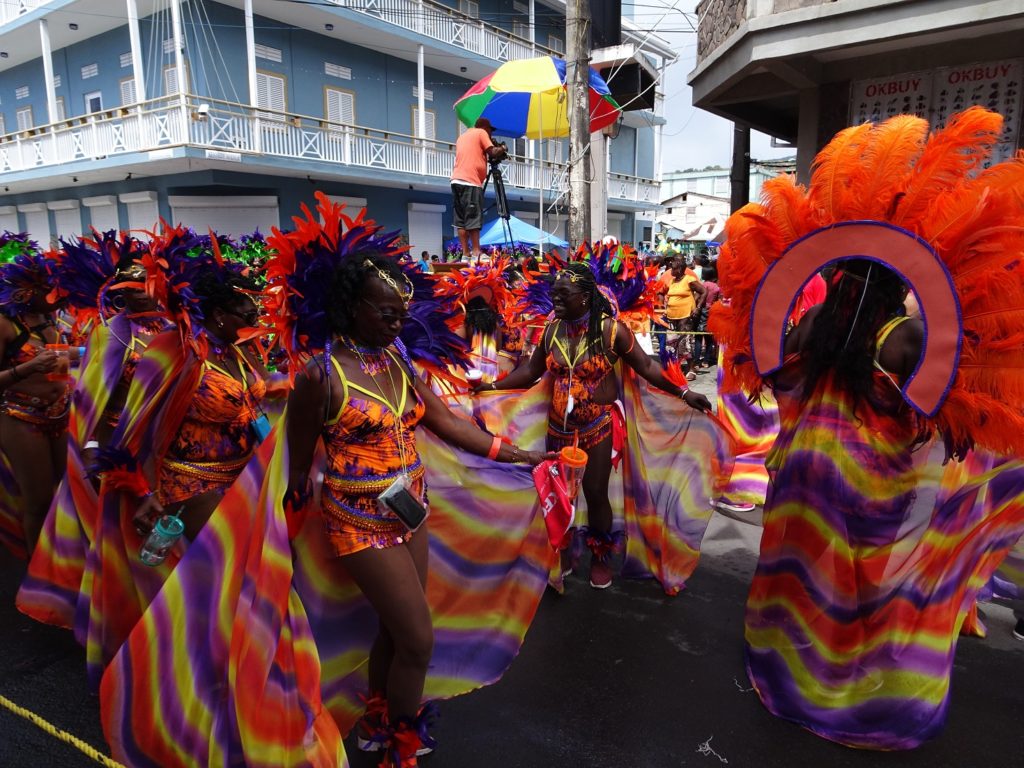 This post may contain affiliate links, and I might earn a small commission at no additional cost to you. For more info, click here.
What is the 2024 Date for Dominica's Carnival?
The carnival takes place on the Monday and Tuesday before Ash Wednesday, which falls sometime between mid-February and early March. The main party usually takes place on Tuesday.
The date for 2024 is 12th and 13th February. Future dates and current information can be found here.
Where to celebrate the Carnival in Dominica?
The festivities take place in the old town of Roseau, Dominica's pretty capital. There might be smaller parties in other towns, but this is where the main action happens. The colourful wooden houses and cute alleyways of the historic French Quarter form an ideal background for the festivities of the Real Mas.
Is There an Entrance Fee to the Carnival?
Attending the festivities is completely free, but make sure to set some pocket money aside for food and drinks. You want to properly join the party, after all.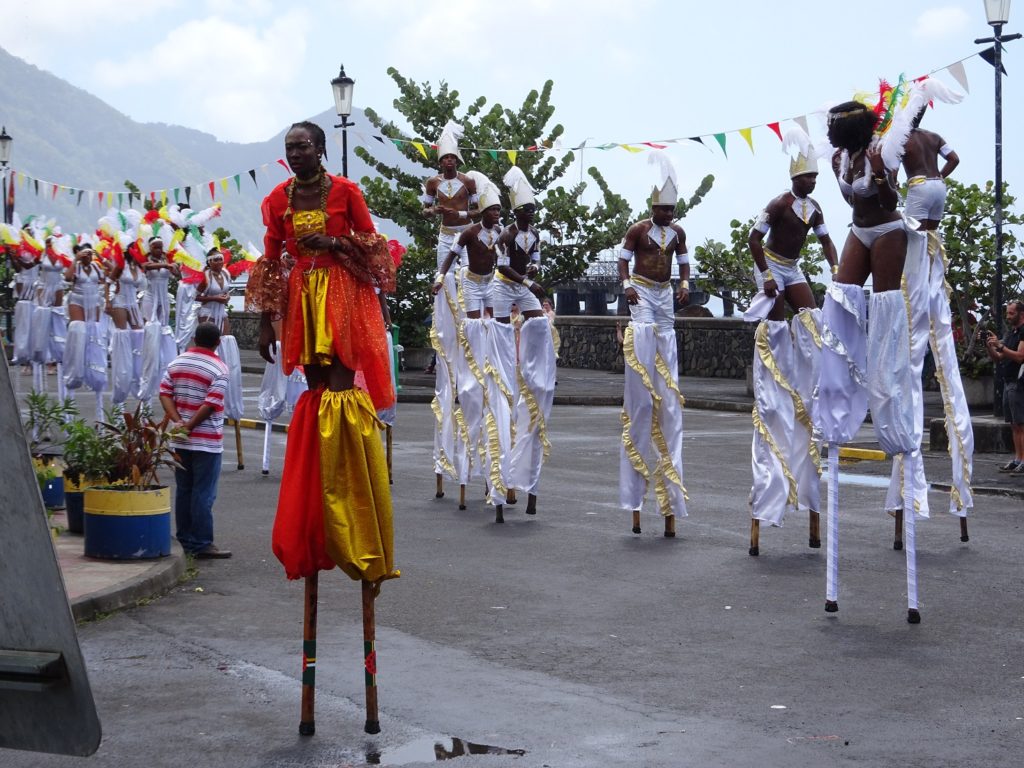 Where to stay during Carnival?
Roseau has plenty of accommodation options, but they tend to fill up fast during Carnival, so if you plan to attend the celebrations, make sure to book ahead or prepare to stay outside of the city and commute there for the party. The frequency of minibuses going there seems to be increased during Carnival.
If you prefer to stay in the city, I found Ma Bass' Guesthouse (Tel. +1 767-448-2999) to be a good cheapish option. St. James Guesthouse also comes recommended as a good budget option. Apart from that, there are plenty of midrange hotels, like Sutton Place Hotel, while the historic Fort Young Hotel would be a top-end choice.
The History of Dominica's Carnival
The historic roots of Mas Domnik can be traced back to the late 18th century, when the island was under French colonial rule. The French settlers brought their Carnival traditions to Dominica, which were heavily influenced by European masquerade balls and festive processions.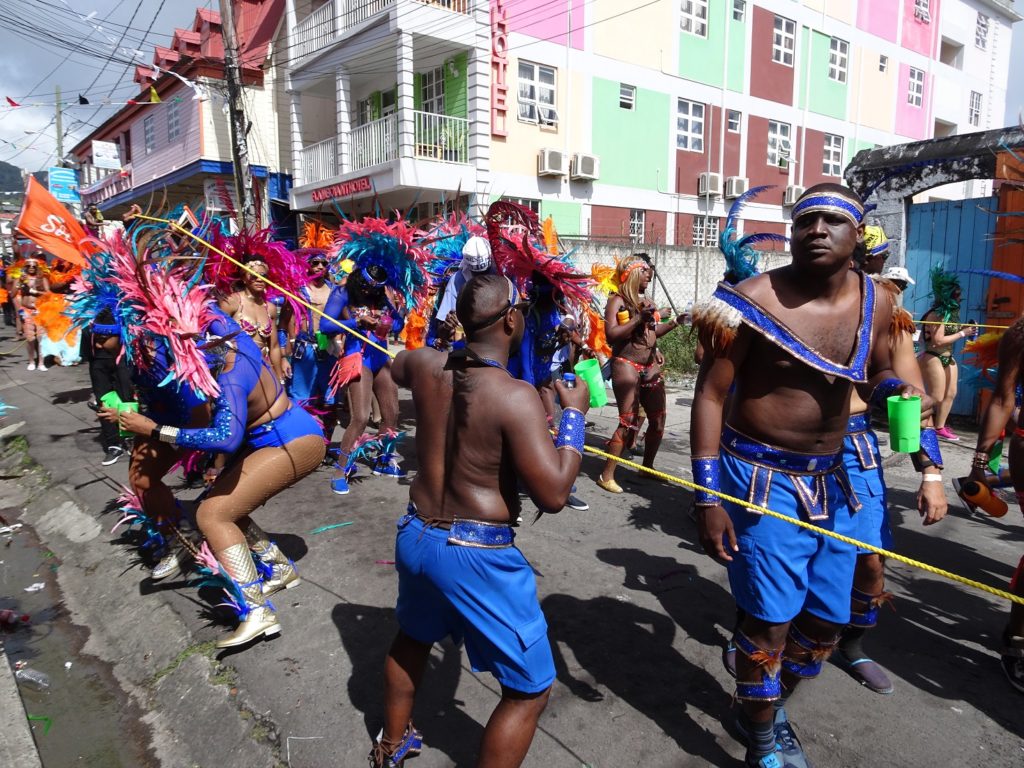 In the mid-1800s, these traditions mixed with the cultural practices of the freed Western African slaves and the indigenous Kalinago people, resulting in a unique and distinctly Dominican Carnival. African elements such as drumming, dance, and vibrant costumes fused with European-style masks and costumes, creating a dynamic and colorful celebration.
Over time, Mas Domnik evolved to incorporate social commentary and satire in the form of Kaiso Songs and Calypso Music. This allowed the Carnival to become a platform for expressing social and political concerns while maintaining its festive and joyous atmosphere.
What to expect from Dominica's Carnival?
Dominica's Carnival is basically a giant party, with everyone exuberantly celebrating. Beer and Rum flows freely and people are dancing in the street while Calypso Music is blasting from huge loudspeakers. On Tuesday there's a big parade through the streets of central Roseau and this is where you'll see the most elaborate costumes.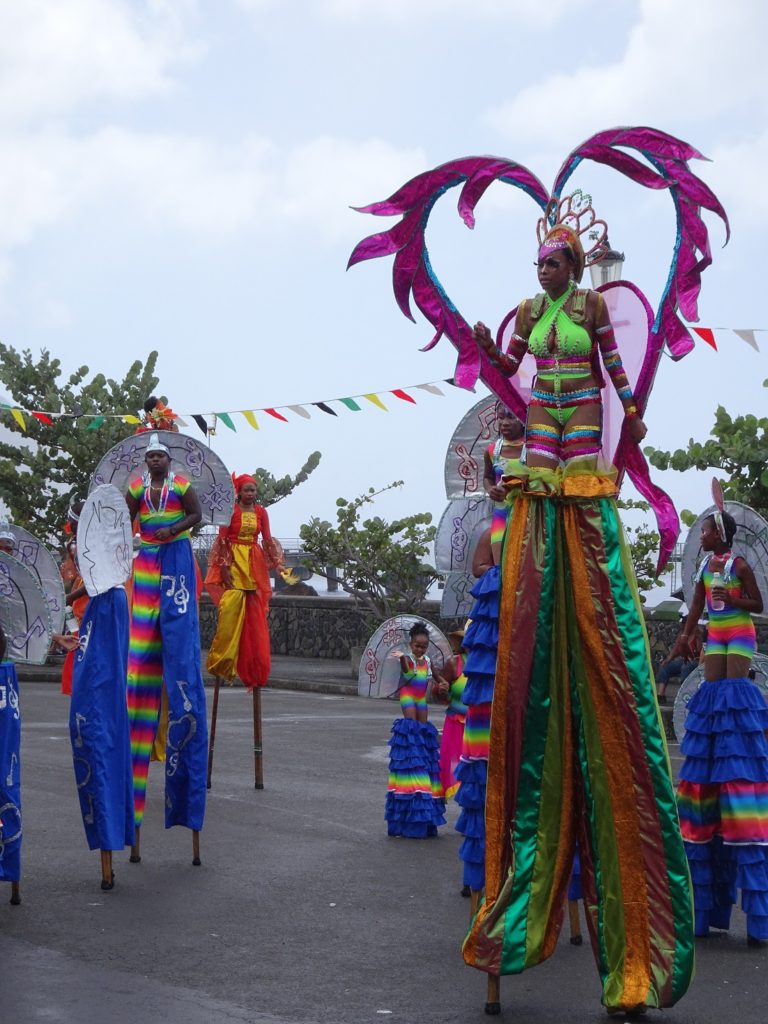 There are several categories of costumes with roots in Western African culture, attesting the influence of slaves in the development of local Carnival traditions. The Sensay Costume resembles a fierce demon-like creature with a horned head and goes back to Ghanaese traditions. Especially impressive for me were the Bwa-Bwa-Dancers, who were gracefully moving around on high stilts.
Altogether, it just found it to be a lot of fun to mingle with the crowds and take part in the celebrations. Therefore, I recommend you to time your visit to Dominica for the festivities and get a unique glimpse into the local culture.
While you're in town, check out the other sights Roseau has to offer. Here are my recommendations for the best things to do in Roseau.