Dominica is a beautiful island country in the Caribbean, situated right in the middle between the much more popular holiday-islands of Guadeloupe to the North and Martinique to the South.
Yet, in spite of this location, only a few travellers find their way to this tropical paradise. The reason might be that Dominica lacks in the splendid white-sand beaches most people tend to associate with Caribbean islands, yet it features some of the most beautiful black-sand beaches I've ever seen, as well as magnificent lakes, rivers and waterfalls in its lush interior.
Sounds alluring? I haven't even mentioned the relaxing warm springs and the incredibly friendly locals. Check out everything you need to know about this undiscovered paradise in this short introductory guide:
This post may contain affiliate links and I might earn a small commission at no additional cost to you. For more info click here.
What to expect
The unspoiled nature of the island is the biggest draw. Dominica's lush and mountainous interior features countless beautiful waterfalls as well as some truly spectacular natural oddities, one of them being a lake that is constantly boiling due to subsurface geothermal activity, as well as the Valley of Desolation, whose grim name betrays its outstanding beauty.
What's even better is that chances are you'll have most of these places completely to yourself. Due to the fact that you won't find a single beach resort in the entire country, the numbers of other foreigners you'll meet are almost nil compared to other Caribbean Islands.
Apart from the nature, one of the biggest surprises for me was the incredible hospitality and warmness of the locals. You have to experience their relaxed vibe to believe it. Let me just tell you that the universal greeting on the island is a fist bump, followed by to taps to the heart. Need I say more?
Check out my list of the 10 must-see attractions on Dominica here
Do I need a Visa for Dominica?
There are plenty of visa-free countries, including the US and member states of the Commonwealth of Nations as well as the EU. Check if you need one here.
How to get to Dominica
Direct flights to Dominica are only available from some other Caribbean Islands as well as Miami, which means that you'll have to connect at those places if you're starting from anywhere else. A cheaper and more atmospheric alternative is to fly part of the way and then take a ferry.
We decided to fly to Pointe-à-Pitre on Guadeloupe, which can be reached non-stop from several North-American airports (New York JFK, Miami, Montreal) as well as from Europe (Paris Orly and Brussels Airport have regular connections as have some other, mostly French cities).
From there we took a ferry to Dominica, which is a lot cheaper than flying the short distance, takes about two and a half hours and is a much more atmospheric way to approach the island.
Check out my guide on reaching Dominica by ferry here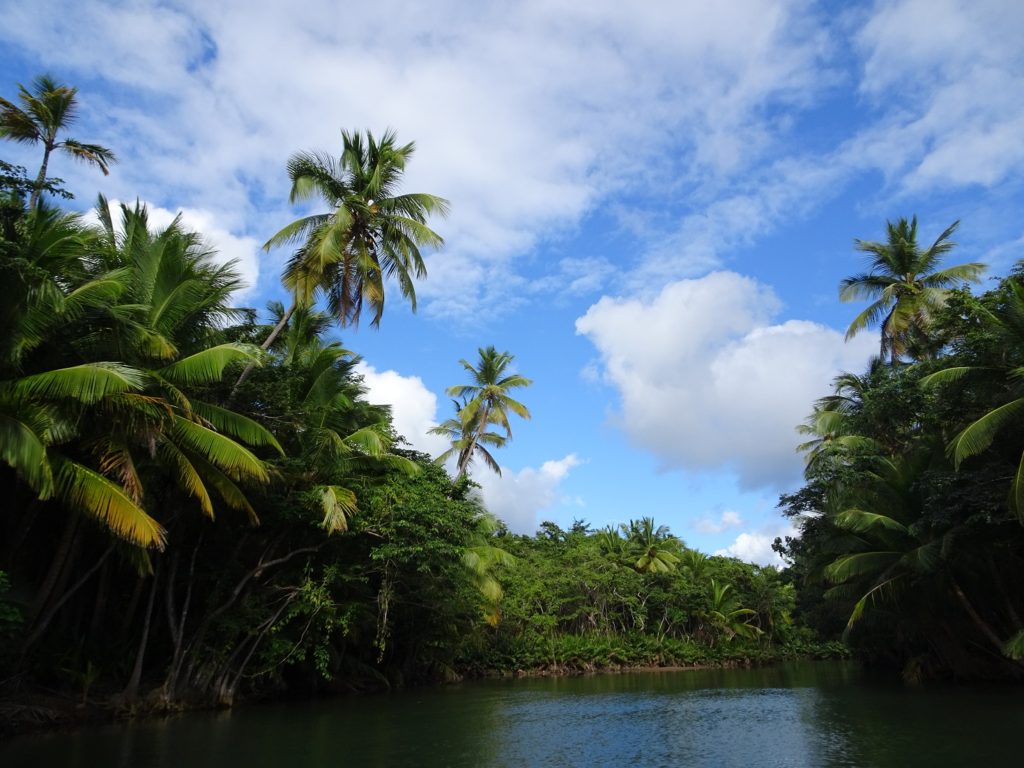 How to get around on Dominica
Dominica is one of those places where it's pretty easy to get around without your own set of wheels. Cheap Minibuses connect most places of touristic interest and for any destinations that can't be reached that way, hitch-hiking is super easy – in most cases, the first car that passed us stopped and took us along.
If you don't have a lot of time to spare and you want the flexibility of your own transport, there are several car rental firms in Roseau and at the Airport as well as some other places along the coast (like Portsmouth and Marigot).
Have a look below to find the best available deals on rental cars.
When to visit Dominica
As it's a tropical island, the temperatures are warm year-round  but precipitation can also be pretty high, and you might want to avoid rainy season as well as hurricane season, which peaks from August to October – Dominica was hit pretty badly several times over the last few years. February to May are the driest months and we found it to be a rather pleasant time to visit the island temperature- and humidity-wise.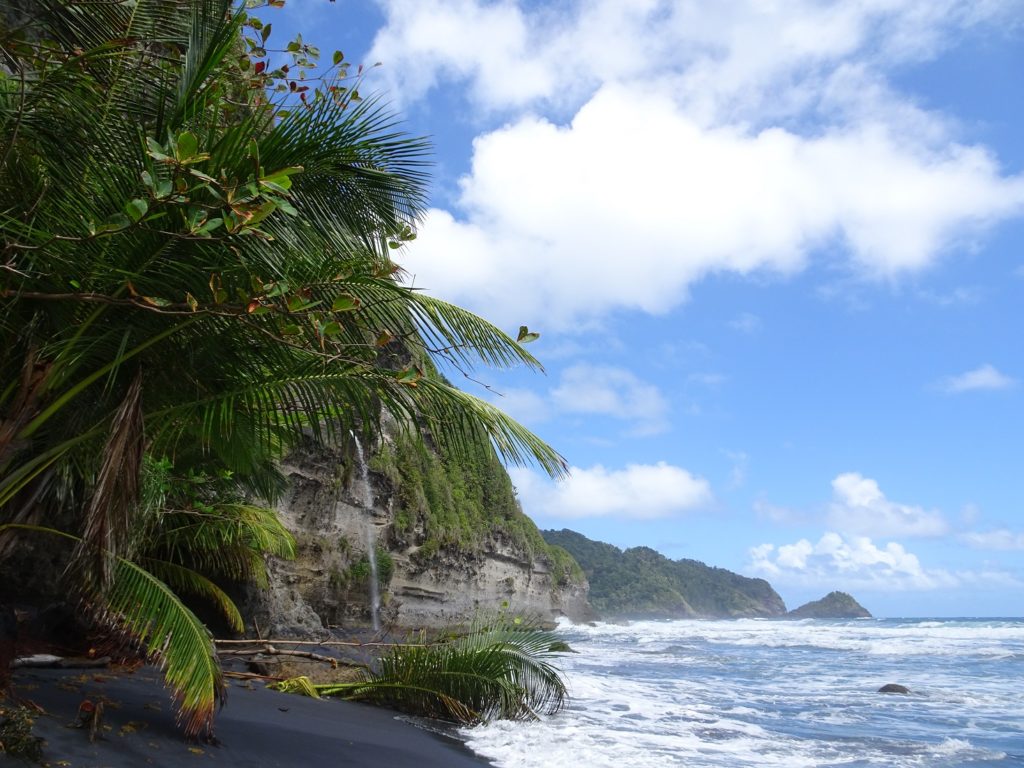 How long to stay on Dominica
With such a beautiful place, it's hard to give a good assessment, as no matter how long you stay, you'll probably be loath to leave in the end. I'd say that one week is the absolute minimum, two would be much better, if you have the time. Don't be fooled by Dominica's small size: Its rugged interior means that there are countless places to explore and you'll always feel like there's more to see.
Check out my perfect one-week itinerary for Dominica here
Daily budget for Dominica
While not as cheap as some favourite backpacker destinations (I'm talking South-East Asia here), spending time on Dominica still is much more affordable than on any of the neighbouring islands. There are plenty of rustic cabins for hire all over the island, where you can base yourself for day trips and many places also offer camping, which of course is an even cheaper option.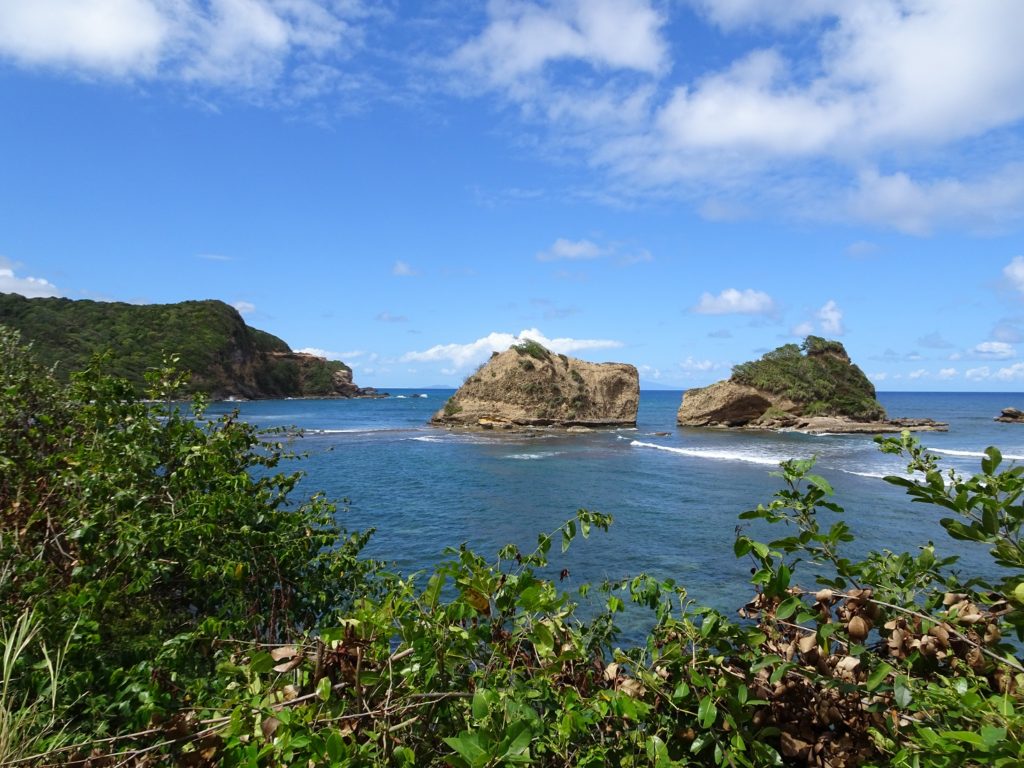 If you don't have to pinch your pennies, there's a couple of midrange hotels as well, mostly offering slightly more luxurious cabins, and if you're going all in, the more expensive Secret Bay is Dominica's most extravagant luxury hotel, while Jungle Bay Dominica is an ecolodge with a reputation of being utterly beautiful.
The ubiquitous minibuses are a cheap way to get around, while most restaurants offer affordable (if not super-cheap) food. While some natural attractions charge an entrance fee, many of the must-see sites are completely free to visit. As a couple doing mostly camping and occasionally renting a cabin, we managed to get around on about 80 to 100 ECD a day per Person (about 25 to 35€ / 30 to 40$).
Check out my guide on how to backpack Dominica on the cheap here
Short Facts about Dominica
Capital: Roseau
Official Language: English
Population: approx. 70.000
Size: approx. 750 km2
Currency: East Caribbean Dollar (ECD)
Electrical Sockets: Type D and G
See also
Backpacking Dominica on a budget – The ultimate Guide
The perfect one-week Dominica itinerary – including hotel tips for every budget
The 10 best things to do in Dominica