Dominica isn't only home to exciting natural oddities, breathtaking waterfalls and serene mountain lakes, but also to some of the loveliest dark sand beaches I've ever seen. Backed by coconut palms and populated with exotic birds and scuttling crabs, their appeal is only increased by the fact that you'll likely have them completely for yourself.
As choosing which of the beaches to check out can get a little overwhelming, I thought it would be a good idea to compile the best beaches that I've come across during my time on the island. So grab your towel and Flip-Flops. Here are my picks for the 5 most beautiful beaches on Dominica.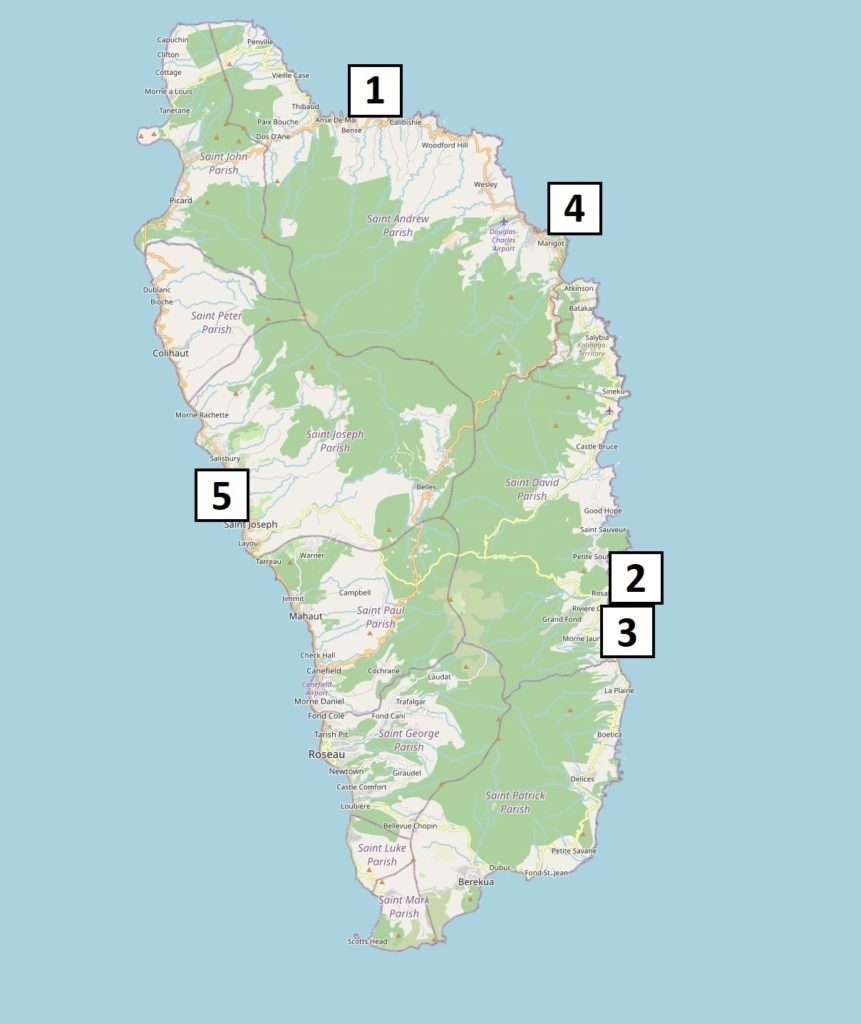 This post may contain affiliate links, and I might earn a small commission at no additional cost to you. For more info, click here.
Hampstead Beach
Okay, this is my personal number one beach on Dominica, as it features all the elements you imagine a wild tropical beach to have. The splendid black sand stretches into the distance, the beach is beautifully backed by coconut palm trees, hummingbirds flutter through the air and hundreds of little crabs scuttle along the sand.
While the sea is a bit rough, it's still suitable for swimming and chances are that you will have the entire beach for yourself. Still, I'm not alone in my appreciation for Hampstead Beach – after all, the people who made the second Pirates of the Caribbean Movie deemed it fit to appear in their picture. It's the beach that Jack Sparrow runs along while being chased by a tribe of cannibals.
It's located west of Calibishie on Dominica's northern coast and can be reached by minibus from Portsmouth. See my guide to the surrounding area here.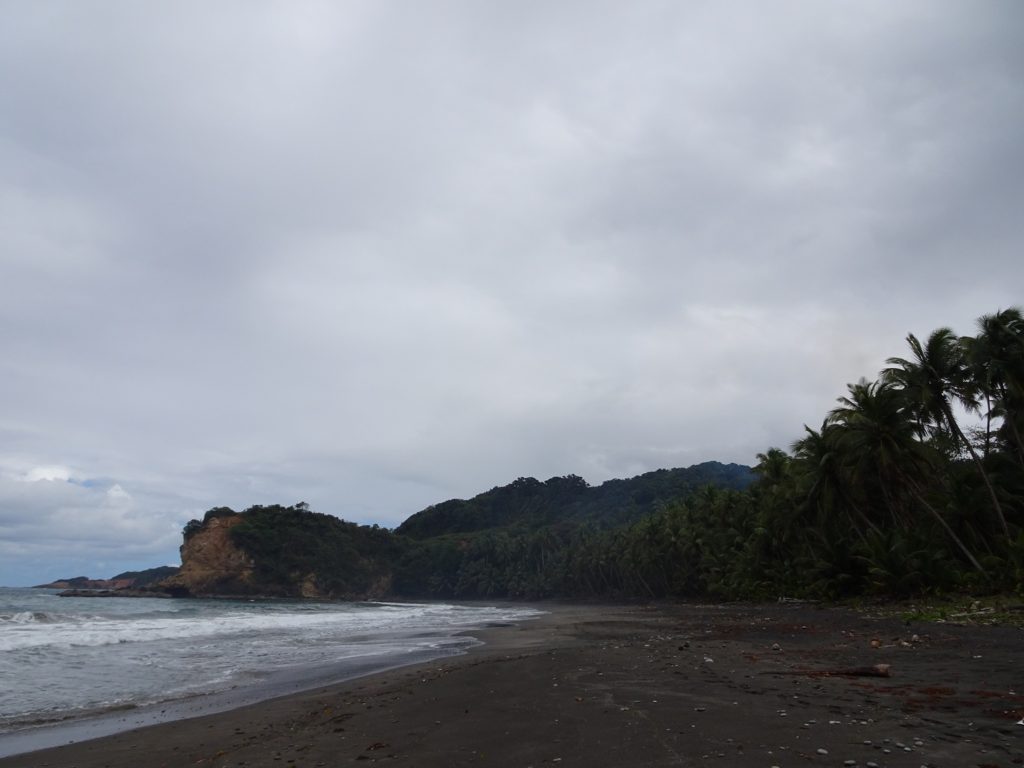 Wavine Cyrique Beach
The main reason for visiting Wavine Cyrique is the waterfall flowing off the nearby cliff and directly into the Atlantic Ocean, but the beach itself is every bit as beautiful. Getting there is no easy feat, though, and requires climbing down the cliff via a series of ropes and ladders.
But I assume that everyone who made the trip will concur that it's a small price to pay to experience this splendid slice of nature. The fly in the ointment is that swimming is not recommended due to strong undercurrents.
Still, it's a beautiful place to spend some time at, marvelling at the ocean and the waterfall. It's located near the village of Riviere Cyrique on Dominica's southeastern coast and can be reached by minibus from Roseau (or by walking from Rosalie).
See my guide to the adventurous hike to this beach here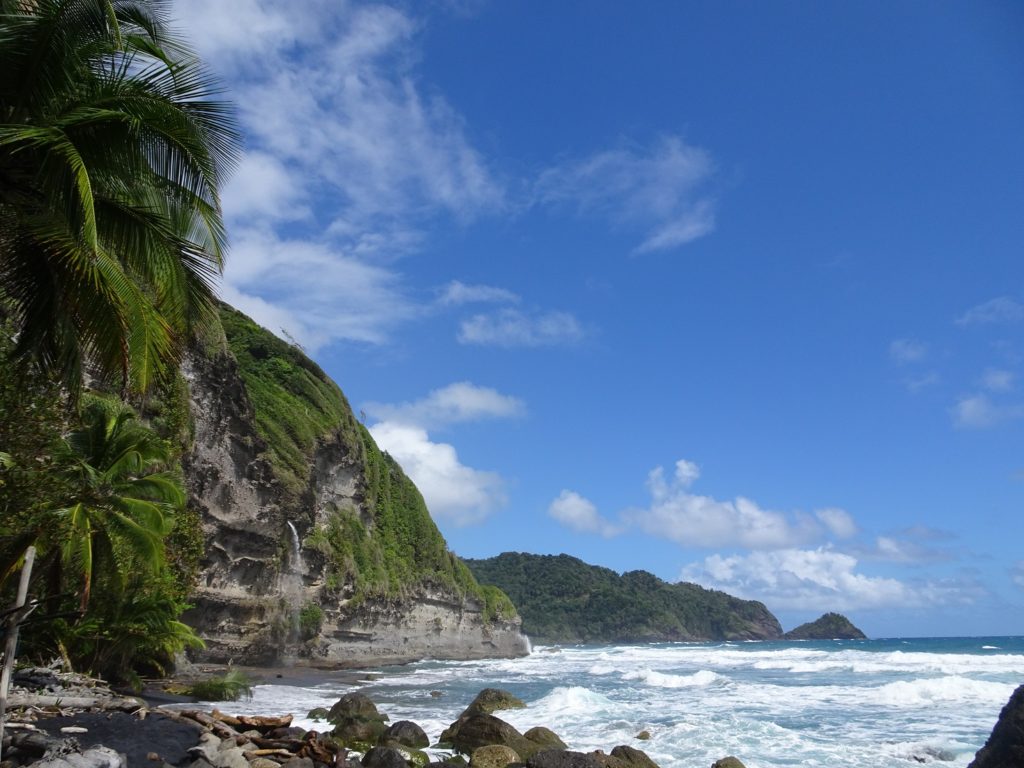 Secret Beach (Bord la Mer)
Bord la Mer is also known as the secret beach (even if some people will try to tell you that that's an alternative name for Wavine Cyrique). The road leading there starts only about 500m to the south of the one leading to Wavine Cyrique, so a visit of both places can easily be combined.
It's a beautiful small beach backed by tropical vegetation and populated by a fair share of exotic birds. Further character is added by the estuary of the Mahaut River flowing into the ocean. Unfortunately, just like Wavine Cyrique, swimming here is not recommended due to strong currents.
Like Wavine Cyrique, the secret beach is located near the village of Riviere Cyrique on Dominica's southeastern coast and can be reached from Roseau by taking a minibus. See my guide to the entire area here.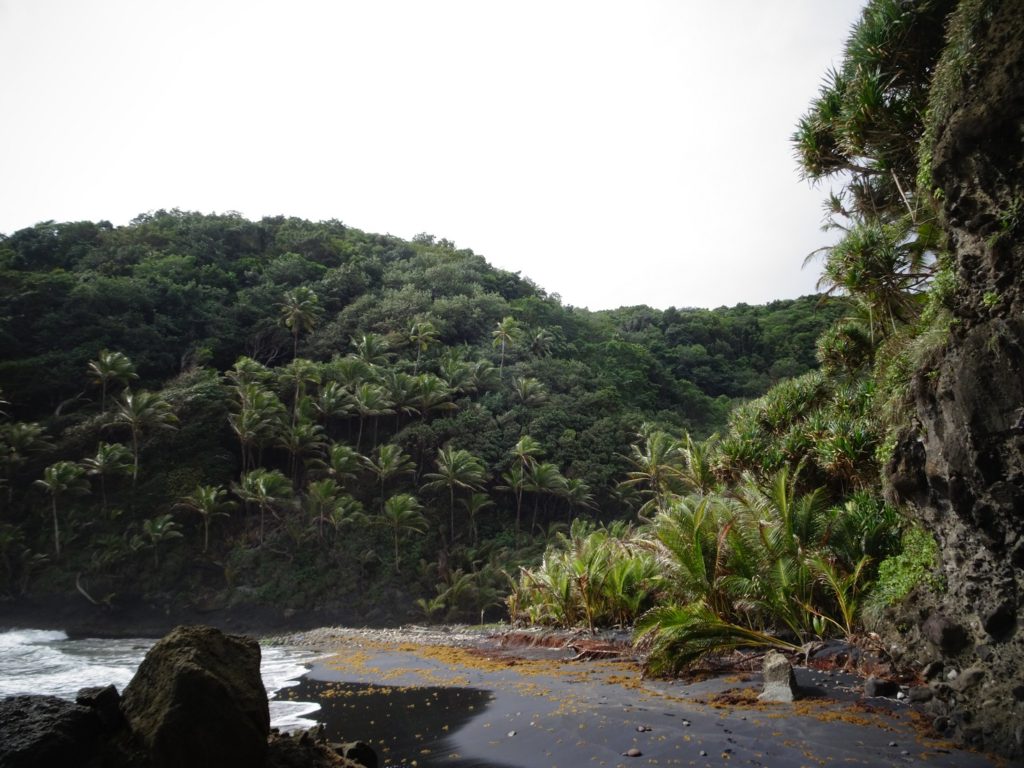 Sandy Bay Beach
Sandy Bay is located close to the village of Marigot, from where it can be reached by taking a small signposted trail that starts in a bend of the road east of the small port. It's another beautiful slice of nature soaked in that unique tropical island atmosphere. You know the drill by now: long stretches of black sand, coconut trees, scuttling crabs.
Contrary to the previous two entries, swimming is possible here, as the sea is rather calm. To the east of the "main beach", there's another smaller bay that you can get to by wading around the cliff jutting out into the sea.
Marigot is located on Dominica's northeastern coast and while there are occasional minibuses, I found it easier to hitch-hike here from Crayfish River in the Kalinago Territory.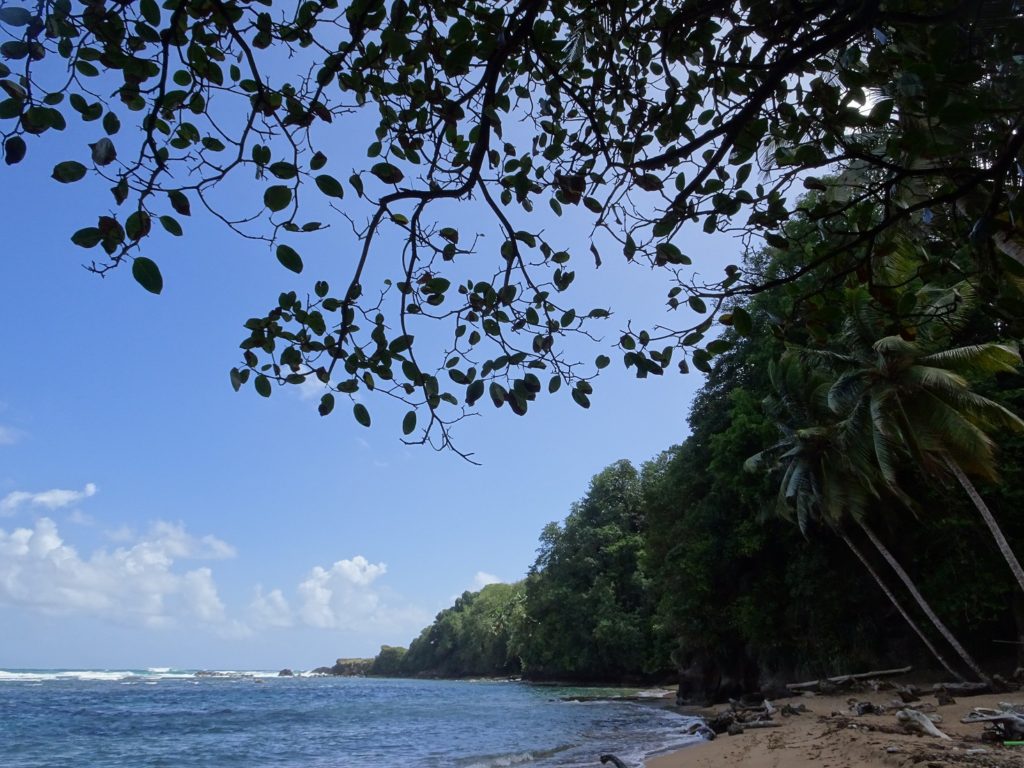 Mero Beach
This is one of Dominica's more popular beaches, and the only one of the five where I wasn't completely alone. It's famous for its beauty, but as it's situated right next to the village of the same name, it's also quite developed.
That means it doesn't have the "lost tropical paradise"-feel to it, but it's easy to get to and there are a few shops and bars in the vicinity, so it's convenient for a short beach getaway. Mero is about halfway between Roseau and Portsmouth, and there are frequent minibuses from either city.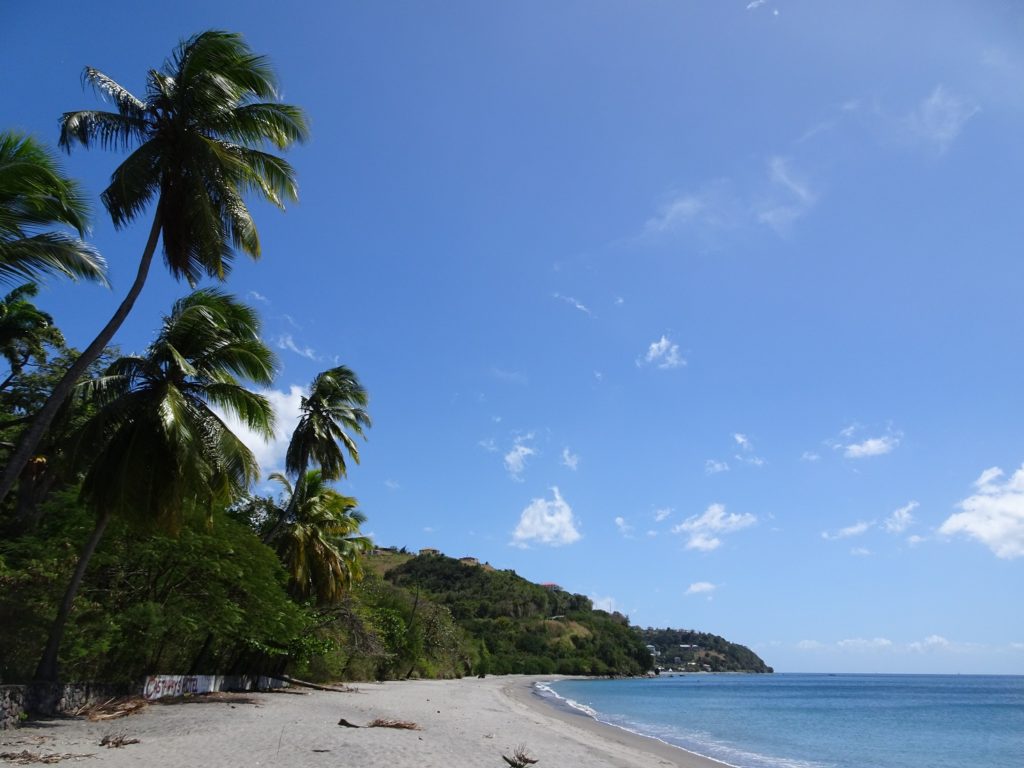 Runners-Up – Other Great Beaches on Dominica
Naturally, it's tough to pick the five best beaches, when there are so many to choose from. Another obvious choice would be Champagne Beach near Soufrière on Dominica's southeastern coast, where you can also explore the nearby reef during a snorkelling or diving tour.
There's a beautiful beach at Pagua Bay near the Hatton Garden Estate, which you can combine with a visit to Pagua Rock. Turtle Beach in Rosalie is worth checking out, as is the small Purple Turtle Beach in Portsmouth. There are tons of other beaches, especially around Calibishie in the north. Just go out and find your own favourite – You'll likely have it all to yourself!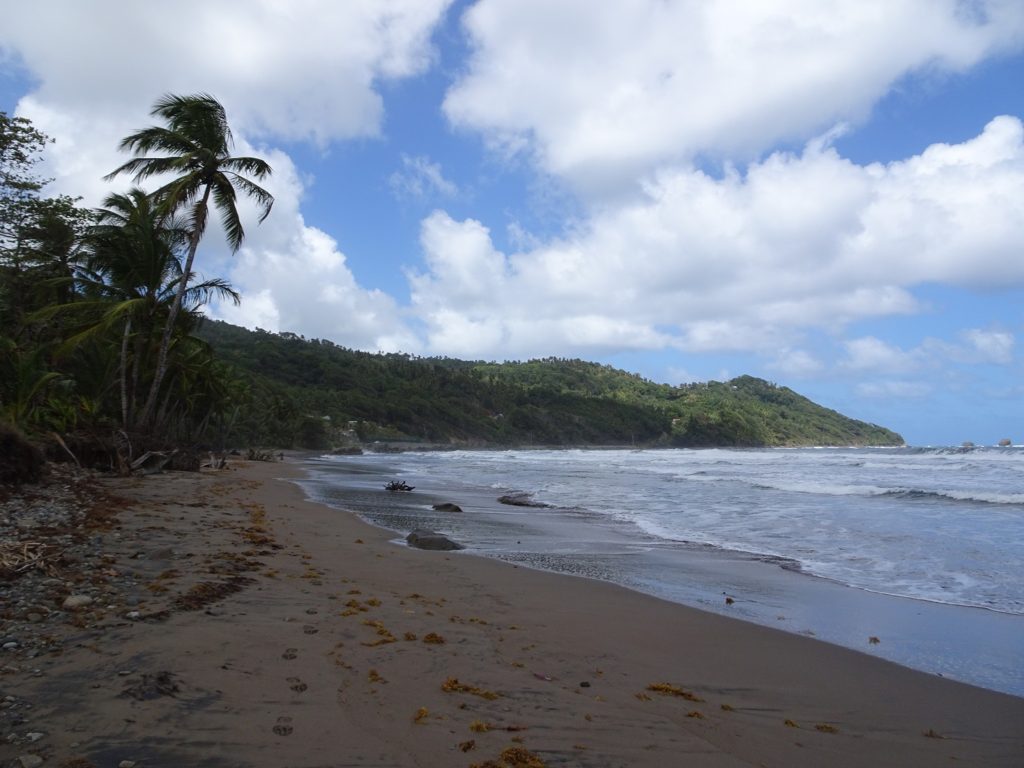 See also
The 10 Best Things to Do in Dominica – Sights You Shouldn't Miss on the Nature Isle
The 5 most beautiful waterfalls on Dominica
Where to Stay on Dominica – With Hotel Recommendations for All Budgets