Dominica truly is a natural paradise – apart from stretches of pristine jungle, mystical mountain lakes and wild beaches, an incredible amount of wonderful waterfalls can be found all over the island.
It is said that there are 365 big and small rivers on Dominica – one for every day of the year. So no matter what part of the island you're wandering through, chances are that you will stumble upon one of many cascades, whose beauty is usually only increased by the lush natural surroundings.
This also means that it's hard to choose which of these natural spectacles to check out if you're time on the island is limited. Thus, here's my list of the five waterfalls on Dominica you definitely shouldn't miss.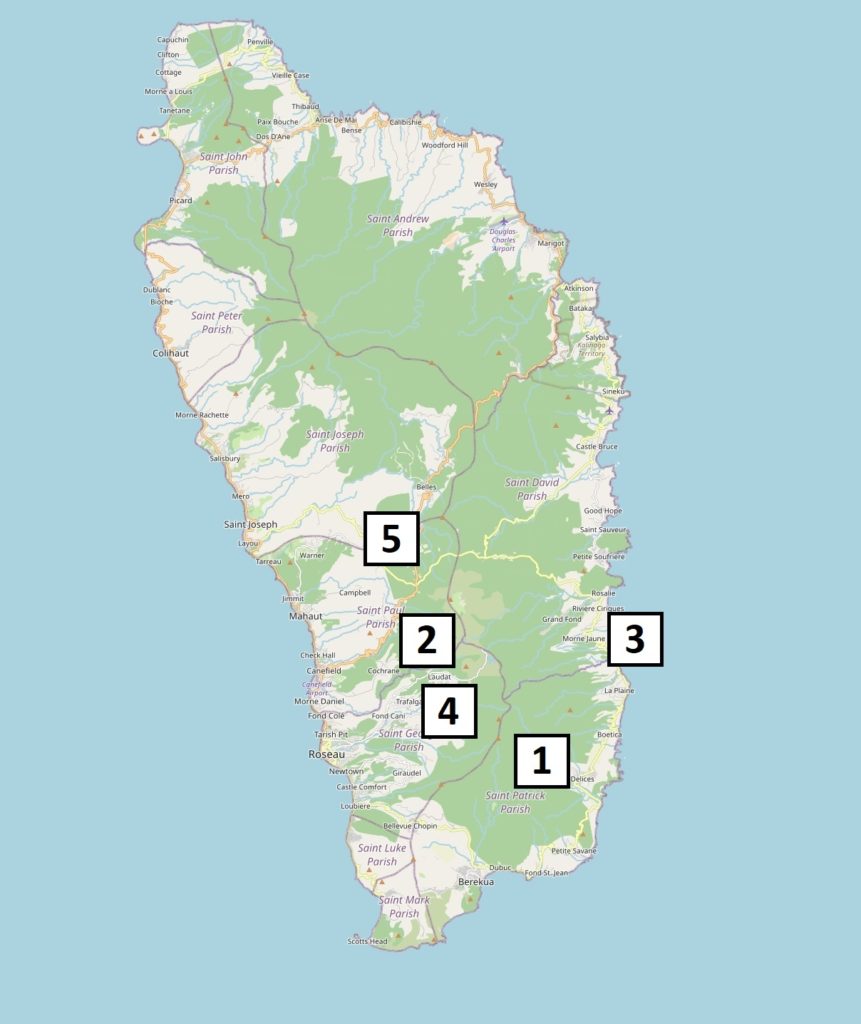 This post may contain affiliate links, and I might earn a small commission at no additional cost to you. For more info, click here.
The 5 most beautiful waterfalls on Dominica
Victoria Falls
These falls near Delices can be reached by an adventurous hike along (and through) the Riviere Blanche River. With a height of around 50 m (or 165 ft) and a higher flow rate than most other falls on the island, it's a top contender for Dominica's most impressive waterfall. Afterwards, you can top off your visit with a tasty Ital lunch in the Zion Valley "Rastarant" on the way to the falls.  
Victoria Falls are located near the village of Delices on Dominica's southeastern coast. Minibuses starting in Roseau's Hanover Street near the New Market go there infrequently. Otherwise, you can hitch-hike there along the coastal road from Rosalie or Riviere Cyrique.
Read more about the hike to Victoria Falls here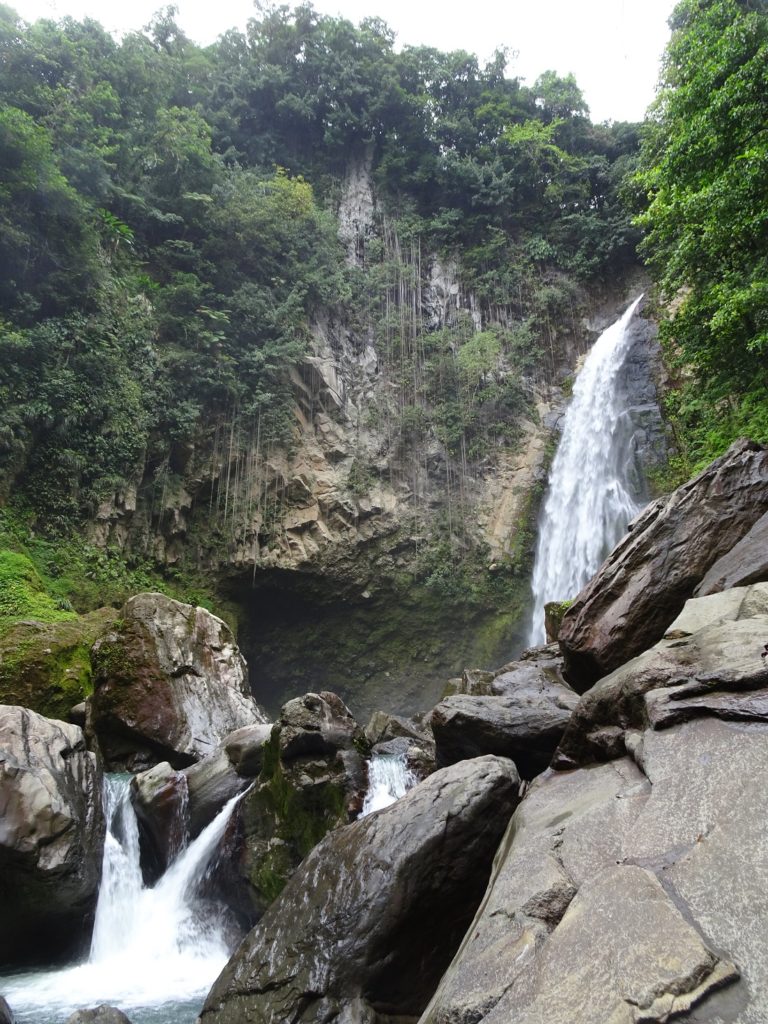 Middleham Falls
At 70 m (230 ft) these are some of the tallest waterfalls on the island. They can be reached by following a beautiful trail through the jungle near Laudat village, and if you don't mind the chilly water, you can take a swim in the pool at the bottom. A visit to Middleham Falls can be combined with a trip to other natural attractions around Laudat, like Titou Gorge, Freshwater and Boeri Lake.
The trailhead starts close to Laudat village, which can be reached by an infrequent minibus connection from Roseau's King George V. Street (near Astaphans Supermarket). Alternatively, you can get there by hiking part of Waitukubuli Trail Section 4 from Trafalgar to Laudat.
Read more about the hike to Middleham Falls here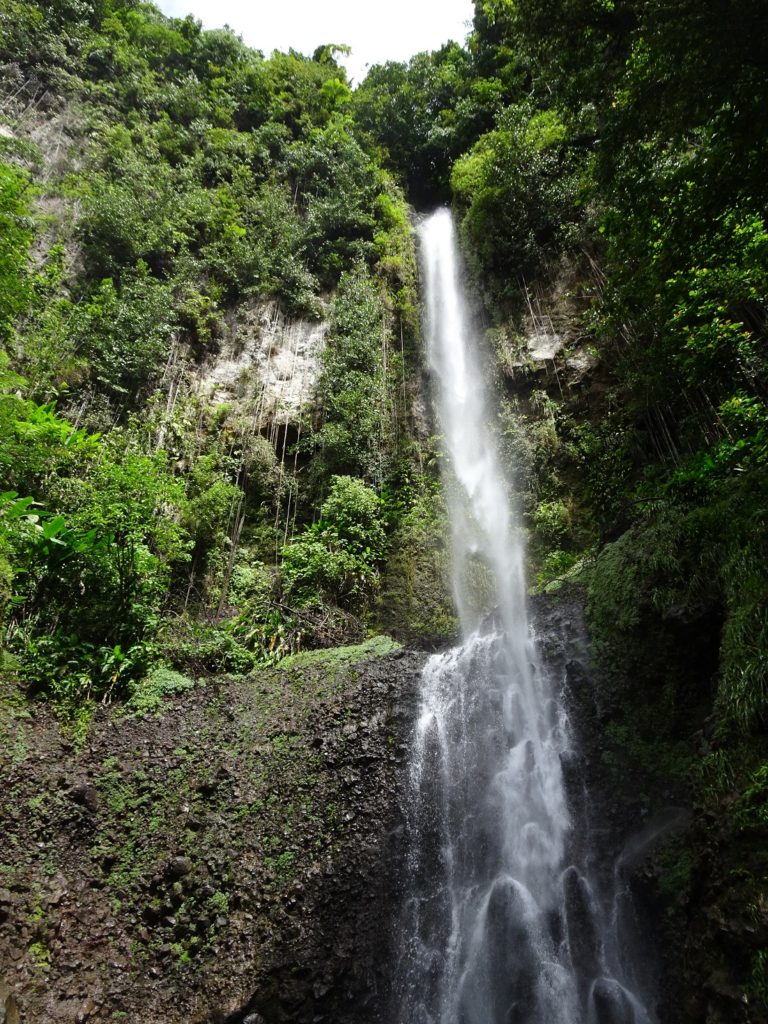 Wavine Cyrique
As far as the surroundings are concerned, this waterfall arguably has the greatest location on the island. Going straight into the sea, it can be found at a beautiful tropical beach and can be reached from the village of Riviere Cyrique by a very adventurous route leading down the cliff (including rope ladders!). The way there is certainly not for the faint-hearted, but whoever gets there won't regret the effort.
The trailhead in Riviere Cyrique can be reached by minibuses starting in Roseau's Kennedy Avenue (close to the Arawak House of Culture) or from Hanover Street near the New Market (the latter continue on further south to Delices and Victoria Falls)
Read more about the hike to Wavine Cyrique here.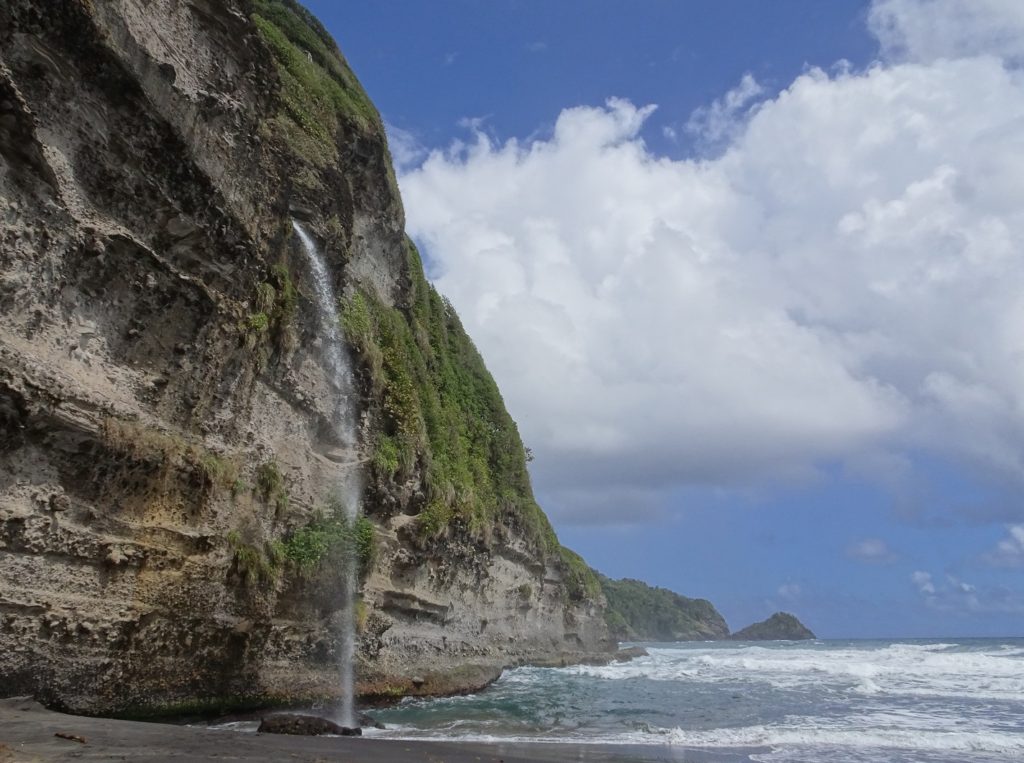 Trafalgar Falls
One of Dominica's most accessible natural attractions, these impressive twin falls are located close to the eponymous village, which is a good base for day trips into Morne Trois Pitons National Park. The easy accessibility also makes for a higher amount of tourists, so it's best to get here early or late in the day.
A good idea is to combine a Trafalgar Falls with a visit to the nearby Papillote Botanical Gardens, where you can check out the exotic flora and relax in the warm springs. On your way there, keep your eyes peeled for Agoutis – we spotted one on the road to the falls.
The falls are located to the east of Trafalgar, close to the road leading to Wotten Waven. Minibuses to Trafalgar start in Roseau's King George V Street (near Astaphans Supermarket). Alternatively, you can stay in Trafalgar for a couple of days and use the village as a base for day-trips into the National Park.
Note that the Falls are occasionally closed to anyone but Cruise Ship Visitors on some days. To avoid disappointment, you can pre-book your ticket here, which allows you to visit the Falls even as an independent traveler on those days.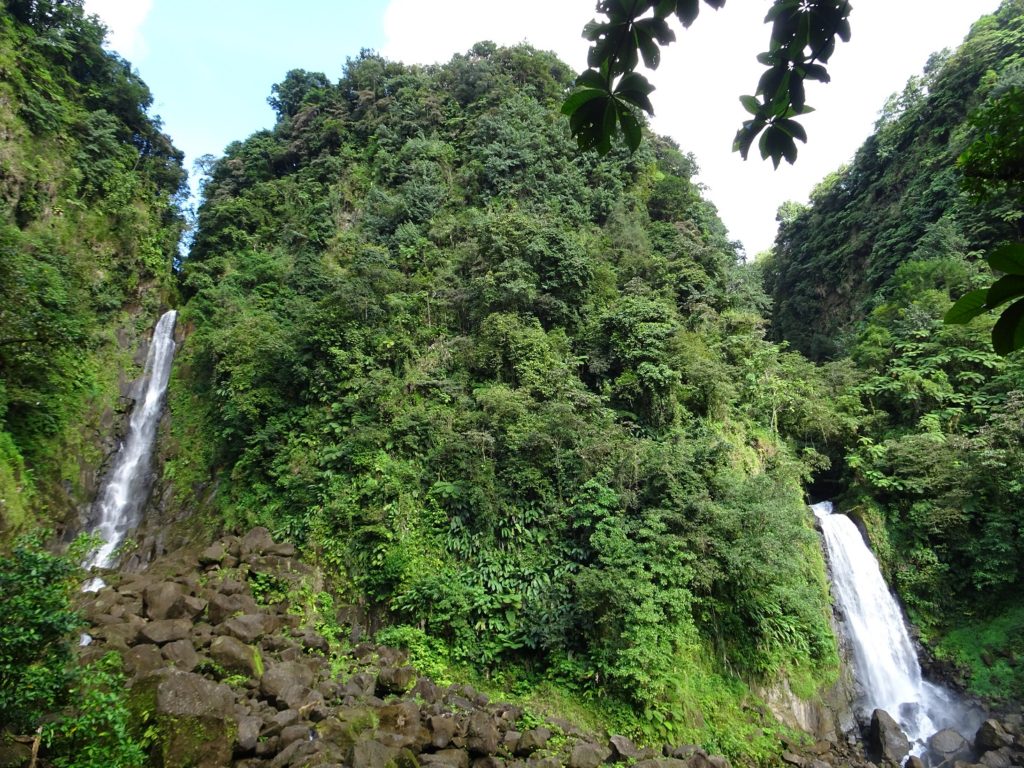 Spanny Falls
It's certainly the smallest waterfall on this list, but what Spanny Falls lack in size, it more than makes up in atmosphere. Set in wonderfully lush surroundings at the northern tip of Morne Trois Pitons National Park, it's an inviting place to take a dip in the crystal clear waters. A trip to Spanny Falls can be combined with the hike to nearby Jacko Steps.
The trailhead for Spanny Falls is located close to Pont Cassé. Minibuses that go along the Roseau-Castle Bruce Road can drop you off there.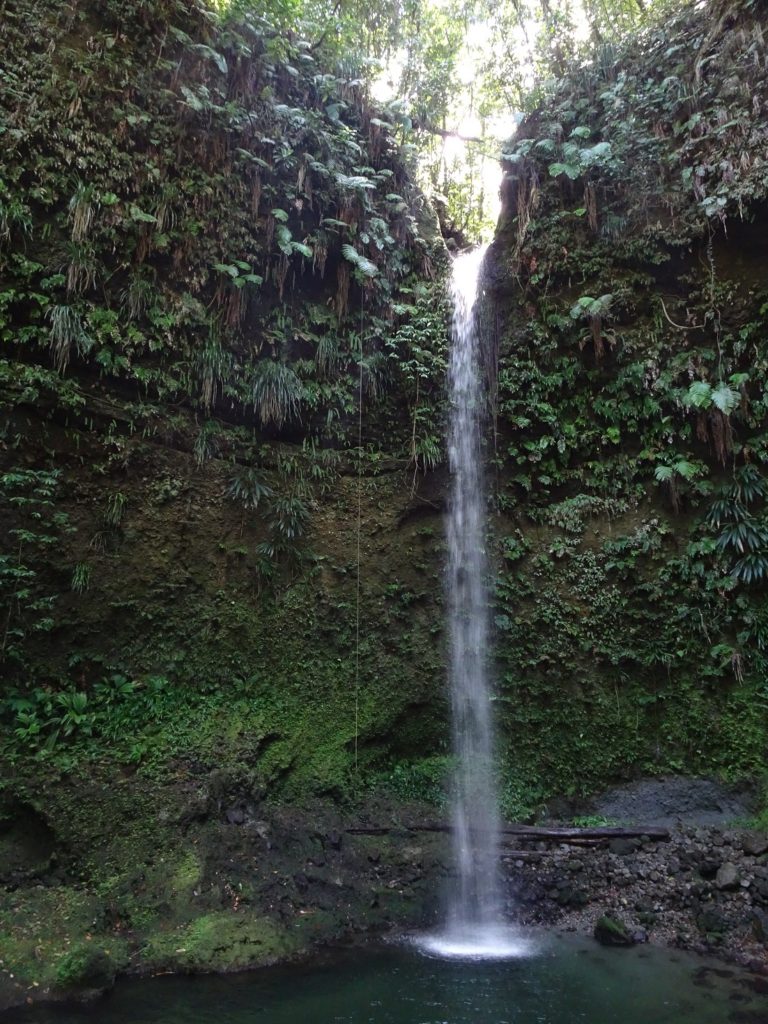 Other waterfalls on Dominica worth visiting
With such an abundance of waterfalls, it's hard to pick only five. There are a number of smaller waterfalls that merit a visit, mostly for their beautiful natural surroundings. Dernier Falls near Grand Fond and Jacko Falls near Pont Cassé come to mind. The Emerald Pool features a small waterfall as well and shouldn't be missed for its overall beauty.
Sometimes, a big part of the allure comes from tracking through the jungle and all of a sudden encountering a small cascade in the middle of nowhere. There are a few of those in the forest near Rosalie – Coco Cascades and Flocky Falls can both be reached by hiking through tributaries of Clarke's River, while the Morgan River Falls are located close to Wavine Cyrique.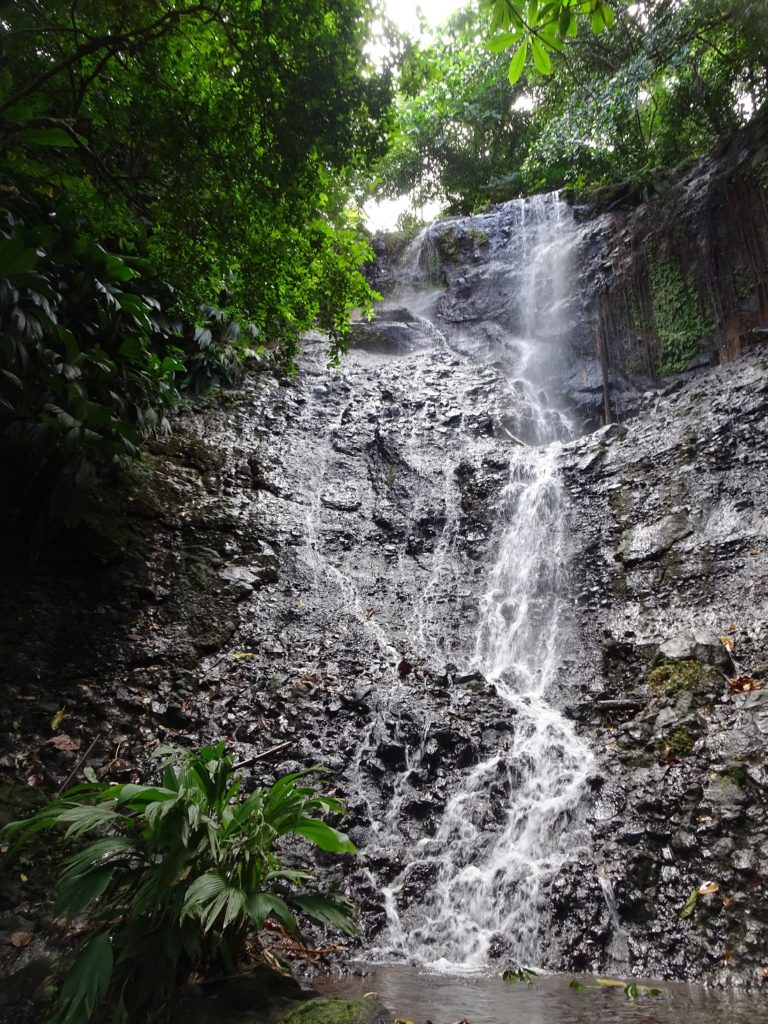 Lastly, there's Sari Sari Falls, which are supposedly very impressive. I didn't have time to check them out myself, so you'll have to take other traveller's words for it. They can be found close to the town of La Plaine, about halfway between Rosalie and Delices on Dominica's southeastern coast.
See also
The 5 best beaches on Dominica
The 10 Best Things to Do in Dominica – Sights You Shouldn't Miss on the Nature Isle
The Perfect One Week Dominica Itinerary – Including Hotels for Every Budget