There's no denying that many of Dominica's fantastic natural attractions are located close to the coast (and I'm not only talking about the beautiful beaches here). Still, some of the most fascinating destinations can be found in the island's mountainous interior.
The tiny hamlet of Pont Cassé in the centre of the island is a great base for hikes to some of Dominica's must-see attractions, like the Emerald Pool. At the same time, some lesser-visited places in the vicinity, like Jacko Steps and Morne Trois Pitons, allow you to step off the (barely existing) tourist trail.  Here are my top suggestions of what to do in Central Dominica:
This post may contain affiliate links and I might earn a small commission at no additional cost to you. For more info click here.
What to see and do in central Dominica
The Emerald Pool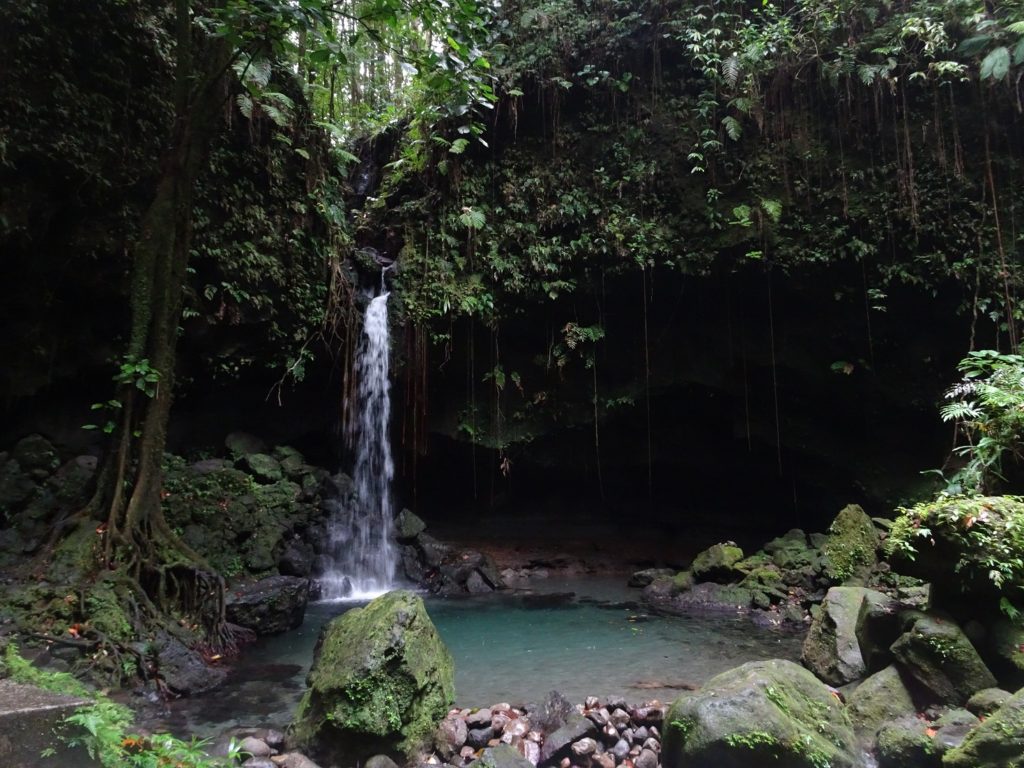 This is the quintessential "Jungle Waterfall" and a place you shouldn't miss while travelling the island. The allure lies not in the small waterfall alone, but in the combination of the beautiful pool, cascade and the amazingly lush jungle surrounding the place.
It can be a wonderfully serene place but that also depends on your timing. Before visiting, definitely check cruise ship schedules online, to avoid the days when hordes of day tourists flock here.
The Emerald Pool is located close to the road running between Pont Cassé and Castle Bruce. Minibuses can drop you at the entrance gate, from where it's a 10 minute walk through a nice stretch of forest before you reach the pool.
The site is included in Dominica's Ecotourism site-pass, which is 5$ (13.25 ECD) per day or 12$ (32.04 ECD) per week and allows you to visit as many sites as you manage in that time.
You can get the pass on site or pre-book it online to beat the crowds in case it's a cruise ship day.
Spanny Falls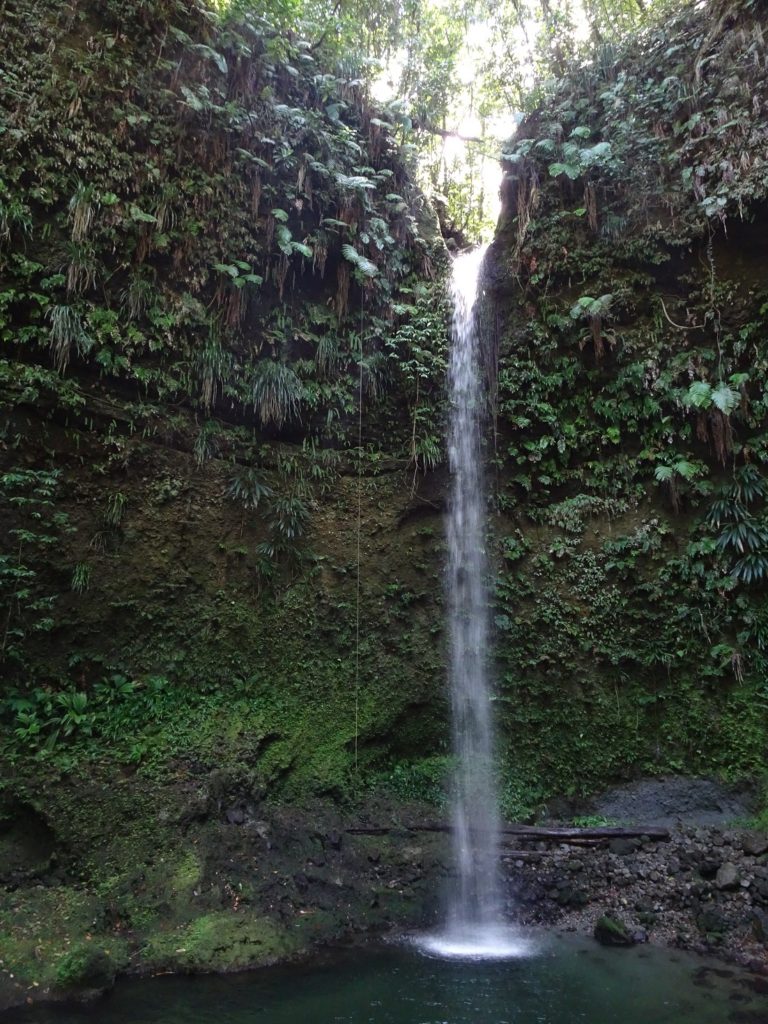 This small cascade in peaceful surroundings can be reached by taking a short hike through a beautiful section of jungle. It takes about 15 to 20 minutes and requires some scrambling across boulders near the falls, but there are some ropes you can hold on to, so it's not too bad.
Even though it's really not far from the road, it feels very secluded, which somehow increases the beauty of the place. The trail starts at Spanny's Disco south of Belles on the Pont Cassé-Rosalie road.
Jacko Falls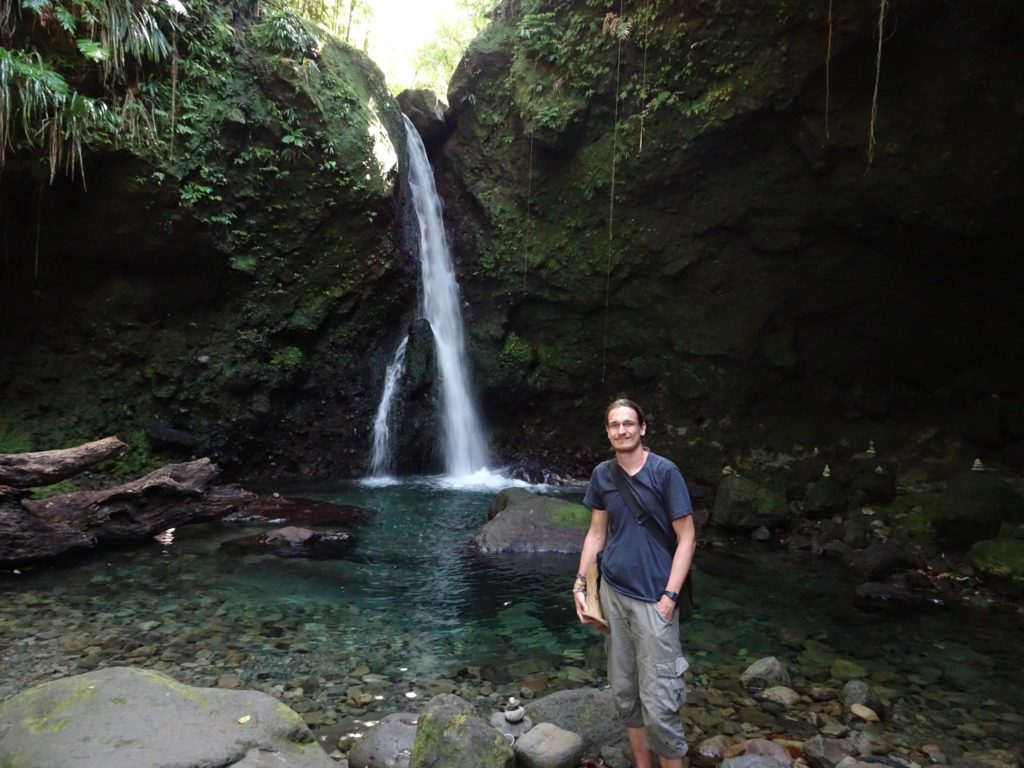 This is another small cascade, very close to the Pont Cassé-Rosalie road (a bit south of Spanny Falls). It's cute but nothing to write home about. I'd say stop there if you're in the vicinity but don't go out of your way to visit it, there are definitely more impressive falls on the island.
Hiking to Jacko Steps
Visiting this former camp for escaped slaves is one of the highlights in this area and involves an adventurous hike through the Layou River. It's one of my favourite hikes on the island, but it requires stamina and surefootedness.
Find everything you need to know about the hike to Jacko Steps here.
Climbing Morne Trois Pitons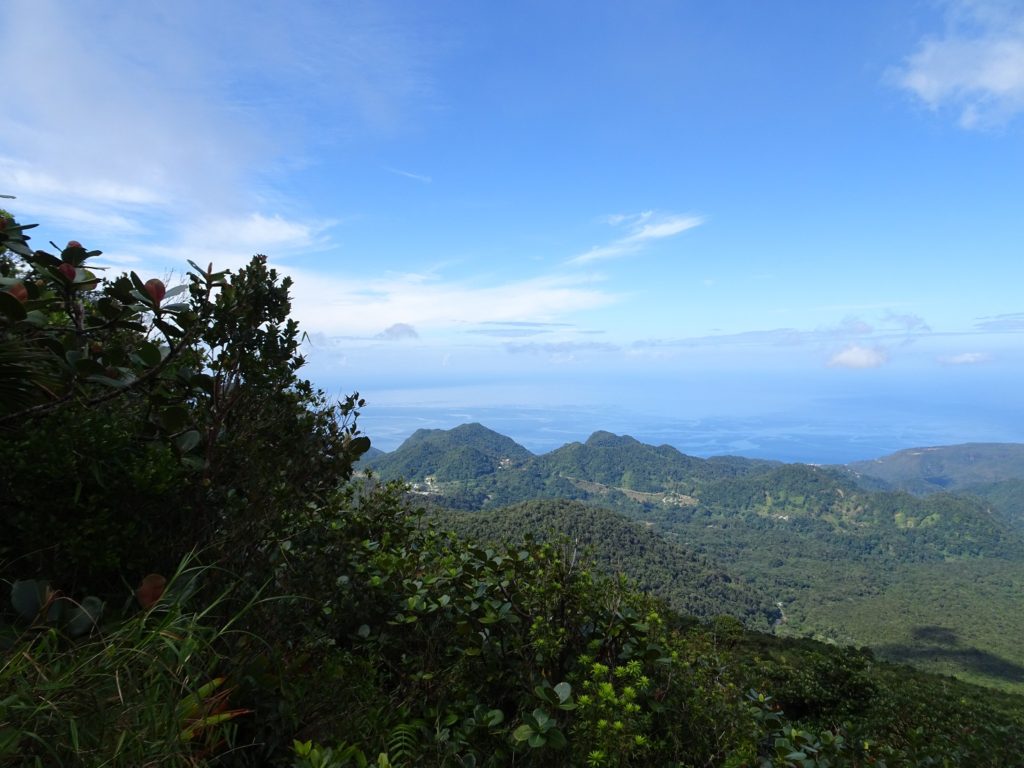 Another thing to do in the area would be to ascend Dominica's second highest mountain. Doing so, you'll be rewarded with great views to the north and west but those truly have to be earned by a pretty tough and sometimes rather chaotic hike.
Expect to clamber up slippery rocks and wind your way through forests of tree roots. If managing that doesn't give you a sense of achievement, what does? Plus, you're pretty much guaranteed to have the view for yourself.
Practicalities
How to get around
This is the part of the island I found most complicated to navigate without my own transport. Some infrequent minibuses can be found and will take you along if you're waving them down but they don't really follow a fixed schedule. They seem to be a little more frequent on the Roseau-Marigot Road than on the road to Rosalie or Morne Bruce.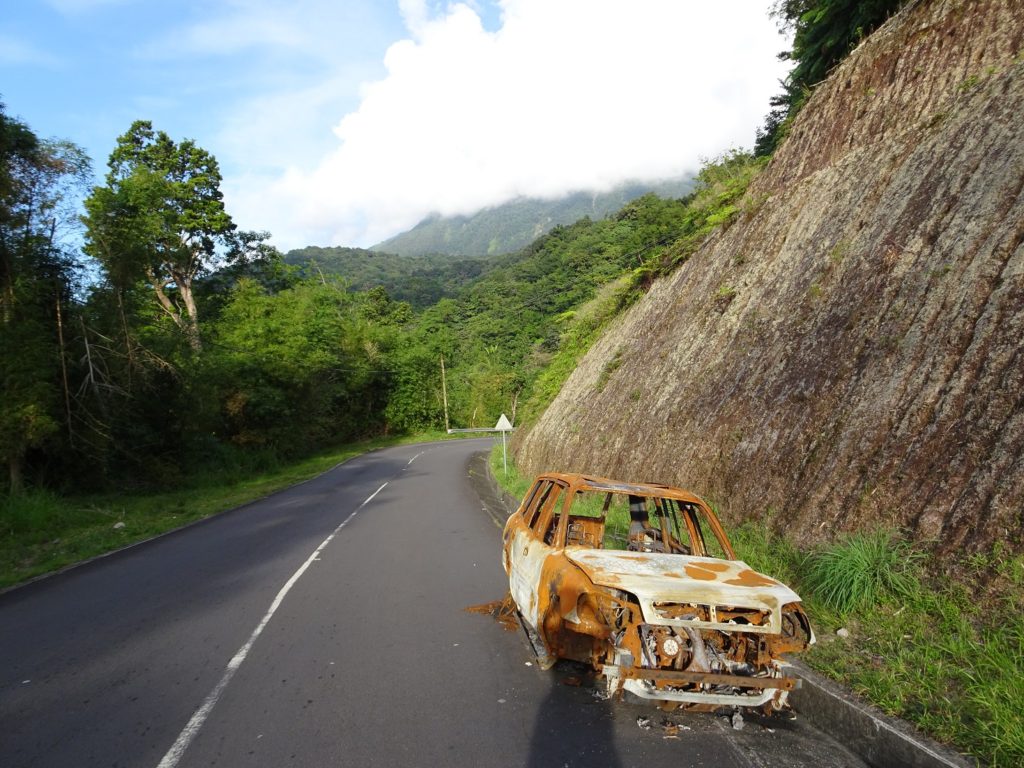 Mostly I started walking along the road towards by destination, flagging down cars or the occasional minibus that passed me. This worked out well enough that I never had to walk the entire way.
As I stated before, hitch-hiking on Dominica is pretty easy (if there are actually cars going your direction, that is). That said, if you're on a tight schedule and want some flexibility, this is probably the one part of the island were a rental car really comes in handy.
Where to stay and eat in central Dominica
Pont Cassé is more of a loose collection of houses than a proper village but it has a few accommodation options and is a good place to base yourself for a couple of nights and to do day trips in the surrounding area. I stayed at D-Smart-Farm, which is an ecological farm and campsite set in beautiful surroundings.
Dawn, who runs the place is super helpful and knowledgeable about potential hikes in the vicinity. She can probably also suggest guides if you don't want to hike on your own. They don't have a website, but you can try and contact them on their Facebook Page to ask about availability. If you're looking for something a little more luxurious, you could try Harmony Villa on the road to Jacko Falls.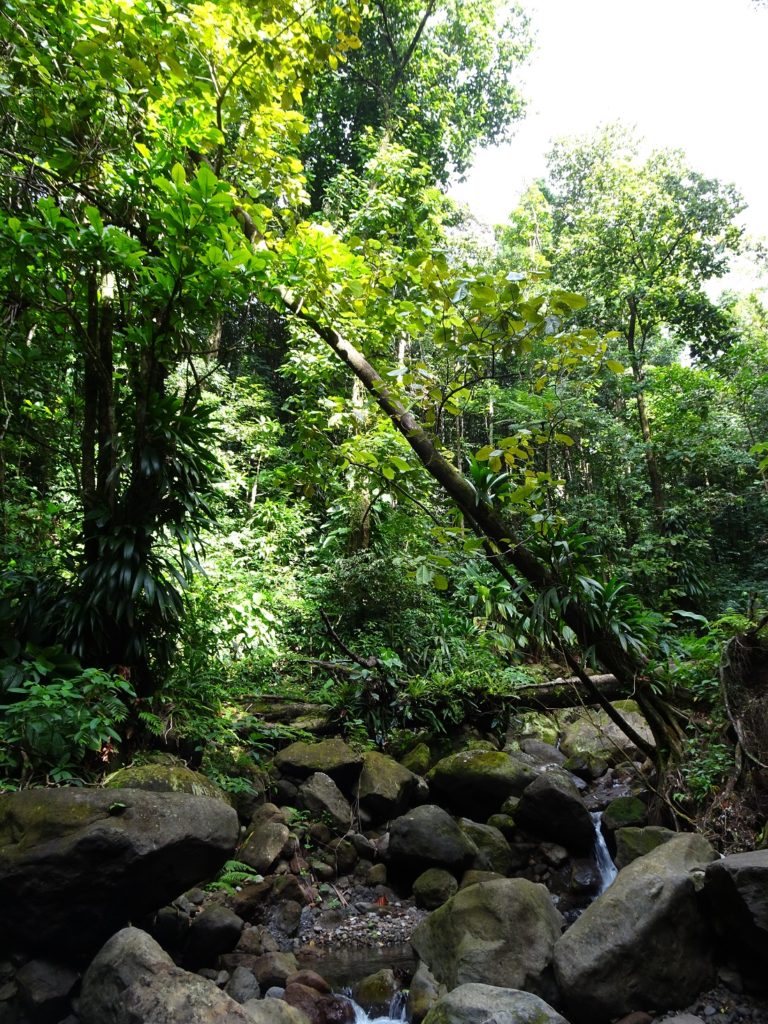 Food options are a bit scarce in this area. There's a small restaurant at the Emerald Pool and at least one bigger grocery store on the main road in Pont Cassé. Self-catering is probably your best bet here.
What else to see and do in Dominca's Centre
There are some absolute must-see sights in Morne Trois Pitons National Park like the Boiling Lake and Titou Gorge, Freshwater Lake and Boeri Lake as well as Middleham Falls and Trafalgar Falls. For those attractions it would be easier to base yourself in Trafalgar or Wotten Waven, though.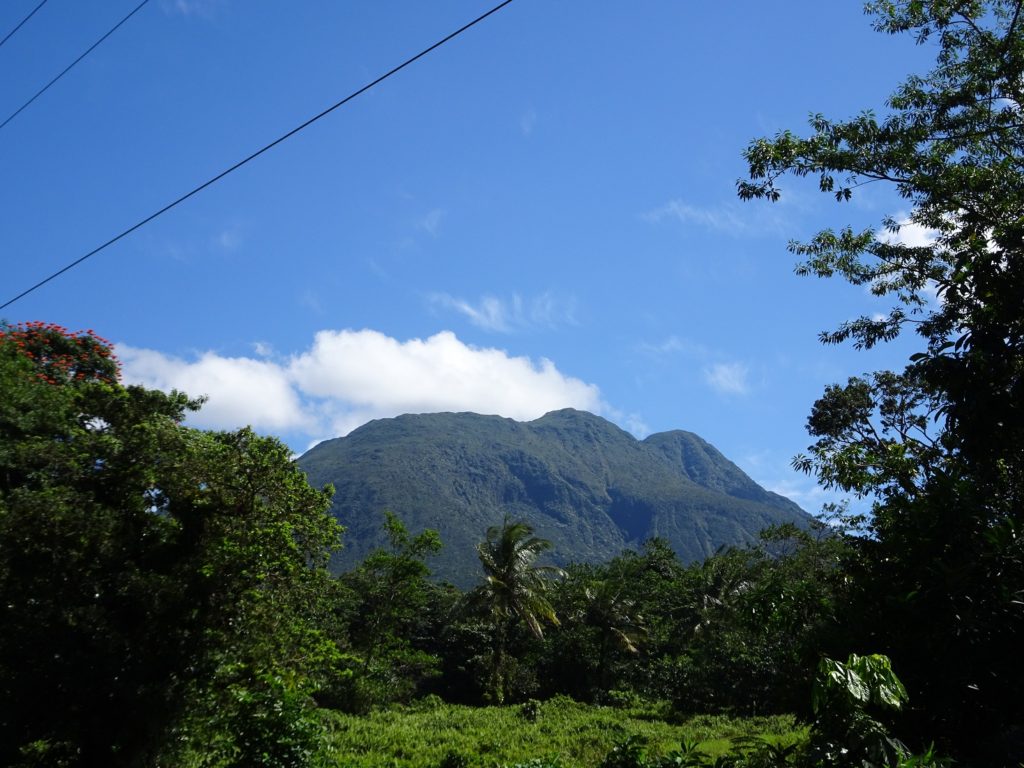 More information on these sites can be found here:
What to do in Trafalgar, Wotten Waven and Morne Trois Pitons National Park, Dominica
Everything you need to know about Hiking to Boiling Lake and the Valley of Desolation on Dominica
Freshwater Lake, Boeri Lake and Middleham Falls – Three fantastic hikes in central Dominica