Backpacking Dominica on a budget
If you compare it to most other Caribbean islands, beautiful Dominica is a much more budget-friendly destination, but as always, that also depends on your style of travel.  If you have to pinch your pennies, check out this guide on how to travel Dominica on a budget while still getting the most of this tropical paradise.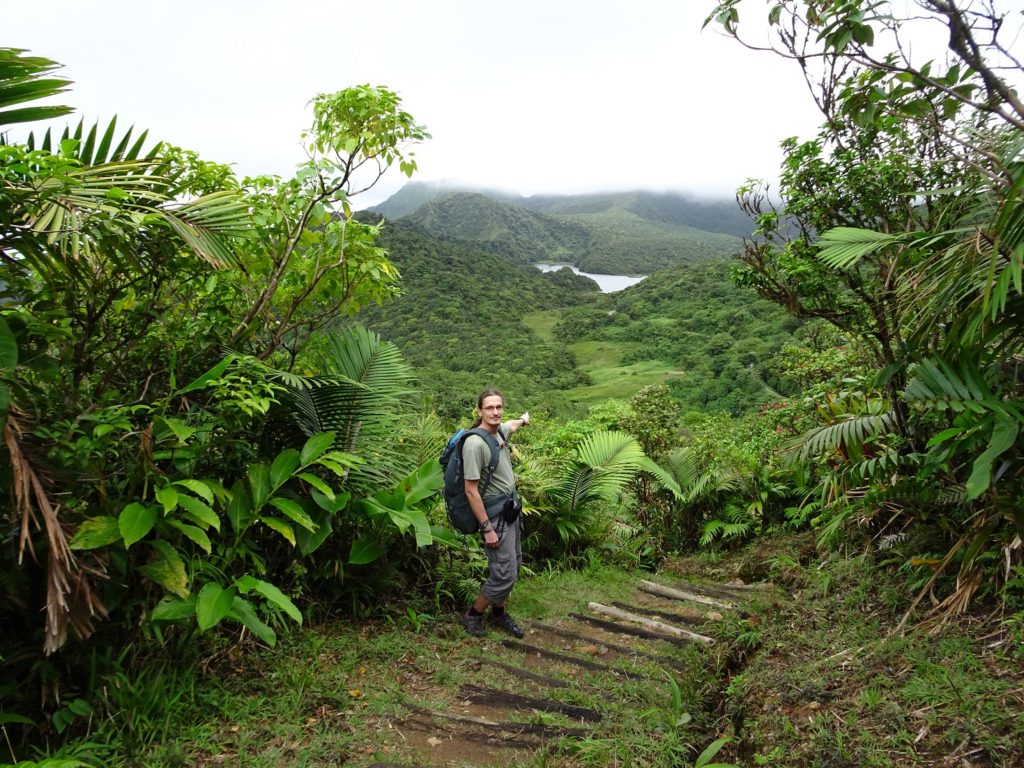 This post may contain affiliate links and I might earn a small commission at no additional cost to you. For more info click here.
Getting there
The only direct mainland flight to Dominica is from Miami, so if travelling from anywhere else in North America you're going to have to connect either there or on another Caribbean island. Travelling from Europe, we found it a much cheaper alternative to fly to Pointe-à-Pitre (Guadeloupe) from Paris and then take the ferry to Dominica.
As Guadeloupe is a French Overseas Department, the flights there from Europe are also significantly cheaper than going to Dominica directly (we paid about 500€ return per Person). Same goes for Martinique, if you travel from (or connect in) Paris.
Apart from cutting your costs, taking the ferry also is a pretty atmospheric way of reaching Dominica. Check out everything you need to know about taking the ferry here.
Getting around
There's a couple of car rental companies in Roseau, Portsmouth and at the airports but as you might imagine, it's not the cheapest way to traverse Dominica and we managed perfectly well without our own set of wheels. Minibuses are certainly the easiest and cheapest ways of getting around the island without your own transport.
They serve most places of touristic interest (Roseau, Portsmouth, Trafalgar, Soufriere, Rosalie, Calibishie, Crayfish River etc.), are only about 1 to 10 ECD (1 to 4€ / 1 to 5$) per trip, depending on the distance and are a nice way of meeting locals.
They don't run on a schedule, though, and especially if you're travelling through the interior of the islands, it's sometimes much more convenient to hitch hike. In our experience it's super easy and more often than not, the first car that passed us (and had some space) stopped to take us along.
Accommodation
There are plenty of places offering budget and midrange cabins in most towns and villages across the islands. We usually just asked the people running  the place we stayed at, if they had a recommendation for our next destination and that worked out really well.
It's a small island and everybody running a lodge or hostel seems to know everybody else. We always went for the most basic cabins, which usually set us back about 100 ECD (35€ / 40$) for two people per night.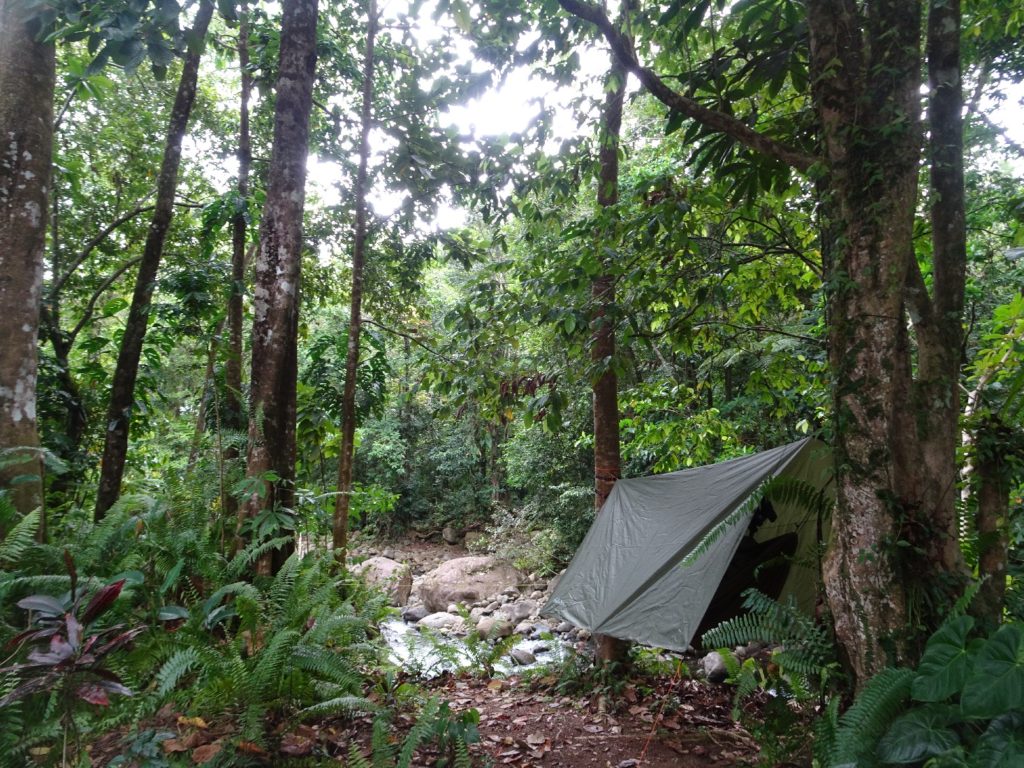 A nice feature is that most places outside of Roseau have extensive grounds attached and also offer places to pitch a tent or hang a hammock, making staying there even more affordable (usually about 25 ECD / 8€ / 10$ per Person per night) and allowing you to get a little closer to nature. 
We brought some camping hammocks and found that to be the best option, as basically all of the places around the island will let you set it up on their premises and you won't have to worry about that one painful stone under your tent poking you at night;-)
Some of our favourite affordable places to stay on the island were D'Auchamps Cottages in Trafalgar, D-Smart Farm in Pont Cassé and 3 Rivers Eco Lodge near Rosalie. If you're spending a night in Roseau, we found Ma Bass' Guesthouse to be a good cheapish option (another would be St. James' Guesthouse), while Douglas Guest House is a good budget choice in Portsmouth.
Recommendations for budget accommodation are also included in my one-week itinerary for Dominica. You can browse for more hotels and cottages in the map below:
Food
While not as cheap as in some backpacker-friendly countries, you can get a decent meal including drinks for about 30 to 40 ECD (10 – 13€ /12 – 15$). Many of the lodges offer delicious set meals, while renting a cabin gives you the option of doing some self-catering, further saving you some money.
Attractions
The most important natural attractions on the island are included in an Ecotourism Program and require a day pass for 5$ (EC $13.25) or a week pass for 12$ (EC $32.04). Unless you're on the island for only one or two days, I'd say get the week pass. You can visit as many sites as you manage in the allotted time.
The sites included in the pass are: Morne Trois Pitons, Emerald Pool, Boiling Lake, Freshwater Lake, Boeri Lake, Middleham Falls, Trafalgar Falls, Cabrits National Park/Fort Shirley, The Indian River, Syndicate Nature Trail, Morne Diablotin as well as the Sulphur Springs in Soufrière.
Considering how many spectacular sites are included, the passes are tremendous value. Plus, the proceeds go to natural conservation efforts, so you should definitely get one. You can get the passes at the Emerald Pool, Trafalgar Falls, Cabrits National Park and the Indian River as well as from the Forestry Division on Roseau's Valley Road.
Check this site for current information about the program.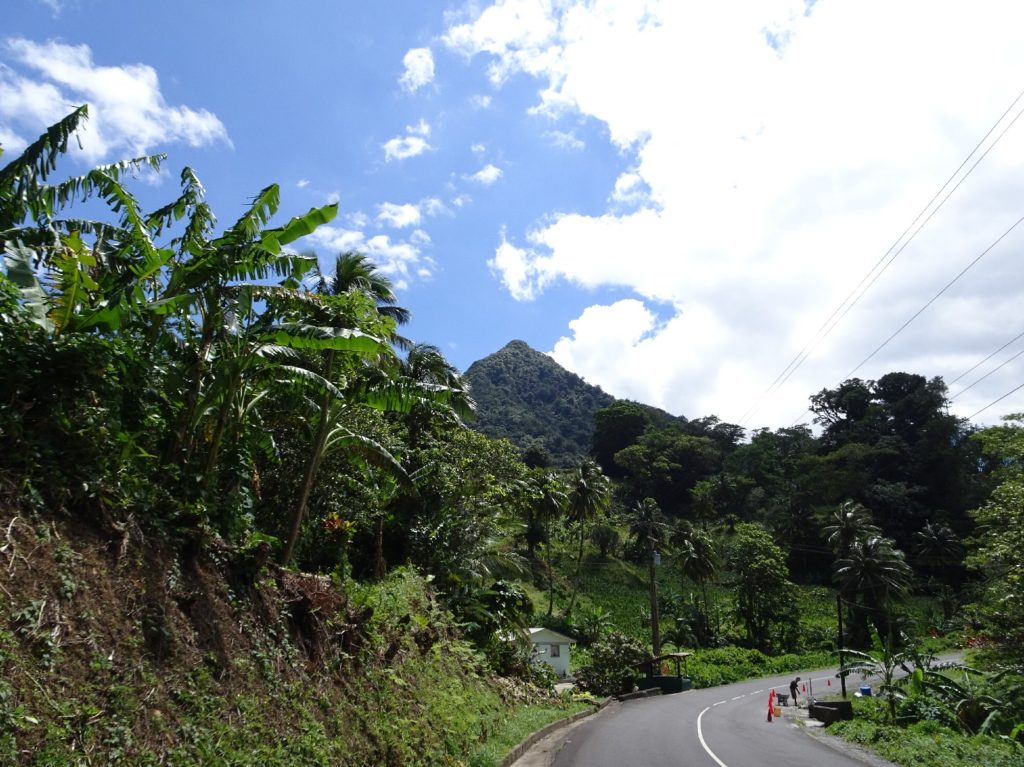 Summary and Daily Budget
Altogether we managed to get by on a daily budget of about 100 to 120 ECD (about 35 to 40€ / 35 to 45$) per Person, travelling as couple mostly camping and eating out, sometimes renting a cabin and doing self-catering. That way, we managed to stay within our budget without feeling we were missing out in any way.
See Also:
Everything you need to know about visiting Dominica
The 10 best things to do on Dominica
The perfect one-week Dominica itinerary