For such a small island, Guadeloupe sure has a lot to offer to the aspiring traveler, no matter if it's natural or cultural attractions, adventure or relaxation you're after. The most important thing to know before starting to plan your visit, is that the island consists of two very different parts.
Grande-Terre, the eastern half, is more developed and offers mainly cultural attractions as well as a couple of popular beach resorts. Basse-Terre, on the other hand, features beautiful natural surroundings and is a fantastic destination for hikers.
Add to that the small but diverse islands of Marie Galante, La Désirade and the Îles des Saintes and choosing where to go can get a little overwhelming.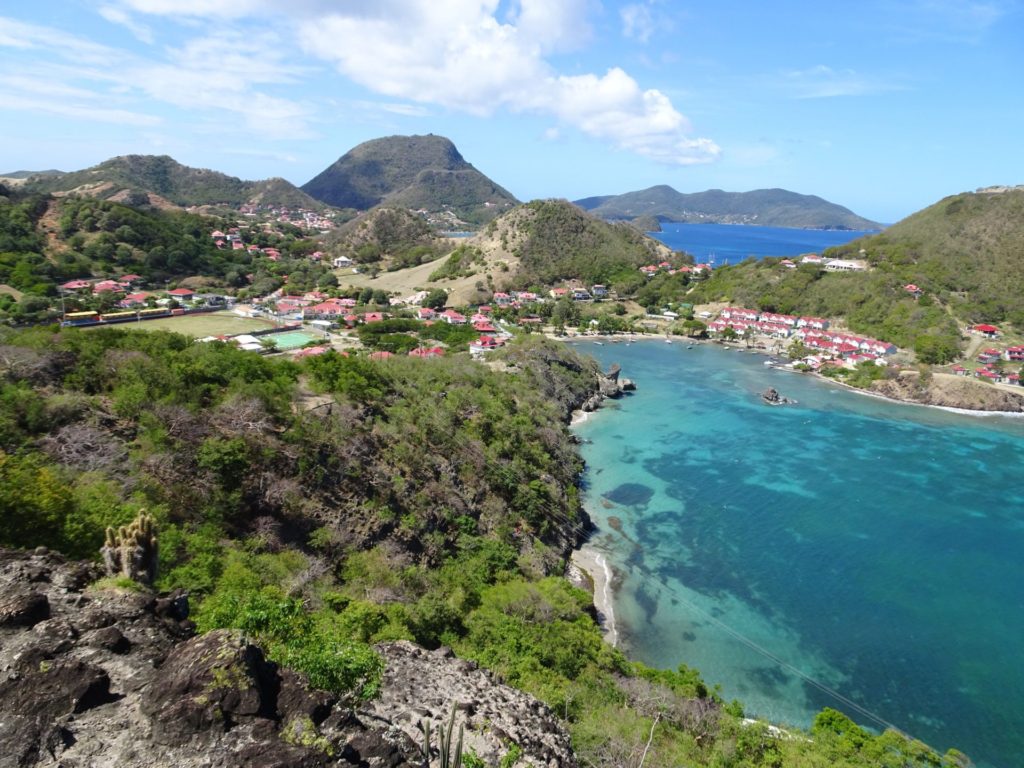 Thus, I decided to compile a little itinerary, recommending the top destinations to hit during a one-week trip to the island. I've also included some suggestions for budget accommodation, which are rather scarce on the island. Most of the suggestions are privately rented apartments which are usually good value and a great way to get into contact with the locals.
This post may contain affiliate links, and I might earn a small commission at no additional cost to you. For more info, click here.
The perfect one-week Guadeloupe itinerary
Day 1: Pointe-à-Pitre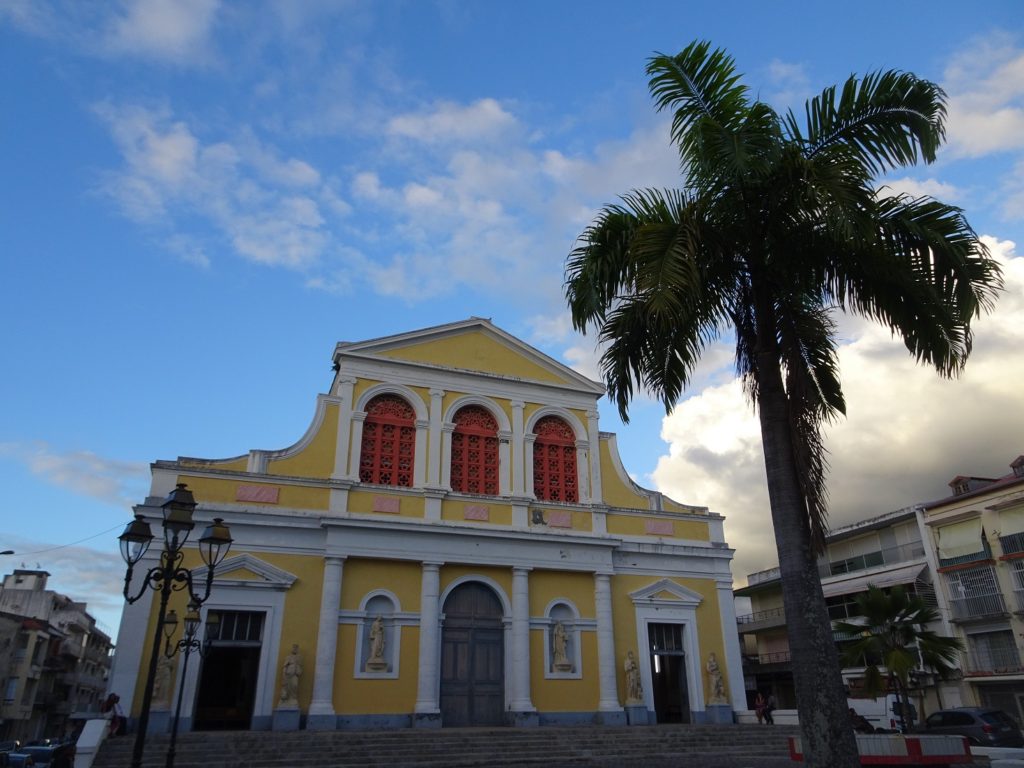 When planning your trip to Guadeloupe, it was probably the natural rather than urban attractions that made you want to come here. Still, Guadeloupe's biggest city and the singular point of entry whether by plane or boat) has enough worth-wile architecture and interesting museums to warrant some of your time.  
Foremost among the attractions is the cutting edge Memorial ACTe Museum of Slavery, but you can also check out the attractive cathedral, bustling fish market and pleasant Place de la Victoire Park. Apart from some of the beach resorts, Pointe-à-Pitre is also the only place on the island that has a notable bar-scene or night-life.
See also: The Best Things to do in Pointe-à-Pitre, Guadeloupe
Day 2-3: Grand-Terre and/or La Désirade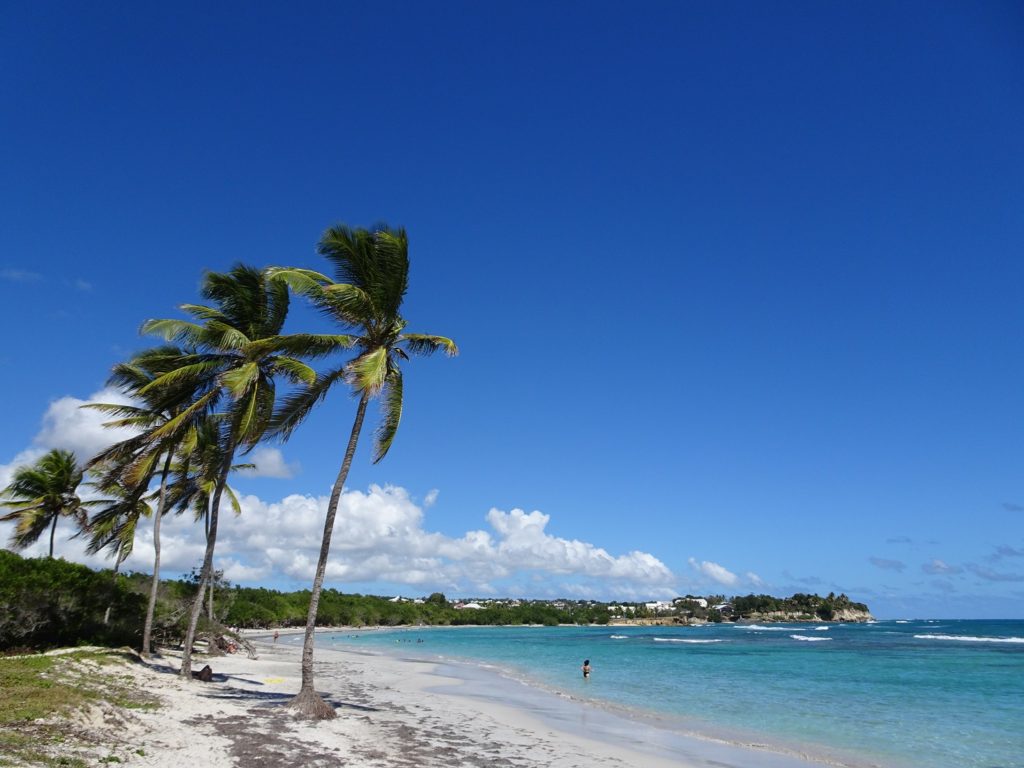 Move on to Grand-Terre, the eastern half of the island, where you could base yourself on one of the popular beaches along the southern coast, like Le Gosier or Saint Anne. This would give you the choice to either lounge at the beach for a day or two, or explore the surroundings by rental car or public bus.
You could check out historic Forts Louis and Fleur d'Épée near Le Gosier, visit the Pointe de Chauteaux viewpoint or take a guided tour of the Damoiseau Rum distillery. A day trip to the nearby islet of La Désirade to explore it's historical sights and nice beaches, would be a great way to get away from it all.  
See also: What to know about visiting La Désirade Island, Guadeloupe
Day 4-5: Îles des Saintes
Move on to the beautiful Îles des Saintes archipelago by taking the ferry from Pointe-à-Pitre or Trois Rivieres at the southern tip of Basse-Terre.  The main island "Terre-de-Haut" is a great location for aimless exploration by foot, bicycle or scooter. The small village capital with its cute alleyways and colourful houses is fun to explore, as is the historic Fort Napoleon, dating to the 18th century. 
You could also hike up Le Chameau Hill or relax at some of the nicest beaches I've come across on Guadeloupe. Plage de la Pompierre would be my undisputed favourite among these. Great restaurants serving fresh seafood are another very good reason to stop by
See also: The ultimate travel guide to the Îles des Saintes, Guadeloupe
Day 6: La Soufriére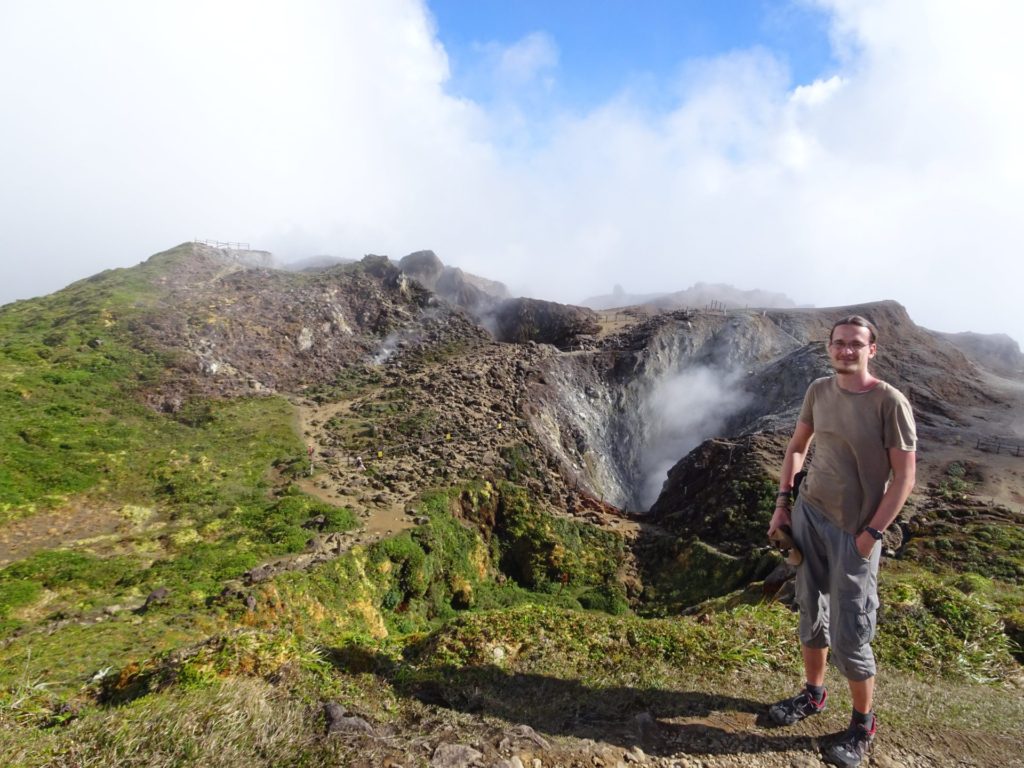 Next, head to Basse-Terre, the western half of the island, which differs from Grand-Terre so dramatically that it sometimes feels like a separate island. The landscape reminded us mainly of Dominica, the beautiful island located directly to the south of Guadeloupe. The one must-see attraction on Basse-Terre would be La Soufriére, an impressive active volcano and the highest peak on all of the Lesser Antilles.
The surrounding National Park offers many other attractive  hikes as well, while the chance to relax in the warm sulphur spring at the trailhead to La Soufriére is an added bonus. We found the village of Sainte-Claude, halfway up the mountain to be an ideal base for hiking La Soufriére.
See also: What to know about climbing La Soufrière Volcano, Guadeloupe
Day 7: Basse-Terre town and Deshaies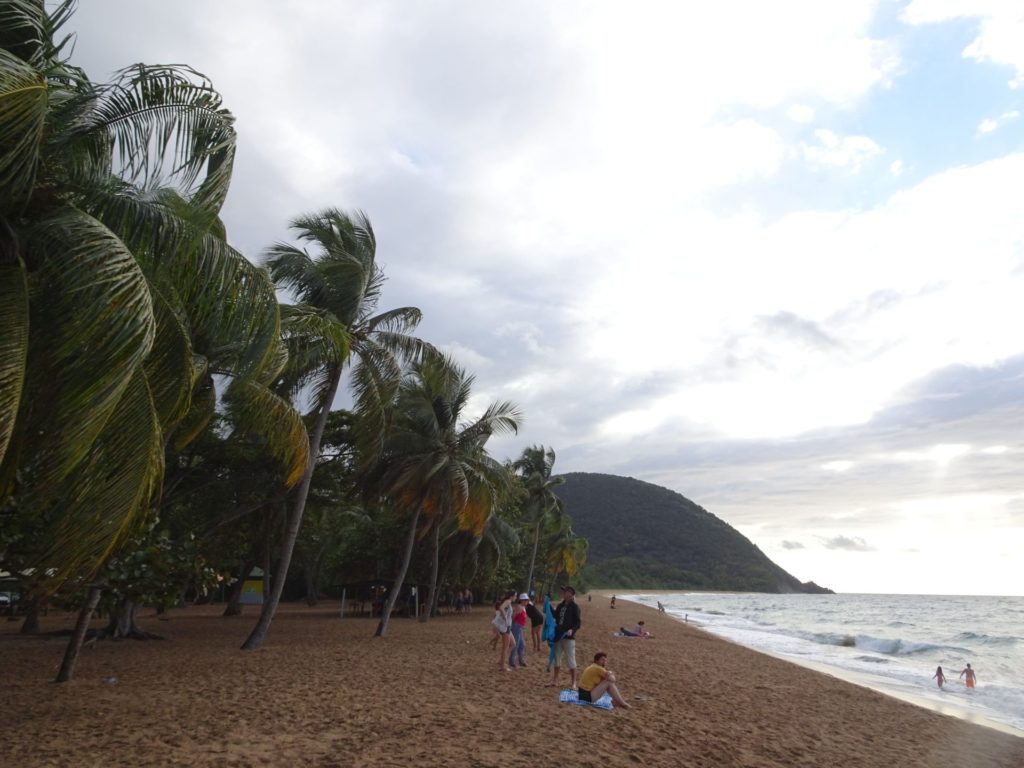 On your way back to the coast, I recommend that you stop in Basse-Terre, the attractive capital of Guadeloupe, where you can check out the parliament building and bustling produce market, as well some cool historical architecture.
From there you can catch a bus north along the coast to the attractive village of Deshaies, which fans of police procedurals will recognize as the filming location for the BBC series "Death in Paradise". In the surrounding area you can also visit the famous Botanical Garden or hang at the splendid Grande-Anse Beach.
See also: Visiting the Filming Locations of BBC's Death in Paradise in Deshaies, Guadeloupe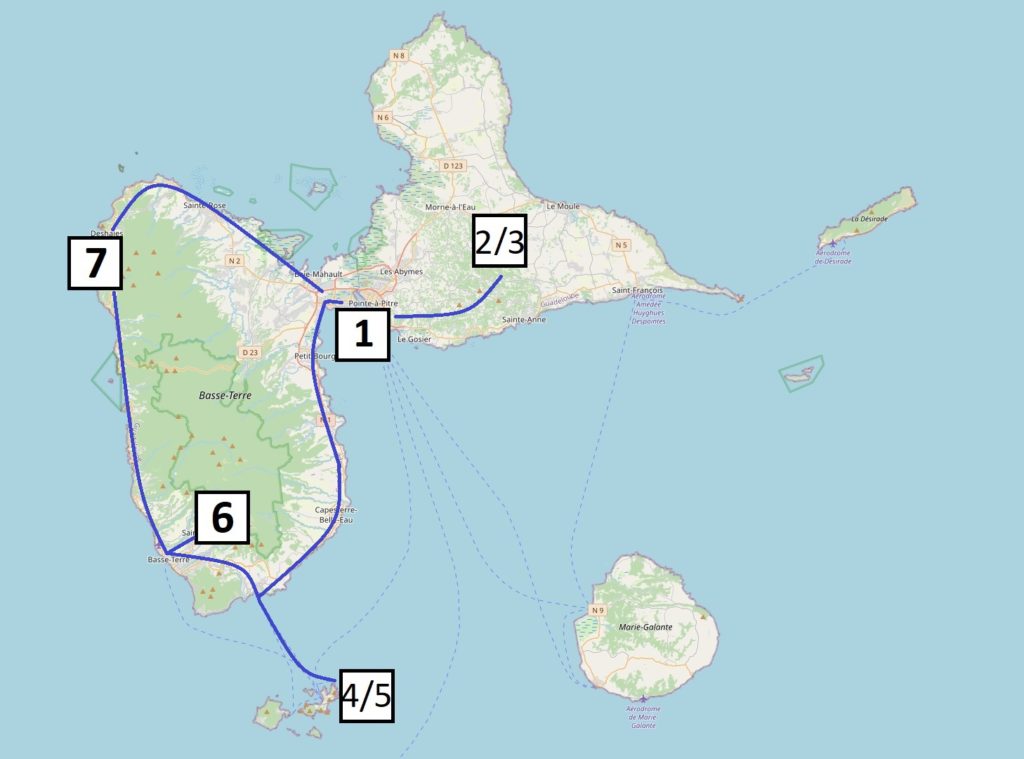 If you have more time
If you have more than a week, you certainly won't run out of things to do on Guadeloupe. I'd recommend spending some more time on Basse-Terre getting to know the National Park and its countless waterfalls. Another possibility would be to visit the island of Marie-Galante, which reportedly has a very relaxed vibe, making it the perfect island getaway.
If you have less time
If you have less than a week to spend on the island, I'd recommend skipping Grand-Terre altogether and concentrating on the naturally more spectacular Basse-Terre. Hike La Soufrière, check out some waterfalls and relax at the beaches in Deshaies. There's enough to see in this part of the island to make even a short stop-over seem like a much longer holiday.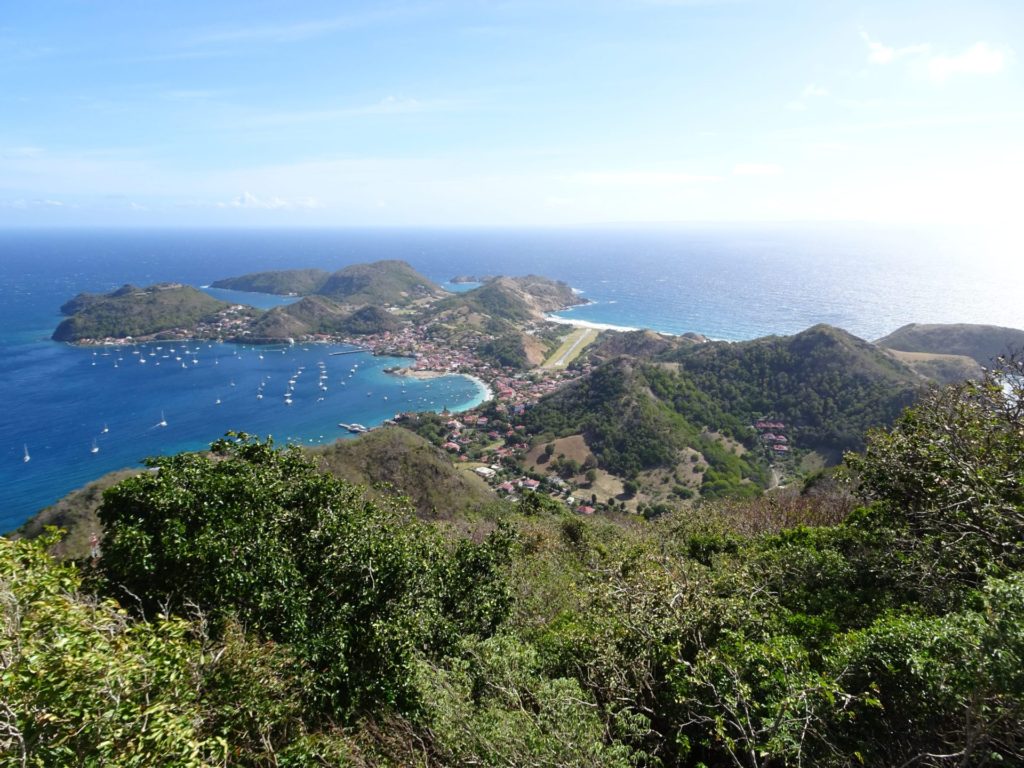 Accommodation on Guadeloupe
You can browse for more than the hotels and guest houses suggested above in this map of the island:
See also
The ultimate Guadeloupe Backpacking Guide