Fans of police procedural TV-Shows might be aware of "Death in Paradise", the BBC-produced television program in which a beautiful Caribbean island is gradually being depopulated by weekly crimes of greed and passion, which are unfailingly solved by a cast of decidedly odd-ball detectives.
As Stefanie is a fan of the program, we decided to stop by Deshaies, the cute village in which the majority of the show is filmed, during our trip to wonderful Guadeloupe. It's a pretty spot located in beautiful natural surroundings and well-deserving of a visit by anyone, even without any interest in fictional murders.
Here's everything you need to know about visiting the filming locations of Death in Paradise.
This post may contain affiliate links, and I might earn a small commission at no additional cost to you. For more info, click here.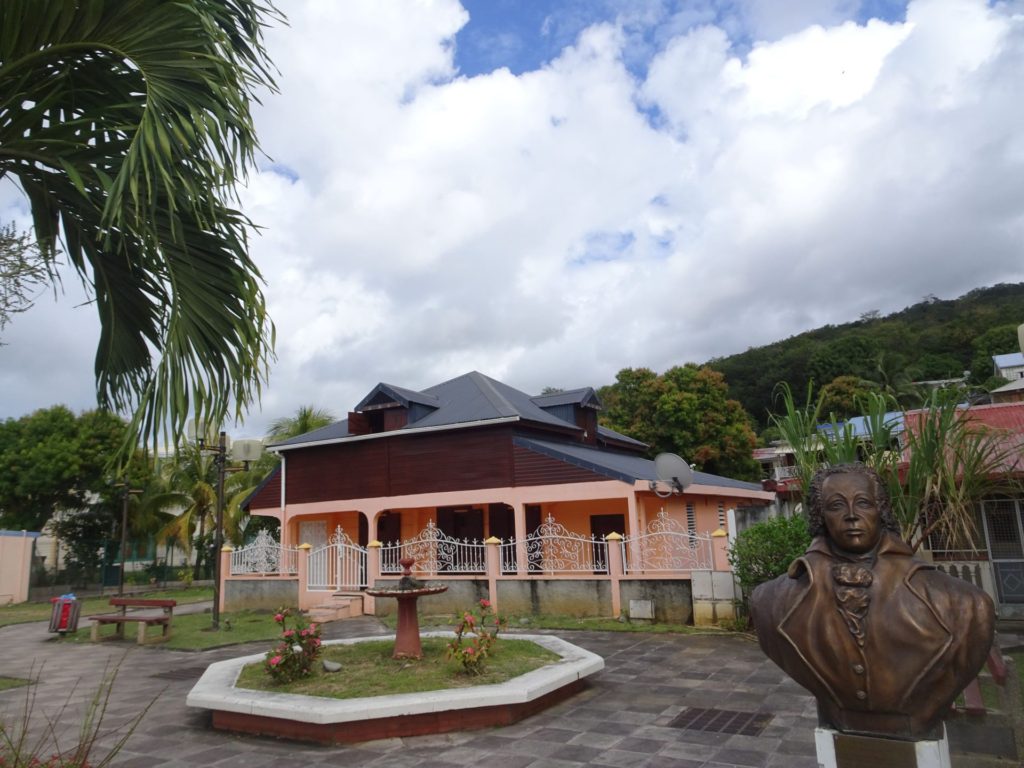 Where is Death in Paradise filmed?
While the bad guys are being convicted on the fictional island of Sainte-Marie, it's actually Deshaies on Guadeloupe's north-western coast, where the biggest part of the show is filmed. Most locations you regularly see in the show can be found in the small town centre, while a few others are located along the coast. I've outlined them below.
What to see and do in Deshaies
Visiting the filming locations of "Death in Paradise" in Deshaies
There are a couple of main locations, which feature heavily in all episodes of the show, and they can be found in Deshaies' small centre. Arguably the most important one is the tiny police station of the fictional town of Honoré, the filming location of which can be found at the eastern edge of town next to the small red-roofed church.
The location is no coincidence, as in real life, the building is where the office of the priest is located. This also means that you'll likely have to stick to viewing the building from the outside, as it's not open to the public.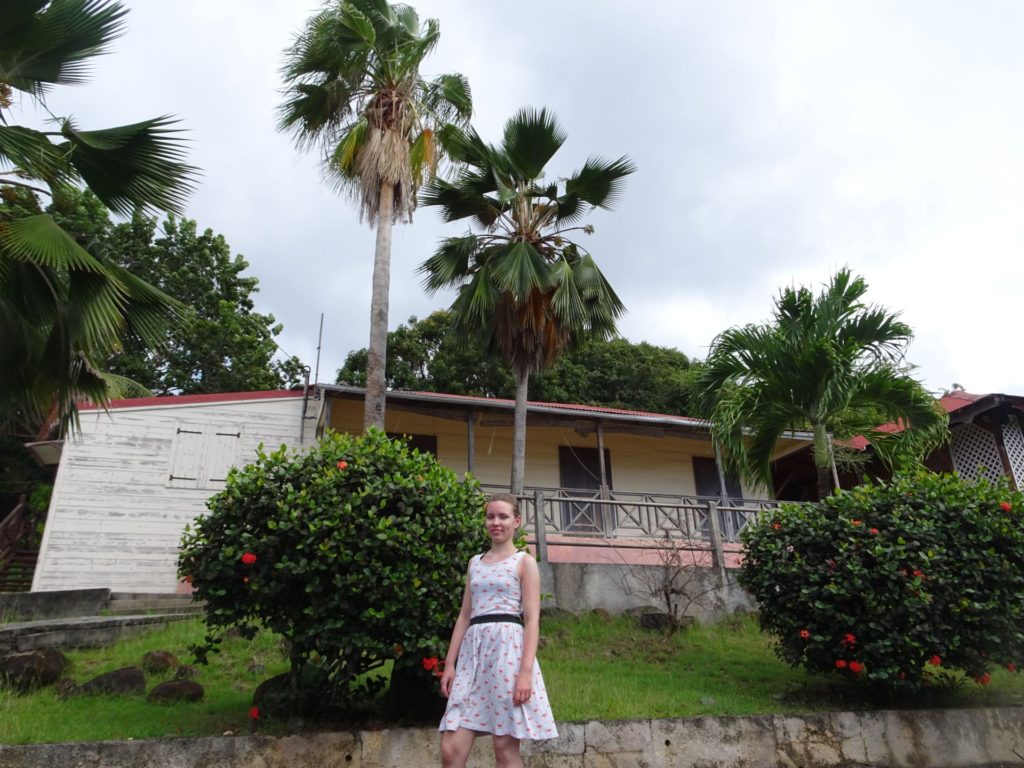 The Eglise Saint Pierre et Saint Paul, which you can always spot next to the police station in the show, is worth a peek inside. We're not sure if it's always the case but when we were there, the altar was decorated with palm leaves, which we had seen in some Buddhist and Hindu temples but never before in a church.
If you walk towards the coast with the church in your back and then turn right to walk along the sea, you'll come to restaurant "Le Madras". In the show, this is Catherine's Bar, where the detectives and deputies find themselves regularly relaxing from their strenuous work. You could have a drink under the small gazebo by the sea, where they usually find themselves, or even try some fresh seafood.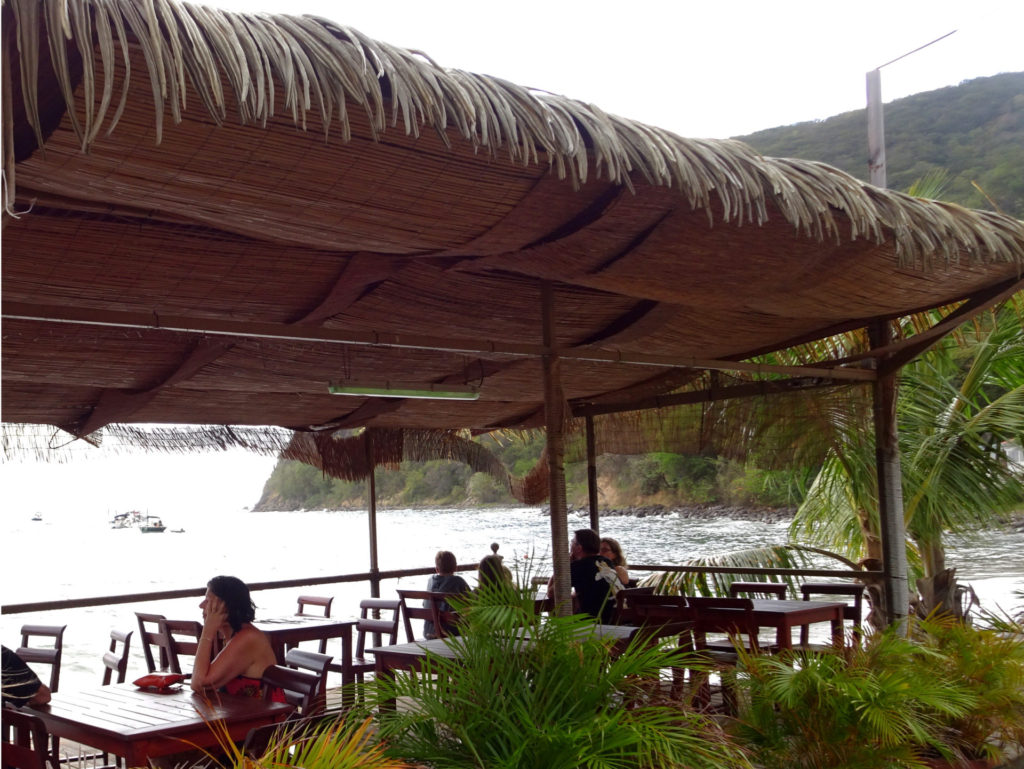 There are some other places in the village and around, which can be spotted in one episode or another, including the Botanical Gardens about 1km south of town. Deshaies' small harbour area at the southern end of town can be seen many times in the show, mostly in opening shots.
Finally, the respective Detective's beach house is constructed on Anse La Perle, about 5km north of the village, although it gets disassembled every time filming is finished for the season. You can still visit the beautiful beach itself, though.
Plage de Grande-Anse and Anse La Perle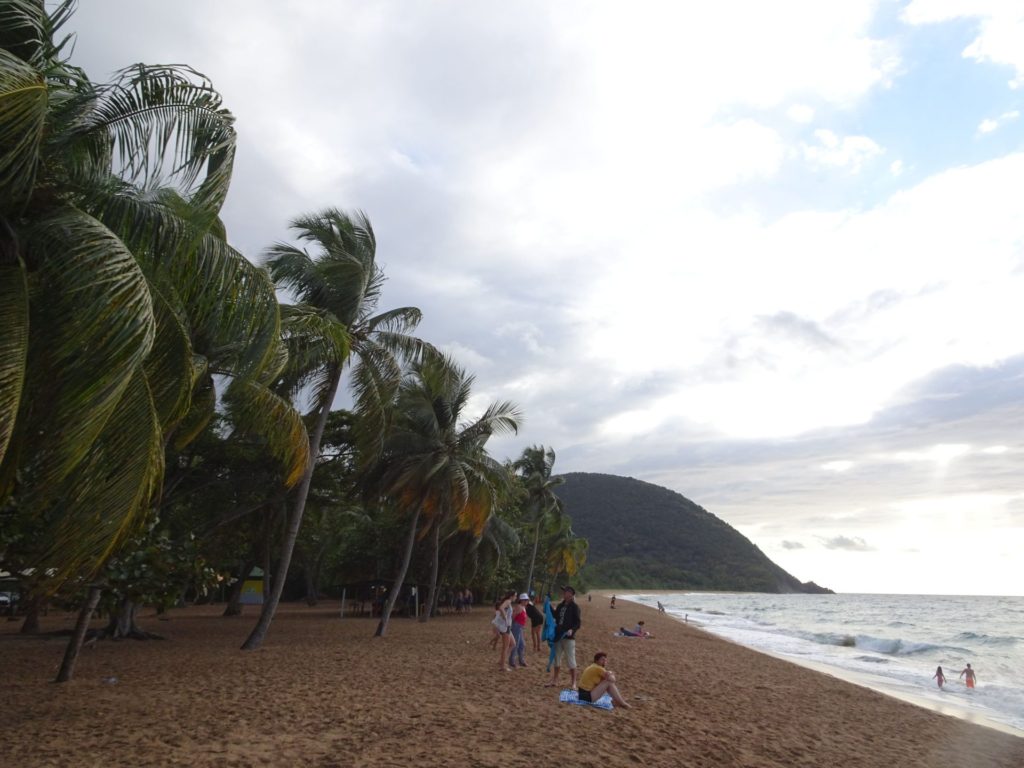 Plage de Grande-Anse, a long golden stretch of sand backed by coconut palms, is one of Guadeloupe's most popular beaches and rightfully so. It's a beautiful place for a swim or to relax for a bit, although its stellar reputation also means that it can get rather crowded, so if you enjoy at least some solitude, come in the evening like we did.
Apart from the lesser amount of other visitors, you'll be able to watch the sunset from this special place. If you're feeling peckish, there are a couple of stalls selling fast food at the beach. To get here, walk or drive north to Ziotte and turn left at the roundabout. Alternatively, there's a footpath leading to the beach directly north of the football field on the northern edge of Deshaies.
About 2km/1.3mi. further north is Anse La Perle, another beautiful stretch of beach and one slightly lesser frequented than its more famous neighbour. This is where the film crew assembles the inspector's hut every season for the filming of "Death in Paradise". This means you won't be able to see it in between filming, but the beautiful surroundings are reason enough to drop by.
Pointe Batterie
If you are a serious history buff or have an hour to kill before your bus arrives, you might want to consider checking out the remains of a small 19th-century artillery battery south of town. There's not much more to see than a tiny collapsed building, a few foundation walls and some cannons lying around. Still, when you continue down towards the sea, some nice views back to the coastline near Deshaies open up.
To get to the battery, walk south along the main road from the harbour for about 10 minutes and then turn right at the Pointe Battiere Bus stop.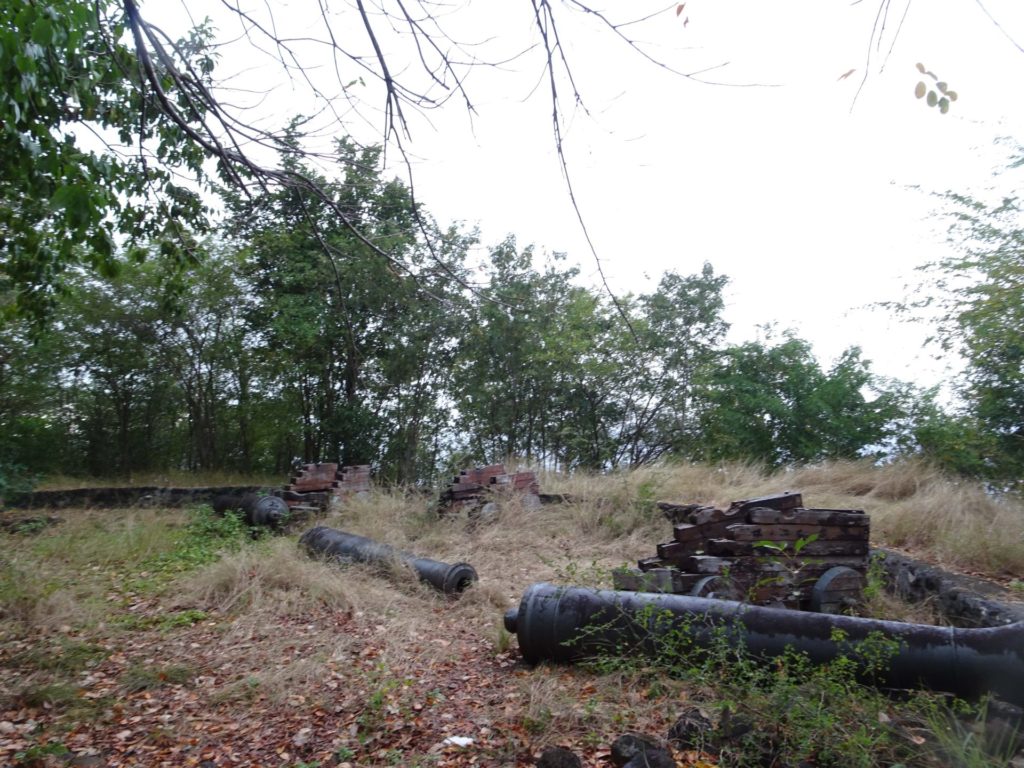 Other things to look out for in Deshaies
It's not exactly a sight, but we spotted some enormous caterpillars chewing away at some Golden Trumpet bushes in the village. Apparently, they're the larvae of Pseudosphinx Moths and quite a plague all over the Caribbean, but we have only ever spotted them here (although we can't say that we were ever actively looking before).
At well over 10cm or 4in. length, they were certainly the biggest caterpillars we had ever seen and made short work of the poor bushes. Due to their red, green and black colouring, they're also referred to as Rasta caterpillars. Just an interesting observation, I thought, I should share;).
Map of Deshaies
You can find the main points of interest mentioned above as well as some potential places to stay at in this map of the area.
Practicalities
How to get to Deshaies
Without your own set of wheels, Deshaies can easily be reached by taking the overland bus from Basse-Terre bus station or Pointe-à-Pitre's Gare Routière de Bergevin.
Where to stay in Deshaies
For such a small village, Deshaies and the surrounding area are surprisingly full of apartments and bungalows for rent, although real budget choices are a little sparse. We stayed at an affordable private bungalow in the village of Ziotte, which is about 3km/2mi. north of Deshaies. A cheapish option closer to Deshaies proper would be Gite All Comfort about halfway to Ziotte.
There's no shortage of mid-range options, of which Bleue de Mer comes particularly recommended, while luxury livings can be had at the beautiful Palm Bay Villa. Have a look at the map above for more options.
Where to eat in Deshaies
There are plenty of restaurants lining Deshaies small waterfront, mostly serving tasty locally caught fish and seafood. Fans of "Death in Paradise" might wanna eat at "Le Madras", the filming location for Catherine's Bar. Apart from that, some cheapish snack-stalls, serving sandwiches, pizzas and burgers can be found at Grande Anse.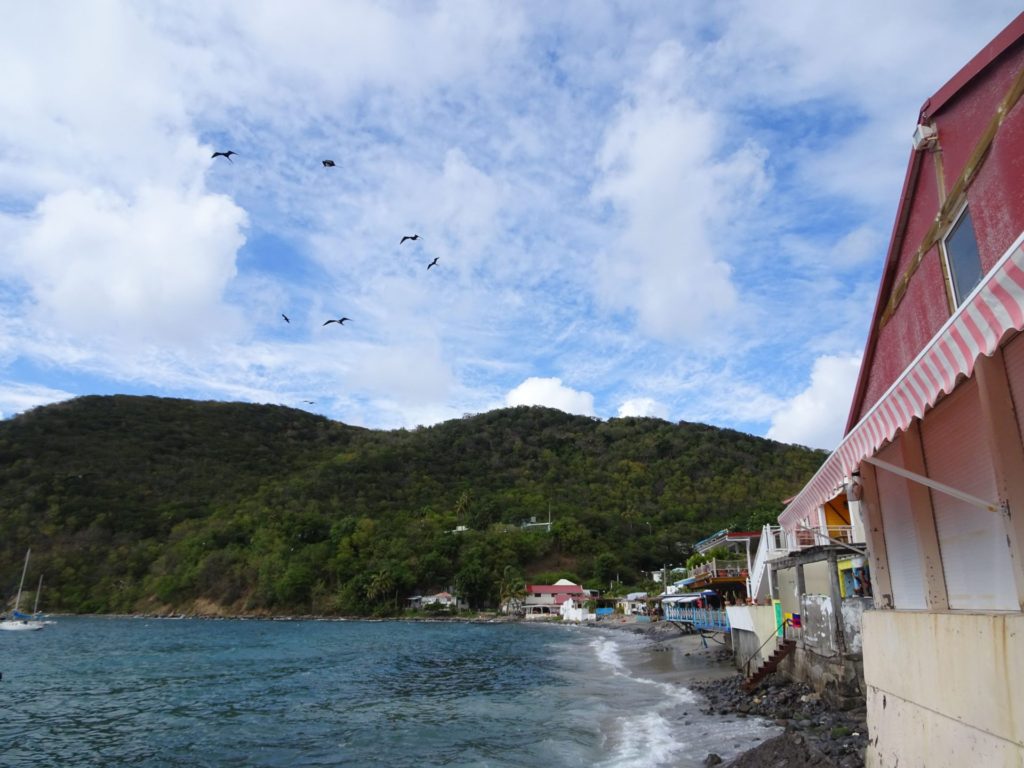 Where to go next
La Soufrière Volcano, climb Guadeloupe's spectacular active Volcano.
Pointe-à-Pitre, the colourful and vibrant cultural capital of the island.
The Îles des Saintes, Guadeloupe's own little slice of paradise.