Sprawling white sand beaches, coconut palms, waterfalls, great hiking in its mountainous interior: Whatever your expectations for a tropical dream island are, Guadeloupe is likely to tick all the boxes. That said, the island is split into two very different halves, with its shape often likened to a butterfly.
Grand-Terre, the eastern set of wings is flatter, more urbanized and sports mainly cultural attractions as well as several beach resort towns along its southern coast. To be honest, for us it felt like a tropical version of France, which certainly is nice but we preferred the other part of the island. Basse-Terre, the western half of the butterfly, is wilder and much more mountainous. It's a paradise for hikers, adventurers and those seeking the true tropical-island-feel.
Apart from that, the outlying islands of Marie-Galante, La Désirade and the group of the Îles des Saintes offer fantastic destinations off the "mainland" and are well-worth checking out for their even more laid-back vibe. While definitely not your standard backpacker destination, there are several ways to cut costs with a bit of pre-planning. Read on for my tips on how to travel Guadeloupe on the cheap.

This post may contain affiliate links and I might earn a small commission at no additional cost to you. For more info click here.
Is Guadeloupe a country?
While it has its own unique culture and history, Guadeloupe is not officially a country in its own right, but a French overseas department (départements et régions d'outre-mer). As such, it's politically part of France and the EU, although as a Department, the island has its own Parliament, which is based in the capital of Basse-Terre.
Do I need a Visa for Guadeloupe?
While Guadeloupe is a French Oversea Department and therefore part of the European Union, it's not a member of the Schengen Area, so a Visa for Guadeloupe and France is not the same thing. The most extensive information on which nationals need a visa can be found here.
When to visit Guadeloupe?
As you would expect from a Caribbean island, temperatures are warm year-round  and the biggest difference weather-wise would be between dry and rainy season. The latter runs from July to December and this is also when prices for hotels tend to be a little lower. Be advised, though, that this is also the main season for tropical storms, especially August and September.
If you're looking for lots of sunshine and pleasant weather, you should come in the driest months between January and March. We visited in February and were rewarded with lots of warm and sunny days.
How long to stay on Guadeloupe?
As often, this really depends on what you want to get out of your visit. I would say that in a week you'd be able to explore most of the main island and check out at least one of the smaller ones, like Marie-Galante or the Îles des Saintes. If you want to add some serious R&R to your trip, you might want to consider adding a stay at a beach resort for a couple of days, in which case 10 days would be ideal.
If you only have time for a short stint on Guadeloupe, because you want to explore several islands in one go, I'd say that you can do the absolute highlights in three days, although I recommend taking more time to ease into that relaxed Caribbean island vibe.
How to get to Guadeloupe
Getting to Guadeloupe by plane
The main airport to the north of Pointe-à-Pitre can be reached non-stop from several North-American airports (New York JFK, Miami, Montreal) as well as from Europe – Paris Orly and Brussels Airport have regular connections as have some other, mostly French cities.
Getting to Guadeloupe by boat
If you're island-hopping the Lesser Antilles, taking the boat often is a more economical as well as atmospheric option. A fantastic destination to combine with a trip to Guadeloupe would be Dominica to the south, rightfully dubbed "The Nature Isle", which you can reach in about 2½ hours by boat from Pointe-à-Pitre. You can also continue south to Martinique with the same ferry. Check out my guide with all the relevant information here.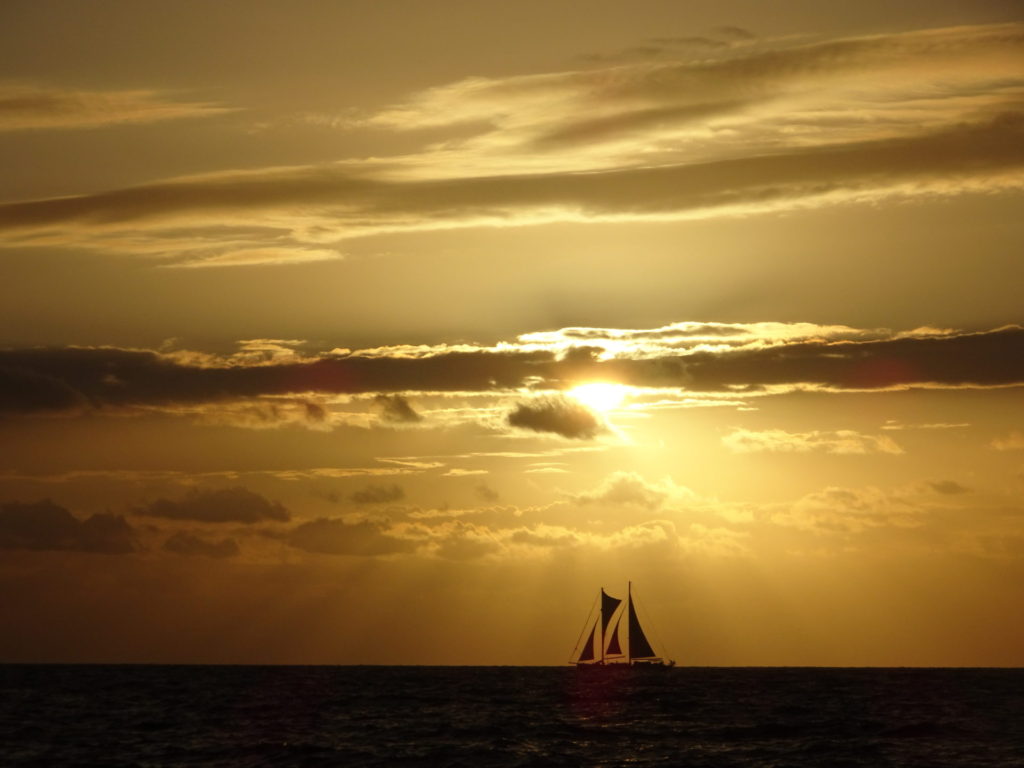 How to get around on Guadeloupe
Guadeloupe is a place where your own set of wheels really comes in handy, as a lot of attractions are somewhat out-of-way and the bus service can be rather infrequent. That said, exploring the island by public transport is certainly possible and that's exactly how we did it, lacking the necessary budget for renting a car. Add to that a willingness to occasionally leg it for a bit or hitch-hike and there's hardly a corner of the island you won't be able to explore.
Backpacking Advice for Guadeloupe
Alright – here's the thing: The Lesser Antilles are not exactly the ideal choice for budget-conscious travelers but that doesn't mean that there aren't ways to seriously save some bucks if you do it right. The first two ways to economize I've already mentioned above, which are using ferries instead of planes when you're traveling from or to Dominica or Martinique and using Guadeloupe's public bus system.
Another is to focus your sight-seeing on natural attractions, which can often be visited free-of-charge. The most impressive of these would be to hike La Soufrière Volcano, the highest point on the Lesser Antilles.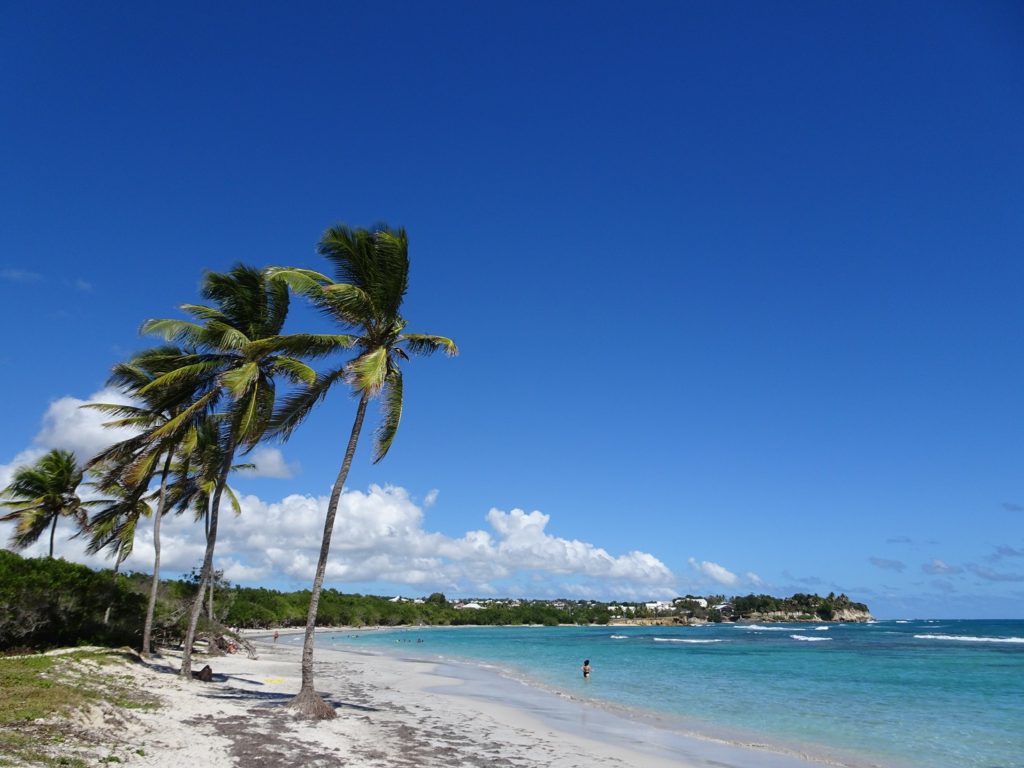 Budget Accommodation in Guadeloupe
There are many places to stay on Guadeloupe but a lot of these are either resort hotels or up-scale holiday homes, as the island mostly seems to cater to tourists who are looking for a relaxing beach holiday.Your best bet for budget accommodation are private rooms, which can often be found on AirBNB, booking.com or both. Often, some of them are also listed on the tourism website of the respective towns.
These are mainly bungalows or huts in beautiful surroundings and are usually much cheaper than any official hotel. If you're traveling during the high season from January to March, it probably pays to book at least a few days ahead to avoid disappointments.
We occasionally just showed up at a potential accommodation and lucked out but people were always somewhat incredulous that we hadn't made prior reservations, so if you want to make sure, make a booking or at least call ahead.
You can browse for places to stay in this map:
Cheap Food in Guadeloupe
Another thing that doesn't exactly come cheap on the island is food, so if you have to watch your budget, my advice is to only ever eat out during lunch, when a lot of restaurants have cheaper set menus. This is a great deal, especially when it comes to fish and seafood. In the evening prices rise and you'd be better off self-catering or sticking to fast-food.
In many towns, there are small food trucks serving sandwiches, burgers and the like. These are usually concentrated around the main square (in Pointe-à-Pitre that would be Place de la Victoire). A lot of the more popular beaches also have a couple of snack stalls. Apart from that, you can find some cheaper bistros in the bigger towns, like Basse-Terre or Pointe-à-Pitre, serving Pizzas, Kebab, etc. Not exactly the quintessential Caribbean food, but great for the budget-savvy.
Daily Guadeloupe Backpacking Budget
As always, this depends heavily on your mode of traveling. If you're sticking to public transport, mainly check out free natural attractions, eat out only during lunch and stay at privately rented rooms, you can get by on around 30 to 40€ a day. If you rent a car, frequently dine out and stay at upscale hotels or resorts, you can easily pay upwards of 200€ a day.
Short Facts about Guadeloupe
Population: approx. 385,000
Capital: Basse-Terre
Official Language: French and Creole (English is rarely spoken)
Size: approx. 1,600 km (630 sq mi.)
Currency: Euro (€)
Electrical Sockets: Type C, D and E