Sprawling white sand beaches, coconut palms and a turquoise sea: Ko Samet is bound to fulfil your expectations of Thai Island Paradise. Plus, while it's far from a secret amongst travelers, it still gets less foreign visitors than the likes of Ko Samui or Ko Phi-Phi and you have a very good chance of being alone if you're willing to get yourself to a more remote beach.
Spend a while here and you are bound to slide into that laid-back island vibe all of the locals seem to project. Read on for everything you need to know about exploring Ko Samet.
This post may contain affiliate links and I might earn a small commission at no additional cost to you. For more info click here.
How long to spend on Ko Samet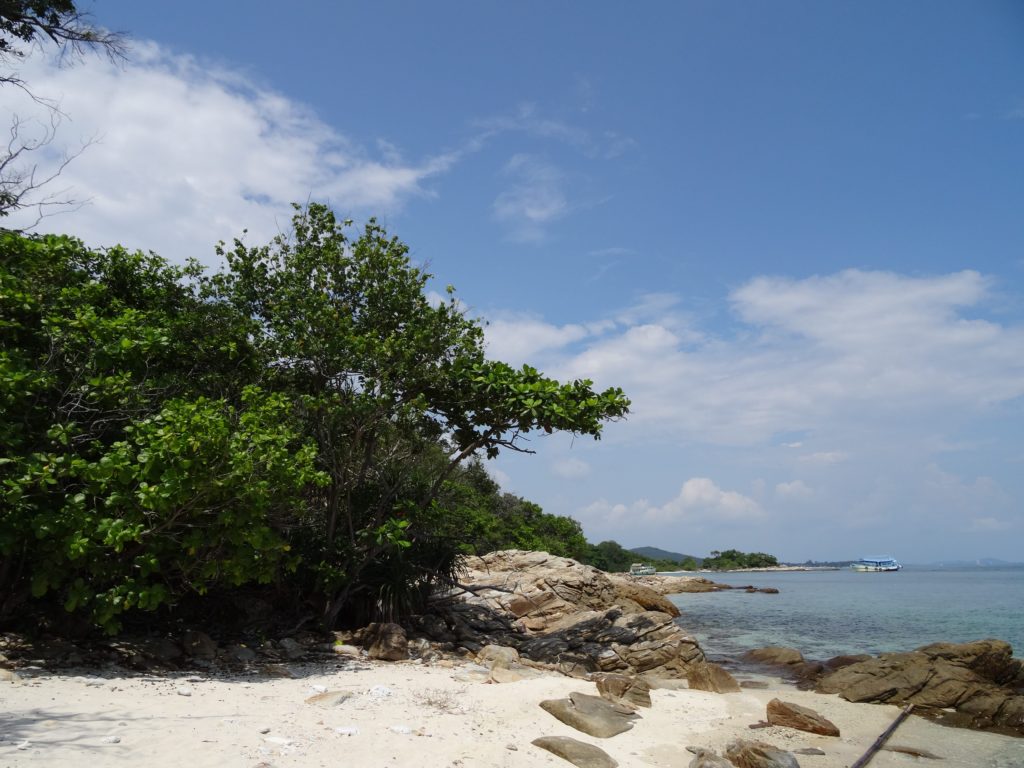 As always it'll come down to what you're trying to get out of your journey. If you've got itchy feet and want to see as much as possible during your travels, I'd say one full day on the island is enough to explore everything and relax a bit on the beach, although I met plenty of people who stayed for a week or longer.
If you're unsure whether you're going to like Ko Samet, I'd suggest booking a night or two and leaving yourself open to the possibility to add more nights if you like the vibe.
What to see and do on Ko Samet
People come to the island to relax on the splendid beaches and thus beach-related activities are more or less the only thing to do on Ko Samet. If lazing on the same stretch of sand all day long isn't your thing, you could beach-hop, explore a few possibilities and find your own favourite slice of island-paradise.
Note that Ko Samet is part of the Khao Laem Ya–Mu Ko Samet Marine National Park and thus when visiting the island, you'll have to pay the park fee of 200฿ (40฿ for Thai citizens) at the gate to Hat Sai Kaew Beach.
Hat Sai Kaew Beach
The 1km long Ao Hat Sai Kaew is the island's most famous beach and to many its most beautiful one, although I have to admit that it's a bit too crowded and developed for my taste. If you just want to plunk down in a deck chair and let the sun shine on your belly, it might be for you, though.
Check out the statue of a mermaid and a prince playing the flute at the western end of the beach. These are characters of Phra Aphai Mani, a famous Thai epic partly taking place on Ko Samet. If you're the active kind of beach-goer, you can try your hand at windsurfing or catamaran sailing or annoy everyone else by jet-skiing through the waters.
Ao Hat Sai Kaew is directly south of the village and definitely the most accessible beach on the island.
Other Beaches along the eastern coast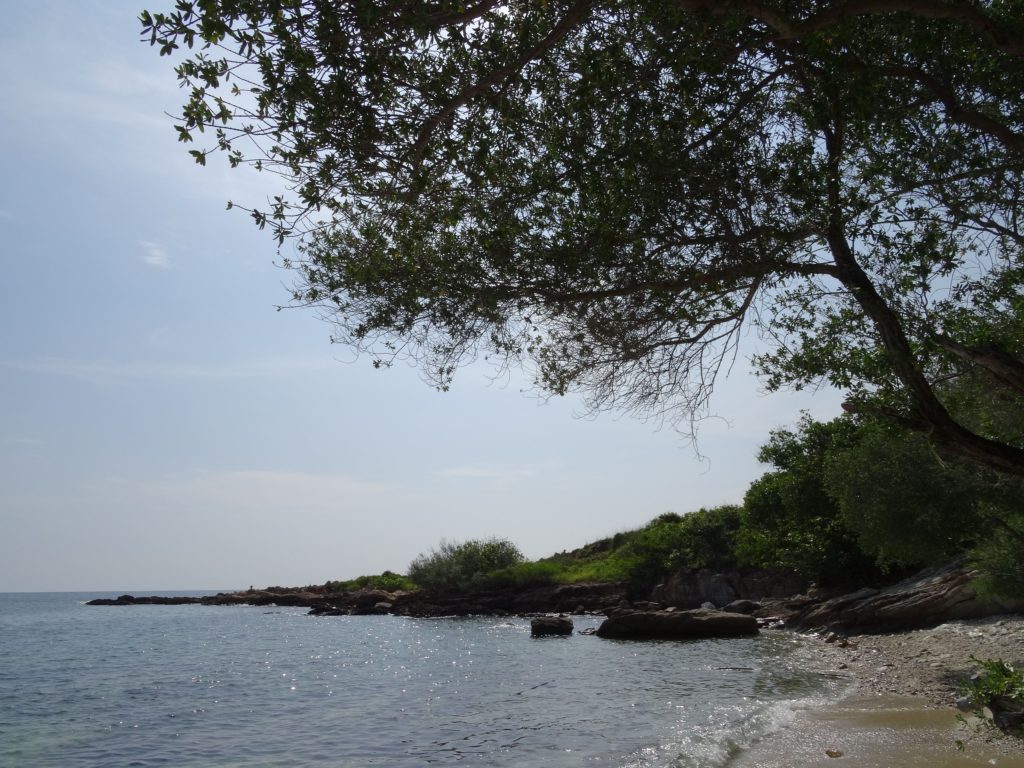 I've listed the other worth-while beaches along the coast from north to south. Ao Hin Khok is directly south-west of Hat Sai Kaw beach. The mermaid statue on the rocky promontory between the two beaches is meant to symbolize motherly love. You might see some orange robes around the beach, as there is a monk's dormitory directly at Ao Hin Khok.
The beach seems to be popular with backpackers as well, same as Ao Phai directly to the south. You'll notice that the beaches get successively less crowded the further you walk along the coast. Ao Tubtim already seems a bit quieter than the beaches further to the north, as does pretty Ao Wong Deuan and Ao Thian, which follow to the south.
The small Ao Wai beach was one of my favourites on Ko Samet, which might be due to the fact that I was completely on my own here. Almost at the furthest point south you'll find Laem Khut, a small rocky peninsula jutting out into the sea, which you can ascend if you've got some experience in (very easy) rock climbing.
It offers nice views along the coast to the north and south. The tiny Ao Toey beach at the southern tip of the island is as far as you can get from Hat Sai Kaew both in terms of geography and ambience. I spent an hour here before making my way back north and didn't see a single other soul.
Ao Prao Beach
This is the only noteworthy beach along the western coast of Ko Samet. It's pretty and picturesquely dotted by palm trees but it was rather crowded when I came by. To get here, you can either take the road west at the intersection near Ao Phai Beach or, if you're a bit adventurous, you can follow the western coast south from the northern tip of the island.
This includes a lot of scrambling over sometimes slippery rocks, so only do it if you're confident in your abilities. That said, it's also a lot of fun and offers some great views along the coast which you wouldn't get otherwise.
Sunset Viewpoints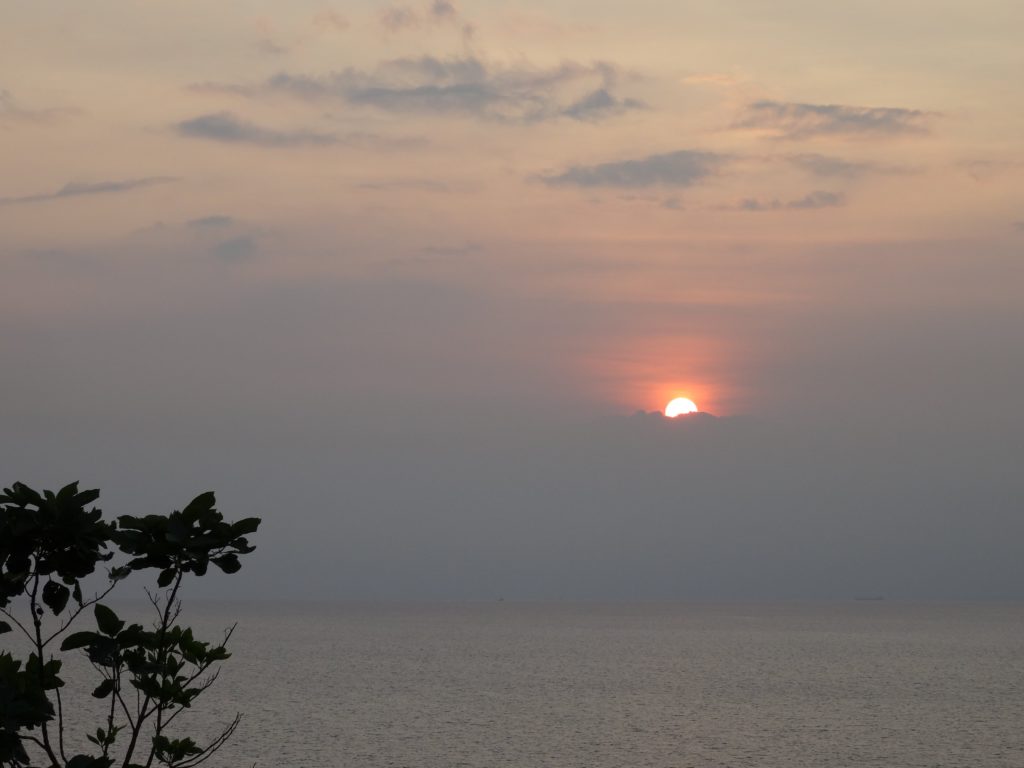 There are several sunset viewpoints along the western coast of the island, the most accessible of which is a bit further south from the southern tip of Ao Prao Beach. If you're coming from the main road traversing the island, take the turn west at the intersection near Ao Phai Beach and continue past the northern end of the reservoir, then turn south (instead of north which would be the direction of Ao Prao).
Another good spot is opposite Ao Wong Deuan. Look for a s mall path leading off the main road, where it bends from west to south.
Na Dan Village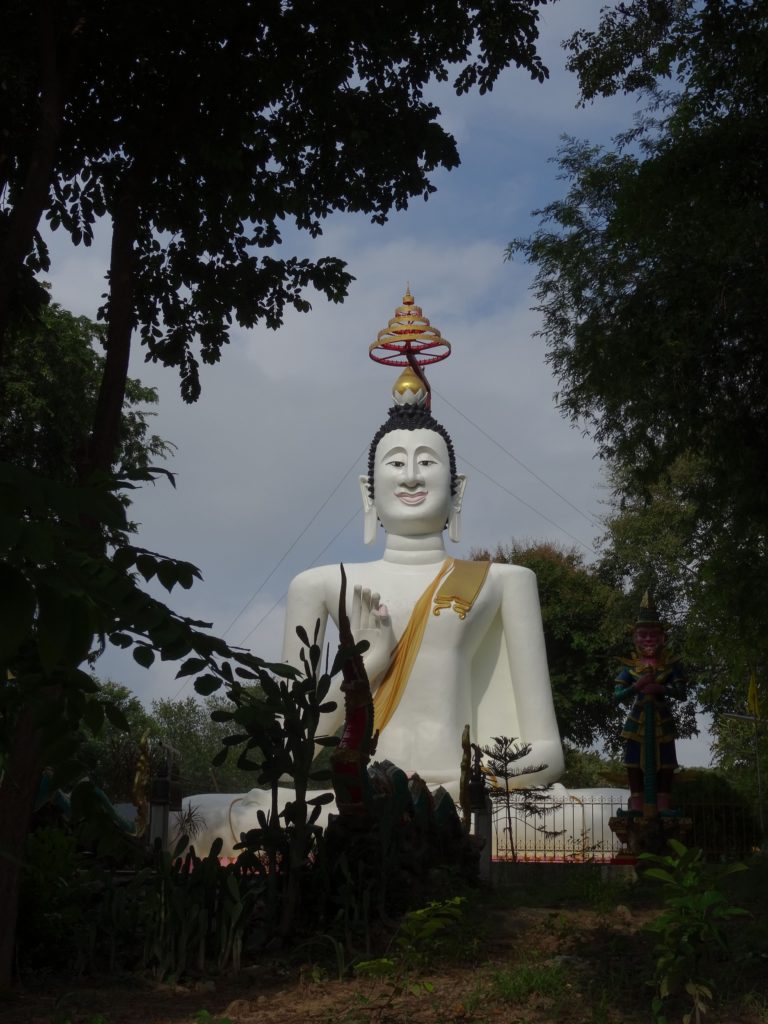 While this is where most visitors to Ko Samet stay, the small village at the northeastern tip of the island doesn't have much in terms of noteworthy sights. There's a small temple by the imaginative name Wat Ko Samet with a big white Buddha statue but apart from that people mostly come here to sleep and eat before setting off to other parts of the island.
Near the boat landing at the northern end of the village an Oger statue, another character from the Phra Aphai Mani Epic mentioned above, reaches out to the visitors.
So, what is the best beach on Ko Samet?
Again, this depends on your preferences. If you like a good infrastructure or would like to try some outdoor activities, Hat Sai Kaew Beach is the choice for you. If you want to mingle with the backpacker crowd, try Ao Hin Khok or Ao Phai. If you want a bit of that desert island feeling, Ao Wai and Ao Toey would be the choice for you.
Finally, the perfect (because only) beach to enjoy the sunset would be Ao Prao. Otherwise, just follow your instincts and see where they take you: My favourite beaches as a rule tend to be the ones I stumble upon unexpectedly.
Map of Ko Samet
You can find most of the beaches mentioned above in this map of the island, which also features tons of guest houses and hotels.
Practicalities
How to get to Ko Samet
Ko Samet can be reached by ferry from the village of Ban Phe on the mainland. Different companies operate boats to the island. Avoid the big easternmost municipality pier by the information building and continue west to one of the other Piers (eg. Nuanthip Pier), from where prices are lower.
A return trip by slow wooden boat shouldn't cost more than 100฿ return. They go hourly during the day and take about 40 mins. You can check the current schedule here. There's also a speedboat service but in my opinion the 20 mins. that saves you aren't worth the 150 to 200 extra baht this will set you back.
Ban Phe is passed by overland buses and minibuses traveling along the coastal road between Bangkok (or Pattaya) to the north and Chanthaburi or Trat to the south. In Bangkok, big overland buses start from Ekamai Bus Station.
How to get around on Ko Samet
At a length of only 7km or 4.5mi. it's easy to explore the entire island by foot but you could also rent a scooter for a little more flexibility. There's a couple of places offering scooter rental by the pier and near Hat Sai Kaew beach.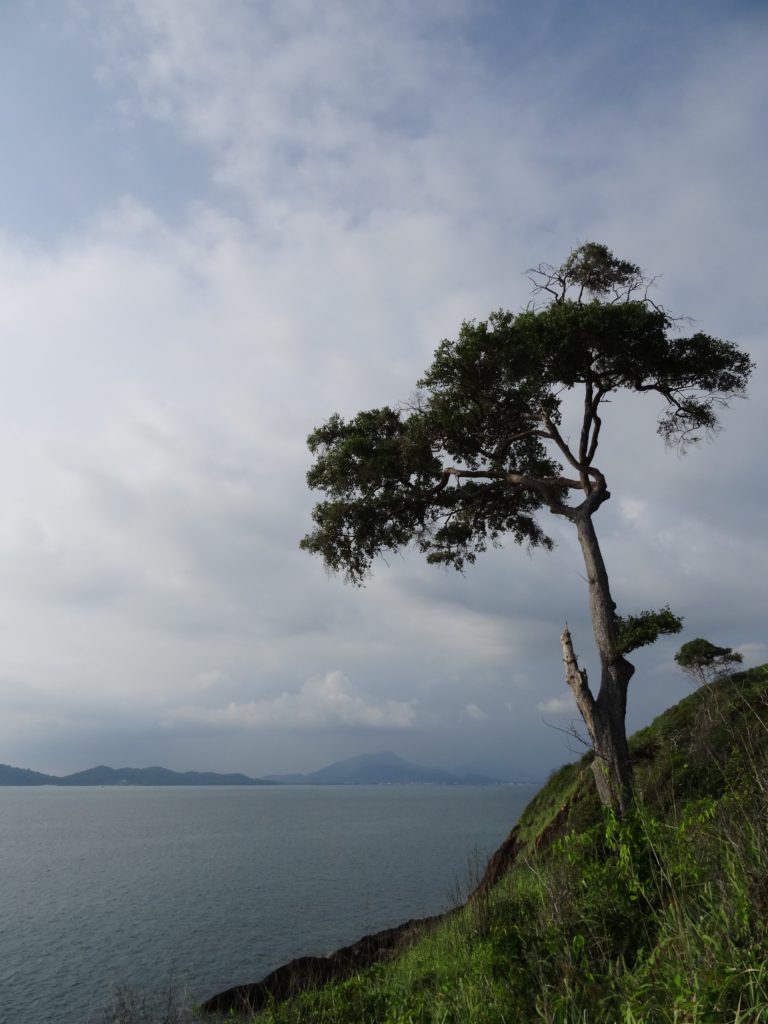 Where to stay on Ko Samet
As you might expect, there's plenty of places to stay all over the island with the highest concentration of guest houses and hotels in Na Dan Village near the boat landing. I stayed at Sundaze Samet Hostel, which has good value beds in a capsule-style dormitory and super-cool and helpful staff.
There are many other budget and mid-range options along the main road of the village, while there are plenty of low-key resorts and apartments for rent on the less crowded beaches farther south. Have a look at the map of the island above to find your perfect option.  
Where to eat on Ko Samet
Again, Na Dan Village has the highest concentration of restaurants, although finding cheap Thai fare is actually not that easy. Try the area south west of the temple where there are a few food stalls in a mini night-market style.
Where to go next
Ko Sichang, an off-the-beaten-path island full of wacky sights
Chanthaburi, Thailand's charming city of gems