Pretty Chanthaburi is a small town in Thailand's southeastern province of the same name that still sees few foreign tourists, despite its mellow vibe and pretty historical centre. Due to its role in gemstone trade, it still gets its fair share of international visitors aiming to make a deal by buying or selling the various sapphires, rubies and emeralds that had been mined in the hills surrounding the city for centuries.
Chanthaburi's other moment in the sun came when future King Taksin of the Thonburi Kingdom gathered his army in the area with which he managed to drive out the Burmese invaders that had occupied Ayutthaya in 1767, which in turn led to an abundance of statues and monuments to the king all over the city. Read on for everything you need to know about fascinating Chanthaburi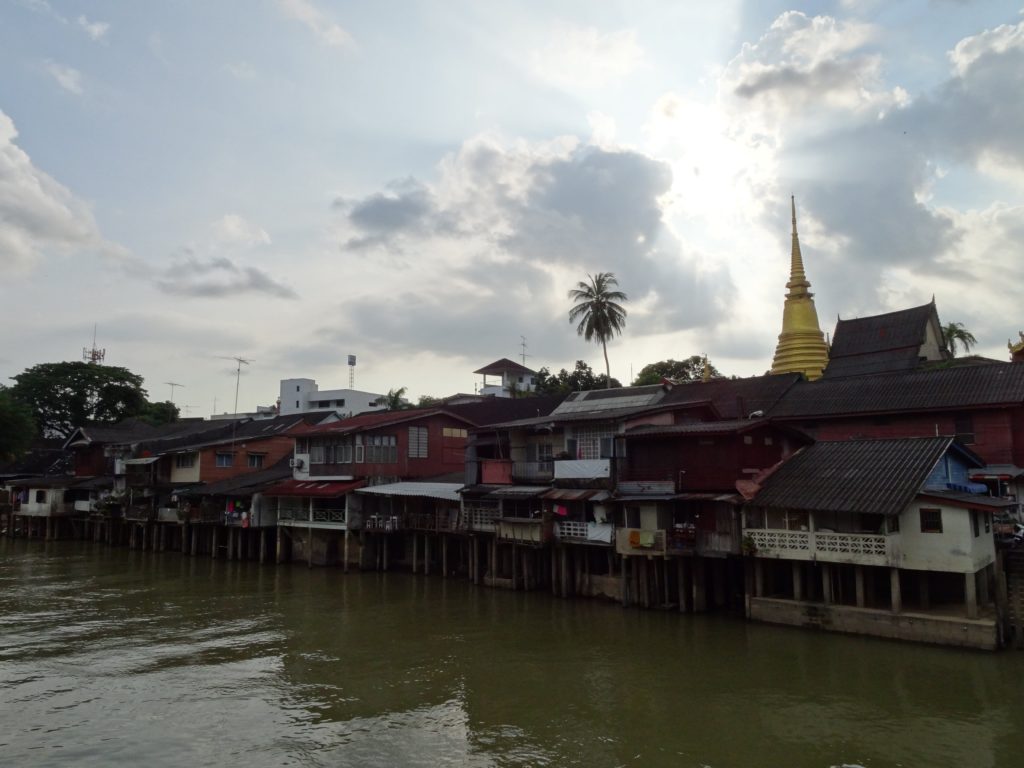 This post may contain affiliate links and I might earn a small commission at no additional cost to you. For more info click here.
What to see and do in Chanthaburi
Chanthaburi Gem Market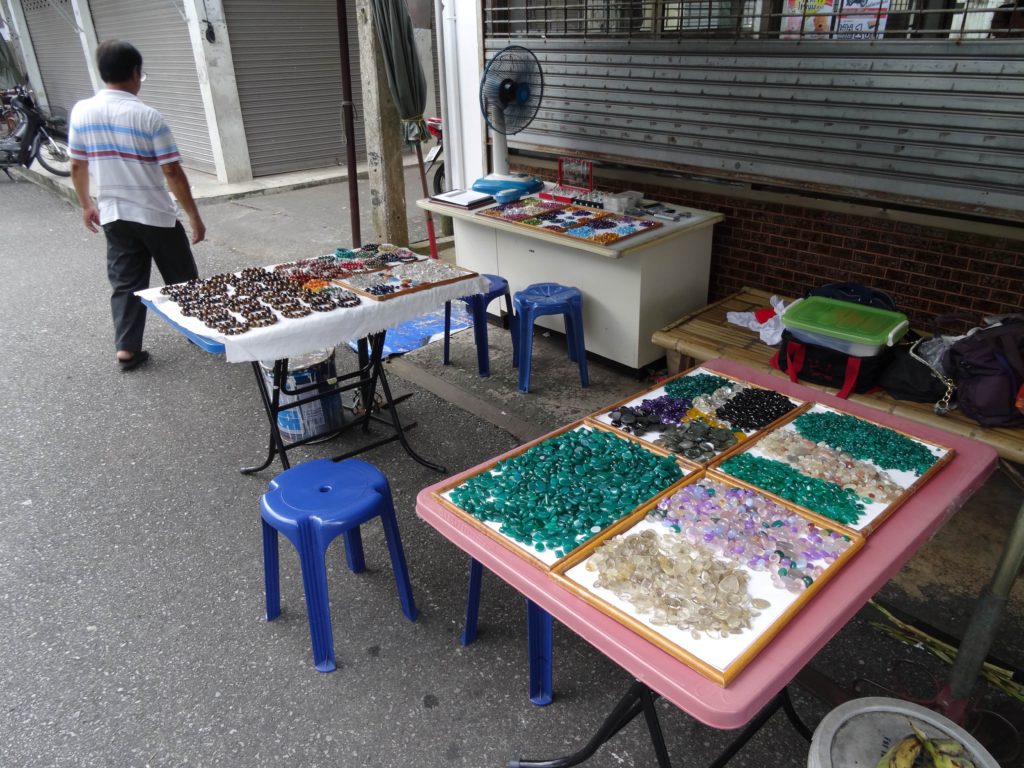 From Friday to Sunday, the relaxed vibe of the city changes as countless international traders rush into Chanthaburi to sell or buy gemstones at the city's famous market. Unless you know a lot about gemstones, I suggest you leave the trading to the experts and the being-ripped-off to the less-savvy travelers and stick to admiring the merchandise on display.
It's also fun to watch the traders examining and evaluating the gems and arguing over their price. If you're here during the week (when the market doesn't take place), there are a couple of stores along the city's main roads, where you can at least have a look at the displays.
Chanthaboon Waterfront Community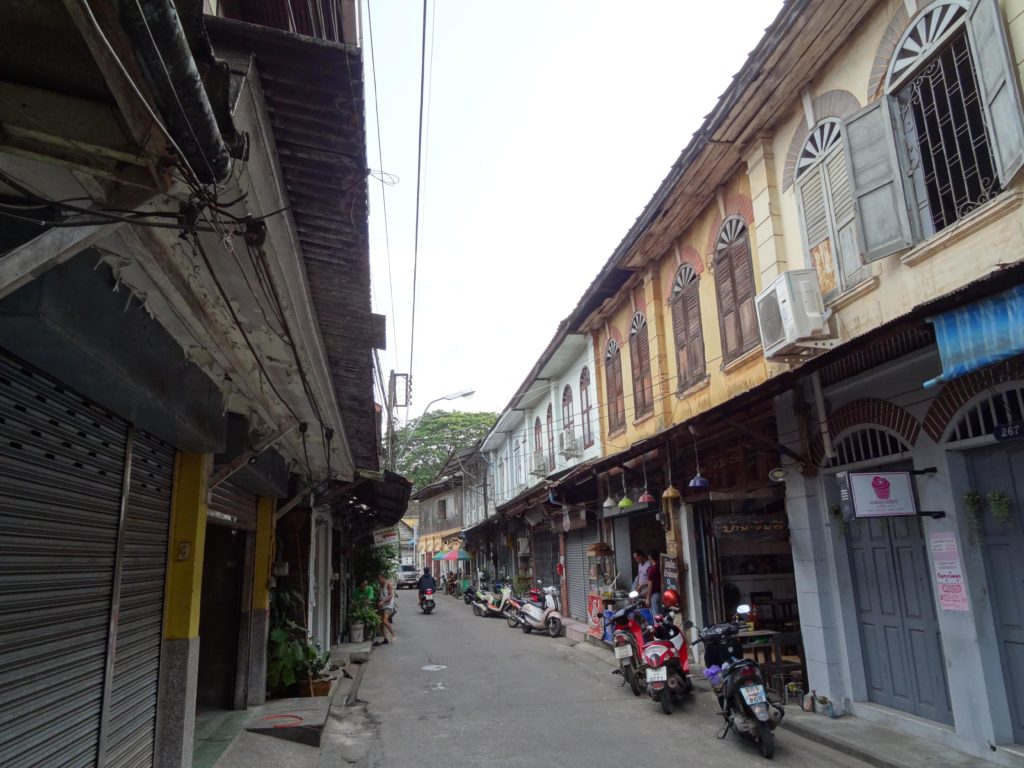 This area along Mae Nam Chanthaburi river is the city's historical centre and features a fascinating array of mostly restored historical wooden buildings. The quarter has a distinctly cosmopolitan feel due to its historical influx of Vietnamese and Chinese traders and refugees.
In between the private homes, you'll find a couple of snack stalls and cafés as well as the small Chanthaboon Learning house, a museum detailing the history of the area through a series of old photographs.
If you find the latterclosed during the day, ask around and someone will likely call the people running the place to open it for you. According to a neighbour, finding museums closed during supposed opening times is a 'Thai Tradition':-D.
The Chantaboon Community is located along Th. Sukhaphiban directly west of the river, across from the Cathedral.
Cathedral of the Immaculate Conception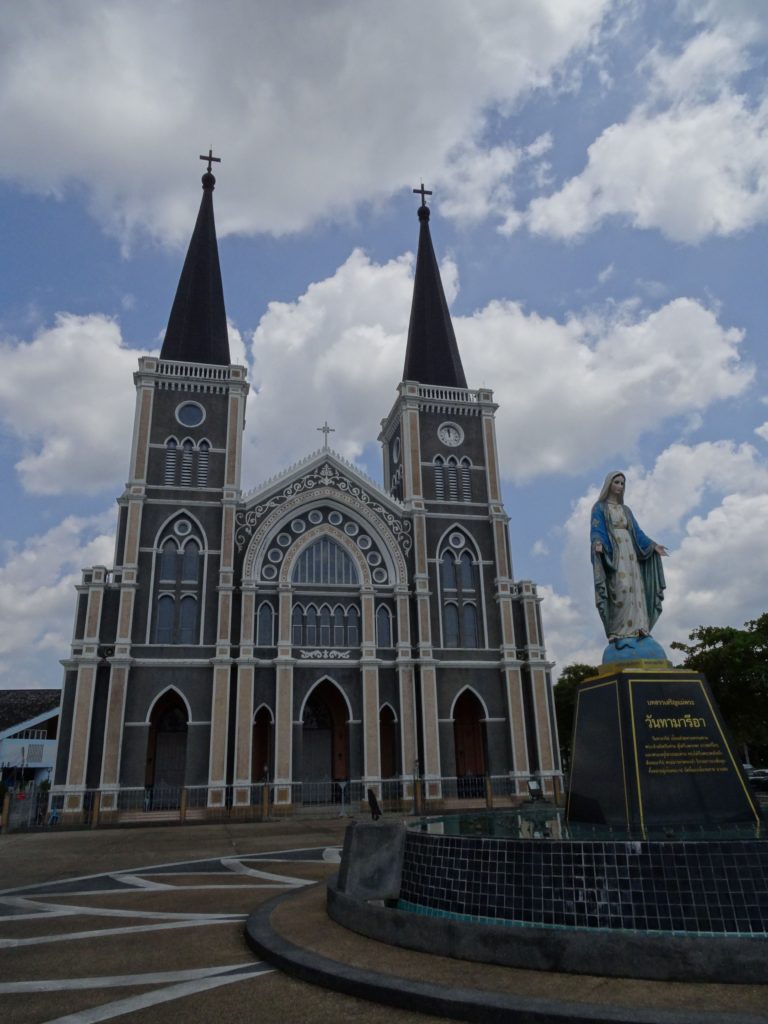 If you're suffering from temple overload, why not check out Chanthaburi's large Cathedral of the Immaculate Conception. Finished in 1909, the striking neo-gothic building is the biggest church in all of Thailand and well worth a look.
The interior is painted in bright pastel colours and populated by countless statues of the Virgin Mary, while gaudy stained-glass windows depict various saints. The Cathedral is located east of the centre, just across the river. You can't miss its tall spires, which you can glimpse all along the river.
City Pillar Shrine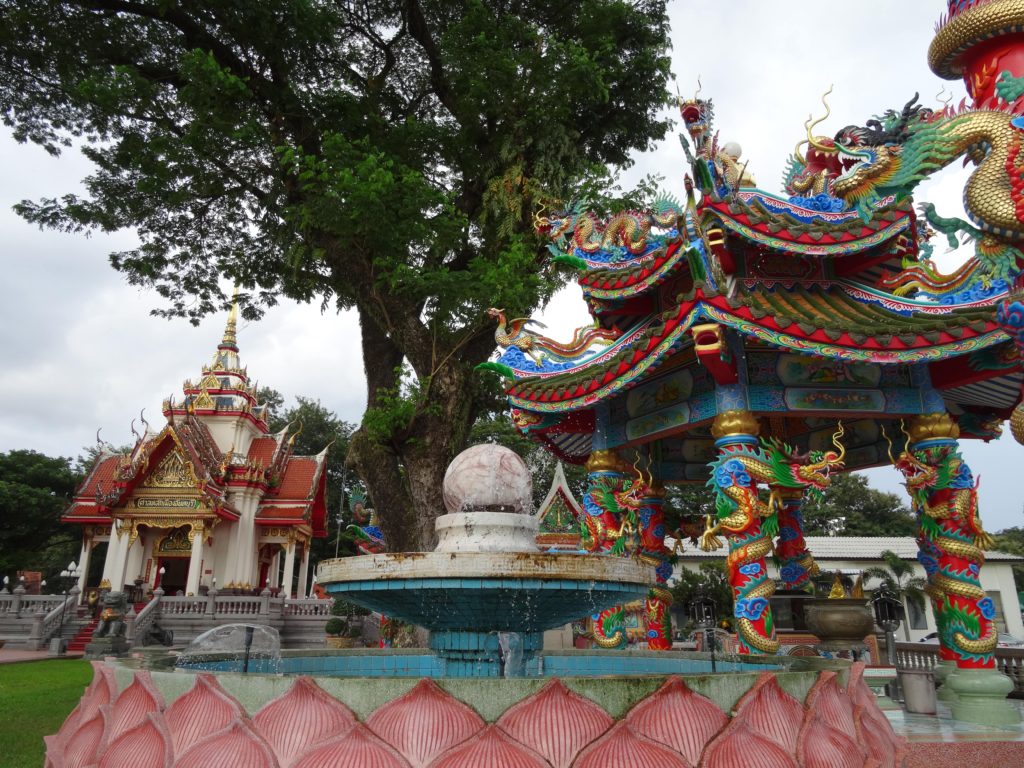 Every self-respecting city in Thailand has a shrine dedicated to the City Pillar or Lak Mueang, believed to house the protective city spirit, and Chanthaburi is no exception. The Chinese-style building housing the striking golden pillar can be found on Thanon Tha Luang opposite the military barracks.
King Taksin Park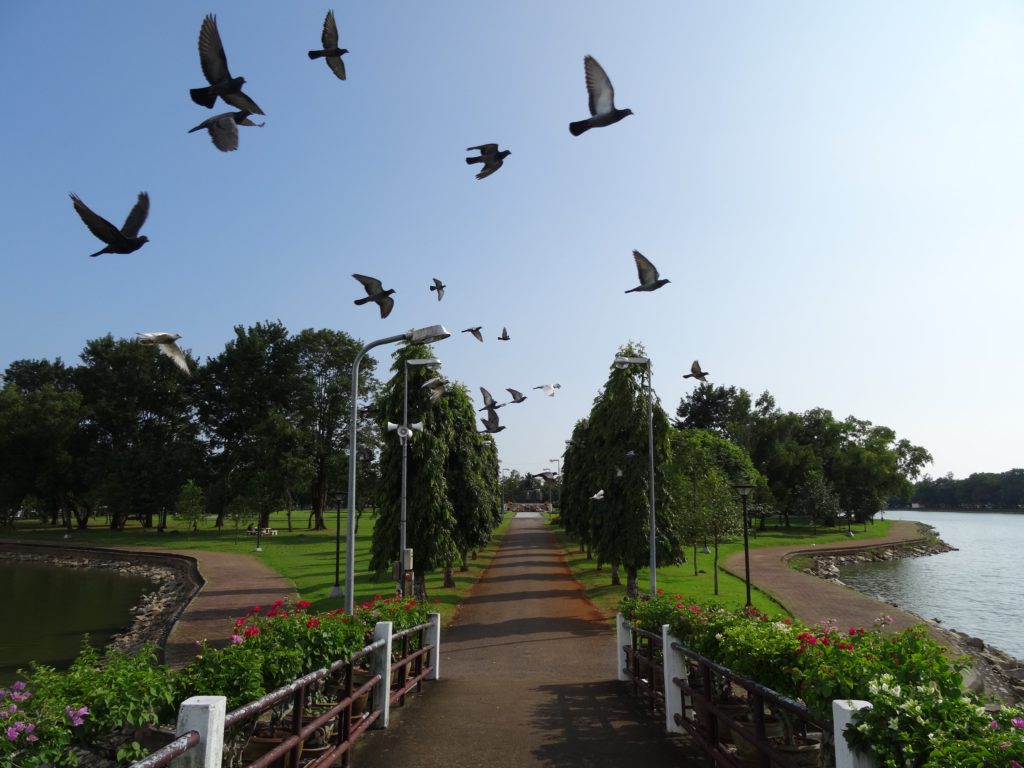 The city's main park, which is located on a small island in King Taksin Lake, is a nice place for a stroll or to just relax for a bit and watch the world go by. It's built around the King Taksin Monument, showing the King in a martial stance on horseback surrounded by four grim-looking soldiers.
This statue used to be depicted on the back of the old 20 Baht Note from 1981 until 2013. There's also a small wooden shrine containing more images of the King and several warriors. It's located directly south-west of the town centre.
Khao Ploi Waen
The small Khao Ploi Waen hill is a dormant volcano located about 6km/4mi. west of Chanthaburi, which is famous as the erstwhile location of the area's most important mine for sapphires and rubies, which has since been exhausted.
Nowadays, the peaceful Wat Khao Ploi Waen temple is located in the area and offers fantastic views of the surrounding countryside from its hilltop Chedi. Apparently no farang ever come here, as the monks reactions to me ranged from slight amusement to utter confusion (although they were all very welcoming and even shared some snacks with me).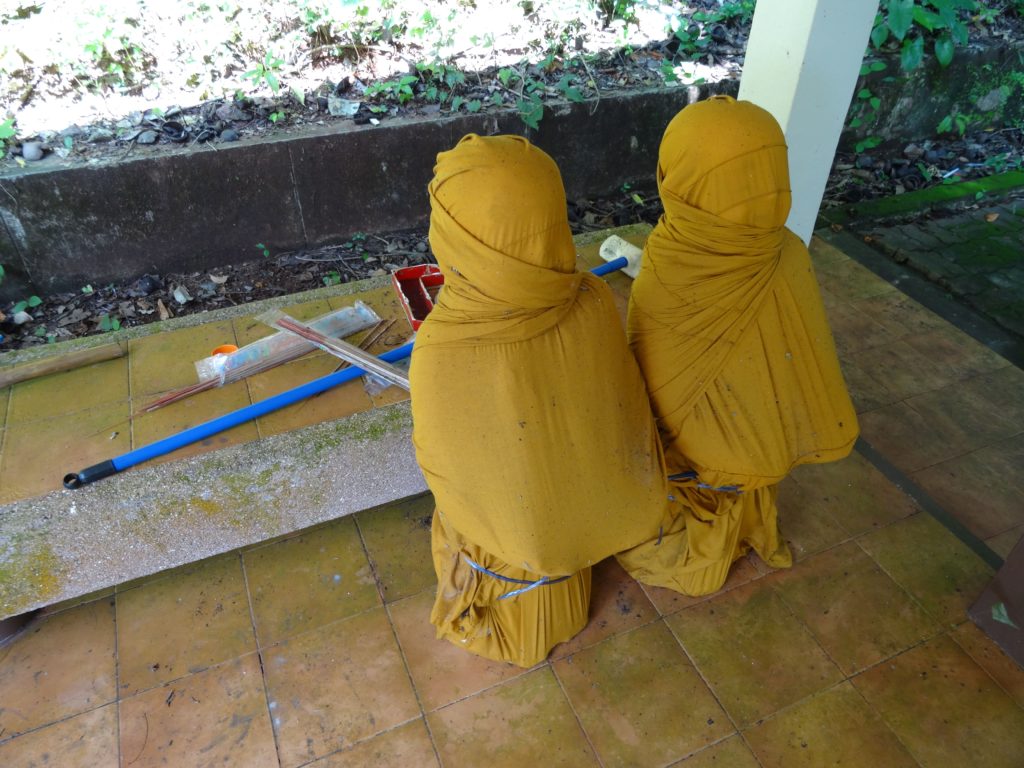 Getting there by public transport is a bit tricky – your best bet would be renting a scooter or taking a motorbike taxi (the trip should cost around 100฿ return). If you're driving there yourself, take Phraya Trang Road west out of town in the direction of Tha Mai.
After about 10 minutes you'll reach an intersection, where you'll have to either turn left or right. Turn left (south) and continue for 2 or 3 minutes until you see a wooded hill with a Chedi on top on your right hand side. Turn right (west) directly behind the hill and continue until you see stairs up to the top on your right-hand side. The Ubosot and Monk's quarters are a few hundred meters further west.
Nam Tok Phlio National Park
The pretty Nam Tok Phlio National Park features the eponymous waterfall, several historic monuments as well as a river populated by countless Soro Brook Carp. The surrounding forest can be explored by following a short nature trail. It's located a couple of kilometres east of town along the highway to Trat.
Check out my Guide to the Nam Tok Phlio National Park for everything you need to know about visiting.
Chanthaburi Vegetarian Festival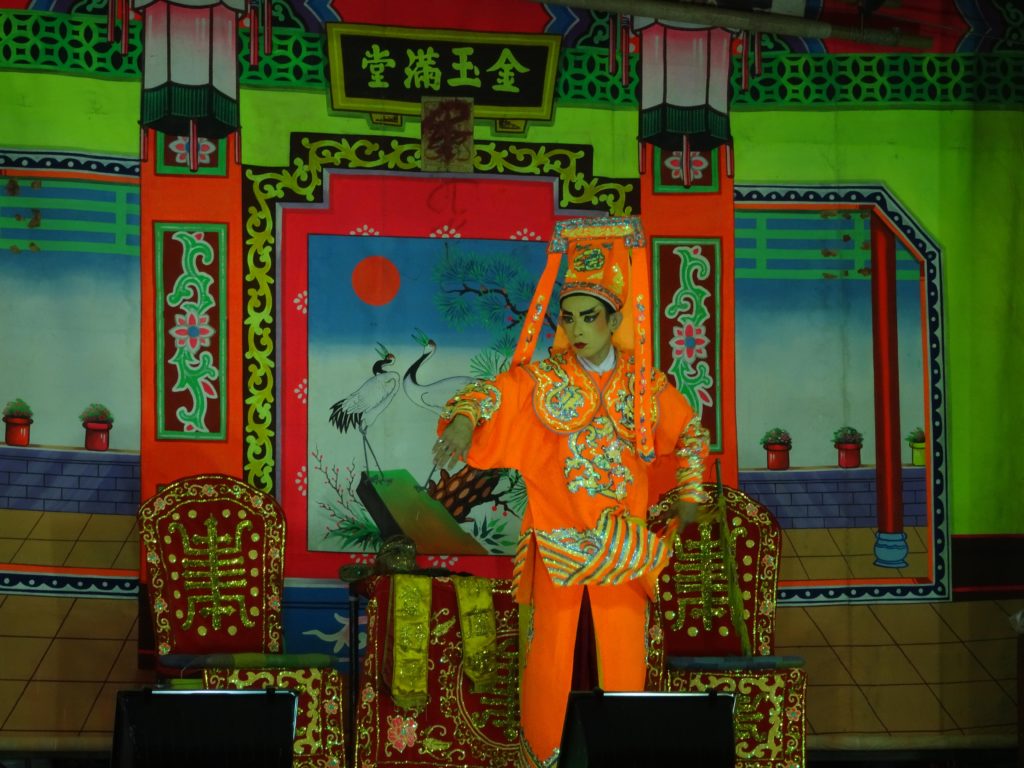 If you're in the city during the 9th Chinese Lunar Month (late September to late October), you can take part in Chanthaburi's Vegetarian Festival, which plays an important role locally due to the big Chinese population.
There are several tasty vegetarian snacks which you can try at the stalls set up all over the city centre, and the Chinese Temple hosts theatre performances in the style of the Chinese Opera. I couldn't make heads or tails of what was happening on stage, but it was still fun as it got increasingly more bizarre.
Map of Chanthabruri and around
This map shows the sights mentioned above as well as some potential accommodation options.
Practicalities
How to get to Chanthaburi
The town can be reached by overland and minibuses, traveling the coastal route between Bangkok and Trat. Big overland buses start at Bangkok's Ekamai Bus Station and should take around 4 hours to Chanthaburi if everything goes according to plan.
Closer destinations can also be reached by more frequent minibuses and songthaews. These include Trat to the east and Ban Phe (the jumping-off point for pretty Ko Samet) to the west. Occasional minibuses also go to the Border Crossing with Cambodia at Ban Pakard. As per usual, the minibuses and songthaews don't have a fixed schedule and simply go once they are full.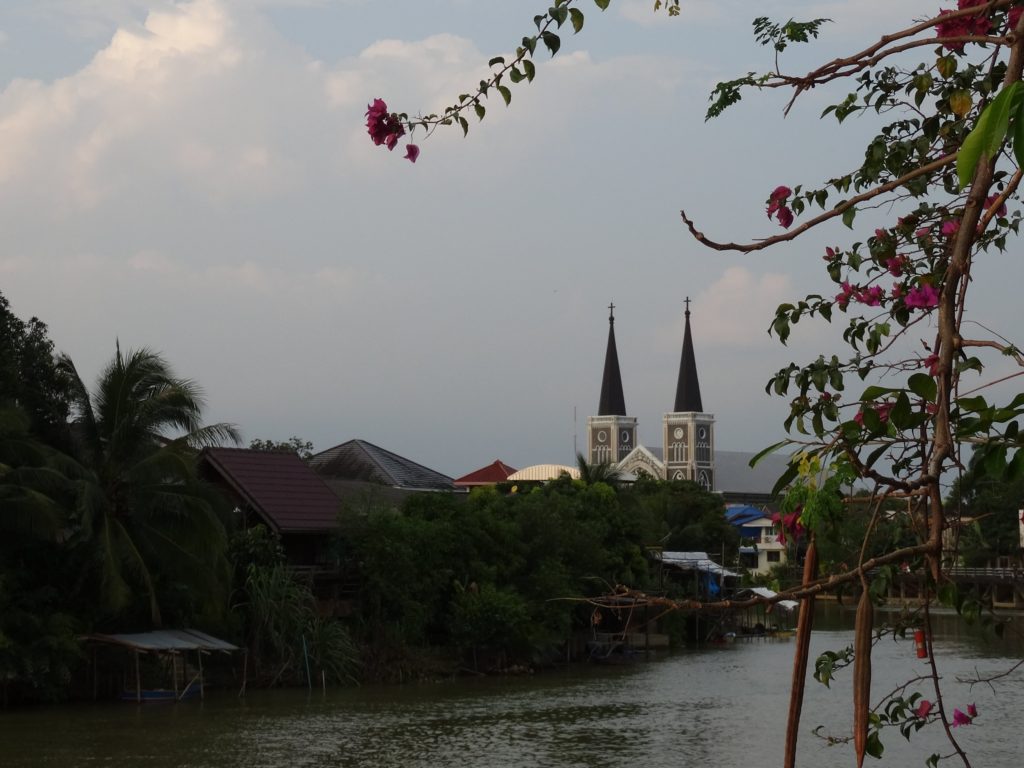 Where to stay in Chanthaburi
I stayed at the shoestring River Guesthouse, which I found to be good value for the low price. It's conveniently located on the edge of the old town and I also met a few other backpackers here, so if you're trying to connect to other travelers in this not-so-touristy part of Thailand, this would be a good spot. There are plenty of other options, check out the map above.
Where to eat in Chanthaburi
There are several cheap places in the city centre serving Thai and Chinese food. I can't really recommend any, as I was feasting on Street Food at the Vegetarian Festival when I was here, but I'm sure you'll find something that strikes your fancy. Some appealing looking places were scattered through the Chantaboon Waterfront Community.
Where to go next
Nakhon Ratchasima – the laid-back gateway to the Isan-Region
Ko Samet – a true tropical island paradise
Ko Sichang – an off-the-beaten island with some unusual sights