Known as the Pearl of Africa for a reason, Uganda is a beautiful country chock-full of amazing natural and cultural attractions. It's also surprisingly affordable when compared to its more famous neighbours to the East (i.e. Kenya and Tanzania).
Especially when it comes to safaris, Uganda is the place to go if you're on a budget but still want to get familiar with the incredible wildlife of East Africa. Apart from that, we were amazed by its magnificent waterfalls, rich cultural history and very warm and welcoming locals, which all added to the appeal.
Don't be fooled by Uganda's seemingly small size, though. While it may look tiny on a map, squeezed in between the DR Congo and Kenya as it is, there's still a lot to see in the country. As a matter of fact, we spent almost five weeks here, but for those who don't have that amount of time, I've condensed the highlights into a well-rounded 14-day itinerary.
This post may contain affiliate links, and I might earn a small commission at no additional cost to you. For more info, click here.
How to get around in Uganda on your own
Uganda's main cities are connected by regular buses, while smaller towns and villages can be reached by minibuses (locally known as matatus). The latter are super cheap, but not exactly comfortable, as they tend to fill up waaaay beyond capacity.
Also, they don't run on schedule but rather start when they're full, frequently stopping along the way, which makes them slow and unpredictable. While we frequently used them, I would only recommend taking matatus if your money is limited, but you've got plenty of time.
For destinations that don't even have a matatu connection (like National Parks), organized tours are often the only option. While you technically could hitchhike or use one of the ubiquitous motorcycle taxis (known as boda-bodas) to get to the entrance, you won't be able to enter most National Parks without a 4×4.
If you're short on time, renting a car is probably the best solution, as it gives you a lot more flexibility than any of the public transport options ever could.
Organized Uganda Tours
If you prefer to explore Uganda without the hassle of sorting out your own transport, accommodation and wildlife permits, taking an organized tour might be the way to got for you. There are plenty of companies offering adventure and safari tours, a lot of them including Mountain Gorilla Tracking.
Have a look below for some possible options.
Two Week Uganda Itinerary
Day 1: Entebbe
Most visitors will arrive at Uganda's only international airport in Entebbe. Sitting on a peninsula jutting out into Lake Victoria, the city has a relaxed vibe and serves as a good introduction to the country.
On your first day, you can get familiar with the country's nature at the splendid Botanical Garden or its Wildlife Education Centre, take a stroll through the small Zika Forest Reserve or just wait for that jet-lag to pass, while watching the hamerkop birds on the shore of pretty Lake Victoria.
See also: 5 Awesome Things to Do in Entebbe, Uganda
Day 2: Kampala
Uganda's chaotic capital might not be the most relaxing place in the country, but it has enough historical attractions to warrant a stopover before venturing further afield.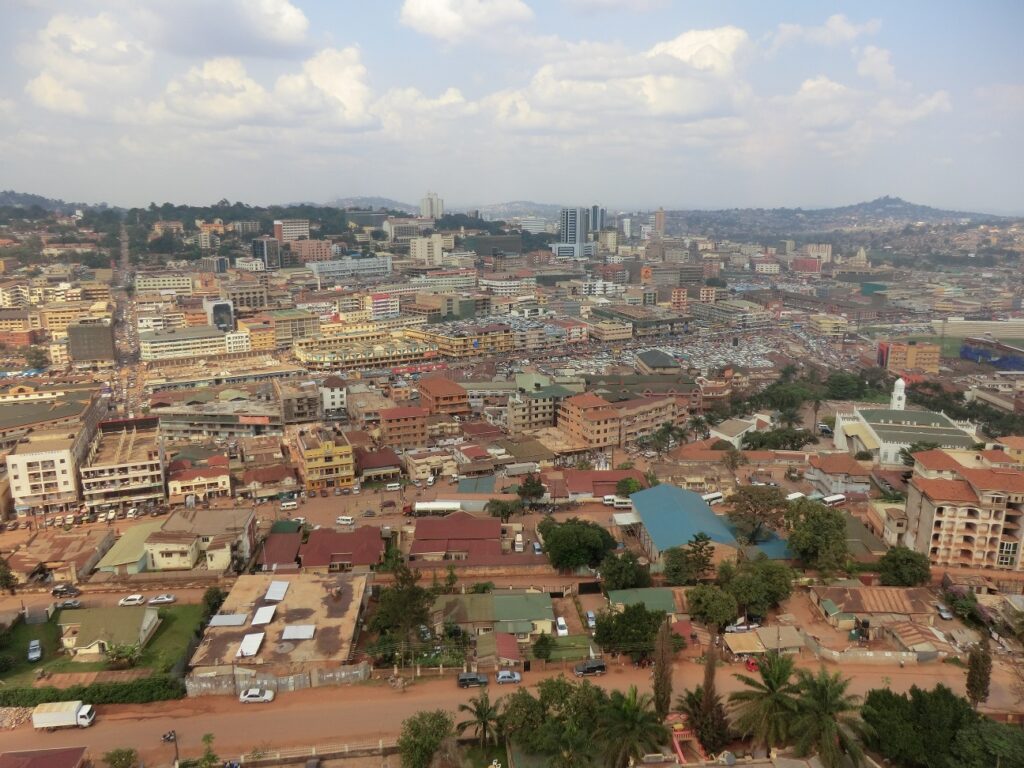 While here, you could check out the UNESCO-listed Kasubi tombs of the Buganda Royal Family or the more recent remains of the country's darker historical periods at Mengo Palace, erstwhile residence of notorious dictator Idi Amin. The national museum is also worth a peek, as are a number of historical churches and mosques spread out over the city.
See also: 10 Extraordinary Things to Do in Kampala, Uganda's Vibrant Capital
Day 3 and 4: Jinja and the Source of the Nile
Spend the morning exploring Kampala, before continuing east to Jinja. The pretty town is not only home to the source of the White Nile (at least where it flows out of Lake Victoria, the actual source is disputed), but also the country's best centre for adventure sports and outdoor activities.
If you're into those, you shouldn't leave here without taking a white water rafting tour on the Nile, including some exciting grade 5 rapids as well as serene stretches of river to relax in between. If you're not an adrenaline junkie, there are also more laid-back River Cruises available. Have a look at the options below.
See also: Everything You Need to Know About Visiting the Source of the Nile in Jinja, Uganda
Day 5 and 6: Sipi Falls
Continue on to Sipi, which to me is one of the prettiest places in Uganda. On the way from Jinja you could stop in Tororo to climb the mountain towering over the small town – the views from the top are amazing.
The main reason to come to Sipi is to visit the series of spectacular waterfalls, but there are plenty of other great trekking opportunities in the area. Sitting in the hilly region at the border to Kenya, the area is full of amazing viewpoints and cute villages.
I suggest spending at least one full day in the area, although there are definitely destinations enough for a longer stay. If you have some more time, you could even tackle Mount Elgon, reputedly one of the best hikes in the country.
See also: The Ultimate Hiking Guide to the Sipi Falls Area in Uganda
Day 7: Travel to Masindi
Most of this day will be spent traveling to Masindi in the country's north-west. If you want to break up your trip, you could stop near Kumi to check out the well-preserved Rock Paintings in Nyero. The rest of the trip leads through the pretty marshland north of huge Lake Kyogo dominating the country's centre.
Masindi is a cute small town and a great base for day trips to nearby attractions, like the Ziwa Rhino Sanctuary or the picturesque Butiaba Village on the shores of Lake Albert. It's also the closest town to the magnificent Murchison Falls National Park, with some of the country's best wildlife spotting opportunities.
Day 8 and 9: Murchison Falls National Park
Do a day trip from Masindi in the morning (see the suggestions from the previous day), before continuing to nearby Murchison Falls National Park to spend the night. This is one of the most popular National Parks in the country, and for good reason.
It's home to some of the most diverse wildlife in Uganda, including lions, elephants, hippos and giraffes as well as plenty of buffaloes, antelope, warthogs and over 450 species of birds.
See also: Everything to Know About Visiting Murchison Falls National Park, Uganda's Best Safari Destination
A great way to spend a day here is to go for a Game Drive in the morning and take a river cruise along the Nile to the powerful Murchison Falls in the afternoon. If you don't have your own 4×4 available, there are several companies in Masindi that can sort out a trip into the National Park for you, or you could book one online. You can have a look at a couple of options below.
If you go with an organized tour, they will likely also provide the accommodation. Otherwise, you can check out these recommendations.
Day 10: Fort Portal and the Crater Lakes
The capital of the Kabarole District in Uganda's western part is surrounded by a picturesque landscape of hills and lakes. Originally established as a British military fort in the late 19th century, Fort Portal is a vibrant town that forms a good base for exploring the surrounding natural attractions.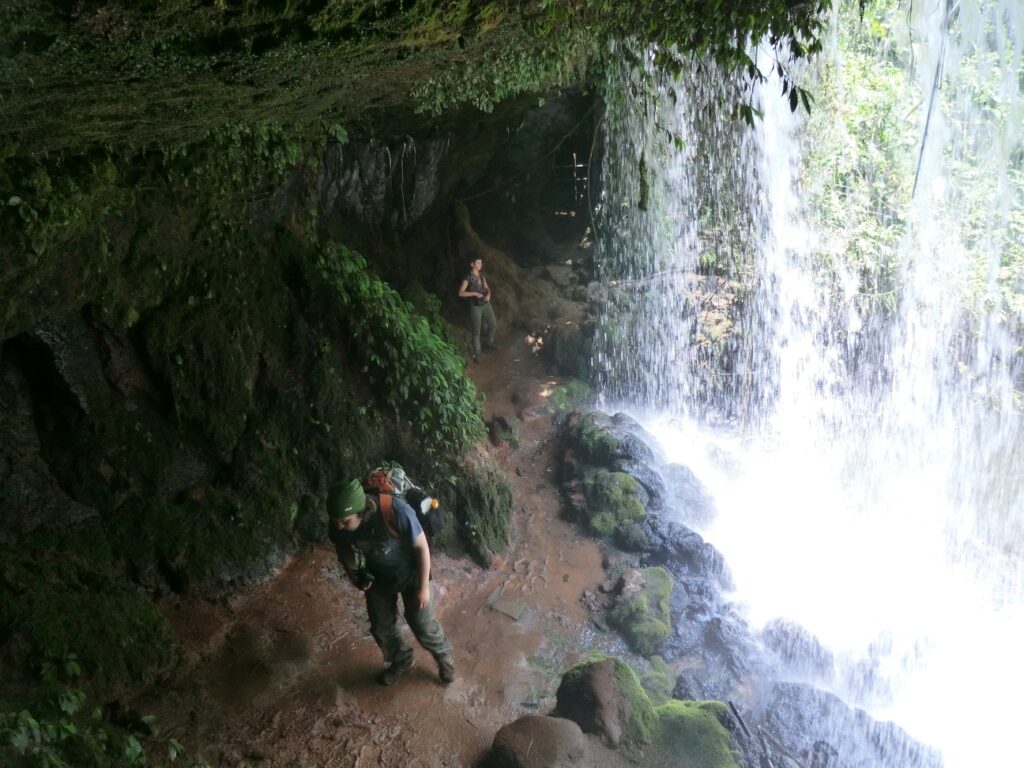 These include the impressive Amabare Caves close to town, as well as the beautiful Ndali-Kasenda Crater Lake Region a bit further afield. The latter is a great area for hiking and deserves at least half a day of your time, but if you can spare it, it's well worth spending a couple of days here – there are many cute villages and scenic lakes to explore.
Day 11 and 12: Bwindi or Mgahinga National Park
Move on to small Kisoro in the south-western corner of the country. Close to the borders of Rwanda and the DR Congo, the town has a beautiful location in the foothills of the Virunga Mountains and is a good base to explore two of the most exciting National Parks in Uganda.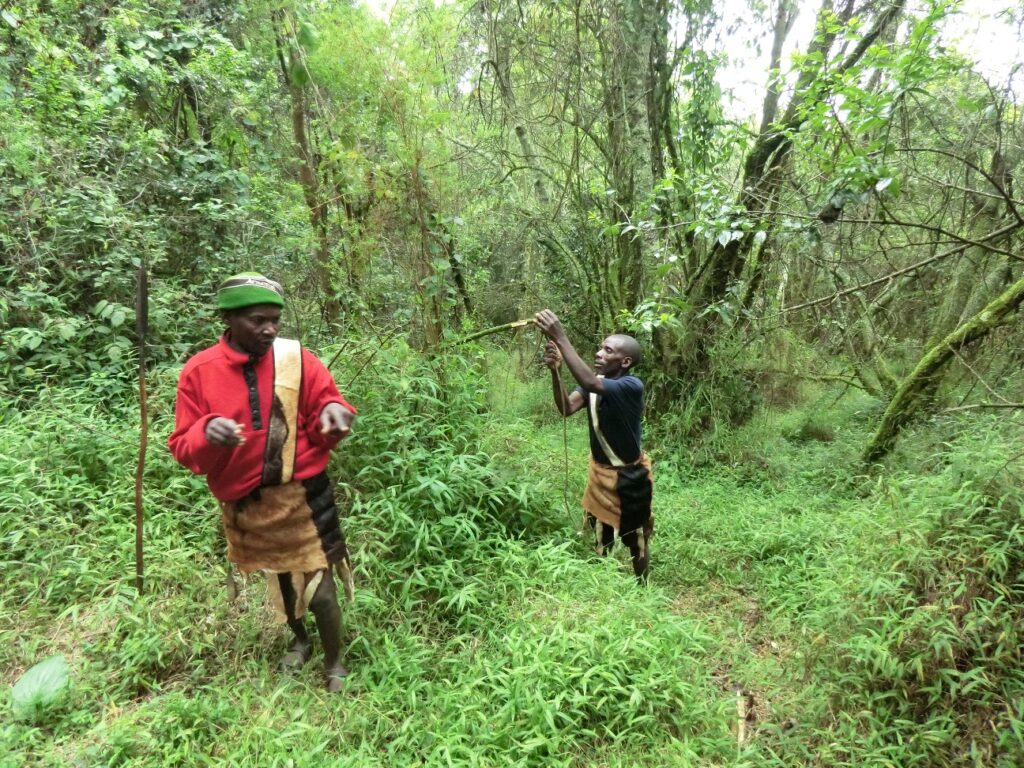 If you have the necessary funds available, you could take a trip to Bwindi Impenetrable Forest to track the Mountain Gorillas. For us, the permit fee was far above our budget, so we had to skip it (although now we have a reason to return in the future).
If you want to go for it, you could either arrange a permit via the Uganda Wildlife Authority on Kiira Road in Kampala or go with an organized tour, where the company will sort out permits, accommodation, transport and the like. Have a look at a few options below.
If you also have to pinch your pennies, visiting nearby Mgahinga Gorilla National Park is a great alternative. Despite its name, chances to spot Gorillas here are pretty slim (although not non-existent), but there are other cool activities available. We loved the Batwa Cultural Trail, which gave us a chance to get acquainted with the history and culture of the local Pygmy Tribes.
Day 13: Lake Bunyonyi
End your explorations of Uganda at stunning Lake Bunyonyi, a serene freshwater lake surrounded by rolling hills and lush green vegetation. It's home to several small islands, each with its own unique history and cultural significance, that can be explored by canoe.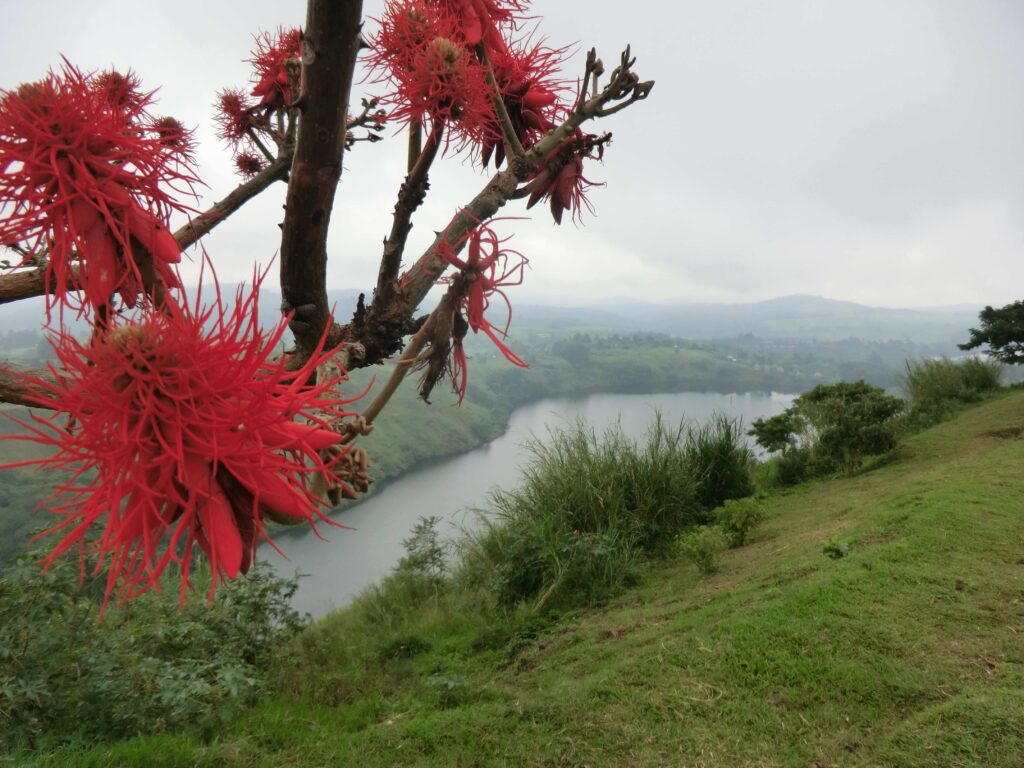 Otherwise, you can just relax on the shore of one of Uganda's few lakes that actually allow for safe swimming (i.e. no crocodiles or Bilharzia). It's a beautiful setting and a fitting finale for every trip through the Pearl of Africa.
Day 14: Return to Entebbe
On the way back to Entebbe you can stop at the Monument where the Equator crosses the highway between Masaka and Kampala to take those inevitably cheesy pictures.
Mpanga Forest near Kampala is also worth checking out for its surprising biodiversity (given that it's a rather small forest). If you have some extra time before your return trip, you could even spend the night here looking for Bush Babies with a ranger, although you need to bring your own powerful flashlight for that.
Two week Uganda Itinerary Map
All the suggested stops on the two-week Itinerary can be found in this map of Uganda.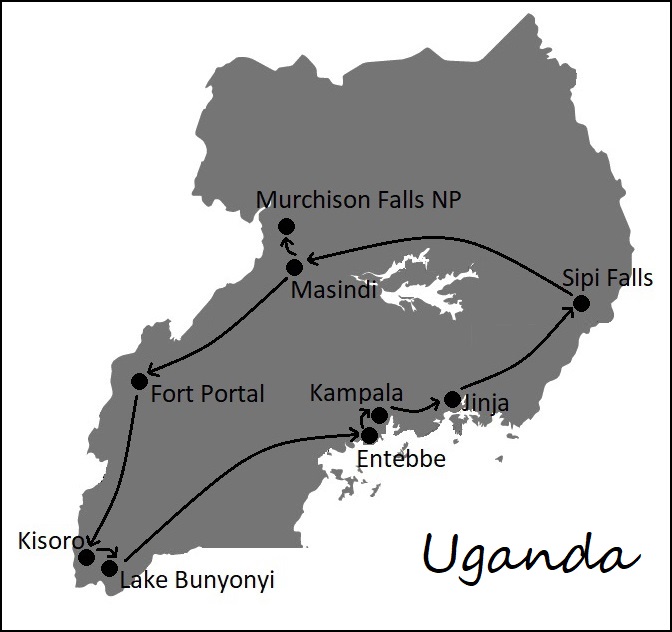 If you have more time: Three Week Uganda Itinerary
With an extra week in the country, you could spend some more time at the places mentioned in the two-week itinerary and squeeze in a couple of extra stops.
For instance, this three-week itinerary takes a slower approach and also includes Hoima, which is home to some important historic places of the Bunyoro Kingdom and the laid-back Ssesse Islands in Lake Victoria. The other stops are all included in the two-week itinerary detailed above.
Day 1: Entebbe
Day 2 and 3: Kampala
Day 4 and 5: Jinja
Day 6 and 7: Sipi Falls
Day 8 and 9: Masindi and surroundings
Day 10 and 11: Murchison Falls NP
Day 12: Hoima
Day 13 and 14: Fort Portal  and  Crater Lakes
Day 15 and 16: Bwindi or Mgahinga National Parks
Day 17 and 18: Lake Bunyonyi
Day 19 and 20: Ssesse Islands (Buggala Island or Banda Island)
Day 21: Back to Entebbe
With even more time and funds, you could also take part in a guided multi-day hike through the Rwenzori Mountains near Fort Portal or to Mount Elgon near Sipi. While these areas look stunningly beautiful, the required permit fees were above our modest backpacking budget, so you'll have to look elsewhere for detailed advice.
If you have less time: One week Uganda Itinerary
If you only have one week in Uganda, you'd be well advised to get a rental car, so you're not reliant on the country's hit-or-miss public transport system. The following itinerary condenses the absolute highlights of the two-week version into one busy week.
Day 1: Explore Kampala, then continue to Jinja
Day 2: Jinja (Visit the source of the Nile and go rafting)
Day 3: Drive to Murchison Falls NP, stop in Ziwa Rhino Sanctuary on the way
Day 4: Explore Murchison Falls NP
Day 5: Explore the Crater-Lake Region near Fort Portal, then continue to Bwindi
Day 6: Gorilla Tracking in Bwindi or Mgahinga NP
Day 7: Spend a few hours at Lake Bunyonyi, then return to Entebbe
See also
10 Extraordinary Things to Do in Kampala, Uganda's Vibrant Capital
5 Awesome Things to Do in Entebbe, Uganda