Sitting in the southern part of Thailand's laid-back Isan Region, charming Surin is most famous for its yearly Elephant Festival taking place every November, but even if parading pachyderms aren't your thing (I feel you), the city has plenty to offer to travelers looking for some authentic experiences off the tourist trail.
Home to cool Khmer Ruins, attractive temples and interesting museums, the small town makes for a nice short stopover on your way between the bigger cities of Nakhon Ratchasima and Ubon Ratchathani. Read on for everything you need to know about visiting Surin.
This post may contain affiliate links, and I might earn a small commission at no additional cost to you. For more info, click here.
The Best Things to Do in Surin, Thailand
Surin National Museum
Surin's biggest museum has interesting displays on the region's history and culture. There are some impressive archaeological displays, including architectural pieces, statues and jewellery from the region's Khmer temples, as well as displays on the long-running interaction between humans and elephants in the province.
The museum is located somewhat inconveniently, about 4km or 2.5mi. south of town along Route 214. To get there, you could catch a shared taxi from the bus station or take a motorcycle taxi. The museum is open from 9am to 4pm from Wednesday to Sunday (double-check the times here) and the entrance fee is 100฿.
San Lak Meuang aka. City Pillar Shrine
Almost every Thai city has their city pillar shrine, but the one in Surin sets itself apart by its unusual architectural style. The shrine imitates the architecture of ancient Khmer temples, with its intricate tower modelled on the central prang (temple tower) of nearby Phanom Rung temple.
The elaborate decoration continues to the interior, with its walls painted in a tapestry-like pattern. It's certainly one of the prettiest city pillar shrines I've come across in Thailand. It can be found along Thanon Krungsri Nork, the main west-east thoroughfare running through the city centre.
Wat Burapharam
This pretty temple features an ornate roof and some colourful murals depicting scenes from Buddhist mythology. There's also a golden Chedi and some stone statues of Buddhist monks, who used to call the temple their home. It's located a few hundred metres east of the city pillar shrine.
Phraya Surin Monument
This monument to the founder and first mayor of Surin sits on a roundabout at the southern edge of town and is framed by two huge stylized elephant tusks. Across the road is a group of weathered-looking statues of elephants and mahouts, commemorating the historical importance of Elephants for the region. Nearby are some sections of the old city moat, which make for a pleasant stroll.
Prasat Sikhoraphum
About 30km or 20mi. east of Surin, you'll find Prasat Sikhoraphum, the small, but well-preserved ruin of a Khmer Temple dating to the 12th century. Five tall brick prangs (temple towers) stand on a platform surrounded by a moat, but the most impressive part is the intricately carved lintel featuring a dancing Shiva. The god is surrounded by countless smaller figures and ornamental decorations. The level of detail is astounding.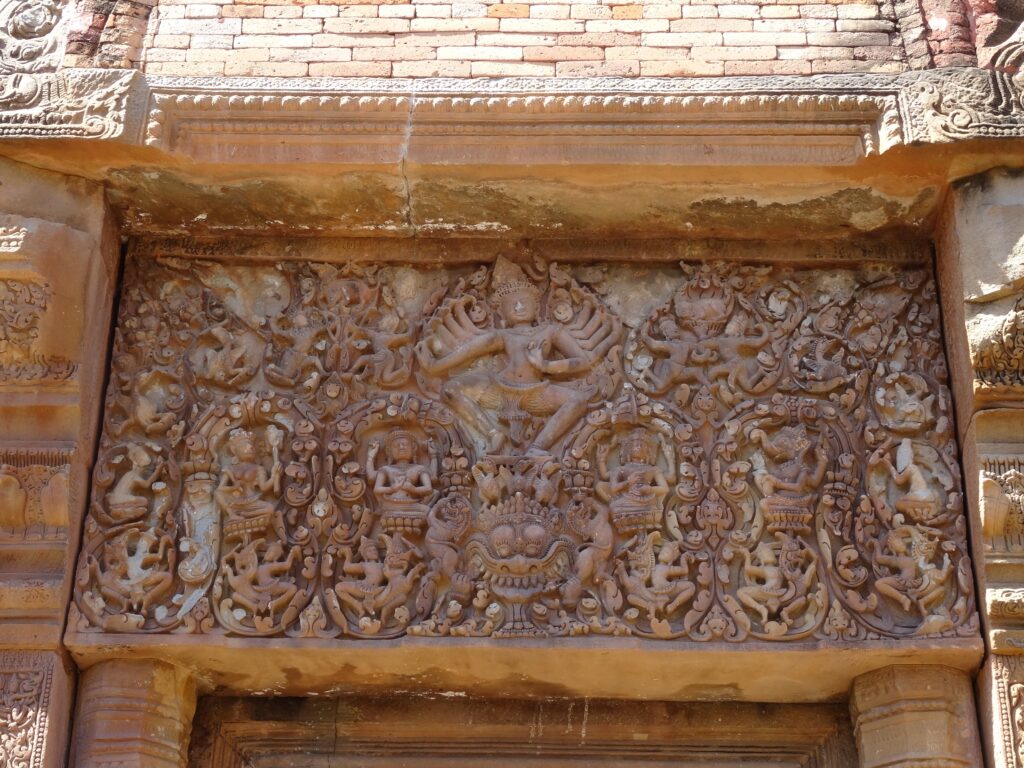 Sikhorapum can be reached by train from Surin, but the schedule is rather infrequent, so to return or continue you might have to switch to a minibus. I went to Sikhoraphum by train, checked out the ruin and continued to Muang Thi by minibus, from where I returned to Surin by train.
Prasat Muang Thi
This is another Khmer ruin, albeit smaller and in worse condition than Prasat Sikhoraphum. I'd recommend it only to serious archaeology buffs or those who want to see a genuine slice of rural Thailand.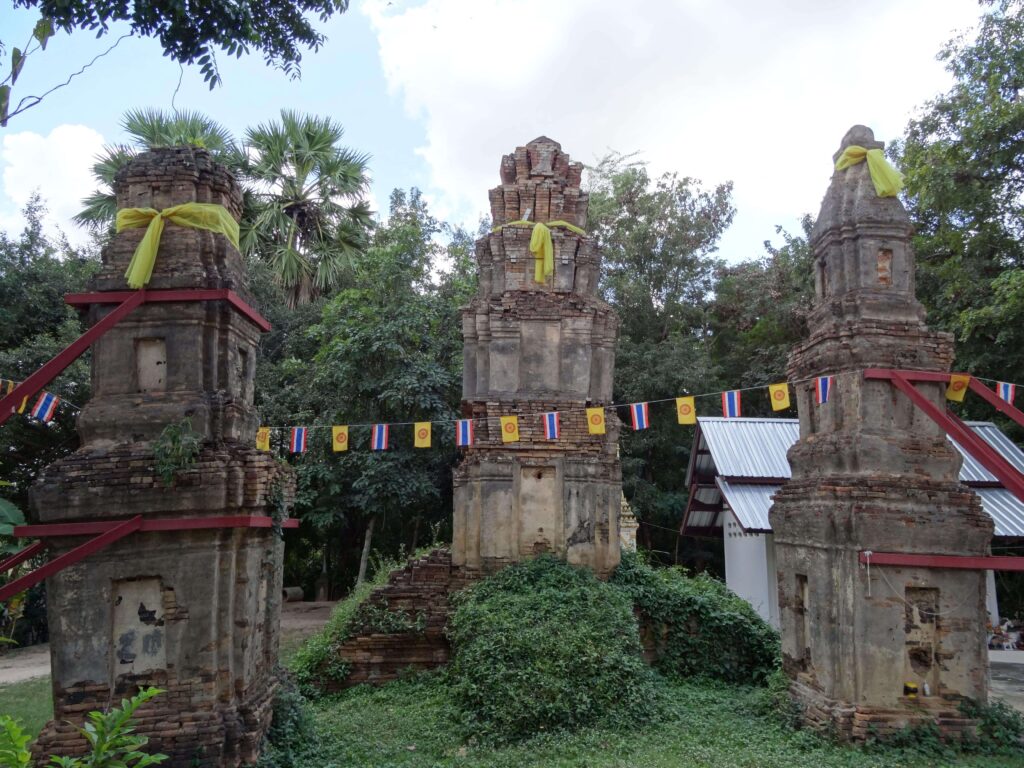 Those who make it will find three small prangs on the grounds of a modern temple, which are atmospherically overgrown and held together by metal casings. Muang Thi is about halfway between Surin and Sikhoraphum off Route 226 and can be reached by train or minibus from Surin.
Should you visit the Surin Elephant Round-up?
Honestly, Surin's Elephant festival left a somewhat bad taste in my mouth. When I visited the city a few years back, the festival was taking place and I expected something similar to the Monkey Banquet in Lopburi, where the animals are the centre of attention but not expected to perform for the visitors in any way.
Sure, there is the Elephant dinner, but the majority of the festival turned out to be more of a circus-like display with Elephants performing tricks, taking part in historical re-enactments and the like, which I didn't care for.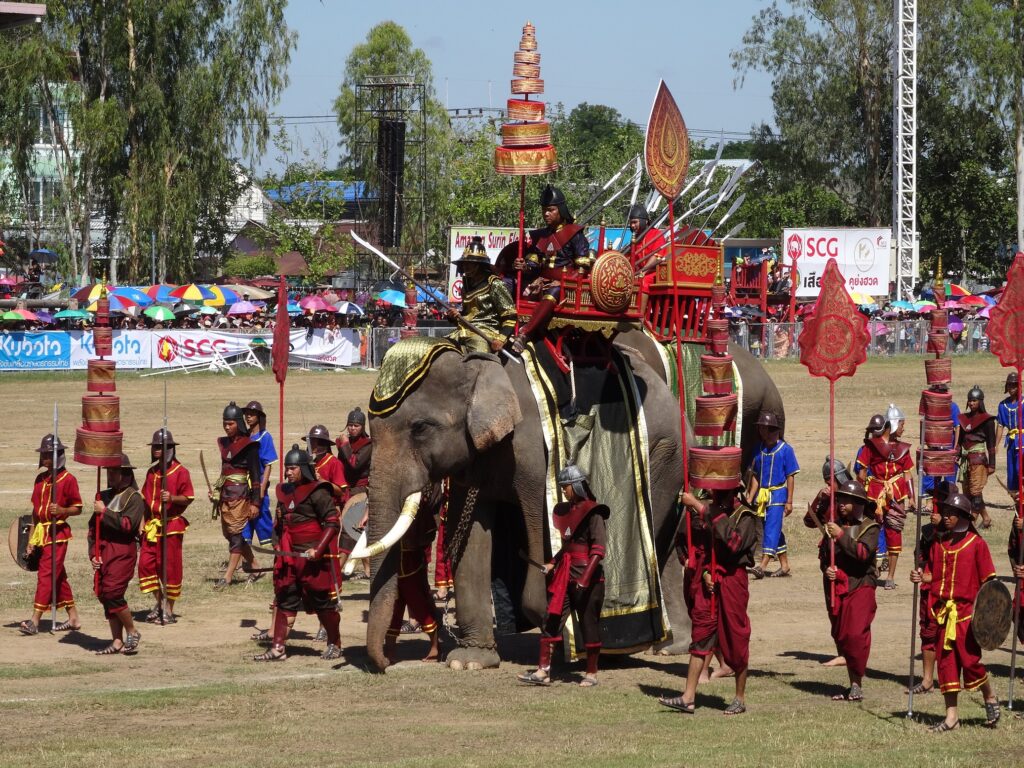 I didn't witness any mistreatment and the elephants I saw didn't seem stressed out, but I'm not a fan of these kinds of performances and I think it's safe to say that the elephants would be happier if they didn't have to perform these kinds of tricks.
That said, the parts of the festival not involving Elephants (like some impressive sword-fighting displays during the battle re-enactments) were quite interesting and people said that proceeds of the festival go to conservation efforts, but I'm not sure how much actually arrives there.
If you're an animal lover, skipping the festival and visiting an elephant shelter like the local Save Elephant Foundation certainly would be the best way to go.
Map of Surin
All the places mentioned above can be found in this map of Surin and the surrounding area.
Practicalities
How to get to Surin
Surin is located about halfway between Nakhon Ratchasima (Khorat) to the West and Ubon Ratchathani to the East, and has frequent bus and minibus connections to both cities, and to many other destinations across the Isan and the rest of Thailand, including Bangkok and Chiang Mai. The bus station can be found at the north-eastern end of town off Thanon Jitrbumrung.
Surin is also connected to the train line running from Ubon Ratchathani to Nakhon Ratchasima and onward to Bangkok. The train station can be found at the northern end of the city centre at the end of Thanon Thanasarn.
The Best Hotels in Surin
There are plenty of budget hotels available in Surin, like the top-notch SKT Knight Hotel, as well as some mid-range options, like Slive Hotel. Have a look at the map above for more options.
Where to go next
The Nang Rong Area, Home to countless Khmer Temples
Nakhon Ratchasima, the lively gateway to the Isan Province