Similar to nearby Prasat Phimai, Phanom Rung in eastern Thailand's Isan Region is one of the most significant and well-preserved Khmer Temples in the country, and definitely should be on your itinerary if you have the slightest interest in archaeology, architecture or local history.
As impressive as it is, Phanom Rung is just one of many vestiges of the Khmer Civilization in this part of the country and the beautiful landscape surrounding the small village of Nang Rong is dotted with temples, shrines and way stations, testifying the region's erstwhile importance in the Khmer Empire.
I strongly suggest spending at least a day in the region, to explore some of these smaller sites. With the majority of visitors flocking to Phanom Rung, chances are that you will find a few atmospheric ruins that you'll have completely to yourself. Read on for my guide to the impressive Khmer Temples surrounding Nang Rong.
This post may contain affiliate links and I might earn a small commission at no additional cost to you. For more info click here.
Phanom Rung Historical Park
Visitor numbers suggest that Phanom Rung is the region's star attraction, and it's easy to see the appeal. Mainly dating to the 12th century, this beautiful temple is meant to symbolize Mount Kailash, the sacred dwelling of Lord Shiva.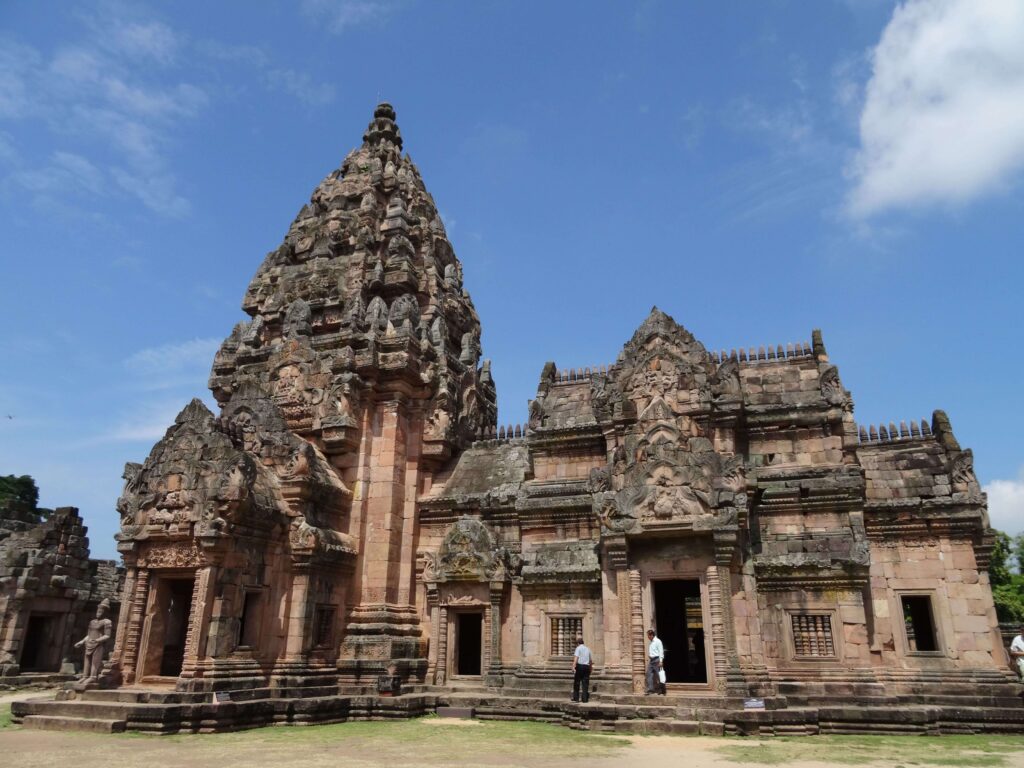 The temple complex is located on top of a volcanic hill, and the site is approached by following a causeway and a climbing a series of imposing stone staircases and terraces flanked by sculptures of Nagas (divine snake-creatures).
After passing through the beautiful east gallery, you'll reach the impressive main sanctuary at the heart of the complex, which features a beautifully preserved sandstone temple with intricate carvings and detailed bas-reliefs depicting scenes from Hindu mythology. Look for the one of Shiva dancing, symbolizing the destruction and renewal of the world.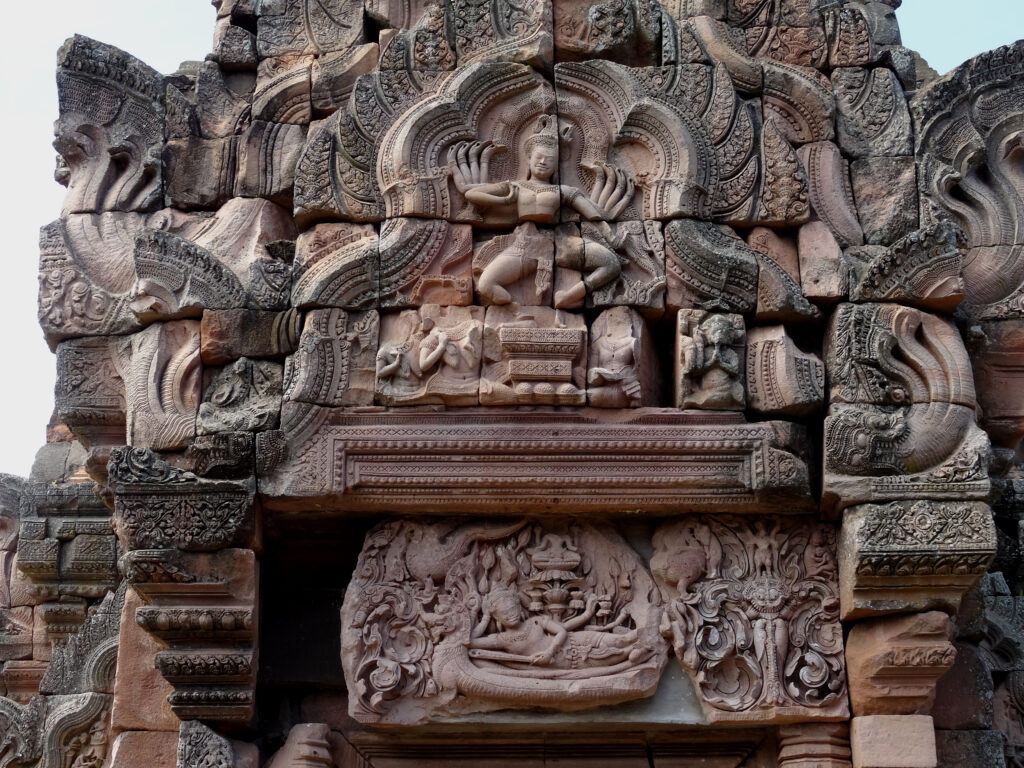 Strewn over the complex are a number of smaller buildings, each with its unique architectural style and decorative elements and near the visitor centre, there is a small, but well-curated museum containing more impressive carvings and architectural details.
Phanom Rung can be visited daily from 7AM to 6PM (Double-Check the times here), but I suggest getting here as early as possible, so you can experience the temple at its atmospheric best. The entrance fee is 100฿.
Prasat Muang Tam
This beautiful temple is my personal favourite in the area in terms of atmosphere and location. Dating to the 10th century, it's even older than most buildings at Phanom Rung, but it shares the latter's dedication to the god Shiva.
The temple complex consists of four remaining prangs (towers) erected on a central stone platform which is surrounded by a pretty tree-studded outer courtyard. Four lotus-covered ponds in the corners of the complex are said to represent the oceans.
Prasat Muang Tam is not only a cool temple with nice relief carvings, but also a beautiful spot to spend some time and just soak up the atmosphere, and it blows my mind that everyone flocks to the bigger Phanom Rung, but ignores this nearby gem. All the better for those, who make it here, though.
It's open daily from 8AM to 6PM and the entrance fee is 100฿.
Wat Khao Anghkan
This hilltop temple features an interesting combination of ancient and modern elements. It originally dates to the Dvaravati Era (7th to 11th century), but you can only see traces of the old structures in between the modern temple buildings.
The latter are still very attractive, and almost seem to mirror the nearby Khmer temples, with a multitude of small spires and many decorative sculptures adorning their façade. There are many interesting details on the grounds, including rows of sitting Buddha statues, a small Chinese-style pagoda and a big golden reclining Buddha.
Prasat Khao Plaibat
Prasat Khao Plaibat is located on a small hilltop to the west of Prasat Muang Tam, and a little more complicated to get to. The ruin of the small temple is in dire need of some restoration work (lots of loose bricks held together by metal supporters), but the hill offers great views of the surrounding plains.
The temple can be reached from the active Wat Khao Plaibat temple (about 2.5km/1.5mi. south-east from Prasat Muang Tam) by following a small trail up the hill marked by pieces of orange cloth. The trail starts near the monks quarters. If you can't find the trailhead, just ask one of the resident monks and someone will point you in the right direction.
Prasat Wat Khok Ngio
Prasat Wat Khok Ngio is a small, overgrown sanctuary with a tall central tower of laterite blocks. It's worth checking out if you're really into Khmer architecture, but otherwise you probably won't find it as interesting as the sites closer to Phanom Rung. It can be found shortly north of Pakham on the road leading south from Nang Rong.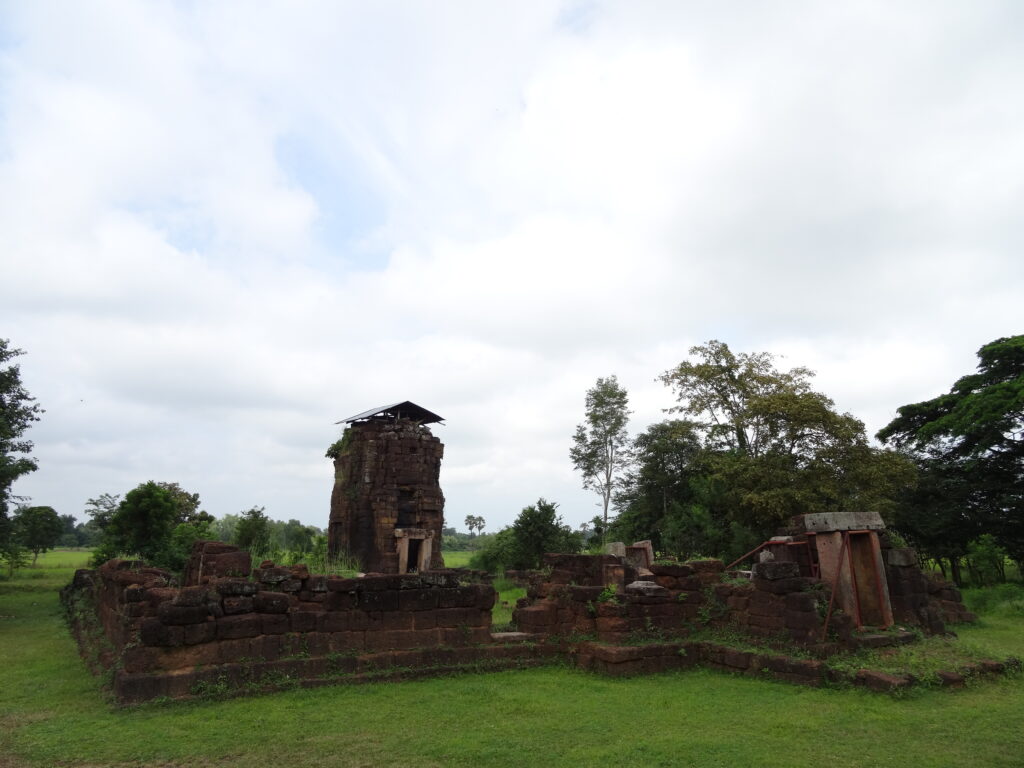 Kuti Ruesi Ban Khok Meuang
Close to Prasat Muang Tam is a small, well-preserved hermitage called Kuti Ruesi Ban Khok Meuang, consisting of a central tower surrounded by an enclosure with a small sacred pond nearby. To find it, follow the western edge of the big reservoir to the north of Prasat Muang Tam until you see a smaller reservoir to your left. The hermitage is at the western edge of that small one.
Kuti Ruesi Nong Bua Rai
Close to Phanom Rung (near the south-western corner of the reservoir to its east) sits Kuti Ruesi Nong Bua Rai, another pretty hermitage. In both cases, there might not be any impressive carvings left, but it's still worth checking them out before or after your visit to the bigger sites nearby, especially as there is no entrance fee (or opening times).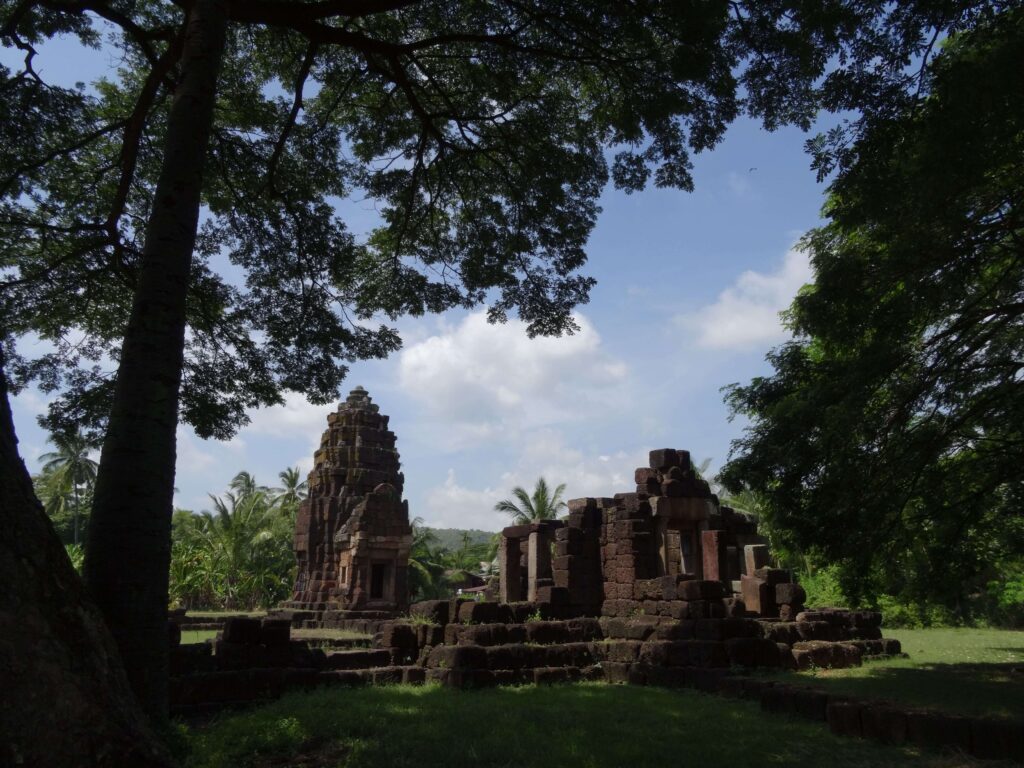 Smaller Archaeological Sites around Ban Khuan Village
Further East, in Ban Khuan village, sits Prasat Thong, a small temple ruin mainly reconstructed from modern bricks. The only original bits I could find were the laterite bases and maybe some of the sandstone lintels. I'd only recommend it for die-hard archaeology fans. It's a bit south of the big intersection in the centre of the village, close to the market.
The area around Ban Khuan Village is also home to some archaeological sites with an erstwhile economic importance, including Ban Kruat Quarry, west of the village, where some of the sandstone for the nearby temples was sourced. Tao Sawai and Tao Nai Chian to the East of Ban Khuan are the remains of two huge pottery kilns used during Khmer Times.
Keep your expectations in check with these smaller sites. As an archaeologist, I found them interesting, but most people might be a bit disappointed as there is not a lot to see. Still, visiting them gives you a chance to explore some tiny villages along the way, so in this case the journey might very well be the destination for you.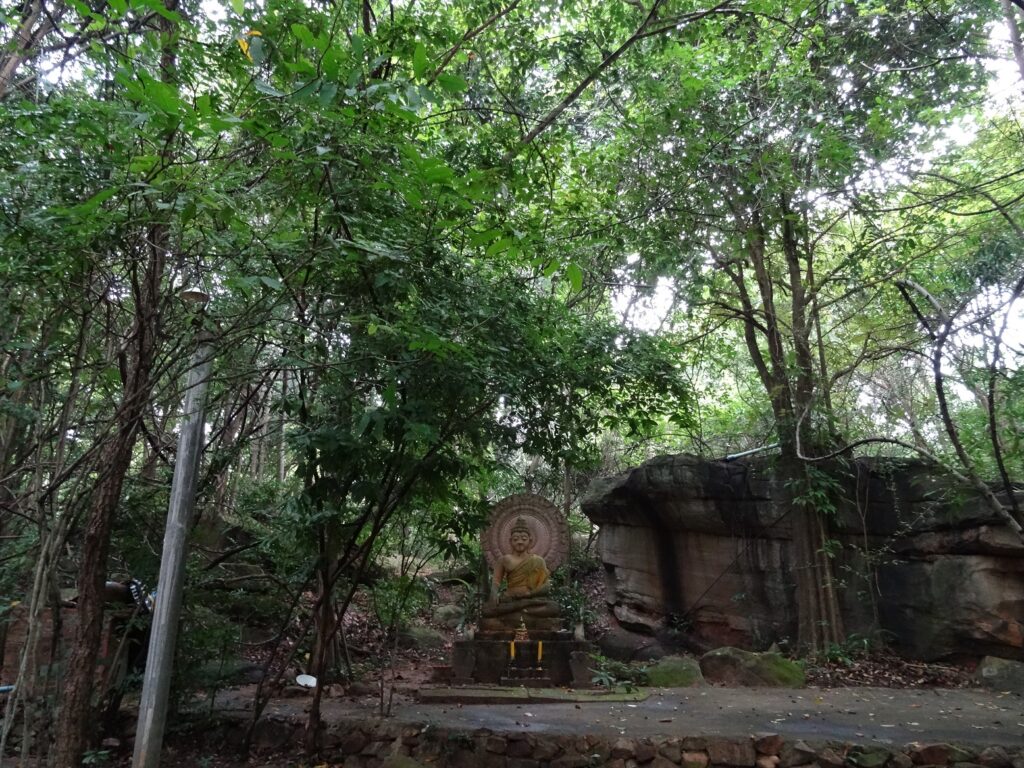 Map of Phanom Rung and the Surroundings
Have a look at the map below, which includes most of the sites mentioned above.
Getting to Nang Rong and Getting around
Nang Rong has bus and minibus connections to most bigger cities in the area, including Ubon Ratchathani, Nakhon Ratchasima (Khorat) and Surin from the bus terminal in the western part of town.
There are no direct minibus connections to Phanom Rung, but you could take one to Ban Ta Pek Village and continue to the temple by motorcycle taxi. Minibuses to Ban Ta Pek leave from the Old Market in Nang Rong.
Getting around the area is easiest if you rent a scooter. I got one at P California Inter Hostel, where I stayed. It came with a handy hand-drawn map of the area with all the sights. If riding a scooter isn't for you, they also rent out mountain bikes.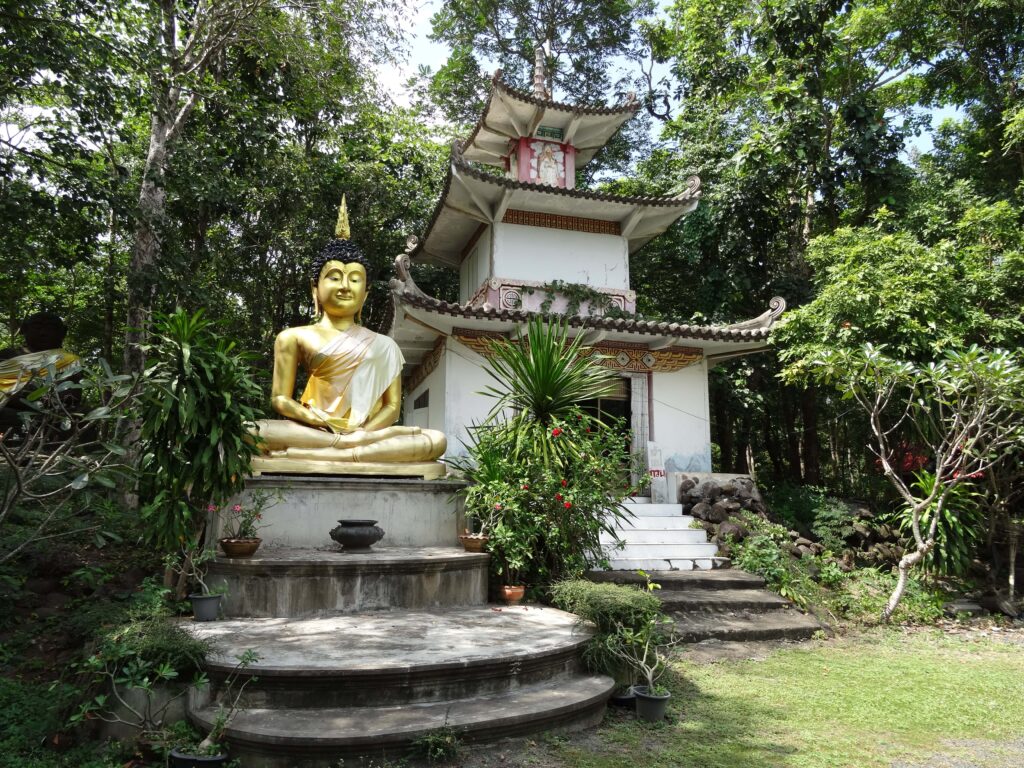 The best Hotels near Phanom Rung
I stayed at P. California Inter Hostel, which is located in a nice leafy area at the eastern end of Nang Rong town. The owner knows a lot about the surroundings sights, and you can rent scooters and mountain bikes to explore the area.
Phanomrungpuri Hotel, which is also located in Nang Rong, would be a slightly more upscale option, but is still in the very affordable range. If you prefer a bit of luxury, Hotel de l'Amour in nearby Prakhon Chai village has very good reviews.
Where to go next
Prasat Phimai, One of the Biggest Khmer Temples in Thailand
Nakhon Ratchasima, the Gateway to the Isan Region
Surin, a pretty small town with a long history of elephant-handling