Dominica's wild southeastern coast features some of the island's nicest beaches, while the inland sports some truly marvellous waterfalls. Add to that some great accommodation options in beautiful surroundings, and you've got plenty of reasons to explore this part of the island for a couple of days.
Here are my suggestions of the top sights in Southeastern Dominica.
This post may contain affiliate links, and I might earn a small commission at no additional cost to you. For more info, click here
The Best things to do in Southeastern Dominica
Wavine Cyrique Waterfall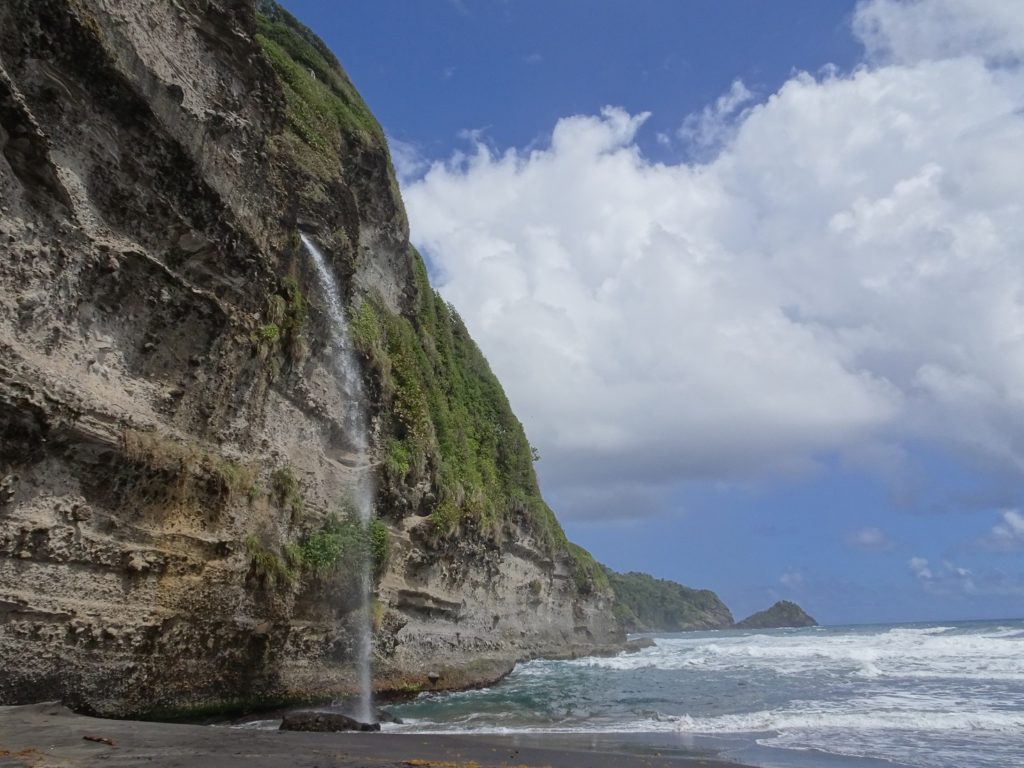 One of my favourite Waterfalls on the island, getting there warrants visiting it just as much as seeing the beautiful cascade tumbling off a cliff right into the Atlantic Ocean. The hike is not for the faint-hearted, as it involves climbing down a series of rope-ladders strung up at the cliff-side but believe me, once you're there, you won't regret it.
It can be reached by taking a residential road east to the coast in the village of Riviere Cyrique.
Read my description of the hike to Wavine Cyrique here.
Update July 2022: It seems that part of the trail to Wavine Cyrique is inaccessible at the moment due to destruction after the last hurricane. The only way to reach it right now would probably be by private boat. I'll try and keep an eye on the situation and post here once it's accessible again
Hiking to Victoria Falls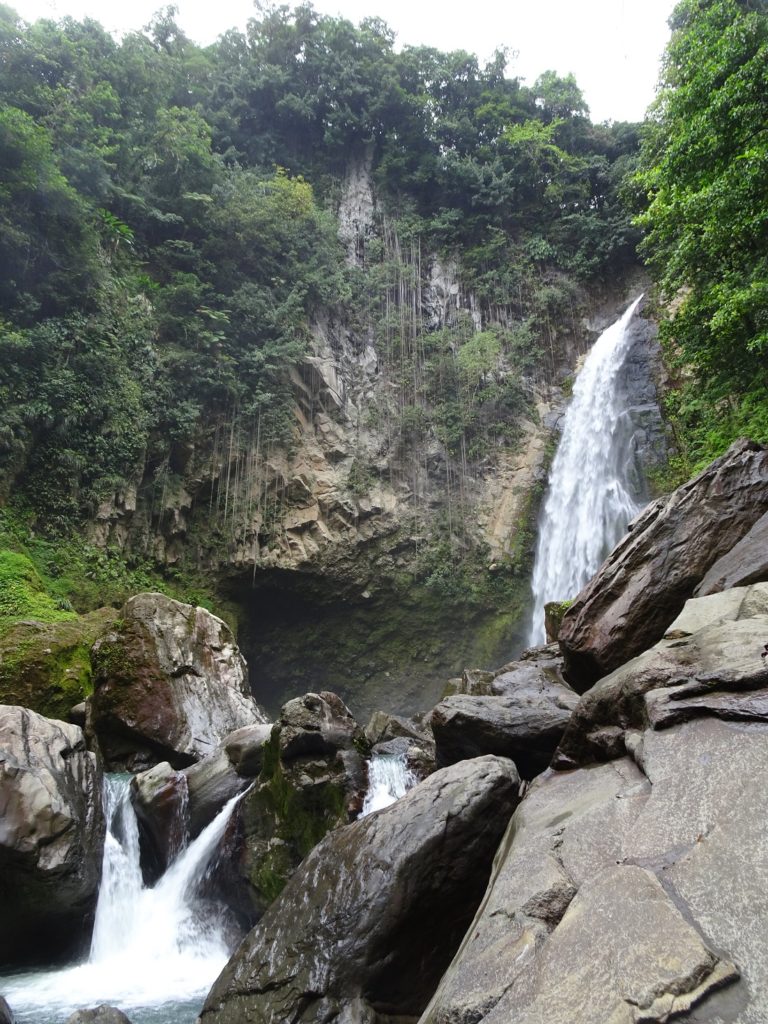 Victoria Falls near Delices is one of Dominica's more impressive Waterfalls, and hiking there through the river is a fun adventure that you shouldn't miss while you're in this part of the island. A nice added bonus is the possibility to hang out with Moses and his family at the "Rastarant" afterwards, where you can try fantastic Ital (i.e. vegan Rastafari) Food. What better way to top off a hike?
The Secret Beach / Bord La Mer Beach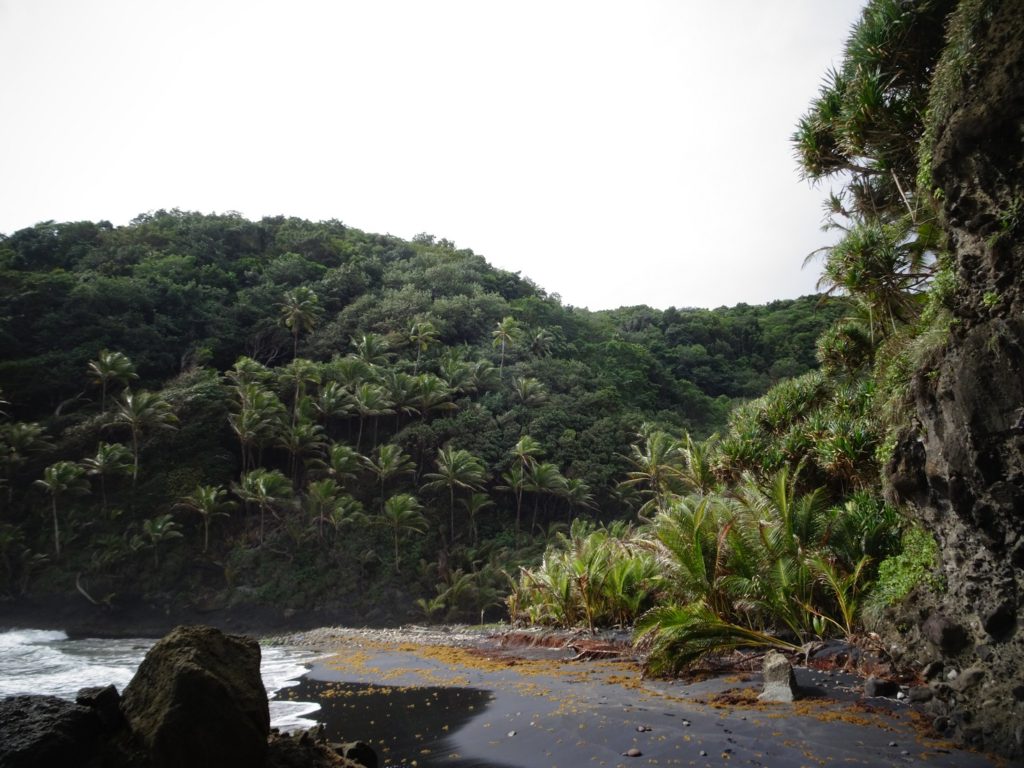 While some people call the beach near Wavine Cyrique waterfall "Secret Beach", the road leading east to the beach, which is officially named Secret Beach (or Bord La Mer Beach) is about 500 m further south from the turn-off to Wavine Cyrique. This is my second favourite beach on Dominica, only topped by Hampstead Beach near Calibishie.
It's backed by a beautiful slice of rainforest and ticks almost all the boxes in the category of tropical dream beaches. Sadly, due to strong currents, you shouldn't swim here. Still, it's a cool place to hang out for a while and the name seems somewhat deserved, as I at least was completely on my own there.
Dernier Falls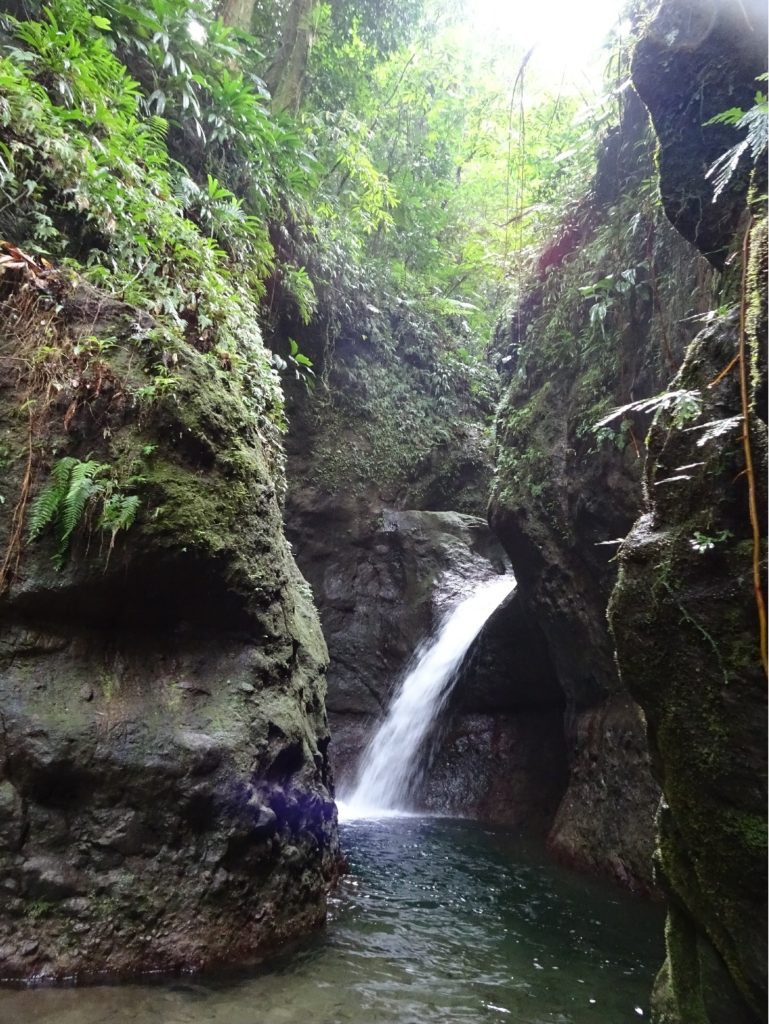 This small waterfall is not the most impressive one on Dominica, but it's located in pleasant natural surroundings and the big pool is a great place for a swim. It can be reached from the western end of Grand Fond Village by taking a short but steep trail down to the valley of the O'Hara River.
Low-Key natural attractions in the area
Part of the fun of travelling through Dominica is just exploring the beautiful natural surroundings. It doesn't always have to be spectacular sights, sometimes it's just fun to hike along a small river for a while to immersive yourself in the local nature. The guys running 3 Rivers Eco Lodge can give you a hand-drawn map with low-key natural destinations.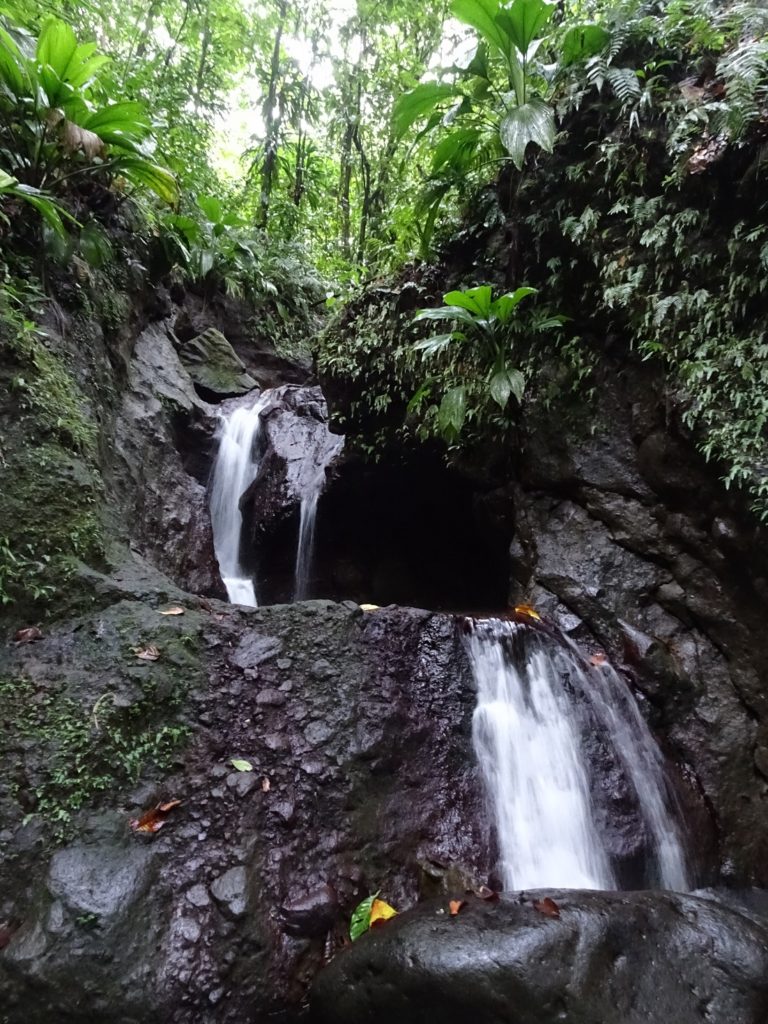 These include Flocky Falls and Coco Cascades, two tiny waterfalls in tributaries of the Clarke's River. The reason to visit these is not their scale, but the amazing feeling to be completely alone in a beautiful clearing in the tropical rainforest.
The possibility to see countless birds, lizards, fish and crabs is just an added bonus. Be careful, though, as one of the latter tried to pinch my toe, when I got too close to its hidey-hole – feisty creatures:-D
Practicalities
Where to stay
I stayed at 3 Rivers Eco Lodge, which is set in beautiful natural surroundings. Jem and his team are super helpful and knowledgeable about everything to see in the vicinity. For budget travelers, there's the option to camp (you can also rent tents) or stay in a dormitory-cabin, but there are also a couple of self-contained cabins for rent as a mid-range option.
Citrus Creek Plantation in La Plaine is at the other end of the spectrum, offering luxury accommodation for travelers who don't have to pinch their pennies, while the Rosalie Bay Eco Resort is a pleasant upper midrange option in a beautiful setting near the Ocean.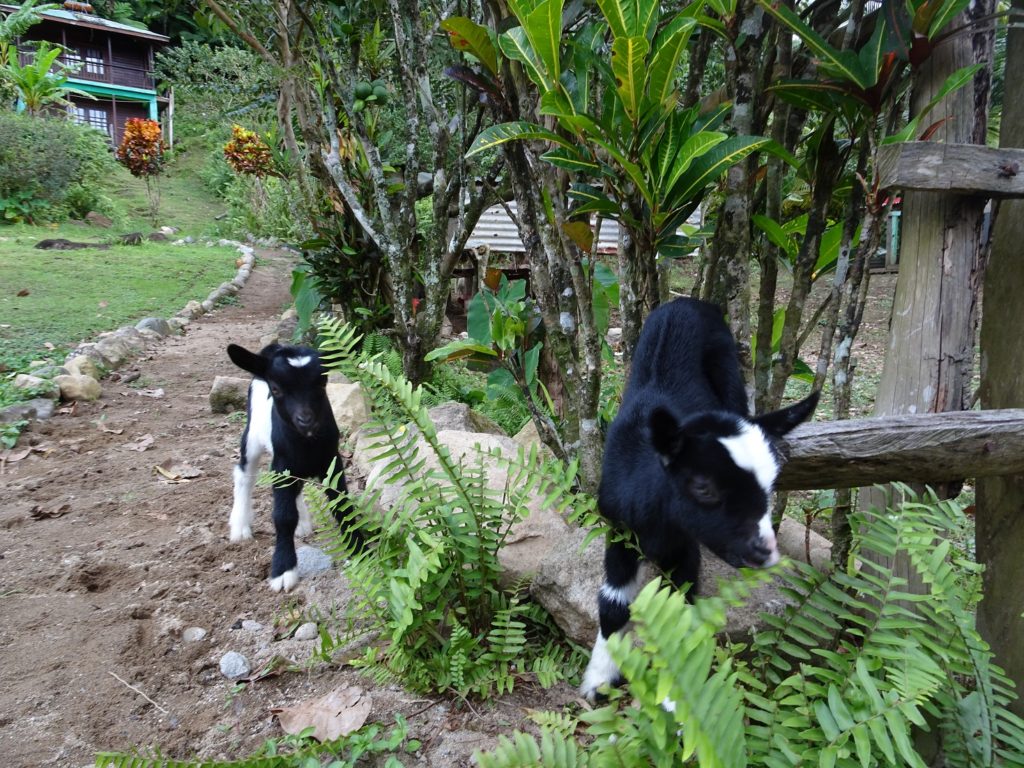 How to get there and around
Minibuses serving the coast highway to Rosalie start in Roseau's Kennedy Avenue (close to the Arawak House of Culture), while buses starting in Hanover Street near the New Market go the same way, continuing further on to La Plaine and Delices.
Alternatively, they will take you along if you wave them down anywhere along the route. As often on Dominica, they're not super frequent, and you might find hitch-hiking to be a more convenient solution, especially if you want to go to Victoria Falls.
If you're staying in or near Rosalie, destinations like Wavine Cyrique, the Secret Beach and Dernier Falls can also be reached by walking, although getting to the latter one from Rosalie is quite a trek (about an hour, but constantly uphill).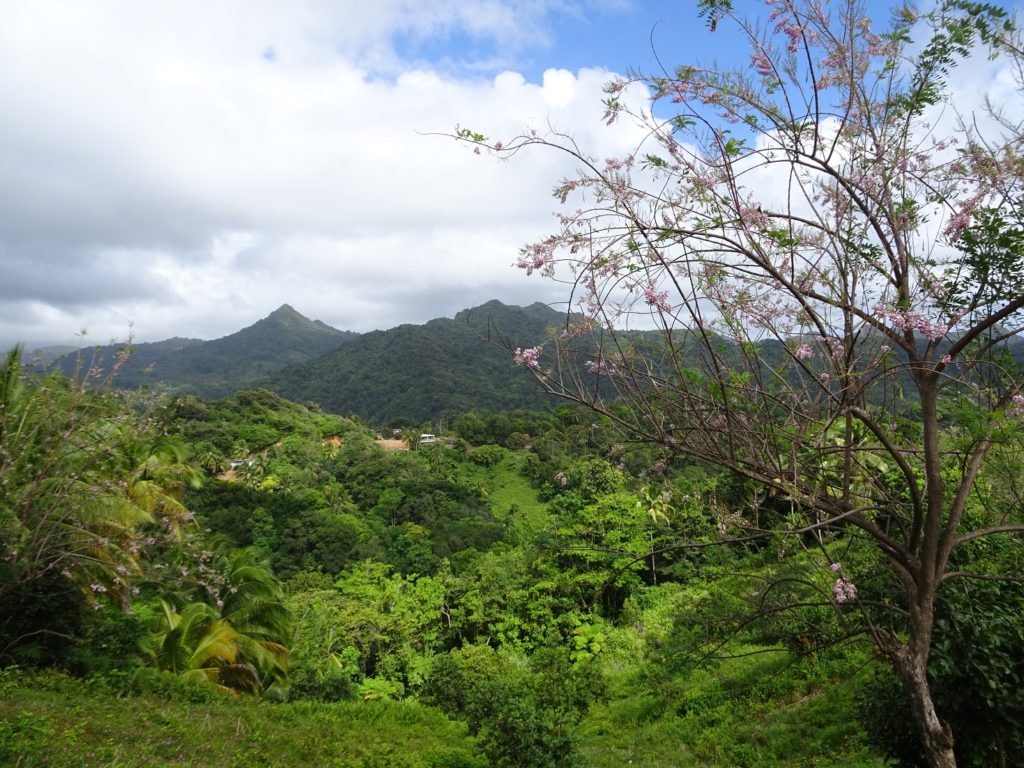 Where to eat
There are not a lot of options around and the best course is probably to have dinner at your accommodation or to do some self-catering. If you're visiting Victoria Falls, definitely stop by Moses' Zion Valley Rastarant and try the fantastic Ital Food.
Where to go next
Central Dominica – Visit the enchanting Emerald Pool or explore the remains of a maroon camp
Kalinago Territory – Familiarize yourself with the fascinating culture of Dominica's pre-colonial inhabitants