The shining white Himeji-jō is the gold standard when it comes to Japanese Castles. Towering over the surrounding cityscape and set in beautifully manicured gardens, it's widely regarded as the finest remaining example of that particular type of Japanese Architecture. Originally built in 1333, the current appearance of the castle dates back over 400 years to the early 17th century.
Even if you haven't been to Japan, chances are that you've seen the castle before, as it's been featured in countless movies and TV-Shows. These include Akira Kurusawa's masterpieces Kagemusha and Ran as well as the TV-Miniseries Shōgun, based on James Clavell's novel of the same name and starring Richard Chamberlain. Not to mention that 007 himself dropped by the castle in his Sean Connery iteration in You Only Live Twice.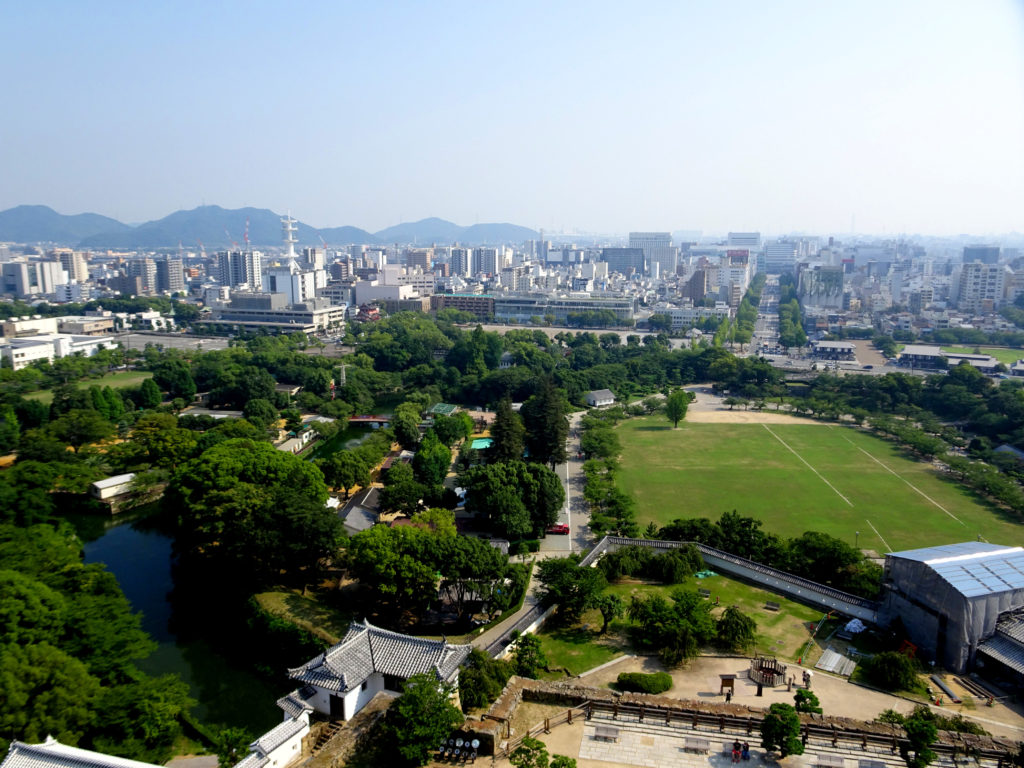 Today, Himeji-jō rightfully forms a National Treasure of Japan and a UNESCO World Heritage Site and is on the itinerary of most first-time visitors to Japan. We utterly enjoyed our visit and thought its reputation was well-deserved. Read on for everything you need to know about visiting this quintessentially Japanese Monument.
This post may contain affiliate links and I might earn a small commission at no additional cost to you. For more info click here.
What makes Himeji Castle so special?
Apart from the picturesque appearance and advanced architecture of its seven-story keep, Himeji Castle is one of only Twelve Original Japanese Castles. In this context, original means that the keep hasn't been rebuilt or transformed after the Edo Period (1603 to 1867).
In a country that is said to once have been home to over 5,000 castles, this is quite a distinction. Other castles among the small list of original ones include Matsuyama Castle and Kochi Castle on Shikoku. If that exclusivity wasn't enough, it also happens to be the biggest castle in Japan. Quite an impressive list of achievements, right?
How much is the entrance fee to Himeji Castle?
A ticket to Himeji Castle is 1,000¥, while 1,050¥ gets you a combination ticket of the castle and nearby Kōkoen Garden. If you can spare the time, I highly recommend getting this one, as the beautiful garden is well worth the tiny extra amount of money.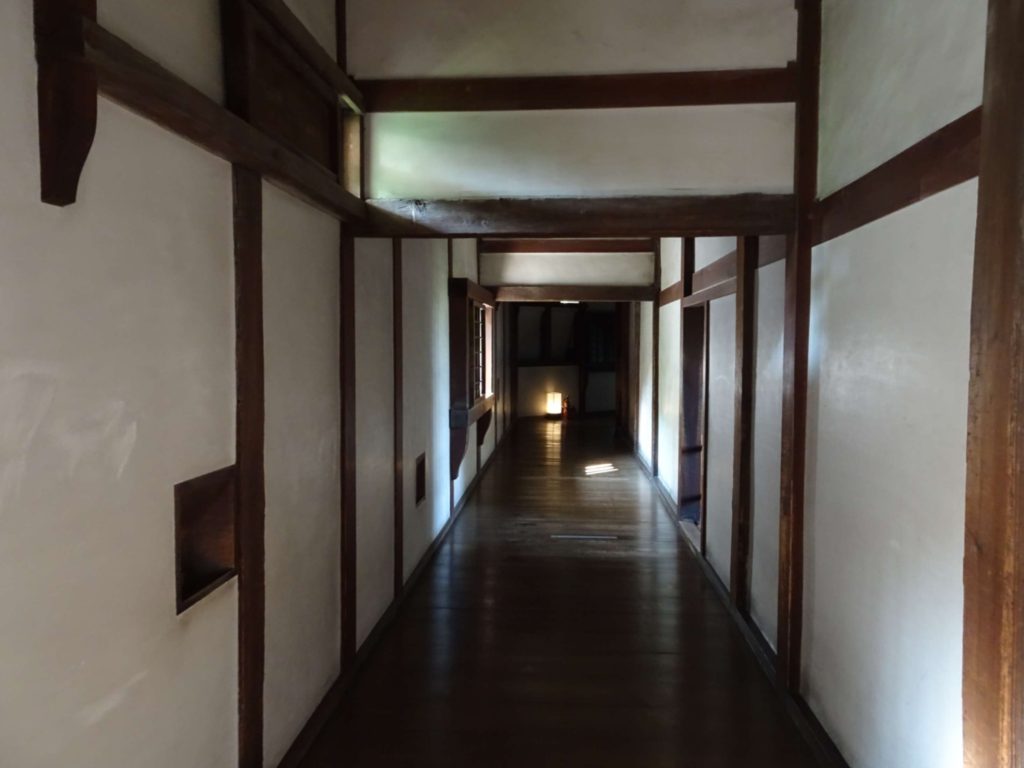 When to visit Himeji Castle
The opening times vary from season to season. You can check the current ones here. As this is one of the top destinations for both domestic and international travelers, I highly suggest you get here either at opening time or shortly before it closes. Make sure to plan at least an hour and a half for your visit, though, as there is plenty to see.
Exploring Himeji Castle – What to See
Gate and Outer Castle Grounds
The castle's dramatic seven-storied keep will beckon to you as soon as you step foot outside the train station. Coming from the direction of central Himeji in the south, you'll enter the grounds at the wooden Sakuramon-Bashi Bridge spanning the moat.
From there, you'll pass through the impressive Otemon Gate before stepping into Himeji Park, which comprises the former outer castle grounds. Turn left and follow the path to the Ticket Office.
Approach to the Keep
After getting your ticket, you'll have to follow a set of stone stairs leading to Hishi-No-Mon Gate or Diamond Gate, one of a total of 21 remaining gates in the complex. On the other side, you'll pass Mikuni Pond, which is a vestige of a former inner castle moat.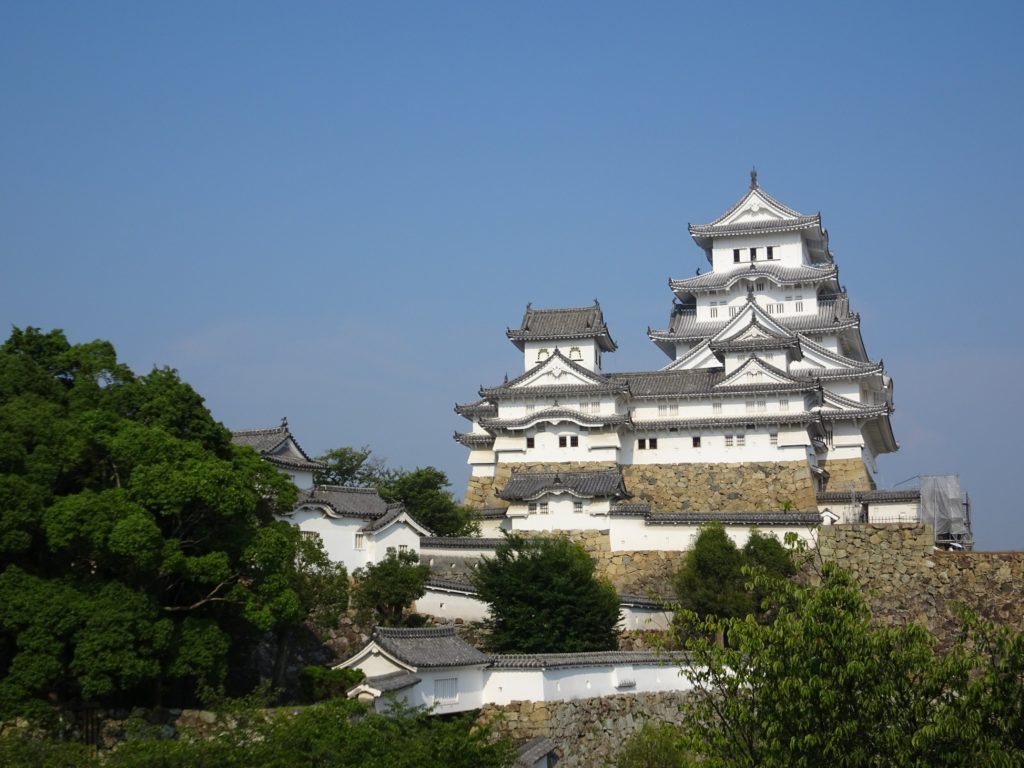 During your approach to the keep, you'll get acquainted with the castle's defensive elements, as you'll traverse a series of Five Gates as well as some narrow corridors and baileys, some of which have openings to ward off would-be attackers.
If the zig-zagging approach to the main keep has your head spinning, rest assured that this is exactly the intended effect. The architects wanted to make it as hard and confusing as possible to attack the castle. After stepping through Hono-mon Gate, you'll be standing at the foot of Himeji Castle's beautiful main keep.
Himeji Castle Main Keep (Tenshu)
Contrary to other castles in the country, the interior of the keep doesn't hold an exhibition of historical artefacts. This means that you'll mostly traverse empty rooms on your way up the keep. It also means that there is nothing to distract from taking in the interior layout of the six levels.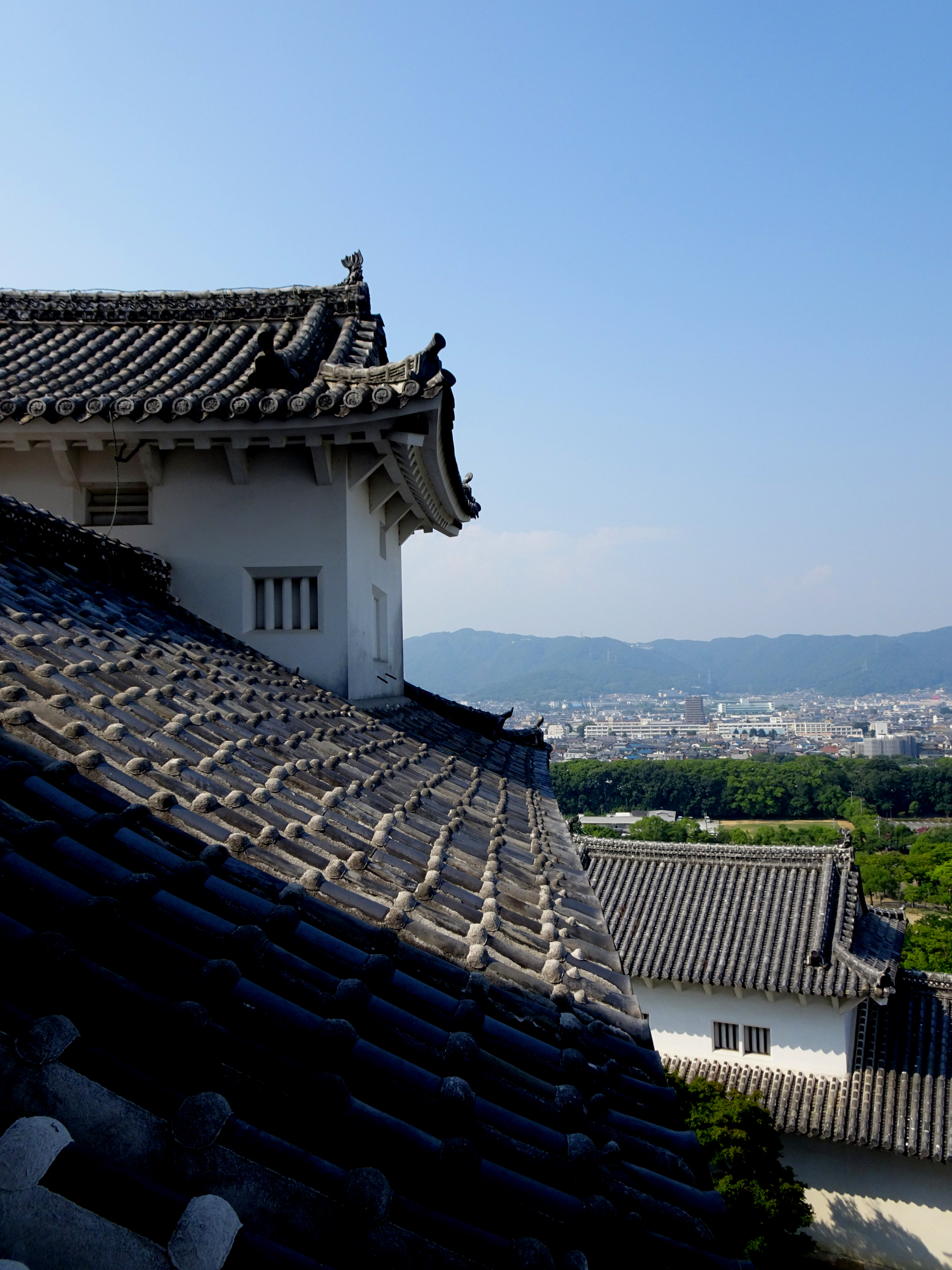 With a bit of imagination (and some information boards), you'll be able to imagine life in the castle 400 years ago.The top-most sixth level of the keep holds a small wooden shrine and offers great views in all directions through several windows.
It also gives you a chance to check out the glazed-tiled roofs from up close. The finials are formed by statues representing Shachihokos, fish-like mythological creatures believed to protect buildings from fire. You'll encounter them at a lot of castle roofs in Japan.
The Inner Castle Grounds and Hyakken Corridor
After thoroughly exploring the keep, make sure to have a stroll around the inner castle grounds, including Bizenmaru Courtyard directly south of the keep and Nishinomaru Courtyard a bit further to the west. The latter offers some of the best views of the keep, so make sure drop by.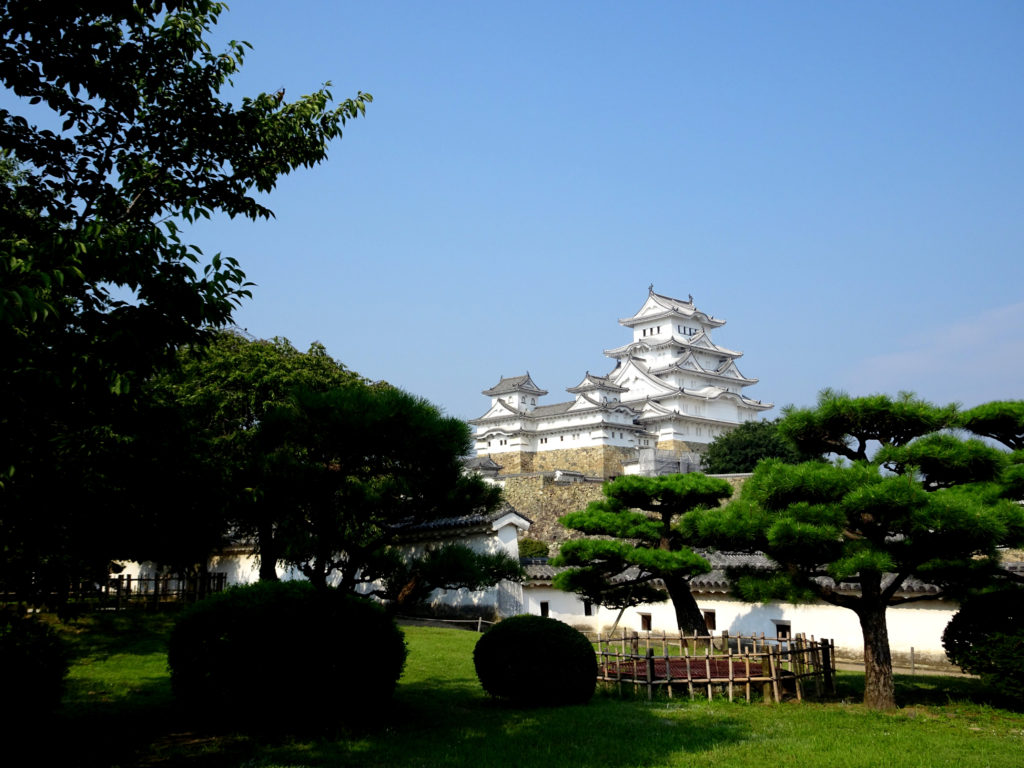 The covered Hyakken Corridor runs along the western and northern edge of this courtyard. Inside you'll find some exhibition displays of architectural elements and objects of daily use as well some information on the history of the castle and its inhabitants.
Himeji Koko-En Garden
Don't miss the beautiful Koko-En Garden directly outside the grounds of the castle. Built in 1992 in the area of the former West Residence of Himeji Castle, it features a series of nine interconnecting gardens following the principles of Edo-Era landscaping.
It's a wonderful place to explore for an hour or so, to stroll around its Koi-filled ponds and streams and to check out its impressive collection of bonsai trees. Plus, as Himeji Castle gets all the attention of visitors, the garden usually is much less crowded, making an ideal place to recuperate after visiting the castle.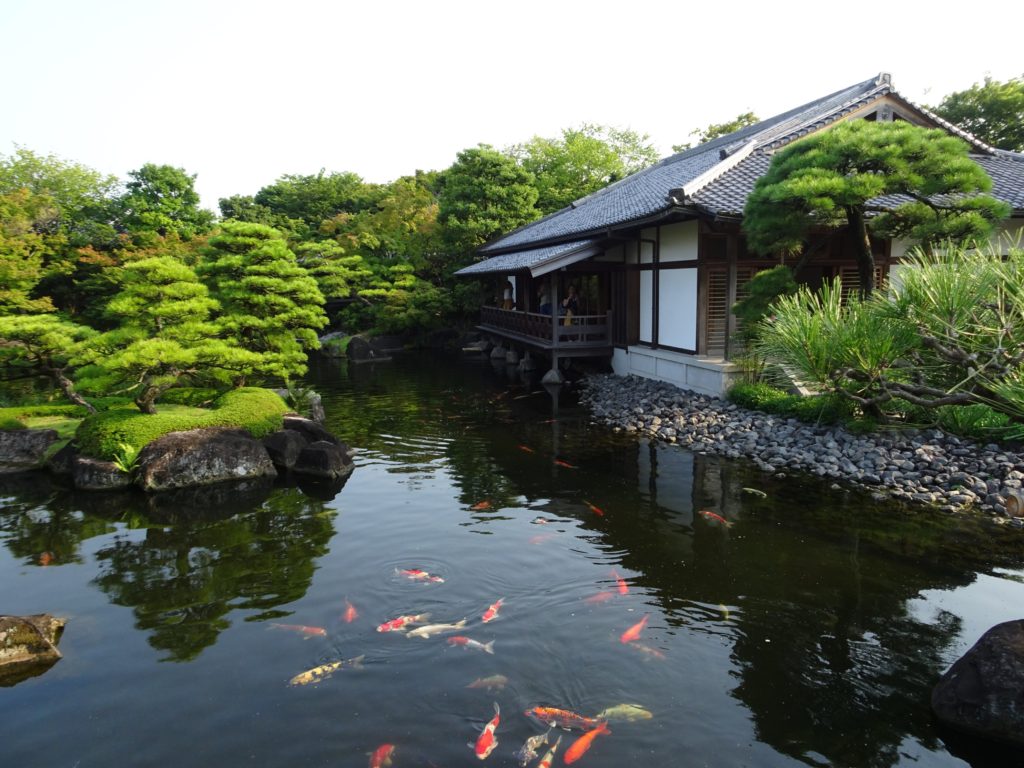 Koko-En can be found directly West of the castle moat close to Sakuramon-Bashi Bridge at the southern end of the complex. Entrance to the garden alone is 310¥, while a combination ticket with Himeji Castle is 1,050¥.
Guided Tours of Himeji Castle
There are several companies offering guided tours of the castle to help you gain a better understanding of the history and culture of the place.
For instance, this half-day walking tour covers both Himeji Castle and two other destinations of your choice, including Koko-En Garden, while this full-day tour also allows for stops at other nearby sights, including a trip up Mount Shosha by ropeway.
You can have a look below for other cool activities in Himeji.
Map of Himeji
Take a look at this map to get an idea about the surroundings of Himeji Castle.
How to get to Himeji Castle
Himeji Station can easily be reached by train from all bigger cities in the vicinity, including Hiroshima (about 1 hour/4,500¥) to the West and Shin-Kobe (about 15 mins./1,000¥), Shin-Osaka (about 30 mins./1,500¥) and Kyoto (about 45 mins./2,300¥) to the east.
A 15-minute-walk north from the station along Otemae Street will get you to the outer gate of the castle.
Where to stay in Himeji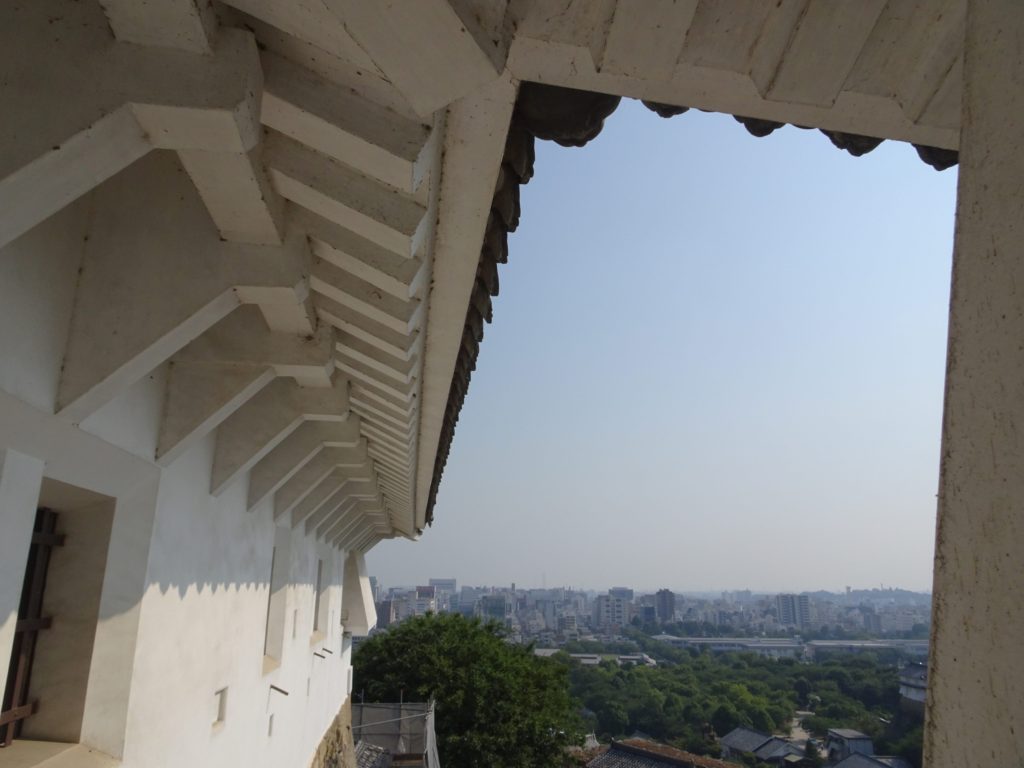 We didn't actually stay in Himeji, as we visited the castle on the way from Okayama to Kobe, but the centre of town between the castle and the train station has plenty of budget-friendly guest houses with good reviews, like Himeji 588 Guesthouse or Hotel Wing International.
Check the map above for more options.
Where to go next
Okayama, Capital of the "Land of Sunshine"
Naoshima, Japan's quirky Art Island