Some people might have been surprised when in 2008, the UNESCO made the decision to put six 20th century housing estates in Berlin on its list of World Heritage Sites. One might be forgiven for wondering how something as utilitarian as a couple of modernist apartment buildings deserved to be on such an exclusive list next to the Taj Mahal and Macchu Picchu.
Let me assure you: While on first look, they may not seem as exciting as some other UNESCO sites, visiting at least one or two of these Housing Estates is well worth your time. Apart from showcasing some innovative and extremely influential early 20th century architecture, it will also give you a glimpse into the social efforts of a then equally progressive country.
As a matter of fact, the sites, designed by such eminent figures as Walter Gropius and Bruno Taut, were some of the first to incorporate green spaces into their layout, therefore giving them a light and attractive feel most contemporary apartment buildings lacked. That way, the architects managed to instil a sense of their artistic vision into a project mainly aimed at providing cheap living space after the devastating destruction of WWI.   
As an incurable completist, I've visited all sites during a recent stint in Berlin, so I can tell you exactly which of them are worth your time.
This post may contain affiliate links and I might earn a small commission at no additional cost to you. For more info click here.
Is there an entrance fee to visit the Sites?
All of the sites can be visited for free. As they all still contain regular housing, you can only admire them from the outside, though. An exception is an apartment in the Hufeisensiedlung, which can be rented as a hotel room for a somewhat steep 150€ per night for two people. If you don't want to spend that kind of money, you can check out the website for some impressions.
When to visit Berlin's Modernist Housing Estates
All of them can be visited 24/7 all through the year but as part of the appeal are the beautiful gardens attached to some of the houses, I suggest visiting either in Spring or Summer. None of the estates are huge tourist attractions, so it doesn't really matter at what time during the day you drop by.
Berlin's 6 Modernist Housing Estates WHS
Gartenstadt Falkenberg aka. Tuschkastensiedlung
The settlement most removed from central Berlin is also the nicest one in my opinion. Sporting a distinct village-like atmosphere, the colourful houses and flowery gardens of the fittingly named "Garden City" are a lot of fun to explore.
The nickname Tuschkastensiedlung translates to Paintbox-Settlement, referring to the varied colours of the façades. The most impressive buildings can be found along Akazienhof and Gartenstadtweg Streets. Getting to the estate takes some time but the area itself is rather small and can be explored in about 30 minutes. If you only have time for one of the settlements, make it this one.
How to get there: Take Train S8, S46 or S85 to Grünau Station, then follow Bruno-Taut-Str. southwest for 5 minutes.
Reasons for visiting: beautiful gardens; differing architectural styles; peaceful atmosphere
Großiedlung Britz aka. Hufeisensiedlung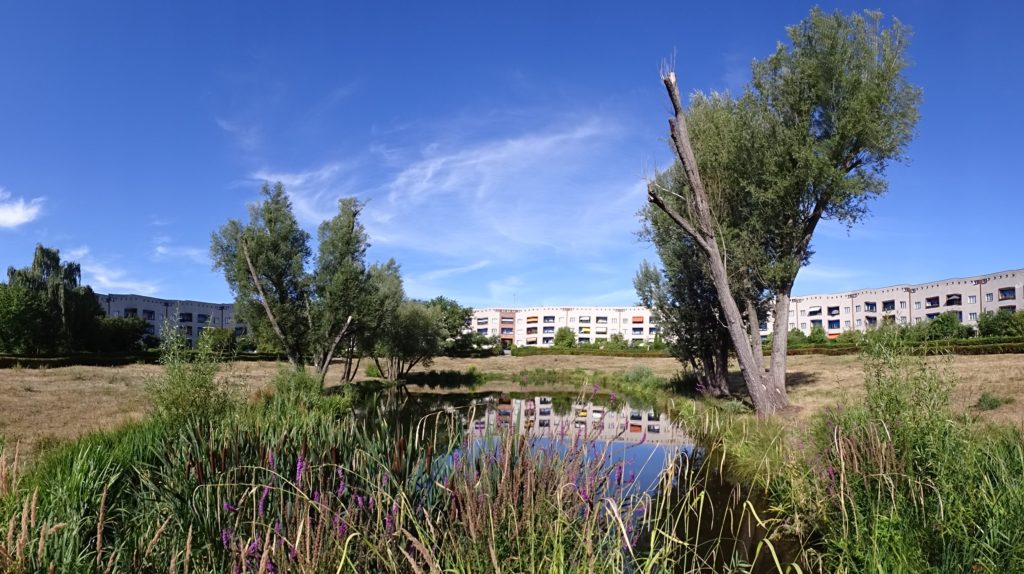 Designed by Bruno Taut, the main structure of this varied settlement in Neukölln sets itself apart from all other housing estates on the list by being shaped like a horseshoe (Germ. Hufeisen). The structure is centred on a pleasant meadow with a small pond in the middle and outside of the horseshoe, there are several rows of terraced houses.
Check out the doors of the latter, which are all designed in a unique pattern.  On Friday and Sunday a small exhibition space at the entrance of the horseshoe can be visited from 2PM to 6PM. Apparently it has information on this and the other sites on the UNESCO list. I was here on a Wednesday, so I couldn't check it out.
I found the unique and diverse architecture of the estate quite fascinating and visiting on a weekday morning, the area had a peacefully suburban feel. Definitely worth checking out.
How to get there: Take U7 to Blaschkoallee Station and walk west along Teterower Str. to reach the northern edge of the estate. Follow Fritz-Reuter-Allee south to get to the the horseshoe.
Reasons for visiting: unusual layout; differing architectural styles
Großiedlung Siemensstadt aka. Ringsiedlung
A whole host of architects were involved in the design and construction of this big estate in Berlin's Charlottenburg Neighborhood. Thus, many of the blocks feature distinct appearances, like Hans Scharoun's block at the southwestern edge of the settlement, dubbed "Battleship" (Germ. "Panzerkreuzer") by the locals, due to the naval characteristics of its balconies.
Other structures were designed by Walter Gropius, Fred Forbát and Otto Bartning, amongst others – all eminent figures of the early-20th-century Architecture Scene in Europe. Don't miss the buildings by Paul Rudolf Henning in the northern part, which all feature pretty gardens. If you need to refuel, there's a small café at the eastern edge of the complex.
How to get there: Take U7 to Siemensdamm Station, then walk north along Jungfernheideweg to reach the western end of the estate.
Reasons for visiting: differing architectural styles; beautiful gardens
Wohnstadt Carl Legien
Being located in the Prenzlauer Berg Neighbourhood, this is the closest site to central Berlin. Thus, if your time in the city is limited, you could make a small detour from exploring the main sights to check out this complex to get a taste of the architecture.
The estate is mainly comprised of U-shaped apartment blocks opening out to a central courtyard. During the summer, many of the balconies are beautifully decorated with flowers.
How to get there: Take S41, S42 or S8 to Prenzlauer Allee. The Estate is directly to the north.
Reasons for visiting: peaceful atmosphere, nice flowery gardens and balconies
Weiße Stadt
Named for the splendid white appearance of the facades, the "White City" was the last of the housing estates to be completed. Its look is somewhat more utilitarian than that of the other sites and if it weren't for some unusual architectural features it probably wouldn't be worth making the trek here for most people.
That said, the unusual bridge-like structure spanning the main street is quite interesting as is the gate-like duo of buildings at the southern end of the settlement.
How to get there: Take U8 to Residenzstr. Station, then walk 10min west along Emmentaler Str. Afterwards you could follow Aroser Allee and Barfussstr. South for about 10 min to reach Siedlung Schillerpark.
Reasons for visiting: unusual architectural features
Siedlung Schillerpark
This is the smallest of the sites after Gartenstadt Falkenberg but contrary to the latter one, Siedlung Schillerpark to me was the least interesting of the housing estates. The red-brick buildings simply looked too much like countless other apartment housings, you'll find in cities all over Europe.
To be fair, this might be to its credit as this was one of the precursors to that particular style of social housing, influencing the look of all the other ones that seem so unremarkable to us today. The tree-studded courtyards and location next to the pretty Schillerpark mean that there's still a reason to drop by if you're seriously into architecture or a compulsive completist like I am;-).
How to get there: Take U8 to Franz-Neumann-Platz Station, than walk Holländerstr. West, turn south at Aroser Allee and finally follow Barfussstr. to reach the eastern end of the settlement. You could also combine Schillerpark with Weiße Stadt Estate (see above).
Reasons for visiting: nice location; peaceful atmosphere
Which is the best Housing Estate to check out?
Let's get this out of the way first: All of them are in a way worth checking out and I didn't regret visiting any of them. That said, some are clearly more attractive or interesting than others and if you only have time for one, I suggest either visiting Gartenstadt Falkenberg or the Hufeisensiedlung.
Both combine all the best elements from all the other Settlements: Differing architectural styles, beautiful gardens and an altogether peaceful suburban atmosphere. If you have time for more, just go by the list above, as I've sorted them in the order I liked them most.
Map of Berlin's Modernist Housing Estates
All six listed estates can be found in the map below, which also contains the Subway and Train Stations closest to the Estates as well as some hotels and hostels in the vicinity.
Other cool stuff to do in Berlin
Visiting Berlin's abandoned Teufelsberg Radar Station
Exploring Berlin's abandoned Spreepark Theme Park
Visiting Berlin's Twin-Peaks-themed Black Lodge Bar