Northern Italy's pretty Veneto Region brings together everything I love about the country. From exciting cities full of culture and history, to medieval villages set amid picturesque vineyards, this is Italy at its most quintessential.
We recently spend some time exploring the area in-depth and realized, that instead of rushing around to only see the absolute highlights, the region deserves to be traveled more slowly, so you're truly able to appreciate its charms.
Thus, I decided to share a comprehensive itinerary, including both magnificent Venice and the lesser-visited hinterland of the region. Read on for my suggested 10-Day Itinerary for Venice and the Veneto Region.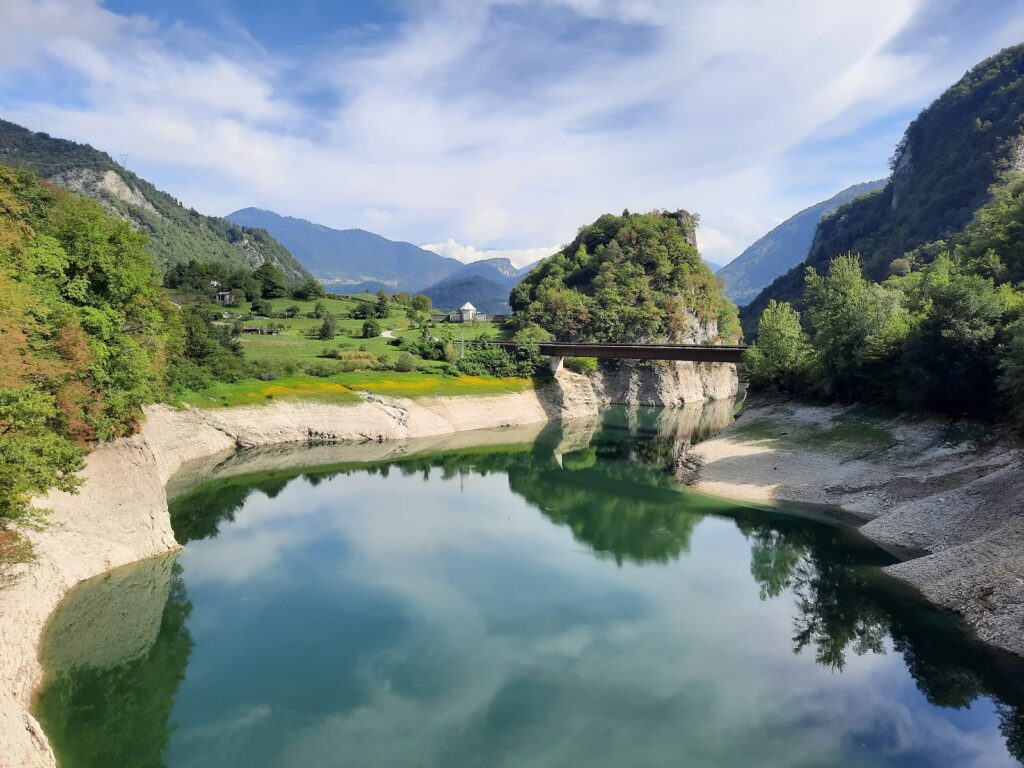 This post may contain affiliate links, and I might earn a small commission at no additional cost to you. For more info, click here.
Getting Around the Veneto Region
The region's bigger cities are all connected by Italy's usually reliable train network, but for the more rural regions, like the Prosecco Hills or the Euganean Hills a car really comes in handy. Have a look below to find the best available deals on rental cars in Verona (or anywhere else).
Guided Tours of the Veneto Region
If you want to skip the hassle of organizing your trip yourself, you could also take a multi-day guided tour of the Veneto Region. Have a look below for some possible options.
The Perfect 10-Day Itinerary for Venice and the Veneto Region
Day 1 and 2: Verona
Begin your Veneto adventure in Verona, which boasts a beautiful historic centre with plenty of ancient Roman and medieval Architecture. More famously, the city is the setting of Romeo and Juliet, and there are many traces of the star-crossed lovers all over town.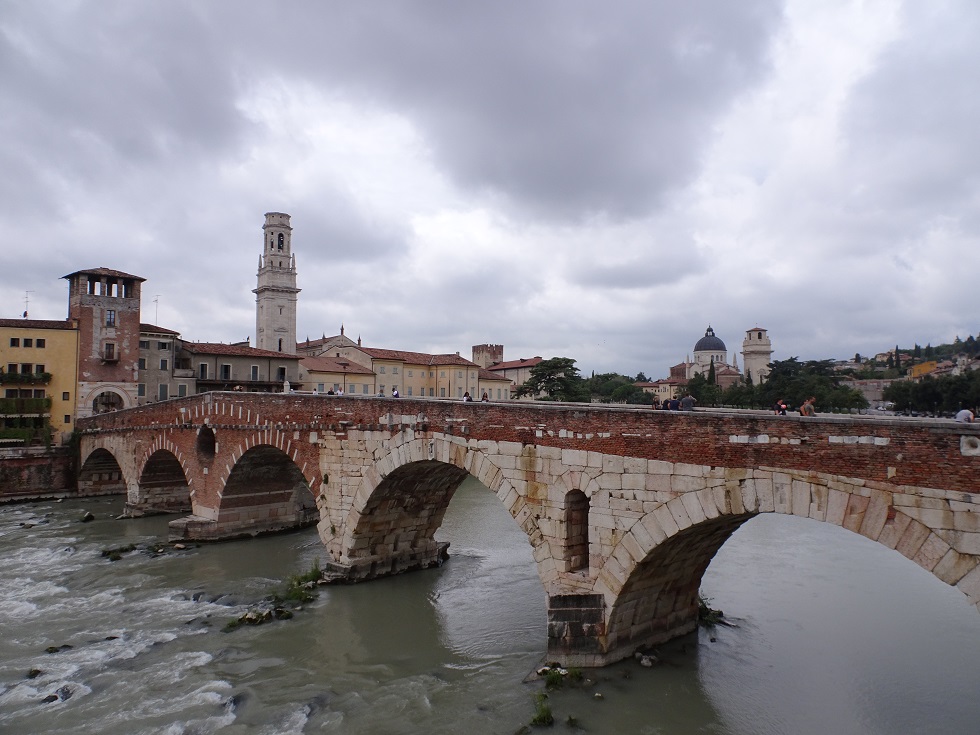 Verona is also a good base to explore the pretty wine-growing region of the Valpolicella-Region or to visit the uniquely-located Madonna della Corona Sanctuary precariously clinging to a tall cliff-face.
If you're a fan of Classical Music, you should try and get Opera Tickets for a performance in the picturesque setting of the Roman Amphitheatre. We managed to catch La Traviata when we were in town and absolutely loved it.
See also: What to Know About Visiting the Locations from Romeo and Juliet in Verona, Italy
Day 3: Vicenza
Continue to Vicenza, renowned for its architectural masterpieces by the famous Renaissance architect Andrea Palladio. These include the amazing Villa Rotonda and my personal favourite: the unique Teatro Olimpico, which recreates a classical Greek Theatre.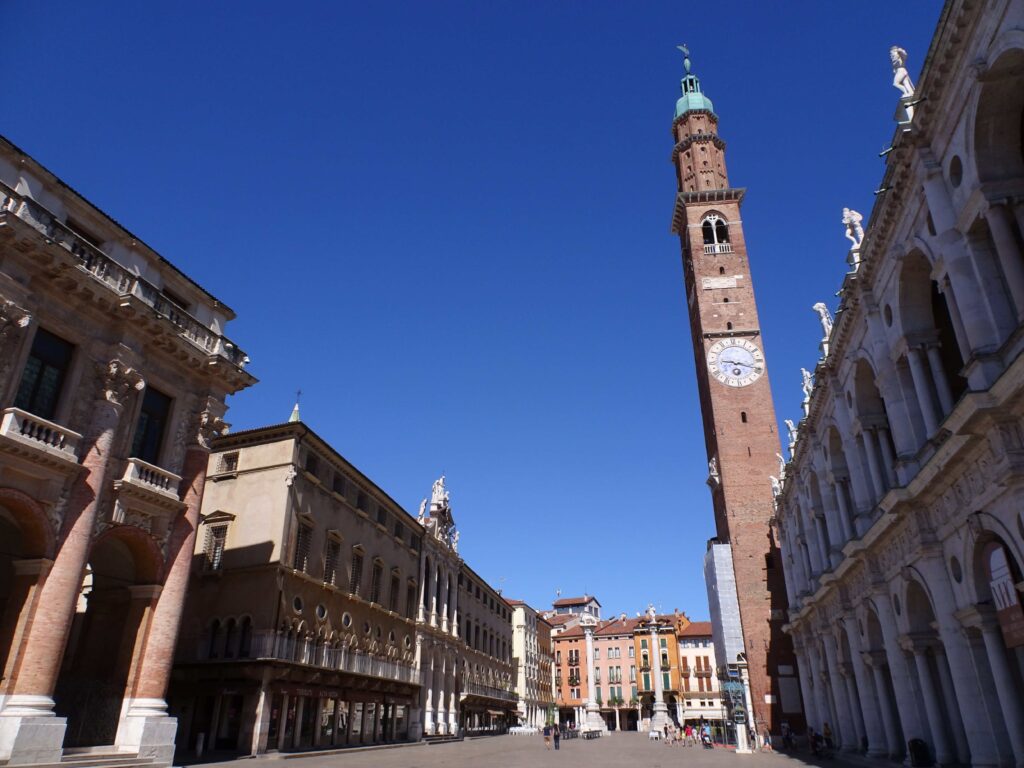 Apart from that, the city features several interesting museums, plus it's a delightful place to take a stroll and gaze at Vicenza's many architectural marvels. You can top off your day by trying Baccalà alla Vicentina, a typical local dish of air-tried cod.
See also: 10 Amazing Things to do in Vicenza, Italy – The Ultimate Guide to the City of Palladio
Day 4: Bassano del Grappa
Next up is charming Bassano del Grappa, nestled at the foot of the Venetian Prealps. Its most famous sight is the iconic Ponte degli Alpini, a covered wooden bridge offering panoramic views of the Brenta River, but there are plenty of other reasons to drop by.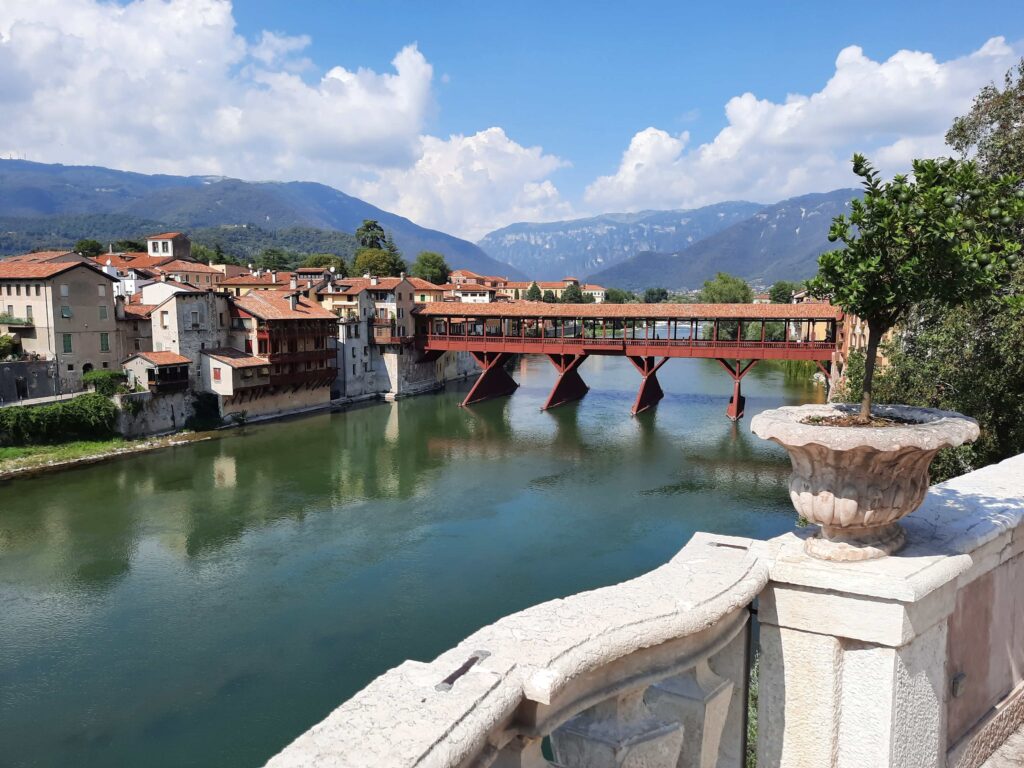 For instance, there are several interesting museums. We especially liked the ones about the local printmaking history and the distilling of the famous Grappa Liquor. If you've got your own set of wheels, you can drive up the impressive Monte Grappa, lording over the town to check out its eerie Monument to the fallen soldiers of WW I.
See also: 10 Fantastic Things to Do in Pretty Bassano del Grappa, Italy
Day 5: The Prosecco Hills
The beautiful Prosecco Hills are renowned for its vineyards and sparkling wine production and have been designated a UNESCO World Heritage Site in 2019. The small towns of Conegliano and Valdobbiadene have well-preserved historical city cores, but we actually preferred exploring the surrounding landscape.
A great way to do that is by driving the Prosecco Road, a circular road passing through countless medieval villages and attractive hilly landscapes covered by vineyards. It's hard to imagine a better way to enjoy Italy than by drinking some sparkling wine while gazing over this serene landscape.
See also: An Itinerary for Driving the Prosecco Road Through Italy's Beautiful Prosecco Hills
Day 6: Treviso
To get yourself in the mood for Venice, visit Treviso, a hidden gem of a town criss-crossed by countless picturesque canals, which is rightfully dubbed "The Little Venice". It's also home to a pretty historical centre and some very unusual sights, like its 16th-century Breast Fountain.
Even more off-beat is the Cimitero delle Barche in nearby Casier, where the remains of several wooden boats have been left to rot in the Sile River. Their hulls are a surprisingly pretty sight, overgrown with vegetation as they are, and serve as a refuge to several waterfowl, like coots and cormorants.
See also: 9 Wonderful Things to See and Do in Treviso, Italy – A Guide to the Little Venice
Day 7 and 8: Padua
Make your way to Padua, a city steeped in history and intellectual heritage. Here, you can explore a series of amazingly detailed 14th-century frescoes by Giotto and other medieval artists. Among these, you shouldn't miss the unique Scrovegni Chapel and the Baptistery of the Cathedral.
Apart from that, the city is home to the magnificent Basilica di Sant'Antonio, dedicated to the patron saint of Padua, one of the biggest squares in Europe and the oldest botanical garden in the world.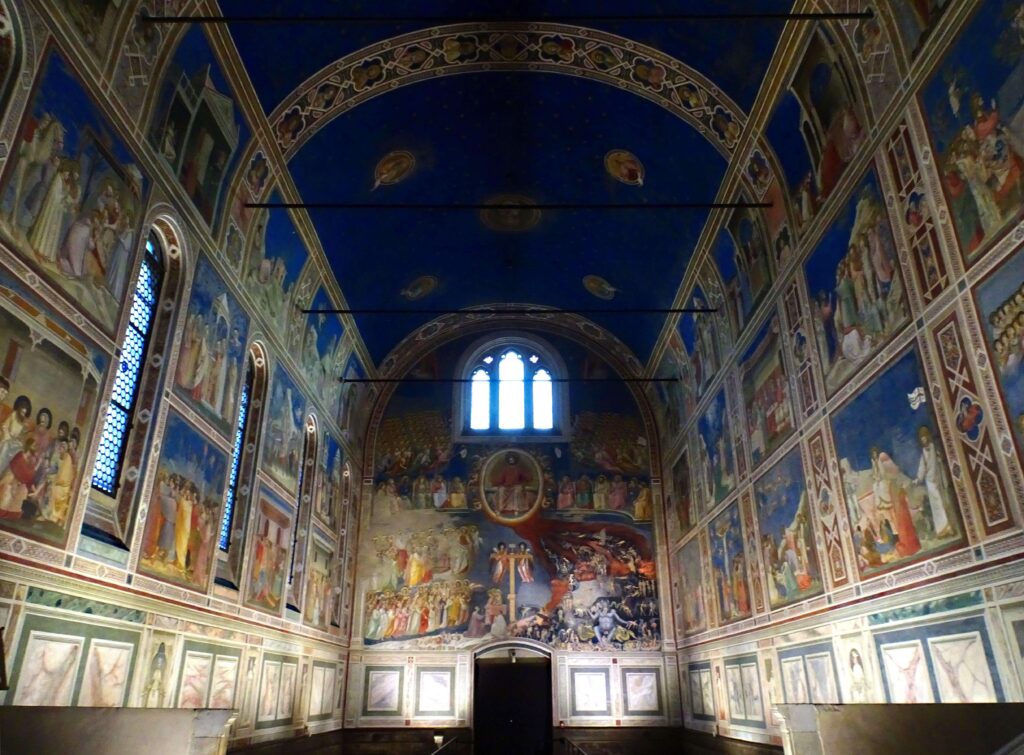 Padua is also a good base for exploring the Euganean Hills, which are full of hiking opportunities and tiny medieval villages, including Arqua Petrarca, final home and resting place of the poet Petrarch. Here, you can also the Villa Barbarigo Garden, which was voted the most beautiful garden in Italy.
See also: The Best Things to Do in Padua, Italy – A Great One Day Itinerary
Day 9 and 10: Venice
What better place to end your tour of the Veneto Region than the magnificent city of Venice? You can explore the wonderful historical centre by taking a gondola ride along the enchanting canals, but personally, I prefer getting lost in the endless labyrinth of alleyways.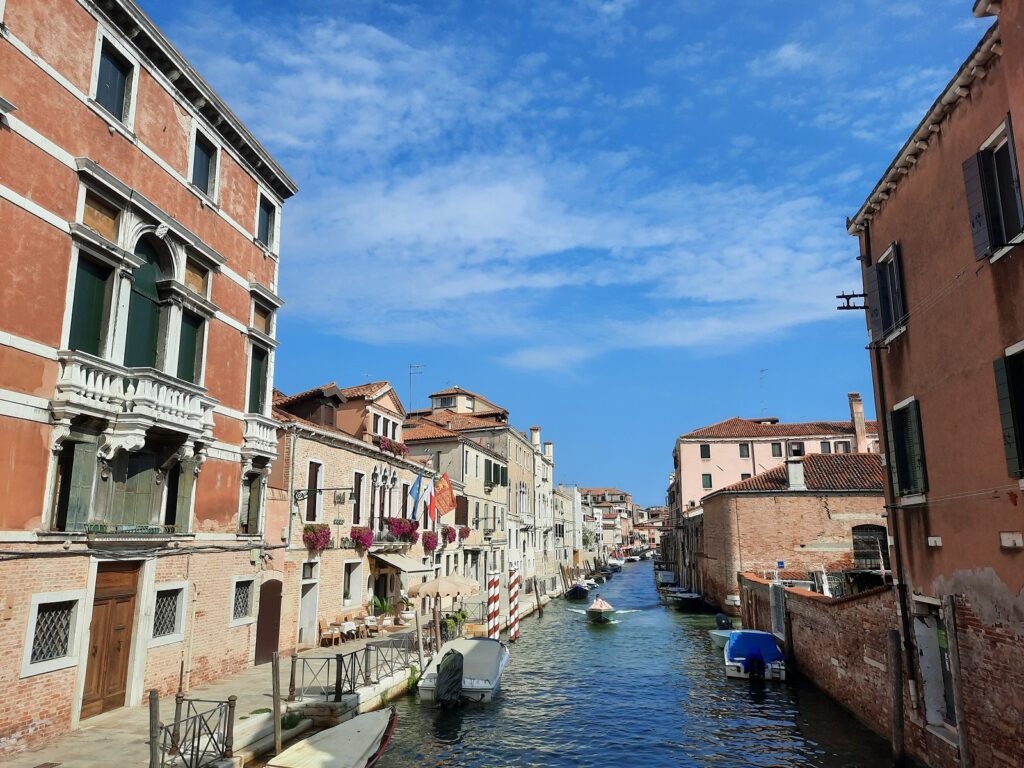 If it's more tangible sights you're after, you could explore the iconic St. Mark's Square, home to the majestic St. Mark's Basilica and the historic Doge's Palace or visit one of the many excellent museums, like the Peggy Guggenheim Collection or the Accademia Gallery.
See also: How to Visit Venice on a Small Budget – Tips for a Cheap but Enjoyable Stay
Venice and the Veneto Region Itinerary Map
All stops on the itinerary can be found on this map of the Veneto Region.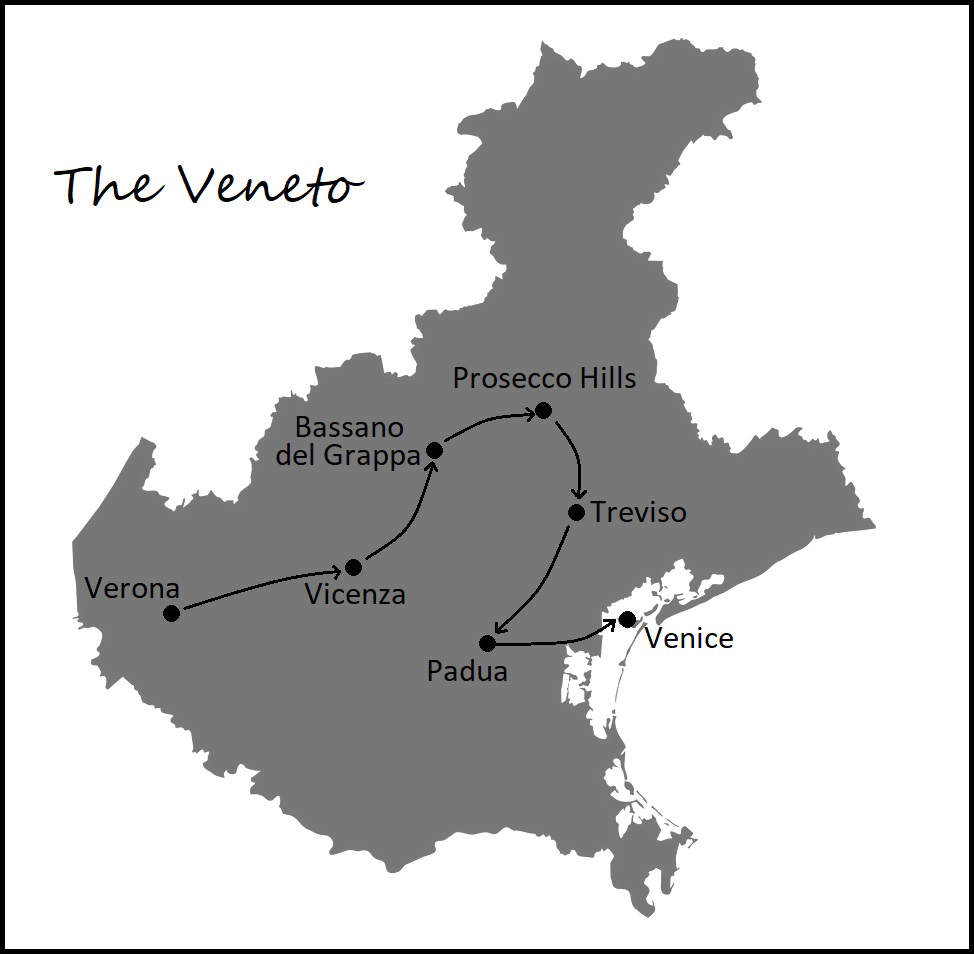 See also